If you love being a contractor, it's easy to see why.
You do work that you enjoy for a wide range of clients, which keeps things interesting and provides multiple sources of income.
Best of all, you're in charge.
However, contracting is a business. You need to invoice clients and see what's been paid, what's coming due, and what requires immediate follow-up. Since you're a smaller business, you also need to be able to do it quickly or, even better, automatically.
The great news is that there's an excellent invoicing software available for contractors.
You can use it to:
Instantly send estimates, invoices, and receipts
Let clients pay directly from your invoice
Manage everything in one place
In this guide, we provide an overview of a popular invoicing platform and how it can make your contracting business even more profitable.
What's the best invoicing software for contractors?
vcita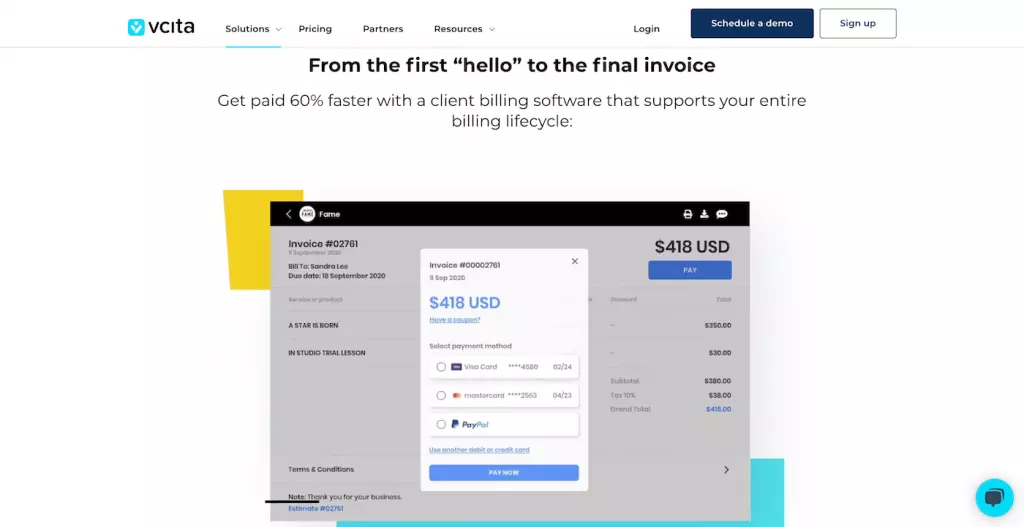 With vcita, you have everything you need to invoice your clients, collect payments, and follow up on past-due accounts. Features include:
Detailed and customizable estimates, invoices, and receipts
Email and SMS invoices
A mobile app so clients can pay on the go
Automated payment reminders- no time-consuming collection calls
If we had to describe vcita using just one word, it would be 'convenient.' It integrates with a wide range of payment gateways, so that you can accept credit cards, PayPal, and other common mediums.
Unlike a lot of invoicing software for contractors, vcita gives you a full CRM system with features that go beyond billing alone. You can basically manage your entire contracting business from a single user-friendly dashboard that lets you-
Accept appointments and service requests
Send email campaigns
Manage clients and sales pipelines
Maintain HIPAA compliance in client communications and information storage
If you're already using a different invoicing or contact management system, you can easily transfer all information from your existing system to vcita via the contact sync feature.
The vcita pricing structure is divided into solo and team accounts. With the basic Essentials plan, you get all the invoicing and CRM features you need to run your contracting business for only $24 USD per month! (If you want the marketing module, however, you'll have to upgrade.) A 14-day free trial is available.
Use the best invoicing software
As a contractor, maintaining cash flow and knowing where you stand financially is critical. It can help save you time, forecast properly, and get paid faster. With vcita, you can do much more than just send an invoice and ensure you're getting paid in full and on time.
Try it out for free!