Whether you're new to vcita or one of our loyal customers, the following tips will help you get the most out of your clients' scheduling experience. Make it more efficient for you, and easier & more enjoyable one for your clients & prospects to book services with you using vcita's scheduling software.
1. Make Your Customers Book Now With Attractive Service Descriptions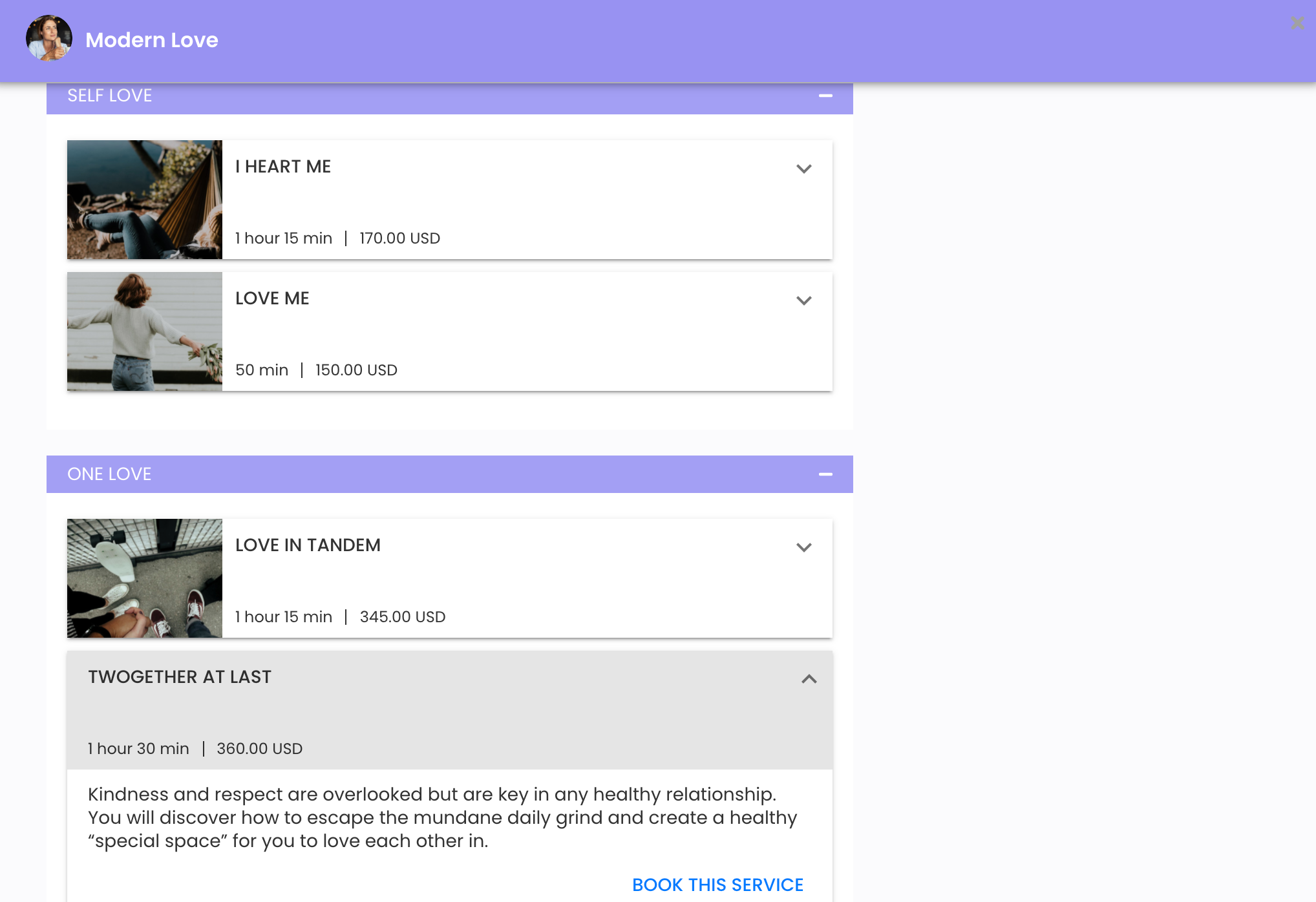 Always remember short and sweet because less is more. Most of your customers/clients do not have the time or the willpower to read long descriptions for all the amazing services your offer.
Hey, we're definitely not saying you have to limit yourself completely, we're just reminding you to be selective. Your descriptions should always be "on brand", informative and straight to the point.
If you offer a service such as counselling, you may feel that you need a few extra words, to build the relationship with your client. Even then, make sure you only keep what is absolutely essential. Besides, you can always add more in a follow-up email, first session, free consultation, over the phone or through a document.
Remember your services menu is not your website. It's easy to over overcomplicate things. Keep it simple for both sides.
Here's a lil' checklist to refer to:
proofread, check for any typos or other little nasties.
make sure that you use Uppercase and Lowercase uniformly. If you choose to exclusively use Uppercase make sure it stays that way throughout.
only use abbreviations that all your customers will understand.
keep it tight: no repetitions.
times & fees have their own allocated sections so don't unnecessarily include them here.
2. Keep it organized: Group Your services Into categories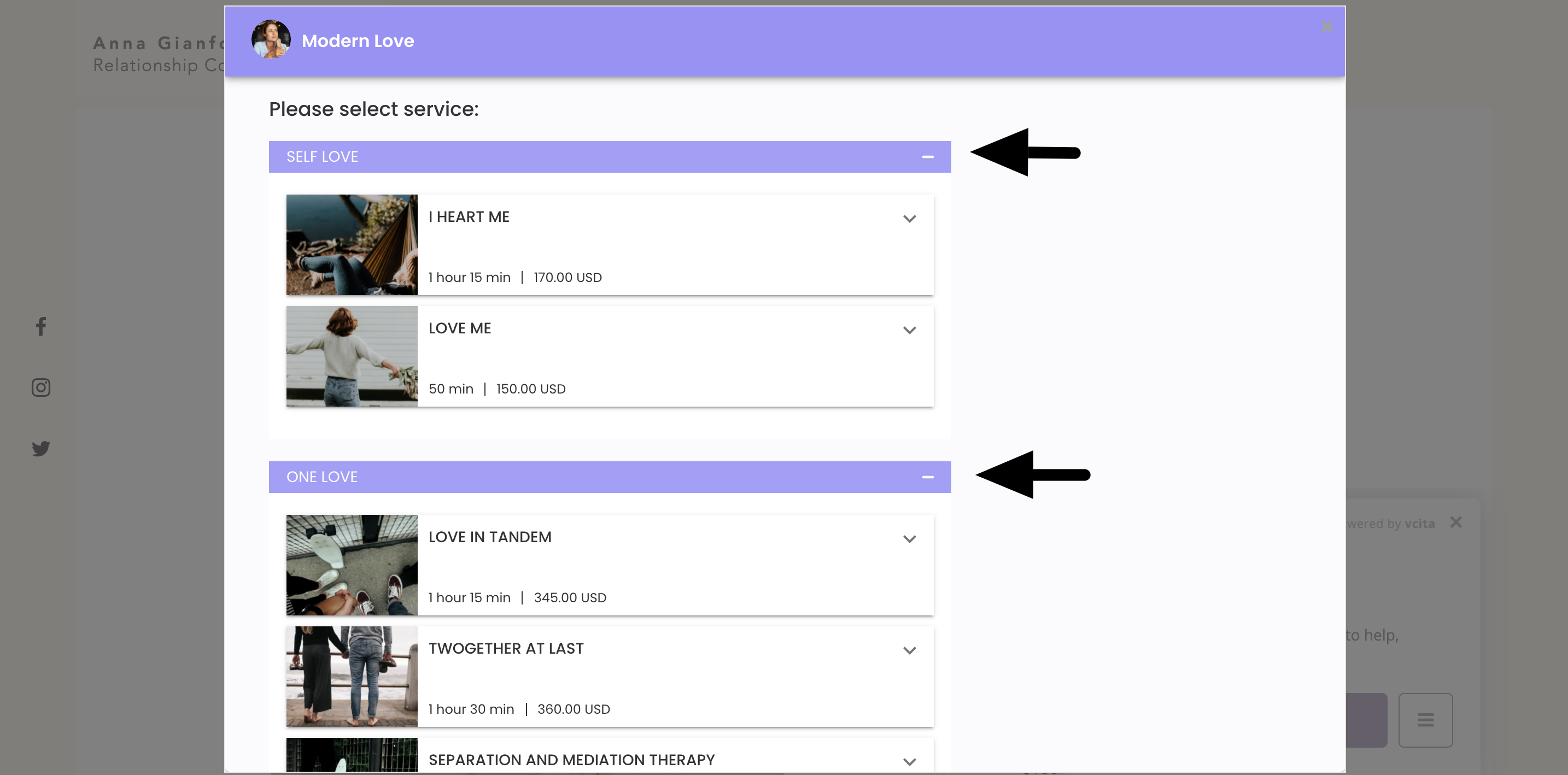 The whole point of having an eye-catching customized Services Menu is for your customers/prospects to easily and quickly find the service(s) they're looking for and want to book.
Just think. What would Marie Kondo do? just like her socks, she would group them into different categories. This is especially relevant when you offer many different services of variants of the same one.
Pro tip: just a lil' reminder that you can expand or close your category buttons. When you offer several types of services it'll keep your menu clean & clear and won't freak out your customers.
Of course, there are several ways to categorize your services but ultimately it depends on the type of business you operate and what you feel is the most logical and relevant.
You can group services by the target audience, new/loyal customers, different locations, different staff members…The options are limitless, so choose what seems the most appealing and user-friendly.
Pro tip: If you have a website ( we can't recommend it enough), why not create a "My Services" tab. You can then add a link to it for relevant services in your vcita scheduler.
3. Hook Them With an Attractive Photo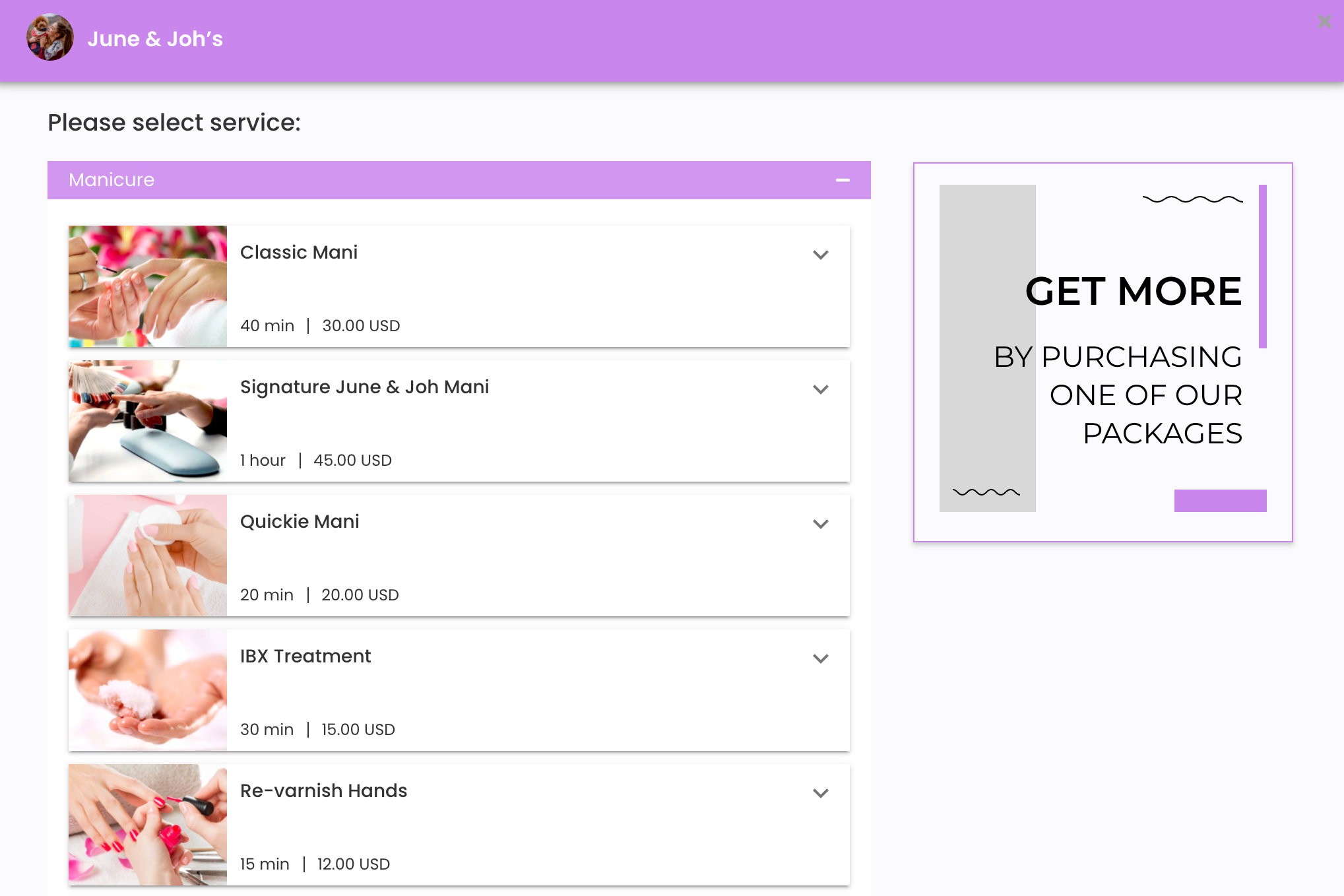 We've said it before and we'll say it again, a picture's worth a thousand words. The truth is, many of your clients will completely skim over your service descriptions however, everyone will notice the photos that illustrate each of them.
When customizing your photos section, be consistent, don't give up halfway. It won't look good. So set aside some time to get the job done. Slow & steady wins the race!
This is where you get to have fun showcasing the business you've worked so hard to build. Put in a little effort at the beginning and it'll repay you in the number of clicks you'll get!
A few quick reminders:
make sure the photos you choose are high-quality, relevant and professional. Replace any pixelated or half-cut images.
when using icons find ones with either white or transparent backgrounds. It'll just look crisper.
stay on brand. Make sure all the photos work well together as a whole.
avoid at all costs using photos of yourself.
Pro tip: Don't forget to check vcita's amazing Image Library. We cater to many different types of business.
4. Clearly Stated Fee & Duration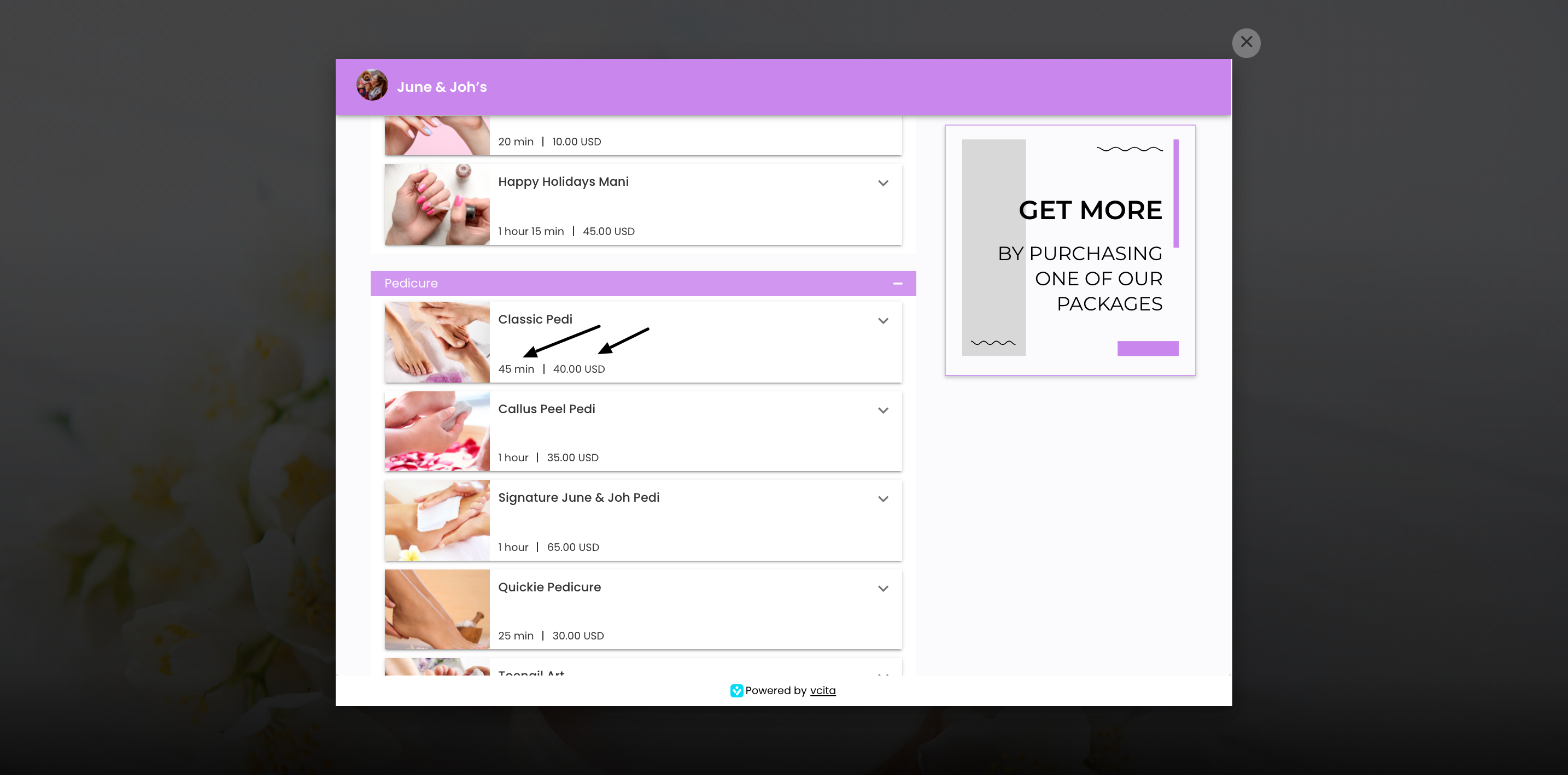 The two things every customer wants to know before clicking the Book Now and parting with their hard-earned cash are: how long will the service last and how much is it gonna cost me?
Luckily, vcita's service menu clearly sets these two apart from the rest complete with eye-catching icons, next to each other.
A few things to keep in mind:
always try to use a solid number in your pricing. Round up if necessary. Teeny-tiny decimal points will look weird and confuse your clients.
select the appropriate currency you wish to receive payment in.
check with local competitors for ideas about pricing.
5. What's in a Name? Everything
Nobody wants to feel like they have to work hard to find the service they're looking for. Your customers will mostly focus on the service's name so keep them clear, informative and concise.
You may even want to use the service's name to highlight specific information such as a location when different to the regular one, a special event or a seasonally specific service. The more precise and less-wordy the better.
6. A Special Hidden Feature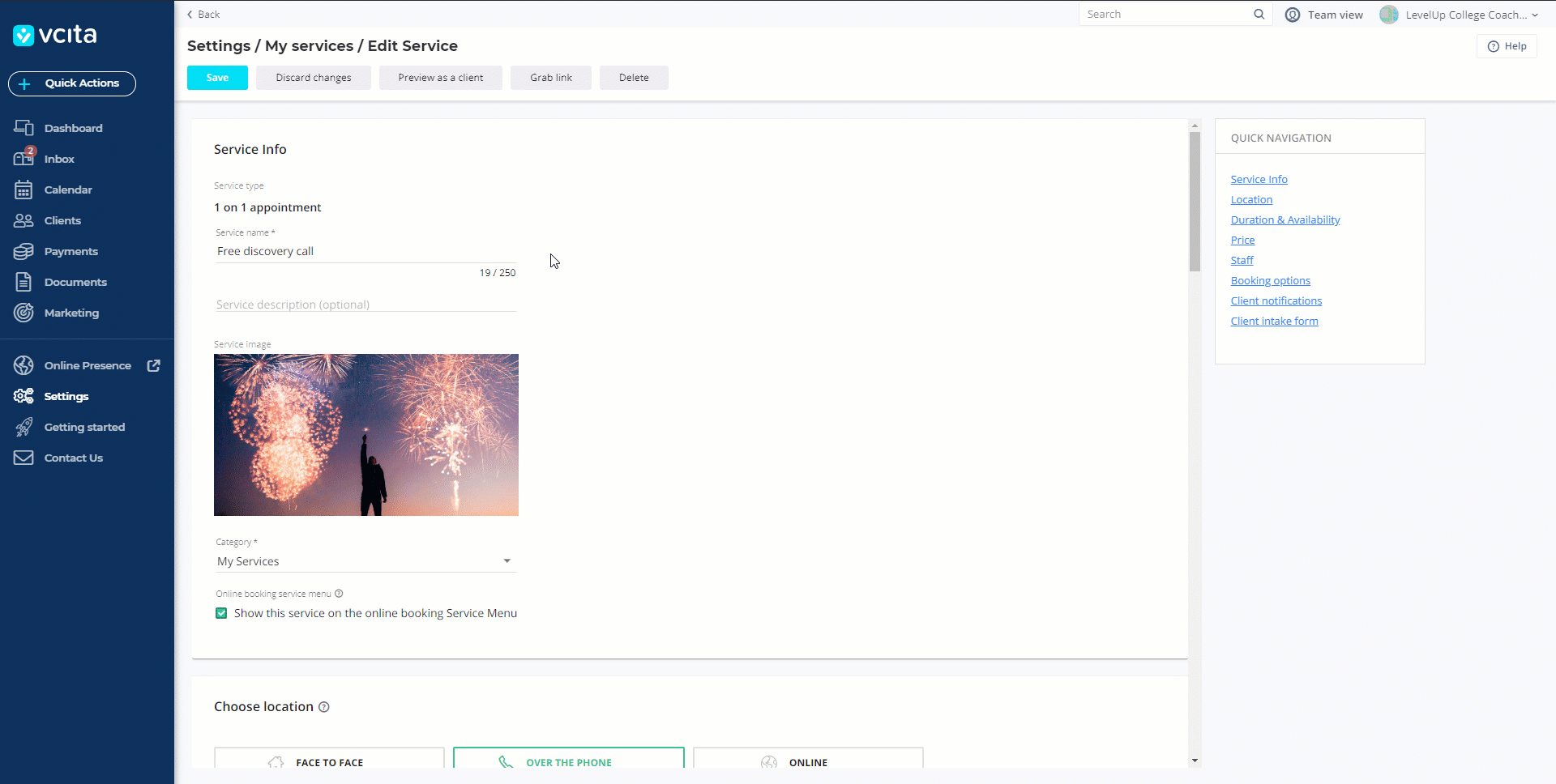 It goes without saying that you will often have services that appear at different times of the year. Others will be one-off specials and some you will just wanna offer to specific new or "best" customers. Well. Vcita has you covered.
All you need to do is "hide" the service from everyone, revealing it only to those you want seeing it or at a time you wish to reveal it. It's your choice. You decide. Ooh yeah!
When you "hide" a service, it's only hidden from view, it's still in your service menu. Hello, time-saving-changeroo!
Wait, it gets better. You can easily copy the link to this hidden service and share it with specific customers. A "by invitation only" policy if you will, that'll help you keep your services' menu uncluttered and pleasing to the eye. Mic drop!
As a small business owner, you know only too well that a stitch in time saves nine. Put a little work into your vcita services menu, sit back and let your services menu work for you.
We're super keen to see what you come up with, so once you're done with the setup, why not share it with us!