Ever wonder how your income stacks up against the average small business owner? And yeah, we know it's not a race! But hey, it never hurts to know where you stand.
According to recent research by Payscale, the average income for a small business owner sits just under $65,000 a year. Now ask yourself: how do you feel when you look at those figures?
Satisfied? Jealous? Meh?
No matter what your gut reaction might be, there's some good news.
You're totally able to give your income a boost.
That's the beauty of working for yourself. That is, your earning potential is up to you. Service business owners should empower themselves to earn as much as they possibly can and keep the needle moving forward.
If you're looking to figure out how without reinventing the wheel, you're in luck. Whether you feel stuck with your current income or simply feel like you could be earning more, here are the three steps you need to follow.
1. Get (so much) more from the clients you already have
Squeezing more out of the current clients you have is perhaps the simplest way to increase your income, yet also one of the most overlooked. Food for thought: it costs at least five times as much to gain a new client than it does to retain the ones that you already have.
If you've gone through the legwork of winning a client, you've already done the hard part. They know you. They trust you. They're more than happy to buy from you. Now it's just a matter of asking for more from your clients.
Doing so without being pushy is a cinch. Just look at the success of ecommerce giants like Amazon who make an absolute killing through product recommendations. Highlighting "frequently bought together" items or pointing out "customers who bought this item also bought this," they're able to push for more sales without a second thought.
And it works like a charm, by the way. In fact, one-third of all eCommerce revenue comes from product recommendations.
Service-based businesses can apply the same rules to their own operations. Adding in complimentary services to your existing ones is low-hanging fruit that can result in huge returns over time.
The art of upselling and cross selling
Consider some smart ways you can upsell your clients on the services you already offer. This might include…
Offering your services as a package deal (for example, five life-coaching sessions for the price of four)
Providing an existing client discount for any of your additional services (for example, a PT offering 20% off their new weight loss boot camp for current and past clients)
Giving a discount for long-term, retainer services (for example, a carpet cleaner giving a discount for consistent service every three months, tacking on furniture cleaning for free)
One of the best ways to promote your upsells and cross-sells is via emails. Check out some of vcita's proven email scripts and coupon templates you can adapt for your own business to win over more business from your existing clients.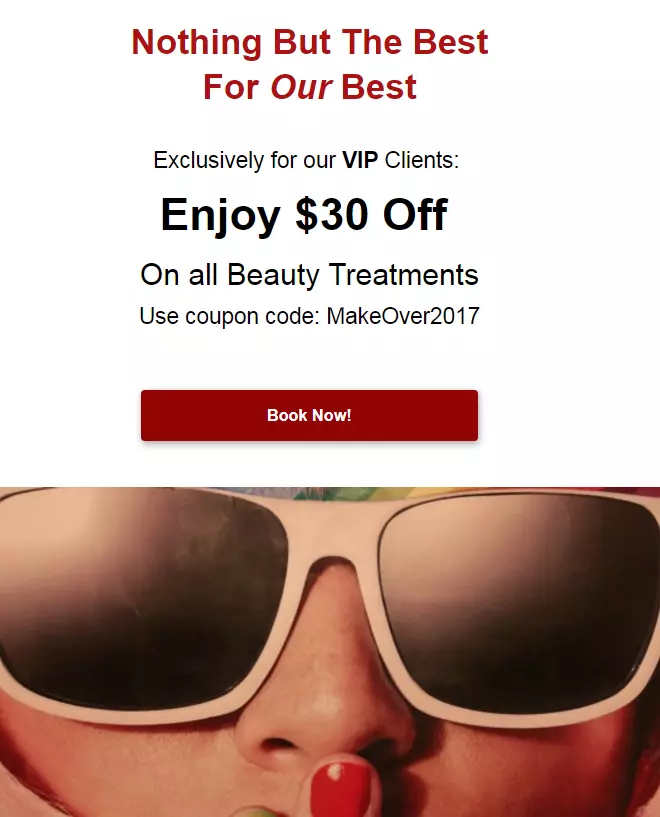 And so earning more money doesn't just mean simply raising your prices. Sure, you should get paid exactly what you're worth – but consider how you can make it happen with the clients that you already have rather than constantly scrambling for new ones.
2. Eliminate tasks that don't add value to your business or clients
Small business owners are notoriously busy. However, it's not uncommon for those same business owners to waste crazy amounts of time without even realizing it. Common culprits such as follow-up calls and tracking down invoices can eat up your schedule and keep you from spending precious time with your clients.
The trick is to find ways to put as many repetitive business tasks as you can on auto-pilot.
For example, an affordable client management software can take care of the "heavy lifting" of your business such as scheduling and collecting payments. With the hours you save, such an investment pays for itself in no time flat.
Meanwhile, client management solutions such as vcita also allow you to pass some of your day-to-day responsibilities onto your clients in a way that empowers them. Our client portal allows clients to do the following on their own time:
Book appointments 24/7
Make payments for bookings and services
Download or upload documents (think: contracts, estimates, etc.)
Watch your latest explainer video
All of this can be done without any time-consuming back-and-forth or hand-holding.
This means more time in your schedule and the flexibility for your clients to work with you around-the-clock. This sort of freedom is a game-changer, especially for Gen X and Y clients who don't want to feel tied down or restricted by the businesses they support.
The result is less on your plate, happier clients, and more time to do what you need to do rather than worry about tedious tasks.
3. Make sure your website is a top selling asset
An effective online presence is a must-have for local small business owners who want to be found online. There are some important areas of your site to focus on if you want to attract and convert new clients.
Mobile optimization is a big one. Given that the majority of searches come from mobile devices, you could accidentally be freezing out potential business if your mobile site doesn't look up to snuff. Many website building platforms such as WordPress and Wix have mobile optimization features, but tools like Google's mobile site tester can give you some peace of mind.
Meanwhile, don't let anyone tell you that SEO (search engine optimization) is dead. If you want to edge out your competition, you need your Google rankings for relevant keywords to be as high as possible. Nobody wants to be stuck on the second, third or fourth page of Google where many clients simply aren't willing to look.
If you're totally new to SEO, resources like Moz's Beginners Guide to SEO (and its revisions) or Search Engine Journal's A Complete Guide to SEO can help you get your feet wet. An SEO expert might be in the cards if you're consistently struggling to rank.
That doesn't mean you're powerless to take action, though. For local businesses, taking the time to get listed on Google My Business can really beef up your presence for potential clients who might be searching or you.
But here's a bigger question: what happens after you get found? After all, your website's primary goal should be converting those "random" visitors into long-term, high-paying clients. Here are a few recommendations for doing just that.
Roll out a lead-capturing widget
If you're limiting your lead capturing to an old-school contact form, chances are you're losing out on potential business. With the help of a lead-capturing widget, you can put your contact information front and center without interrupting your visitors. The ability to get in touch from your homepage means less digging from your potential clients, enabling to book with you ASAP.
Perfect your pitch
Awesome sales copy can make all the difference when it comes to winning over clients. Think of how you can build trust and signal what you're worth to clients on-site with bold headlines including…
A benefit-driven mission statement ("Client results are our business. We work one-on-one with our clients to ensure that your legal headaches become our problem, not yours. No matter what your needs might be, we can help.")
Data-driven results and social proof ("We've saved hundreds of clients tens of thousands of dollars since we've been in business – we want you to be next!")
Client testimonials and real-world praise ("Linda's been my life coach for the past three years – she totally turned my life around! I don't know what I'd do without her!")
Compelling copy does double duty of building trust with clients while also encouraging them to seek out your positive results themselves.
Make sure your CTAs pack a punch
Even some of the most subtle aspects of your site can make or break performance.
Case in point, your calls-to-action. Rather than ask your visitors to simply "click here," consider encouraging specific actions as they move from Point A to Point B. Check out how vcita's loud, customizable CTAs are nearly impossible for anyone to miss (including those ever-so-important mobile visitors).
Ready to give your income that much needed boost?
If you're looking to give yourself a much-deserved raise, don't assume that it's out of your reach! Any combination of these tips can put you on the path to a bigger paycheck, all without starting your business over from scratch.
Just remember: service businesses grow when they're able to make their value loud and clear. And with tools like vcita, you can make your business look like a million bucks to new and existing clients alike.