At vcita, we know that clients love having the power to do things when it is most convenient for them, which doesn't necessarily mean during your business hours.
So what happens when the mood strikes and a client wants to book an appointment at 2 am on a random Tuesday night? Sure, there's a chance they'll call in the next day when you're open. But what if they forget? You don't want to lose business because you can't be available 24/7.
What if we told you there was a way to keep your lights on and your business running 'round the clock? Well, with the client portal on vcita, you can do just that!
The client portal makes it possible for your customers to do things like schedule appointments and pay for services on their own time, freeing them from traditional business hours and creating more business opportunities for you.
What is the client portal?
The client portal on vcita is an easy-to-use online dashboard designed to allow clients to do what they want when they want. In other words, the client portal is a way for clients to be self-sufficient and remove time restrictions created by traditional business hours as well as reduce tedious admin on your end.
Take for example a hair salon. Traditionally, clients will have to call in during business hours to schedule an appointment. Upon calling, someone will speak with the customer, check availability and book the client, all manually.
Now with the client portal, all of this changes. On the portal, the salon owner can pre-determine which hours are available for appointments and block off the times that they are unavailable. Upon entering the portal, the customer will be able to select "cut and color" and view all of the open appointment times on their stylist's calendar and schedule on the spot.
On the off chance that a client has any questions, the client portal also has a direct messaging feature that allows for open communication without ever having to leave the portal.
Unlike booking the "old-fashioned way" scheduling with the client portal is seamless, saving time for both the business and the client. With the client portal, your business will stay running even when you're OOO (out of office).
The client portal also allows for secure payments within the platform. You, the business owner, can send the client an invoice which they will see in their client portal dashboard. They can then make a payment directly within the portal via PayPal or credit card.
As a business owner, you have a ton of flexibility with this feature. If you are a tutor with clients that return weekly for sessions, you can set up invoices to automatically go out to your clients on the first of every month, charging them for four sessions. If you prefer your clients pay after each session, you can set invoices to go out weekly instead.
In the portal, clients will be able to see exactly how much they owe you and much like the scheduling feature, do not have to worry about calling up to pay you within business hours. The ability to have all payment info stored in one place keeps things organized for everyone involved.
While we're on the topic of keeping everything stored in one place, let's discuss file sharing. Some businesses require a constant exchange of files with their clients, but sharing files can be a tedious process. Things can get lost in the shuffle when people are emailing back and forth and saving files in a million different folders.
For example, a contractor might need multiple photos of their client's home before starting a remodeling project. By uploading all the photos to the client portal, they will be able to view each individual project and all of the files associated with the project separately, rather than combing through emails from multiple clients.
Some files are more sensitive than others. Take healthcare practitioners who constantly need to be sending and receiving private medical documents to and from their patients. With the client portal (which is HIPAA compliant by the way), clients can simply upload files like their medical history and feel secure knowing no one besides their healthcare professionals will have access. Patients will also be able to download things like test results and other documents from their doctors directly within the client portal.
The client portal is also personalized for each and every user. Ever book a massage and forget exactly what kind of service you booked or how much it cost after a few months? With the client portal, you can view your appointment and payment history in just a few clicks so you can book the same massage one month or one year later with no problem.
Clients can also access the portal from just about anywhere. Desktop computers, Android, or iPhone, clients can log in from the top of Machu Picchu for all we care!
What do businesses love about the client portal?
As we mentioned earlier, the client portal is a mutually beneficial relationship for both the client and the business. With the portal, staying on top of customer engagement has never been easier. By streamlining all direct communication with the client into one place you'll no longer have to worry about missing messages or phone calls. You can also use all of the client chat histories as a mini CRM to learn from your communication with clients and figure out if there are areas that need improvement.
And guess what? You don't have to be an engineer to create the perfect seamless professional portal for your clients. The whole point of the client portal is to make life easier, so while every element is completely customizable, you don't need to know a single line of code to create a highly branded experience.
What do your clients love about the client portal?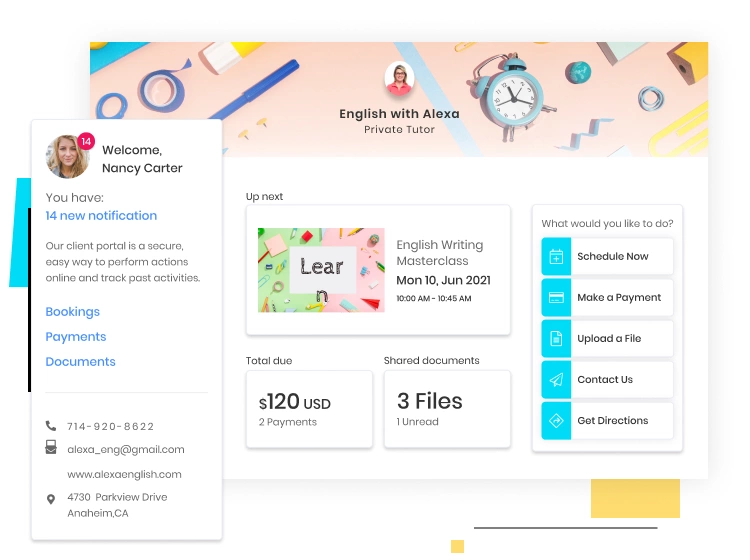 Accessibility
You want to make your business accessible to your clients, that way they don't have to wait for you to interact. The client portal empowers your clients to take action, whether you're in another appointment, on the go, or sleeping. And it's easy to access – from any device with an internet connection, increasing the chances your clients will engage with your business.
Autonomy
The client portal is also a place where your clients can be as independent as possible. Your clients should have the ability to take care of things like scheduling and payments on their own, whenever is most convenient for them. With the client portal, they can easily find everything in one place.
Security
The client portal is not only easy to use, but clients will rest assured knowing everything within the portal is secure and password protected, from payment information to personal documents.
Ease of use
We also know that by automating as much of the customer journey as possible, things will be easier for both the client and the business, making the client portal a win-win for everyone. Not only does it allow the client to be self-sufficient, but the businesses themselves. With the client portal, there are aspects of the business that basically run themselves.
Get your clients their own client portal
There is no shortage of reasons why you should share the client portal with your clients. Not only will you be empowering them to do the admin work for you, but you'll also be offering an unparalleled experience. They'll love the ability to schedule appointments, make payments, view documents, ask questions and more, all at the touch of their fingertips. So what are you waiting for? Start launching your client portal!