Have you been feeling like you arrived a little late to the party? Suddenly everyone around you is talking about this cool new way to communicate with clients and friends? What the heck is Google Hangouts anyway?  Maybe you tried it once but didn't fully commit to it and never really "got it". Feeling a tad bit daunted by jumping in to this kinda new (ok it kinda changed it's name) yet well-established tool? Well, in short, don't be. It's super simple and you're gonna love using it! It may seem tricky at first but it's actually much more simple when you crack it. Which you will. We promise!
That's why we've decided it's high time we explained all the tips and tricks you need to have up your sleeve, to hit your Google Hangout's game out of the ballpark. So pour yourself a cup of something hot and yummy ( hot chocolate with whipped cream anyone?), get yourself all cosy and take either your computer, your cell phone or heck both of them with you to a comfy chair. We'll have you set up and " in the know" by the time you finish reading this post. Guaranteed!
1. How do I Even Install Google Hangouts to My Computer or Mobile Device?
Pumped to get started? You should be! Now before we start getting to the good stuff we need to install or locate your current Google Hangouts. There's 4 possible ways you will need to do this. Look below at which is the relevant scenario for you and just follow the easy steps we've played out especially with you in mind and have yourself set up in no time flat!
a) Got gmail? Opt-in and switch on Hangouts
Real Talk: This is only an option if you want to exclusively use the texting feature or your account is a G Suite account. Otherwise the call feature will be disabled and you're gonna either want to change that or simply jump ahead to section "c)"
On the top site of your inbox is a burger menu.
Press on the Hangouts symbol. It signs you into Hangouts across all your devices.
b) Got Chrome? Install the Hangouts extension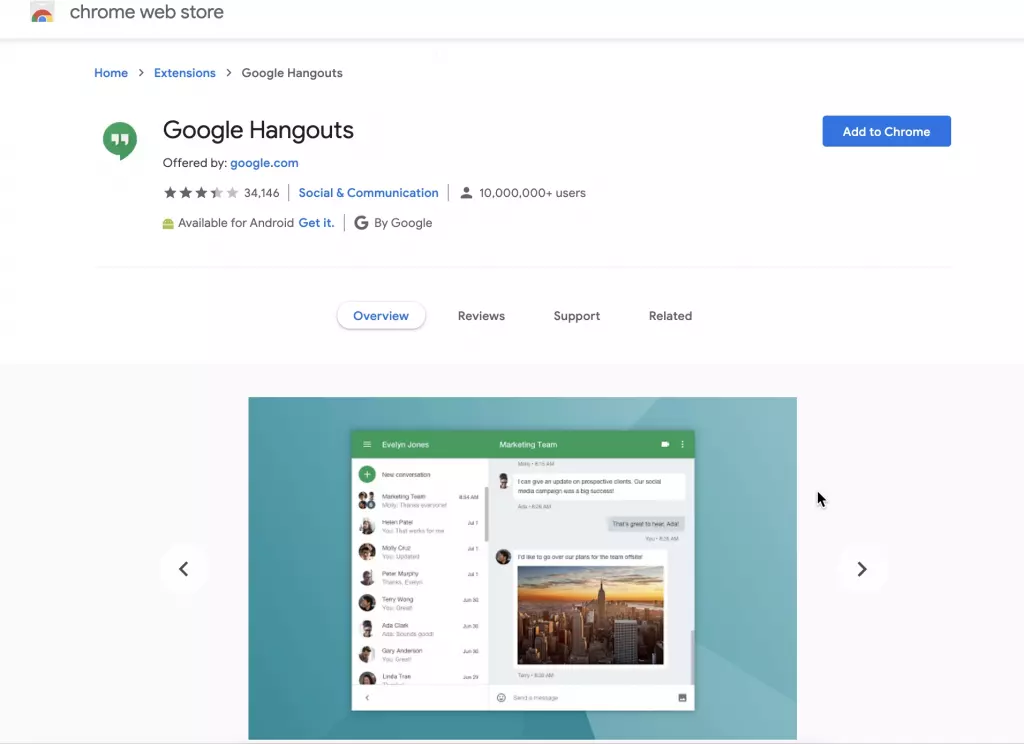 Real Talk: This is only an option if you want to exclusively use the texting feature or your account is a G Suite account. Otherwise the call feature will be disabled and you're gonna either want to change that or simply jump ahead to section "c)"
Using Chrome usually means that, nowadays, hangouts just comes as part of the package.
c) Don't have a) or b)? So watcha waiting' for? Here's how to google the Hangouts app and download the desktop version.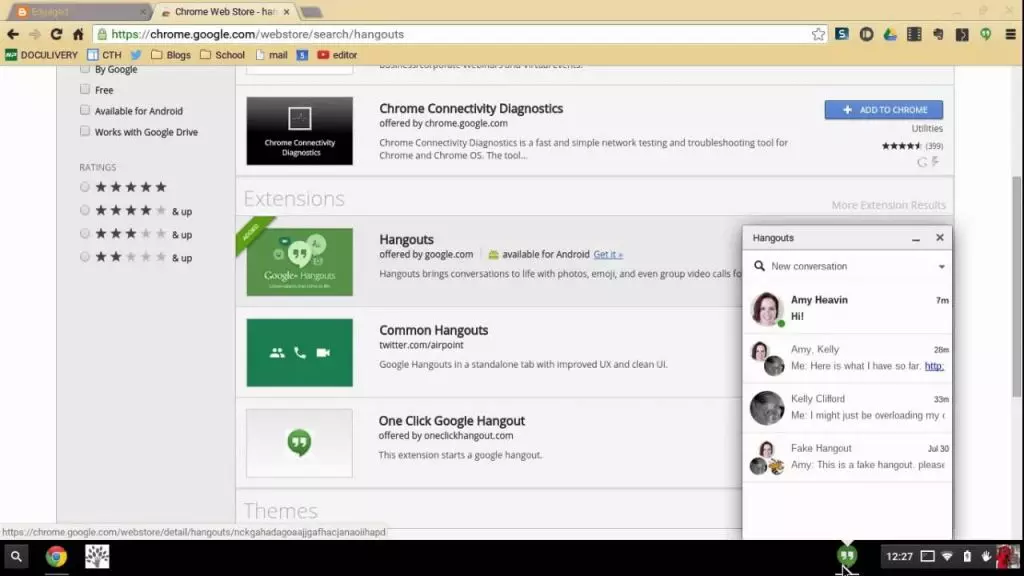 If your using Chrome then go to the chrome app store. If not then go to https://hangouts.google.com
Click to download. Don't be shy. It's totally free!
Follow the simple onscreen instructions.
d) Want Hangouts when you're "on the go"? You know what to do. Download the free Hangouts mobile app from your App Store (compatible with both iPhone and Android)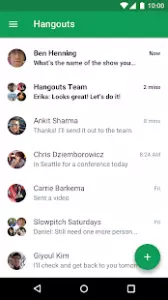 Now. You're only gonna want to do this step to carry your desktop convos with ya. Let's be clear Hangouts is more of a desktop kinda app BUT you can definitely use most of its features on the go, the calls and texting in particular.
Take your mobile device (cell or tablet) and search for google.com/hangouts in the browser.
Download the free app. And you my friend are all set up! wohoo!
2. Help. I'm a Google Hangouts Virgin. How Does Google Hangouts Work?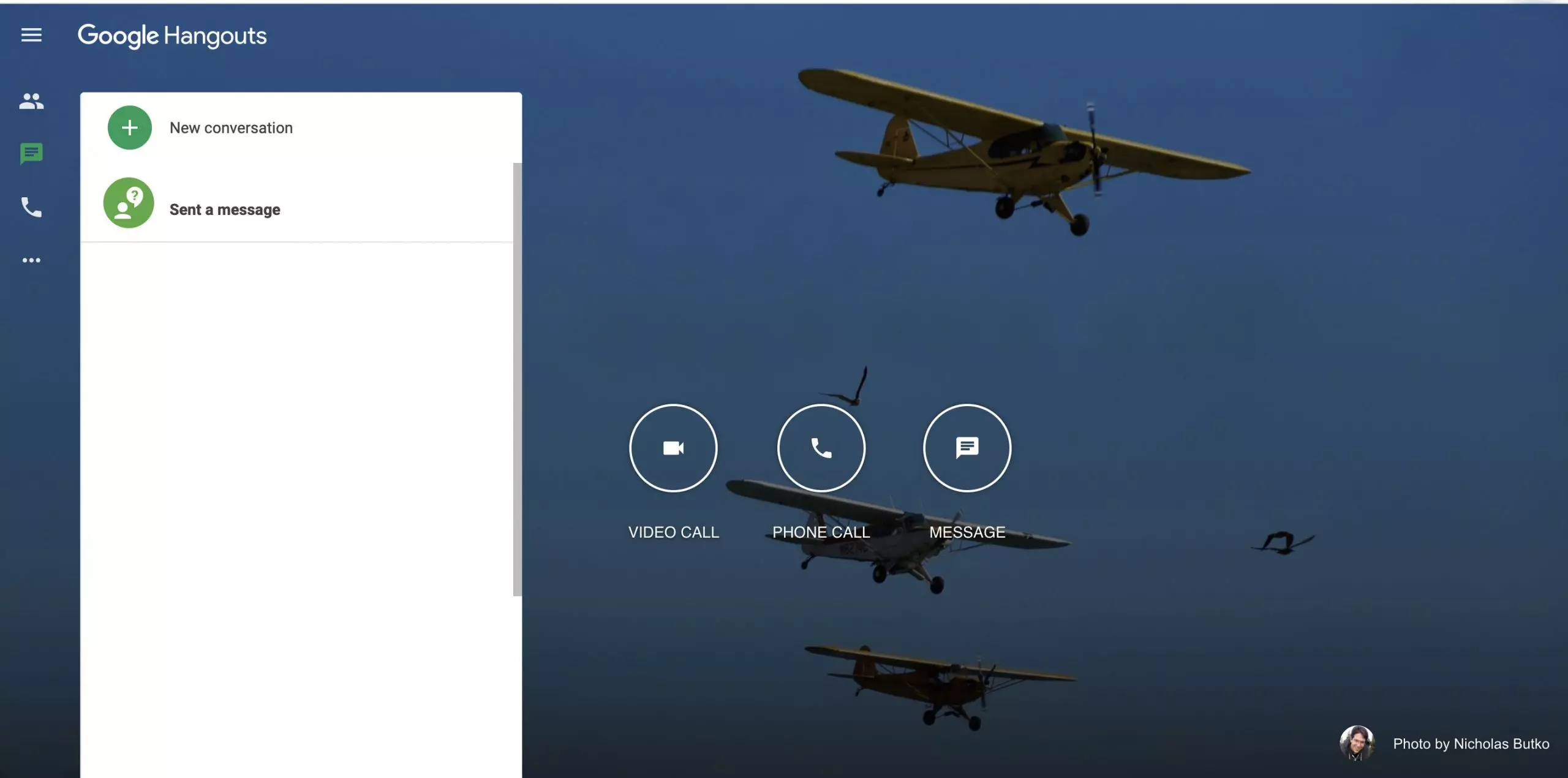 Alright. Alright. Alright. So now you're all kitted out and set up with Hangouts. Easy sneezy so far. Right? We told ya, you could do it! Now let's start actually using the darn thing!
We're gonna be thorough and explain how to use the app on your desktop and your mobile device. Remember, got this!
Hangouts for Desktop
Click onto your Hangouts app.
Scroll through the introductory screen until you reach the Homepage. On the left is the menu, your contacts, any previous conversations, phone calls and a "more options" tab. We'll deal with these bad boys later. For now we want to focus on what's going on in the centre of the page.
Under the greeting with your name, you are presented with 3 options: "Video Call", "Phone Call" and "Message". Each one with an easily identifiable icon.
Whichever medium you choose, all you need to do is enter the email, name or phone number into the space bar, the one with the little microscope icon, and you'll be able to instantly locate your contact. Easy as 1,2,3.
Pro Tip: You wanna message several of your entourage at once? Why not create a shortcut by clicking on the "new group" (under the spacebar) and enter their contact information. It'll save you oodles of time in the long run! Strike.
Hangouts for Cell Phone or Tablets
The Hangouts MO on your mobile device is pretty much identical to the one on your desktop. However, it's totally normal to get a little bamboozled when you're first getting used to a new platform. Heck, we do all the time! However, we're gonna walk you through it if it's all the same.
Go into settings and allow your Hangouts App access to your Google account.
Click the "+" symbol in the centre of the green round button in the bottom right hand corner.
Type the name, phone number or email address of the contact you wish to contact. Click on the name.
Just as in the desktop version you can save time for the future and create a "new group" for groups of friends or work contacts. Neat!
You can now start "Phone Call", "Video Call" or send a message to any of your contacts. Hurray!
3. Customise your Hangouts by Personalizing your Settings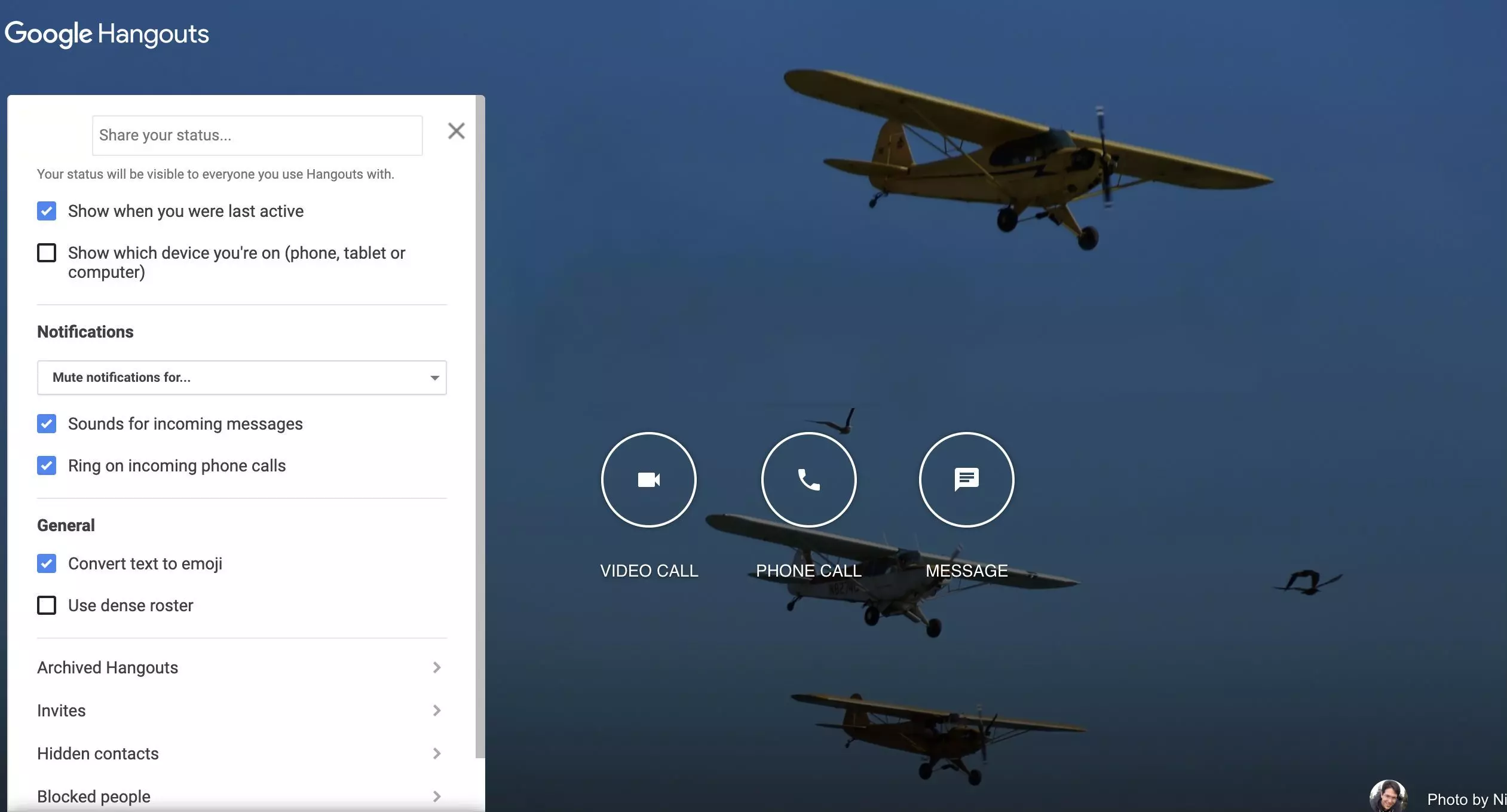 So you want to have more control over how your Hangout contacts interact with you? Customise your settings!
Accessing your Settings is different if you're using hangouts through your Gmail account or your Hangouts App (Computer and Mobile Devices inclusive).
If you're using Hangouts through Gmail:
Go to where your hangouts appears on the left hand-side of your Gmail. Click on the little down-facing arrow on the right hand side of your name.
If you're using the Hangouts app:
Press the "three lines" icon at the top left-hand corner of the app.
Scroll down and press on the cog icon with Settings written beside it.
Now you have reached the Settings section. Customise by clicking or selecting or de-selecting the options where relevant:
Share your status
Show when you were last active online
Show which device you are on (phone, tablet or computer)
Mute notifications. You can chose to mute 8 different time options between 1 hour and 1 whole week
Sounds for incoming messages
Ring on incoming calls
Convert text to emoji
Use dense roster
Customise invite settings
Pro tip: You can also choose to customise each of your contacts individually. If you're working through your Gmail: open a conversation tab with the contact you want to customise. Press on the Settings cog at the top right hand corner and customise.
If you're using the Hangouts app. Click on your contact. At the top right hand corner there are three dots. Click on it and a pop-up overlay with a choice of four actions appears at the bottom of the screen. Select the Cog icon with "Options" written beside it. You can now customise this contact.  
4. Face-to-Face: Video Calls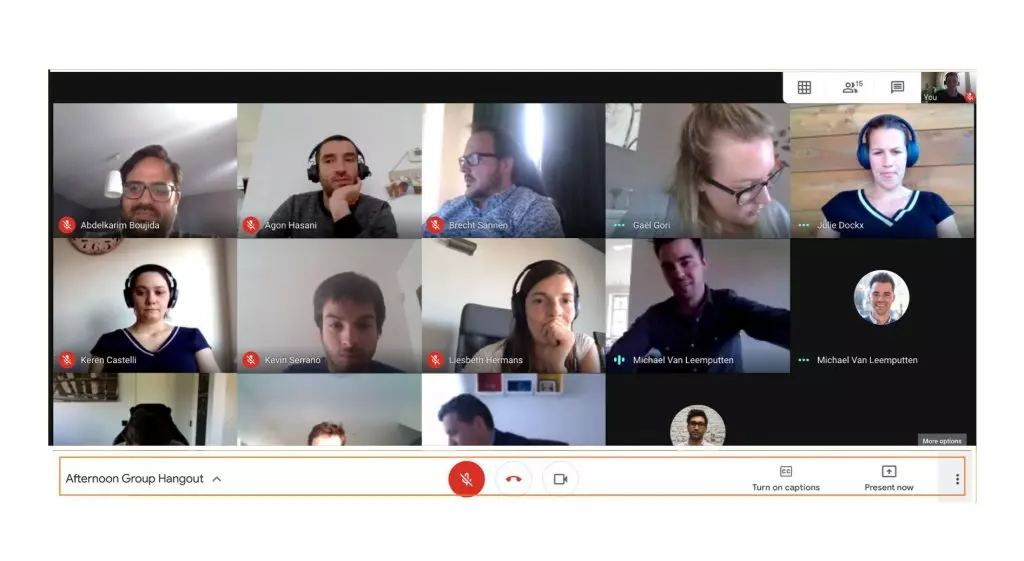 Phone calls are great. So is messaging back and forth. Sometimes all you really need is to speak face to face. What happens if you can't? Maybe you and your contacts aren't in the same place, heck maybe you're in totally different time zones. That's when Video calls are gonna really come into their own. So click on the contact you want to video call and simply press on the little camcorder icon, think Old movie magic, and as long as your contact is signed into their Hangouts they'll receive the call. Depending on their settings, they'll get a notification if and when they miss it.
Maybe you need to talk to more than one contact? Maybe you want someone to join into your conversation? No problem. In your new pop-up video call screen, you will see an icon of a "+ with the image of person". Click on it and add up to 10 new contacts. Smile. You're on camera!
Pro tip: Why not go the extra mile. If you haven't already, download your free Hangouts Plugin to save into your browser. It'll just streamline the entire process. Time saver. Game changer.  
5. Customise Who Can Contact You On Hangouts
Aha. So you're all happy with your shiny new Hangouts toy, but there's just a little snagaroo. You keep getting these annoying, unsolicited, irrelevant messages from randoms on the interwebs? Annoying. But who said you needed to put up with such nonsense? Not us!
Press the drop down menu. There is one for the contacts you have your phone number, your email address and your contacts who fall into both categories.
Click on if you want them to be able to contact you or if they need to get a request (from you of course) to do so!
Wanna block the randoms? Of course you do. Click on the dropdown menu. Select  "Everyone else" and click on "Can't send invites".
Welcome to your new Fort Knox Hangouts. Ain't nobody you don't want to get in contact with you ever hassling' you again. Hey. We're workin; here!
Welcome to your new Fort Knox Hangouts. Ain't nobody you don't want to get in contact with you ever hassling' you again. Hey. We're workin' here!  
6. Picture Perfect: Effortlessly Send Photos And Links Through Messages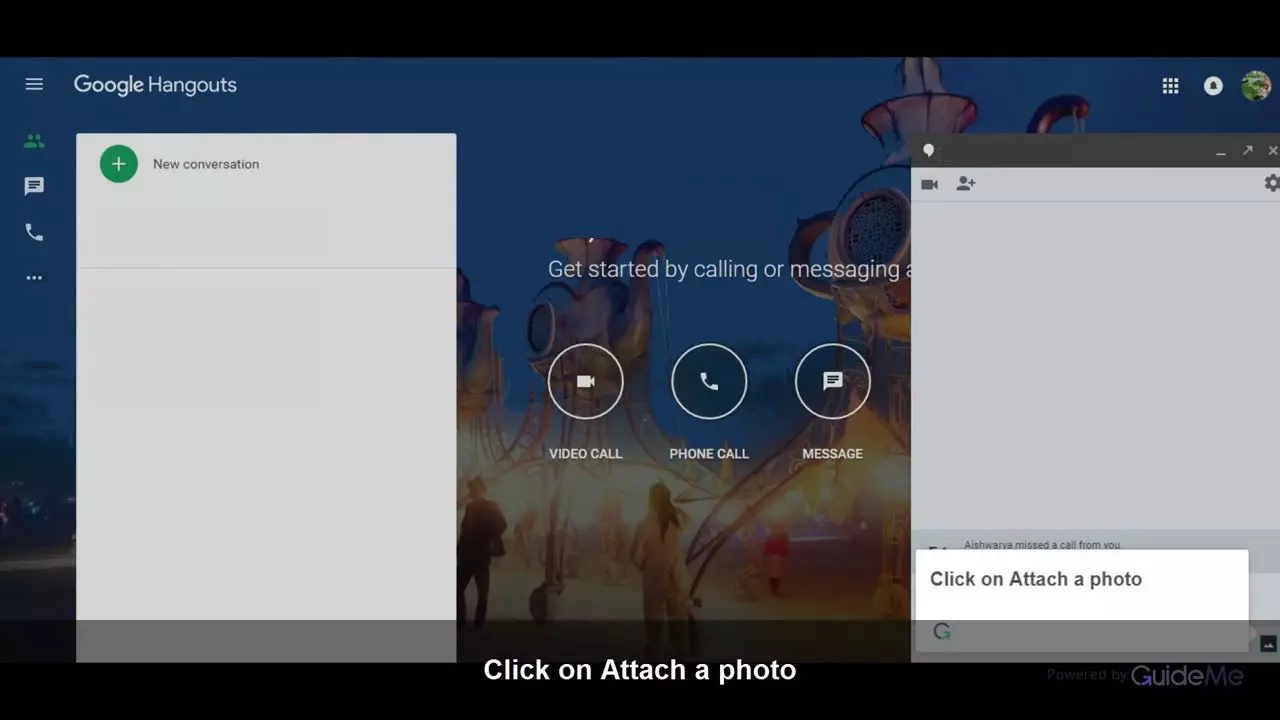 Since the advent of photo and video apps such as Instagram and Tik Tok, visual content has seen an ever increasing surge in popularity. Some may even say it has surpassed the power of the written word for how we send and want to receive information. That's why a more streamlined access to your photos is ever more imperative. Sure it's not "that hard" to get access to your photos, but why should you have to make several clicks and pass through extra tedious steps instead of pressing on one nifty lil' button?
That's right. Open your conversation tab and you will immediately notice a little icon of a mountain range in the bottom right-hand corner. Click on it. Ta-dah: welcome to Narnia. Kidding. Welcome to the world of immediate photo access. Did you notice the 6 different tabs of "imputes sources"? Yep those sections at the top of your pop-up window. What are they? Glad you asked, 'cos that's exactly what we wanted to tell you!
So. What happens if you click on one of these? Let's find out!
If you click on "Upload photos" : if you've ever used gmail you'll be only too familiar with this page. You can either easily select a photo from anywhere on your computer or simply drag an image into the pop-up page. On your cell phone it grants you immediate access to your photo albums.
If you click on "Auto Backup": In order to use this feature you will first need to download Google+ on both your computer and mobile devices. You will then be able to grant Google immediate access to whatever photos you want.
If you click on "Photos": you'll be taken to the section in your Google account that stores photos you have specifically uploaded to your Google account for example any profile photos (the one you use on your Gmail)
If you click on "Albums": This is where you can find any previously sent ( through Hangouts) images. They're organised by conversation. It's a super easy to have a look at what you've sent  or received.
If you click on "Video search": In the same vain as the previous tab, this allows you to find previously sent/received Youtube links. Just type in the search tab key words and you'll get a still and the accompanying link.
If you click on "Web Camera": This does exactly what it says on the tin. It allows you to take a snapshot of yourself from your web cam and immediately send to your Hangout contact(s).
Taking, uploading and sending photos to your contacts has literally never been so quick and easy!  
7. Make your Messages Pop Out in Your Google Hangouts Messaging
Sometimes you really need to bring the message home! Maybe you need to make the message clearer to understand quickly and make the important bits pop out from the rest. That's when Formatting becomes your new best friend. Sadly, as of yet there's no in-built toolbar. But that's not gonna stop us now in our tracks is it? Hell no!
Our lil' Take-Away: Here's a list from Google's own website. Insert these special characters into your text and you have a choice of 7 added formatting tricks:
To bold text, add asterisks * before and after the text you want bolded. For example, if you type *Tuesday*, the chat will display Tuesday.
To italicize text, add underscores _ before and after the text you want italicized. For example, if you type _every week_ , the chat will display every week.
To strike through text, add tildes ~ before and after the text you want struck through.
To create an inline code block, add backticks ` before and after the text you want in a code block.
To create a multiline code block, add three backticks "` before and after the text you want in a code block.
8. Calling All North Americans: How to Set Up a Google Hangouts Call to Someone's Cellphone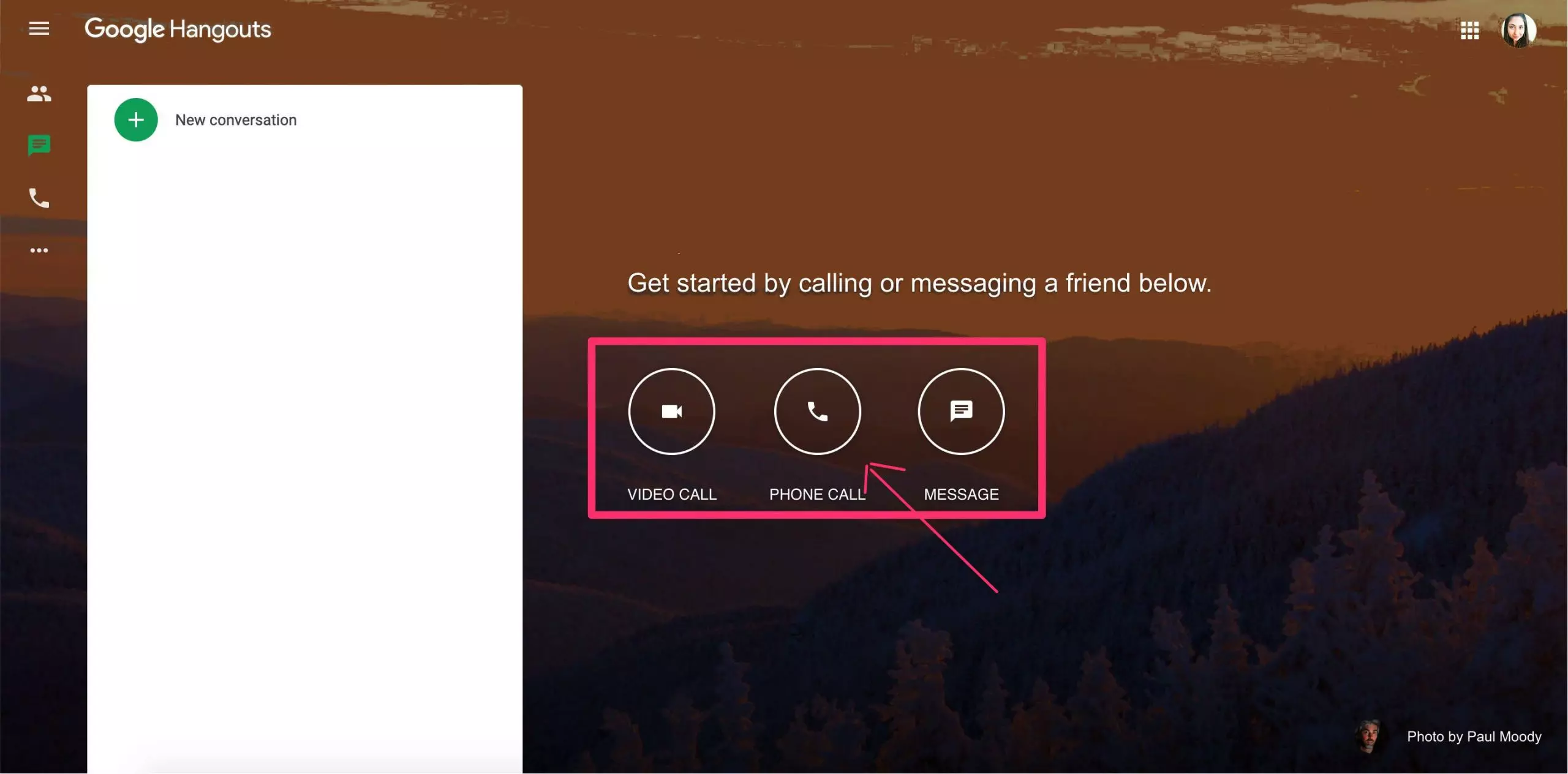 Do you live in the US or Canada? Oh you lucky thing you. You not only get to enjoy limitless amounts of great BBQ or Poutine but you also get to make free calls from your Hangouts to your contacts' cellphones!
So how do I make one of these calls from my computer or mobile device? We thought you'd never ask!
On your greeting page you have three icons. Click the one in the middle with a little icon of an old-fashioned phone receiver.
A search box with a little magnifying glass icon will come up.
Type in the name of the contact you wish to call or type in the number (like in WhatsApp or Skype) you wish to call.
As on Skype, if you're "going international", click on the little flag emoji on the left of the search button.
Choose the flag of the country where your contact is. Click on it.
Let's go straight to the nitty gritty. If you do choose to "go global" and call outside of the US and Canada (or if you are located elsewhere but Hangout calls are available), you will need to check rates for each call you want to place as those calls with incur charges. Like yo mama taught you: always read the small print!  
9. Hunt for Easter Eggs to Discover Hidden Features
We bet the last thing you expected us to talk about in a Google Hangouts' article would be anything fun, let alone anything to do with hidden Easter eggs. You're gonna be even more surprised to find out we're not referring to the chocolate or candy ones. Bummer!
Did you know that "Easter eggs" is a fancy shmanzy tech and gaming term which refers to any secret features or tools that are hidden within the product by their developers. Those jokesters!
Without giving too much away, spoiler alert, simply type one of the following words from our selection below (including the forward slash) and have a little fun whilst you use your Google Hangouts. C'mon, you worked hard and stuck with us! You deserve it!
Need to have a face to face video call with a colleague or a client? Send a business message? Send a txt or make a phone call from your office? In the age of technical greatness that gave you the spork, who said you ever needed to choose? Google Hangouts is super easy to install app and is even easier to use. Plus you can have my lil' Ponies run across your screen. A surefire Win win if you as us!