Meeting remotely isn't just a stopgap measure in a crisis. Some predict that changes to the way we do business might be here to stay, and with good reason. Video conferencing software can reduce travel costs, make it easier to share information, and expand your market of potential clients. Features like digital whiteboards, screen sharing, and breakout rooms have made video conferencing more like meeting in person than ever before. Below are a few of the key features you might find in the best video conferencing software, plus the 7 best solutions for online meetings.
Video conferencing software: important features
Screen sharing and remote access:
During your meeting, you might want to be able to share what's on your screen in addition to your webcam, or access the other person's screen remotely. Most video conferencing software comes with these features, but take note of how easy it is to do, and whether you can stream from your webcam at the same time.
Dial-in features:
For larger meetings or rural settings, dial-in features can be a lifesaver for those that don't have access to the internet. This is a good feature if you're a life coach that hosts webinars, for example, or anyone else hosting large presentations.
Whiteboards:
Anyone who needs to meet to collaborate can benefit from a whiteboard feature. It's exactly what it sounds like—a digital drawing space where you or other participants can hash out ideas. This is great for creative professionals like graphic designers and architects, but is also handy for educators.
Tech Support:
This is especially important for small business owners, who may not have in-house IT on hand to help. Most conferencing solutions will have video tutorials, tech support, or user forums where you can troubleshoot problems. Make sure the option you're choosing has the level of tech support you're comfortable with.
Integration with a scheduling solution:
If your scheduling software is separate from your conferencing platform, it can be easy to forget to send a link to your meeting, or to send the wrong link. Integration with a scheduling solution means the link to the conference will be created automatically, then show up in your client's inbox automatically once the meeting is scheduled. For appointment-based businesses like therapists and personal trainers, this saves a lot of manual admin work—and its potential for error.
Other things to make a note of are what the software looks like when you're sharing, what the moderation features are, and how easy the software is to use. Make a list of the features you need first, then start shopping. Below are a few options to check out first.
The 7 best video conferencing solutions 
1. zoom
Pros:
generous free plan with lots of features
live training and support
highly customizable
Cons:
dial in numbers for some countries (including the US and UK) are expensive
past security issues
Pricing:
Free for up to 100 participants, for meetings of up to 40 minutes. Priced plans start at $14.99/month.
Features:
screen sharing
waiting room
breakout rooms
whiteboarding
document sharing
chat features
One of the most popular video conferencing solutions on the market, zoom has all of the features most people would need for any type of meeting, including grid views for multiple participants, and video recording in paid plans. It also integrates with vcita, a scheduling tool which automatically creates a link when you or one of your clients schedules a meeting.
Recent security issues have sparked some controversy about zoom, when the large influx of new users in March led to hackers "zoom-bombing" meetings. However, zoom has recently acquired Keybase to help protect its data security. zoom's features make it a top contender, and it seems likely their security will stabililze fairly soon.
2. Google Meet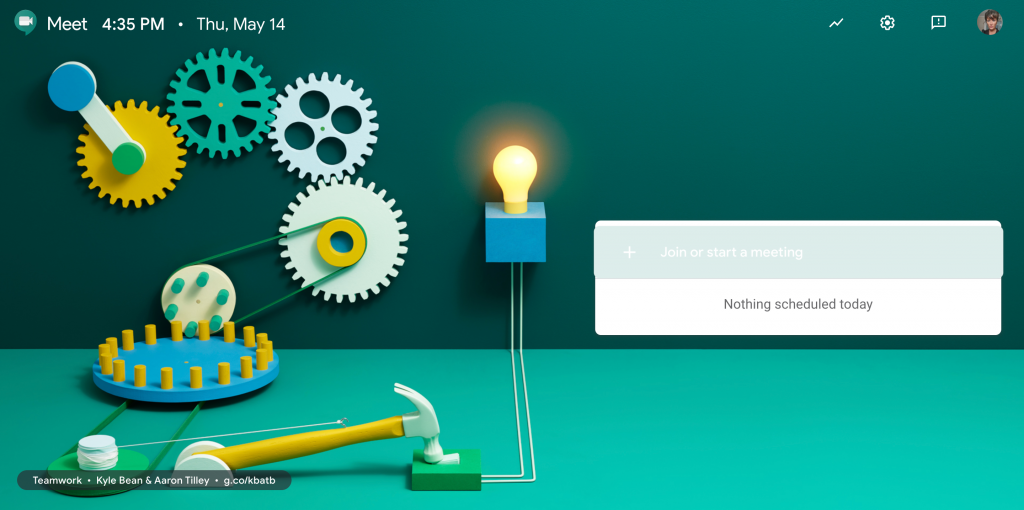 Pros:
inexpensive
access to other G Suite features
US participants can dial in to meetings in entry-level paid version
Cons:
online version only accessible through Chrome browser
fewer features than some other solutions
Pricing:
Free for up to 100 participants, for up to 24 hours until September (and up to 60 minutes after September). Priced plans start at $10/month.
Features:
screen sharing
live English closed captions
easy file sharing with Google Docs
present with Google Slides
Adjustable layouts
If you've never heard of Google Meet, it might be because in April, Google rebranded Google Hangouts Meet. There's now a free version of the video conferencing software, with longer call times than zoom's free version and the ability for US participants to call in. It's fully integrated with Gmail and your Google calendar as well.
However, Google Meet isn't nearly as versatile as zoom; for example, it doesn't have a built-in whiteboard tool or breakout rooms, which are great for teachers (although it does integrate with Google Classroom). Also, there is only self-help and community forum tech support in the free version—you'll have to pay to access online support.
3. Microsoft Teams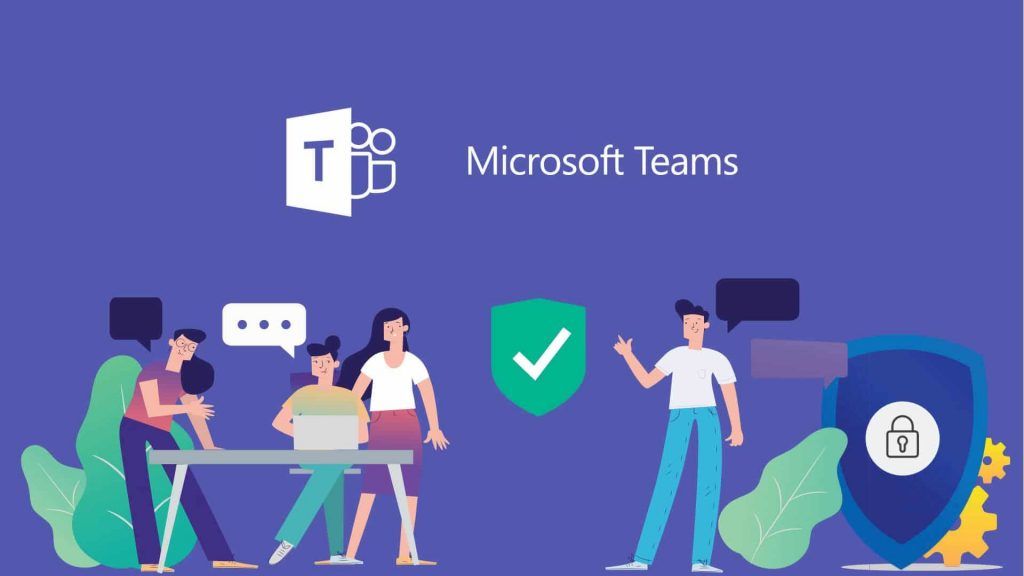 Pros:
included with MS Office 365
highly customizable
Cons:
audio conferencing is an extra add-on
video conferencing group features are only available through paid plans
Pricing:
Free, with priced plans starting at $5/user per month.
Features:
Screen sharing
Customized backgrounds
Chat messaging with file sharing
Online access to Word, Excel, and PowerPoint
24/7 phone and web support
Microsoft Teams is the MS Office answer to video conferencing. It's included with the MS Office 365 suite, so it's the likely go-to for anyone who needs to set up an office with Microsoft software. It's replacing Skype for Business, which will retire in July of 2021.
With Microsoft Teams, it's easy to access OneDrive and SharePoint files, so it's a convenient solution for those working primarily with Word, Excel, or PowerPoint. There's also a free whiteboard tool available, although it's an additional app to download and integrate with Teams. With video conferencing for groups only available through the priced plans, the free version has far less to offer than the free version of Google Meet and zoom.
4. GoToMeeting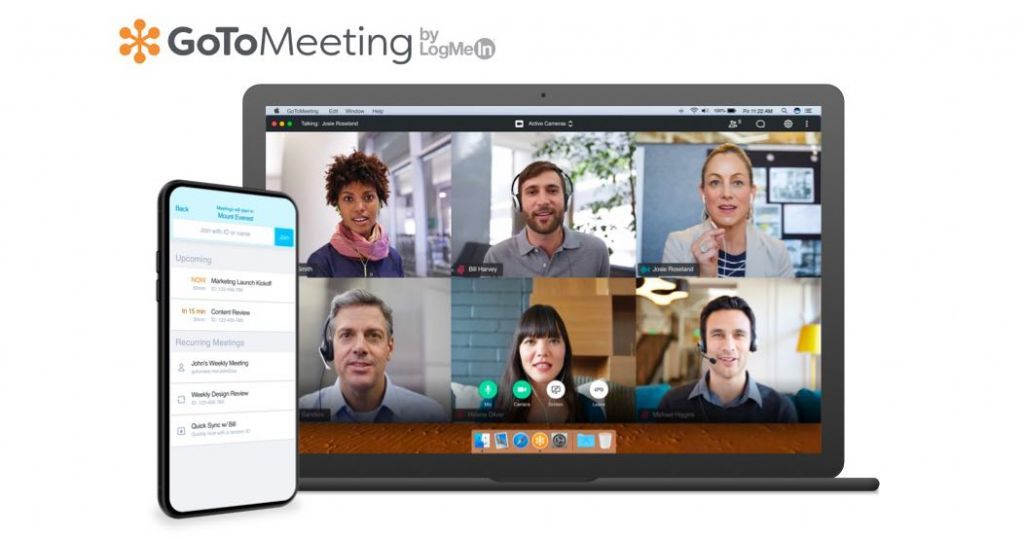 Pros:
no meeting time limits
integration with other GoTo products
more audio calling options than other products
Cons:
high price per organizer, with a limited free version
Pricing:
Free version for up to 3 participants, with paid plans starting at $12/organizer per month.
Features:
screen sharing
meeting transcription, recording
dial-in conference numbers
drawing tools in Business plan
webinar features including polls
GoToMeeting is part of a suite of products designed with conference rooms in mind. Each paid plan comes with room equipment, with the option to buy product packages that include GoToWebinar and GoToTraining.
Although GoToMeeting doesn't have some of the functionality of zoom and Google Meet, it does have a few unique new features. These include a "smart assistant" feature that can detect meeting highlights, and the ability to take notes directly in the app that automatically save so you can share them. GoToMeeting is a good tool for corporate offices hosting meetings in a traditional conference room, but might not be the best option for smaller business owners or individuals.
5. Cisco Webex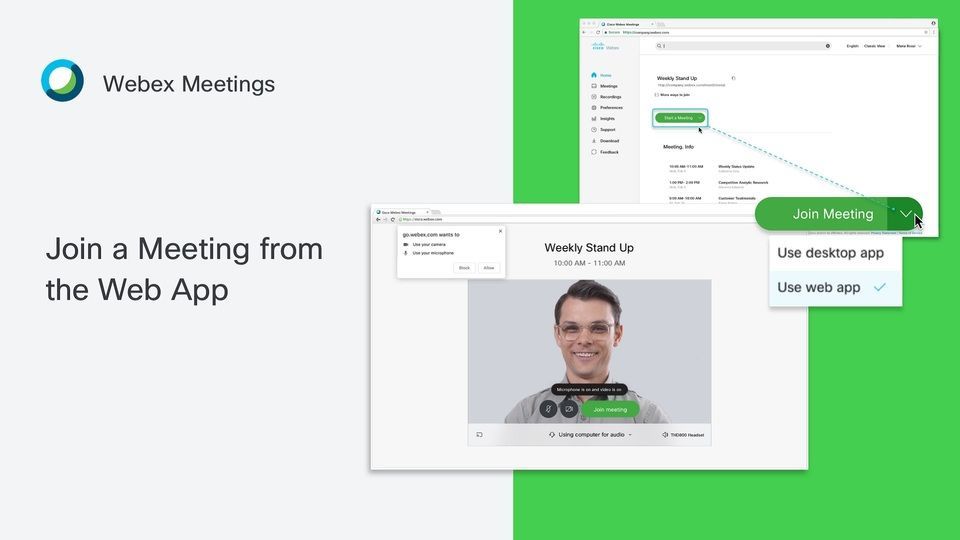 Pros:
stream to Facebook Live with Facebook integration
ability to edit whiteboard while viewing video
Cons:
more difficult to join meetings
Pricing:
Free version for meetings of up to 100 participants each, with paid plans starting at $13.50/host per month.
Features:
multiple view options
personal room with permanent link
notes, raise hand, and polling features
whiteboarding
chat and file sharing
view availability status of other participants
Cisco Webex and zoom have very similar features and price points. While zoom's free version allows for meetings of up to 40 minutes, the free version of Cisco Webex doesn't have a time limit. However, new users will have to fill out personal details and create a password in order to join meetings.
Paid plans for Cisco Webex include some unique features, such as optional add-ons that enable your meeting to call a participant instead of having them call in. However, automated scheduling integrations are only available in the paid version, whereas the zoom version offers integrations for free.
6.joinme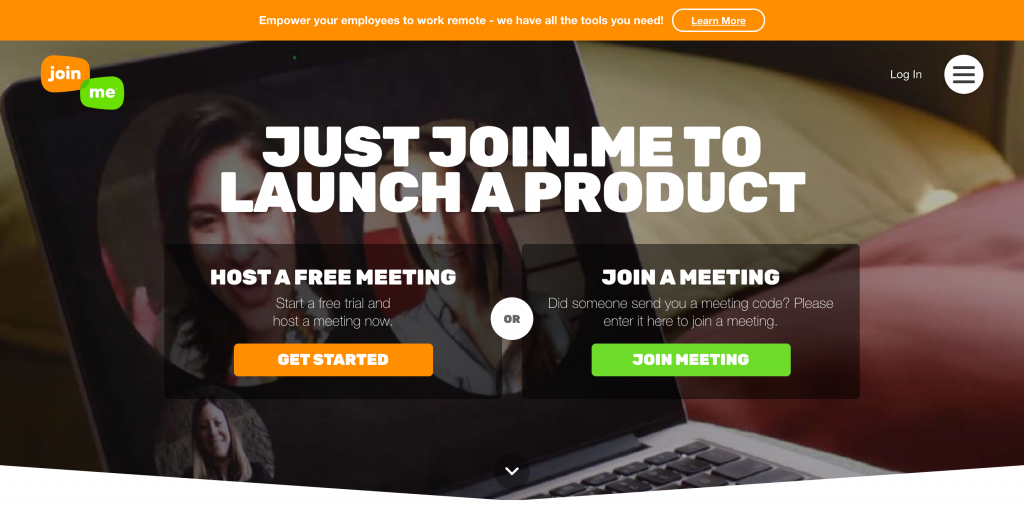 Pros:
simple user interface
price discounts for nonprofits
easy for users to join a meeting
Cons:
no webcam streams available in lite version
fewer features than zoom or WebEx
Pricing:
Free version with screen sharing and VoIP calling, with paid versions for up to 5 participants starting at $10/user per month.
Features:
screen sharing
presenter swap
whiteboarding
create user accounts from owner account
control other desktops remotely
Join.me is the simplest tool of these 7, ideal for those who need to schedule a quick free meeting or aren't interested in more complex features. Premium customer care is available for the $10/month Lite version, but there's an extensive library of how-to's for the average user to get started.
One of the unique features of join.me is that attendees show up in circle displays rather than in square videos. This is a fun quirk, but might not be the best option for more serious conversations, such as therapy sessions. Also, unlike the other solutions discussed so far, join.me doesn't sign Business Associate Agreements for HIPAA compliance, so isn't recommended for sharing personal health information.
7. Clickmeeting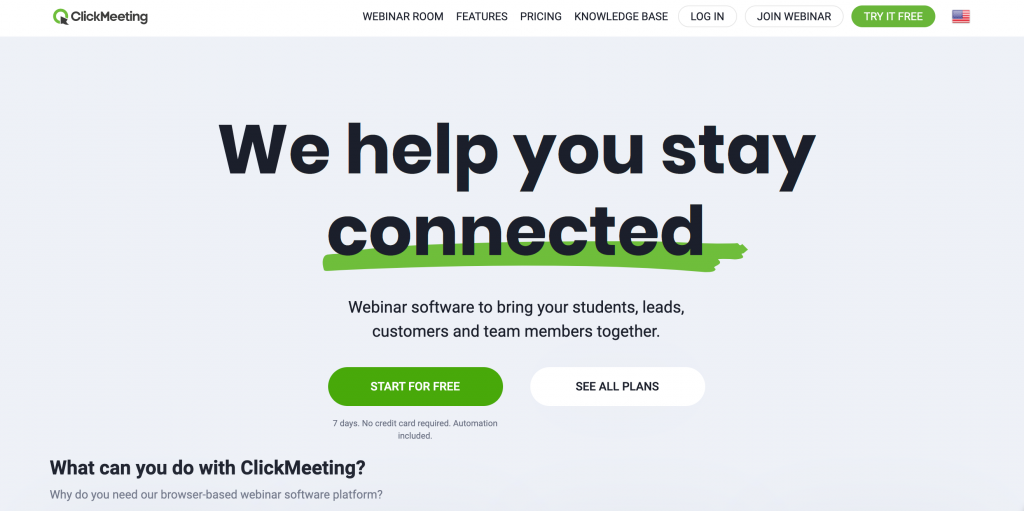 Pros:
special features for webinars
offers custom plans for scalability
Cons:
has a free trial, but no permanent free version
more expensive than other options
Pricing:
7-day free trial includes webinars for up to 25 people; priced plans start at $25/month.
Features:
screen sharing
screen control
whiteboard
polls and surveys
display CTA button during webinar
Clickmeeting offers specific features for webinars, including attendance statistics and webinar performance ratings. You can also customize invitations and the appearance of your webinar room for consistent branding throughout. Like join.me, users joining the meeting don't have to download the app—they can join directly from your link, but will need to enter their name and email address.
Features like event landing pages and integration with Google Analytics are helpful for anyone focused on using their meeting to market a product or service. For those just looking to chat with clients one-on-one, subscribing to Clickmeeting will mean paying for some unnecessary features.
Make your meeting simple—choose what's right for you
Recent events have forced the world to change the way it does business—in particular, service based businesses are turning to video conferencing as an alternative to in-person meetings, and to stay competitive. In turn, video conferencing providers are offering some of their paid features for free. If you've been considering trying out video conferencing software for your own business, there's never been a better time.