Gift cards keep growing in popularity, and it's easy to see why. They're one of the most flexible presents available, as they eliminate the stress of finding the perfect gift and the recipient has the freedom to shop at their favourite store for whatever they want. Digital gift cards are even more convenient, as they're easier to personalize and can be sent instantly to anyone anywhere.
When you run a small business, growing your revenue and expanding your customer base are essential to your success and sustainability. Gift cards can help you achieve both goals by increasing awareness of your brand and making it more convenient for shoppers to gift your goods and services to others.
What are the benefits of selling gift cards?
A gift card program can be a great asset for a small business. You can use them to attract new customers or to maintain the loyalty of current ones. As seen during the COVID pandemic, selling gift cards can increase also cash flow in an emergency. Other benefits are highlighted below.
1. You can use them to boost your revenue
Gift cards boost revenue since they are very economical to produce and people generally spend more than the value of the card when they come into your store. In fact, nearly two out of three consumers will spend 38% more, so that $200 card you sell could bring in more than $276 in sales.
2. Gift cards bring new customers through the door
As gift cards are generally intended for someone other than the purchaser, they will drive new traffic to your store. Each one has the potential to give you two customers: the one who bought the gift card and the one who received it.
3. Gift cards build relationships
Gift cards are excellent 'good will ambassadors' for your brand. For example:
When paired with a reward program, gift cards strengthen customer relationships.
You can offer gift cards to customers who spend a certain amount on your goods or services or to placate someone who is unhappy.
Since many people see these cards as 'free money,' they are goodwill tokens that are almost guaranteed to be used, if not by the recipient, then by a friend or family member who enjoys what you sell and could become a loyal customer.
4. They promote brand awareness
Gift cards are a cost-effective way to spread brand awareness. If your customers love your products or services, they'll tell their friends and family about them. Having gift cards available for purchase will encourage word-of-mouth advertising, which is one of the most powerful ways to spread the word about your brand.
5. You won't lose money due to fraud
Paper gift certificates fell out of favour because they were too easily duplicated or modified. Digital cards issued by your point of sale system are a lot more difficult to manipulate. Similarly, customers tend to be more willing to make online purchases with gift cards because they don't carry personal information and therefore don't present a data breach concern.
How to start a gift card system for your small business
Gift cards are extremely useful because they integrate with your POS system. When properly set up, an online system logs both gift card and regular transactions, so you can track your customers' behavior in one place, and some systems even allow you to share them with clients through direct messaging or similar features.
vcita has a coupon management feature that lets you set up, view, update, and track your coupons / gift cards quickly and conveniently. To create a new one, take the following steps:
Navigate to the Settings menu, select Coupons, and click 'Create Coupon.'
Fill out the unique title of the gift card and either auto-generate the code or create your own.
Indicate whether the gift card will be a percentage or fixed amount- usually it's the latter.
Specify how long the coupon will be active. By default, new coupons created in vCita are active for a year, but you can extend the time frame.
Indicate redemption limits. By default, a customer can redeem a gift card only once, but by leaving the redemption field blank, you can allow them to redeem it until the value limit is exhausted.
Gift cards will be applicable to all of your goods and services once they are created. To limit the coupon to only specific areas or items, select the appropriate checkbox and identify them in the dialogue box.
Once each gift card is created, you can share the code from within vCita or via any other method you prefer, such as email or Facebook Messenger. Once the client goes to schedule a service or place an order, the coupon link will appear in the payment section, allowing them to apply the value to their order.
How to run a successful gift card program
Once you have a digital gift card platform that fully integrates with your POS system, make sure that your new program complies with local and national laws. For example:
If you operate in the United States, federal law requires gift cards to be valid for at least five years and no inactivity fees can be charged unless the card has been unused for at least 12 months.
In the EU, laws tend to vary by country. In Germany, cards are normally valid for three years from the end of the year of issue while in Italy, those without a stated expiry date must be valid for at least 10 years.
Once you've confirmed how long your gift cards must remain valid, your next steps should be:
Training employees on how the program works. Everyone on staff should ideally know how to issue cards and assist customers in redeeming them.
Educating customers on how they can redeem their cards. For example, if you use vcita, you can explain that their code can be applied to their purchase during checkout.
Tracking card usage. Monitor how often cards are bought and in what quantities to gauge the popularity of the program. Look at statistics like gross sales over time and sales versus redemption.
Creating a marketing campaign letting customers know that gift cards are now available. You can do this through social media, email, your website, and in-store advertising. When you get really creative, especially during the holidays, you're likely to inspire a need to buy.
When possible, combine gift cards with bundle services. With vcita, you can create custom packages that expose customers to new and exciting options that include gift cards. To set up a bundle, take the following steps:
Log into your vcita account and navigate to 'Online Booking Options' in the Settings menu.
In the 'Display Options' section, select whether you want to create a:

Package link that appears at the top of your online scheduler.

Banner that appears to the right of your services list, inviting clients to browse packages.

Forgo a service menu link in favour of creating a direct package or packages pages link you can send to clients yourself.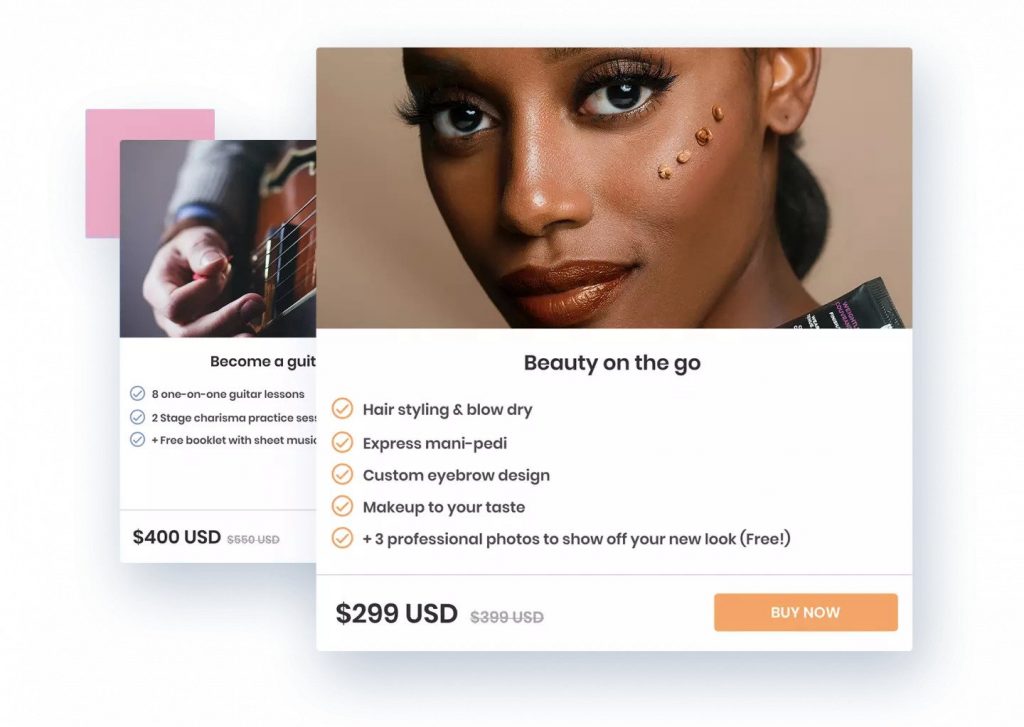 You can add a package purchase button to your client portal by going into the vcita dashboard and selecting 'Online Presence > Client Portal > Edit Client Portal. Then take the following steps:
In the action buttons section, click on the 'Add Action' button.
Select the Packages option. After customizing your action buttons, save your changes.
If you're creating a direct package purchase link, click 'Create Direct Links' in the Client Portal. Under the invite options, select 'Purchase a Package' and use the dropdown menu to indicate whether the client is being invited to buy a specific package or view your entire list of packages. A link will then be generated for you to distribute.
& learn how to set up a successful gift card program with vcita
Conclusion
A gift card is a great way to boost your revenue, deepen customer relationships with your brand, increase traffic, and grow your business. Creating them is not only straightforward but extremely cost-effective, and the potential revenue you can earn makes them a vital opportunity to a growing company.