Word of mouth advertising is no longer about people physically talking to each other. Now, it's as easy as the click of a button. When someone likes a social media post, it's an endorsement that signals to their friends and followers that you're a brand they trust.
With over 2.4 billion active users, Facebook is still the most popular social media platform today. Having a business page on Facebook gives you a huge potential word of mouth reach, as long as you know a thing or two about lead generation.
But there's a catch—you can't just make a business page and walk away! You have to find ways to actively generate leads at every turn. Below are 7 ways to do it; 4 free ways, and 3 using paid ads.
4 (Free) ways to generate leads on Facebook:
One of the best things about marketing on Facebook is that there's so much you can do for free. It takes a little finesse, but a few tweaks can go a long way in helping your Facebook page stand out and generate traffic. Here are a few of them:
1. Make your page easy to find and navigate
 The most basic thing you can do to help generate leads on Facebook is to help them find your page in the first place. Optimizing your Facebook page so that all fields are filled out with relevant data (and ideally, the right keywords) will help your SEO ranking on Google.
After you've optimized your page, the next thing to do is streamline your visitors' experience of it. Here are a few easy options for doing this:
Organize your page tabs so the most important ones are visible. Under the "Manage Page" section, click "Settings," then "Templates and Tabs." There are some tabs that might not appear under the default settings, but which could help you immensely—like "Offers," "Services," "Shop," and "Groups." Choose the ones that help you make the most of your page.
Optimize your call to action button—it's the button to the right of your profile pic. Its usual default setting is "Contact Us," but you can update it to tell your visitors to view a gift card, use your app, or book an appointment. You can also integrate this button with software like vcita to let your customers book with you in a single click. They'll be able to see your availability and book whatever services you choose without having to leave Facebook.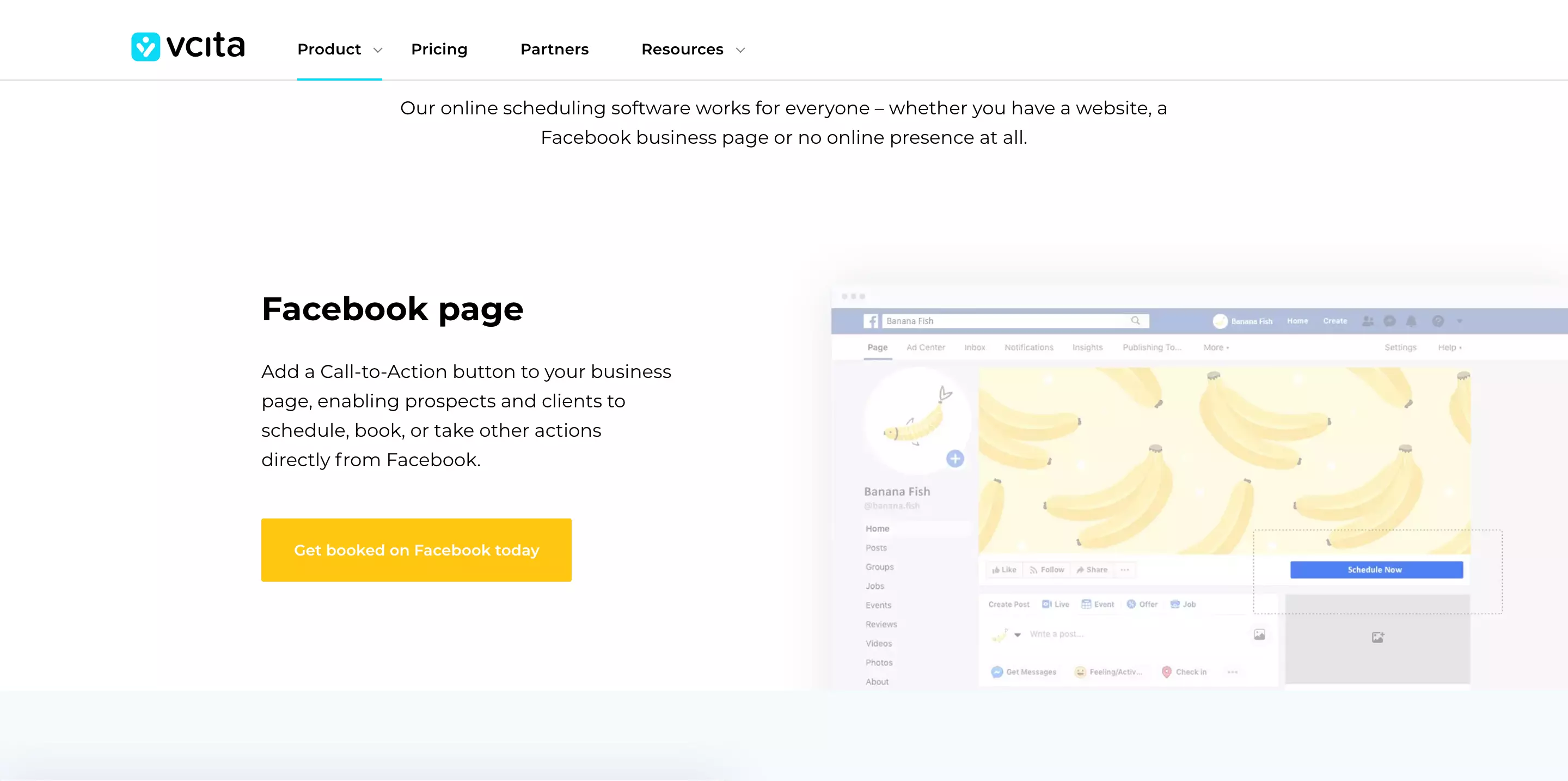 2. Choose quality over quantity in your content strategy
 Although it sounds simple, constantly coming up with new posts can be challenging—but growing an audience is at the heart of lead generation. Here are a few tips on making your social media strategy more manageable:
Start with a schedule. If you've just made a business page, you may not have the perfect strategy figured out quite yet—and that's okay! While you're doing research, plan out how many posts you'll create each week, what they'll be and when you'll post them. A recent study suggested an ideal number of five posts per day, but unless you have a marketing team, you'll probably find yourself posting less. Even once a week is fine, especially if it means you're posting high-quality content.
Research your audience. Plan to sit down every so often to take a look at your Facebook analytics. In the "Insights" section, you'll see information about your audience's gender, location, age, and other demographics. Keep this information in the back of your mind when you're creating posts, so you're creating the right content for your demographic.
If you're stumped, go visit the Facebook pages of other popular businesses in your industry to see what they're posting on Facebook. You can even like or share their posts, especially if they're not direct competition!
3. Keep up with the latest
 Facebook is always coming out with new features and new developments that you can leverage to garner more leads. Here's just a slice of the latest from Facebook, and a few ideas about how they might work for your business:
In Facebook's F8 developer conference last year, one of the major announcements was that Facebook is going to restructure their design to highlight groups and events. If you haven't created a Facebook group for your business yet, now is a good time! Just a month ago, Facebook announced new sponsored posts for groups as well, meaning you'll be able to partner with a group admin to create a sponsored ad.
Facebook now offers paid online events, giving you the option to charge a ticket fee for an event you post to Facebook. Facebook isn't collecting fees for the events until 2021, so it might be a good way to test the waters with an online course or webinar. Don't forget about the occasional free event too! Having a regular livestream event or webinar can give your audience a sample of your services, or even just put a face to your brand name.
Facebook Shops is another feature out this year. If you have a product line, you can now create a catalogue on Facebook, where visitors can browse and make purchases right from Facebook. However, if you don't have your own platform with online payment processing, Facebook will charge a 5% processing fee.
4. Speak Facebook's language
Generating leads means showing up in your followers' News Feed. In order to do that, it's best to have a rough idea of how Facebook's algorithm works.
At its core, the algorithm works to filter each user's News Feed so that they only see the posts they'll find the most relevant, interesting, and engaging. This means that Facebook automatically filters out most of the content they would see if posts appeared on their News Feed chronologically, like it used to before 2009.
It also means that posts from business pages are getting filtered out more frequently, as Facebook increasingly prioritizes posts from individuals instead. Don't worry though—there's still hope! If you're posting things that are engaging, authentic, and not too spammy, you'll be ahead of the game. Here are a few more tips for keeping your posts from disappearing from your followers' feeds:
Don't post anything that might be classified as clickbait or engagement bait. Clickbait is a post with a misleading or exaggerated headline intended to get the viewer to click a link, and engagement bait is a post that openly asks users to like, comment in a specific way, or share in order to artificially drive up engagement. If you do these things, your posts will be demoted in the algorithm, and appear at the bottom of people's news feed.
Do post things that people are likely to comment on and share, without asking them to do so. Posting timely, inspirational, or entertaining content is the most likely to grow your Facebook audience.
Video content is especially popular on Facebook, and posting high-quality video more than 3 minutes long is one way to keep your posts landing in your followers' News Feed. Short tutorials, hair transformations, fitness tips and tricks, or office tours are all great ways to make content your viewers will value. 
3 Paid lead gen methods for Facebook:
 If trying to figure out how to beat the algorithm has your head spinning, use paid ads to get Facebook to do it for you! Facebook shows paid ads to users it determines are most likely to engage with the ad. And it works: the average Facebook user will click on 11 ads per month. Below are a few tips to make the most of your paid Facebook ads:
1. Wait a while for paid ads to optimize
 One of the neat things about Facebook's ads are that they're intelligent; not only do they post to the people most likely to show interest, but the platform fine tunes the definition of that demographic over time. That means that the longer your ad is up, the better return you'll get on it.
However, that also means that it's important to wait for a bit before making significant edits to the ad or replacing it with a new one. This down time is called the "Learning Phase," during which time Facebook's algorithm is still learning the best way to optimize your ad. When your ad is still in this phase, the Delivery column will read "Learning" to signify that the ad isn't fully optimized yet.
Another issue that complicates the learning phase is if too many ads are running concurrently. In fact, Facebook has recently set a limit on the number of ads a business can run at one time, in order for businesses to get the most out of the ads they're purchasing. While it might seem counterintuitive at first, having too many ads at a time limits the number of engagements for each individual ad, and thereby the number of optimization events that the algorithm can use to learn how to improve its chances.
2. Use lead generation ads
 Lead generation ads are ads geared towards gathering information about your target audience. On Facebook, lead generation ads are forms that autofill with a user's data, leaving only a small portion of the form left to fill out. Here are a few tips for successful lead generation ads:
Make them short. The longer your forms are, the more likely they are to be abandoned. This is especially true if you're asking for data that doesn't seem relevant to your business, or data that's overly personal.
Lead generation ads offer a variety of methods to input data—from multiple choice to short answers to conditional questions. Vary the methods in a single form to get the most out of them, so they feel less repetitive to the person on the other side.
People are more protective of their data than ever, and will need an incentive to give it away. Try offering a free consultation, a newsletter subscription, or a product sample to make it worth their while.
3. Use dynamic creative and dynamic ads
 In the past, you might have had to delve into your own analytics to find out how to tweak your ads for the best possible results. Now, Facebook will do that for you! With dynamic creative and dynamic ads, you can let Facebook automatically adjust your ads to optimize them for different demographics. Here's how they work:
Dynamic creative lets you load multiple images and type in multiple calls to action, and Facebook will do the rest. During its learning phase, it will learn how to optimize the call to action text and images for maximum engagement over different demographics.
Dynamic ads use machine learning in a similar way, but instead of optimizing an ad for a single product, it chooses products or services from a catalogue you've created on Facebook, based on which ones the demographic it's shown to are most likely to buy.
Facebook is made for lead generation
 Once you get the hang of it, you'll realize that Facebook can be a huge opportunity to secure more leads. Facebook's revenue comes from ads, so the platform is designed for your success as a business owner. Work on the free steps to start with, then move on to the ads as a more advanced strategy!
As Facebook continues to evolve, there will always be more potholes to be wary of and new services to try. Don't stop learning how to best generate leads on Facebook, because Facebook won't stop learning either!