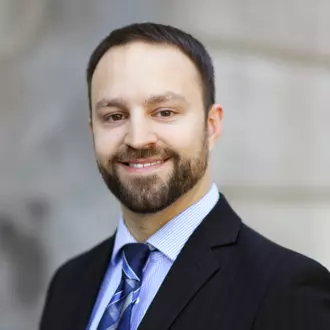 It's no wonder Legal Logik was voted Most Innovative Law Firm in Canada in 2015 and 2016. This full-service law firm has a unique view on how to do business in today's economy, placing a major emphasis on the digital client experience it provides.
We spoke with David Kynan, Director of Marketing, to get the lowdown on the firm's innovative approach to what interacting with a lawyer should feel like in today's digital world.
Clients can be in their pajamas at 10 at night and request an appointment, see it approved minutes later, and be at our offices the next morning.
Tell us a bit about your marketing challenges and strategy.
The major challenge for a service firm is that what we offer is completely intangible. A client doesn't know exactly what they'll get until the service has been delivered.
That leaves people hesitant and anxious about contacting a lawyer. Legal services also tend to be expensive and people are worried about the surprise they'll get when their bill comes.
My job to make the services we offer as accessible as possible and that means helping people feel comfortable with us and the way we operate. We invest a lot of time and effort in hosting courses and events through our legal education program, LogikED and we also sponsor events alongside contributing from our knowledge by publishing articles, free guides and videos. Our entire approach blends online experience with offline connection. It's high tech high-touch.
How does vCita fit into your online marketing efforts?
vCita supports our marketing game plan in many ways and we use it on several channels. On our website, for example, we use the widget to offer a free consultation with an attorney.
This allows people who are looking for a lawyer to easily book an introductory appointment with any one of our staff members in a couple clicks right from the site whenever they want.
Clients can be in their pajamas at 10 at night and request an appointment, see it approved minutes later, and be at our offices the next morning.
Since we started using vCita, we get more action from our website – more visitors take action and that means more leads and more conversions. We also use vCita on in our emails and email campaigns. People who have requested information on various services get an email in the sequence inviting them to schedule a free consultation with the vCita link, and so we convert more of our subscribers.
Where else do you use vCita to invite clients to schedule with you?
Alongside our website and email marketing, we also use vCita on our social media. One of the things we love about vCita is the ability to create direct scheduling links, which are custom links that lead to scheduling a specific service with a specific staff member. We've even added vCita scheduling links to our brochures and postcards, bringing our clients online from classic printed media.
Instead of just putting down our number and having clients call in, and instead of just putting our website, we place a custom link where they can schedule a meeting directly from the postcard using their smartphone.
I've actually never heard of a no-show that was scheduled through vCita.
How is letting clients schedule online different from letting them fill in a contact form?
In legal, clients want help right away, so filling out their details on the site and waiting for someone to contact them can lead to a lot of time-consuming back and forth. We use vCita to empower clients to schedule an appointment online by themselves, when they want, sparing the email or phone tag and making it a stress-free experience.
All they need to do is select the service they want, choose a staff member from a branded menu with photos of our staff, and select the time that works for them.
Has scheduling appointments through vCita helped you reduce client no-shows?
I've actually never heard of a no-show that was scheduled through vCita. When someone schedules with us, they immediately receive a confirmation email with all the meeting information, and the meeting is added to their calendar. vCita also sends out an automated email reminder prior to the meeting, and clients can reschedule directly from that email should they need to.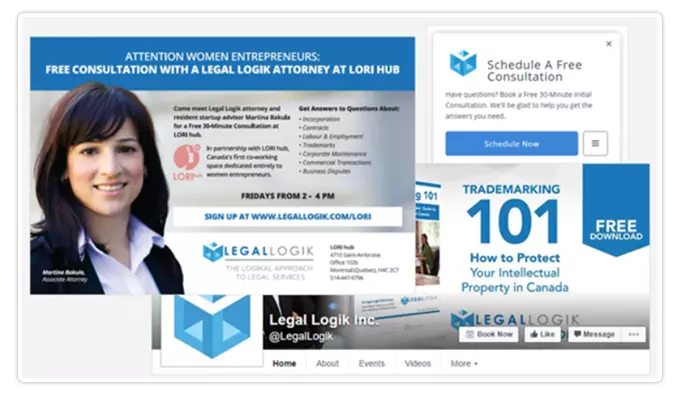 After the intro meeting, do you continue to interact with clients online?
Yes, with vCita each client has their own personalized service portal behind a secure login. Clients can view their previous correspondence with us, share files in preparation for their next meeting, schedule a follow-up call, and view their complete activity history.
What made you choose vCita over other providers?
There were several needs that vCita was able to address. Since we're located in Montreal, we needed a bilingual solution that would allow us to work in both English and French – which vCita does perfectly.
We also wanted a solution that would connect to our existing Infusionsoft CRM. We were able to easily integrate vCita with Infusionsoft, so when a new lead comes in through vCita, the contact is automatically added to Infusionsoft. We didn't need to spend a second on data entry or trying to figure out which system a client's information is in.
Document sharing was another important capability. We constantly need to share documents with clients, such as letters we are writing on their behalf or contracts we are preparing for them. Also, when handling their files, our attorney needs clients to provide documents such as letters, emails, court correspondence or medical or police records. We were looking for a membership platform which would provide each client with their own login and account to facilitate documents sharing. Since vCita has this function, we didn't need to look for another software – we killed two bird with one stone.
Feeling inspired? Try vCita free for 14 days!