With life going back to the new normal and a possibly impending economic crisis, it was more than about time we touched base with our small business community and checked in on how things are going.
As part of our survey, we asked our small business community to answer questions about their plans for the future, their daily operations, and their adoption of digital tools to help them run their business.
What we found is that by adopting digital tools, pivoting to mobile and online payments, and adapting their business operations, small businesses continue to remain resilient, even when faced with challenges such as an economic downturn.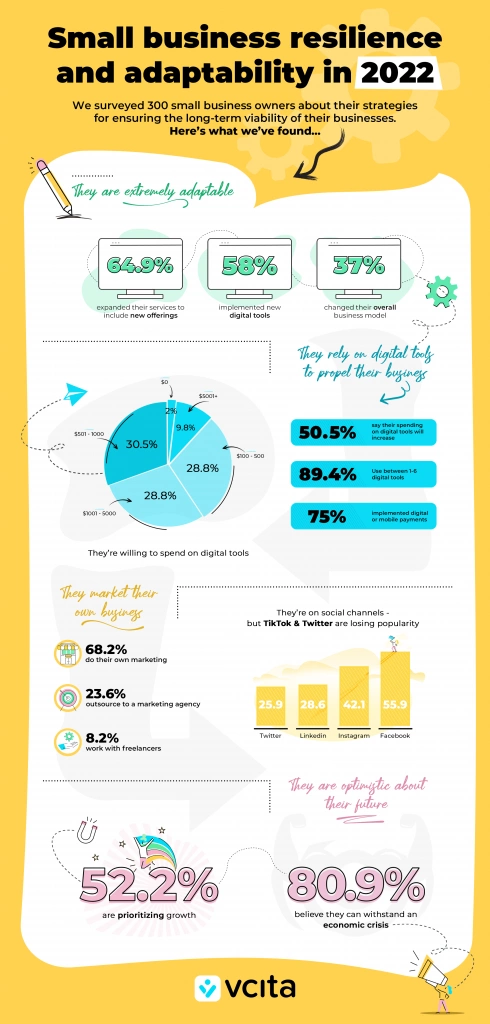 Key Takeaways:
SMBs are showing a consistently increasing trend when it comes to digital tool adoption.
Digital and mobile payments have become the standard for small businesses.
Small business owners are taking a shot at marketing on their own.
TikTok and Twitter are losing their popularity among small businesses.
Small businesses believe they are resilient enough to withstand a possible economic crisis.
About the survey
The survey ran in mid-November 2022 and had a total of 302 responses. The majority of respondents came from well-established businesses with between 5 and 10 years on their belt, and mainly in the business services sector.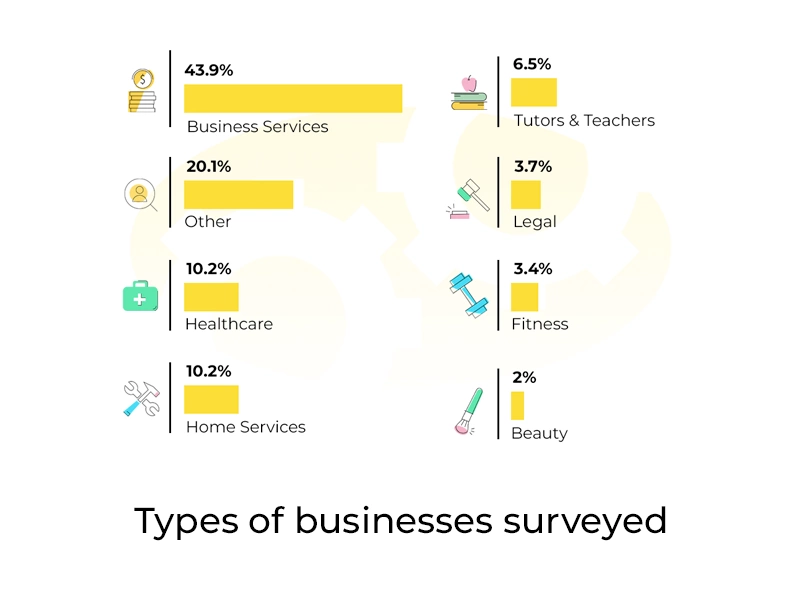 Each response helped us better grasp the state of affairs within the small business community and how they plan to keep their businesses open in 2023.
Small business sustainability
Based on our findings, small businesses have set themselves up for long-term success by way of adapting, digital tools, and diversifying their revenue streams and are well prepared for whatever is to come their way.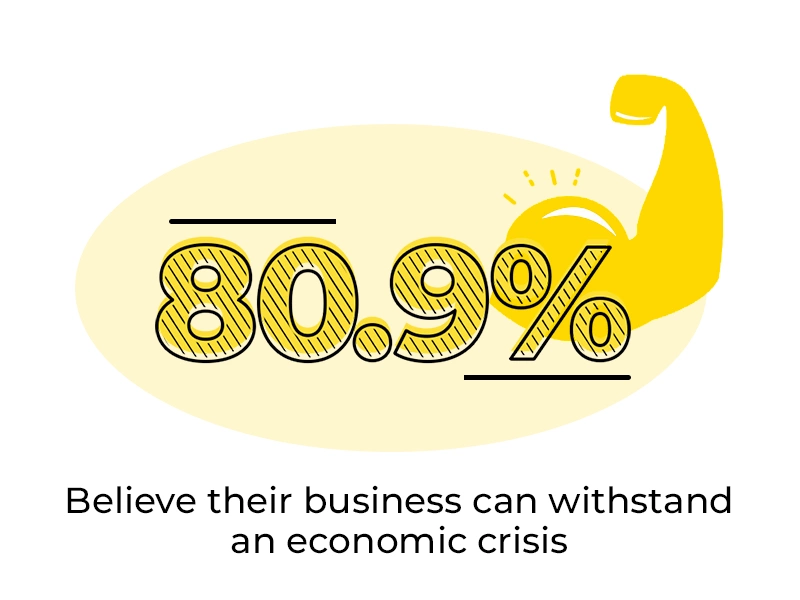 A majority of respondents (80.9%) said their business would be able to withstand and survive a possible economic crisis due to prior preparation. This optimism has lowered by about 10% from last year's survey and presents a perfect opportunity for tech vendors and service providers to create solutions that help secure their SMB clients' futures.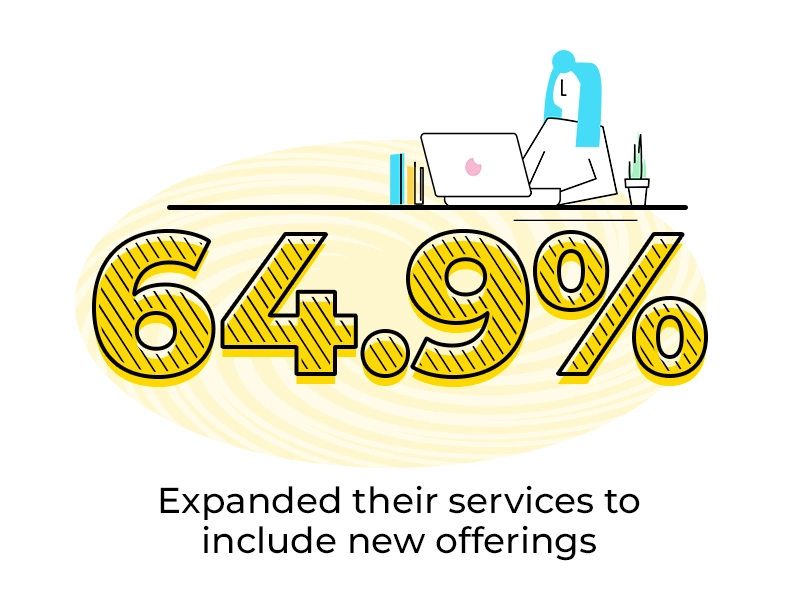 However, it's nice to see that small businesses aren't just sitting around and waiting for the answer. In the past year alone, small business owners have implemented necessary actions to ensure the long-term viability of their businesses. Most of them, a whopping 64.9%, have expanded their services to include new offerings. But that's not all. Fifty eight percent have implemented new digital tools, and another 37% have changed their overall business model, showing just how well small businesses can adapt.
Long-term sustainability is proving to be an extremely important factor for small businesses and they are clearly doing all they can to ensure the longevity of their business operations.
Digital tools to save the day
Not only are small businesses depending on digital tools to help run their business and ease their stresses, but they are also willing to pay a pretty penny for them.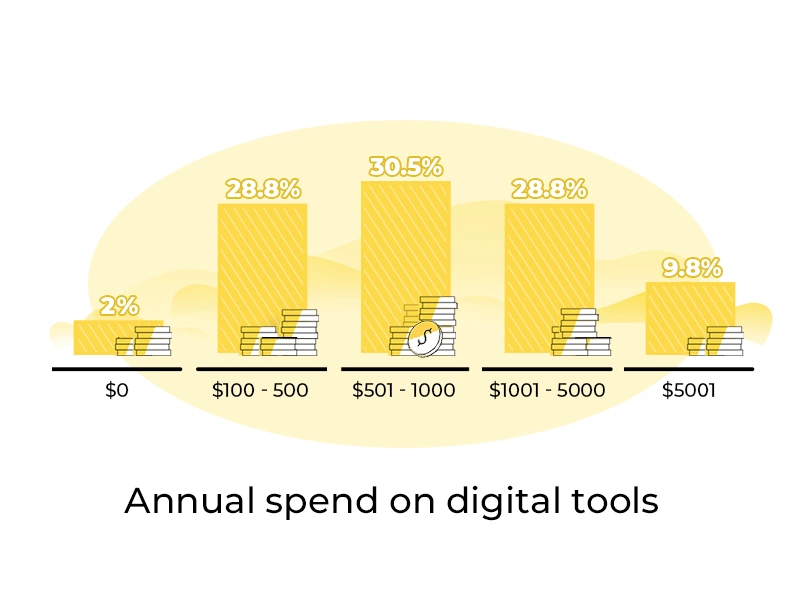 When asked how much they spend annually on digital tools for their business, 30.5% of respondents answered anywhere between $500 – $1,000 a year, and coming in second at 28.8% was a $1,001 – $5,000 yearly spend. This is a significant increase from last year when only 20% of respondents stated they spend more than $500 on digital tools since the beginning of the pandemic.
And they plan to keep on spending.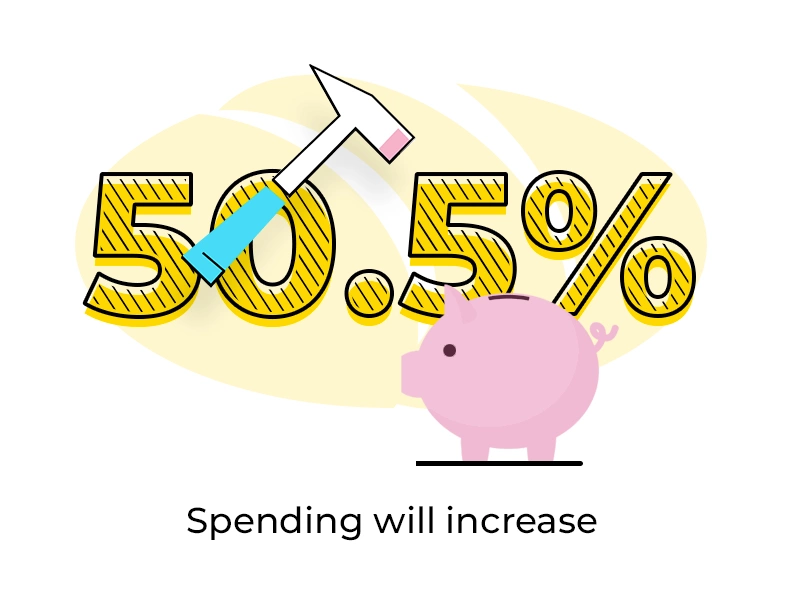 Over 50% indicated that their spending on digital tools will likely increase come 2023, proving there are great plans for more digital adoption among small businesses.
These insights bring us closer to understanding that being able to provide small businesses with digital solutions to their everyday problems is a lucrative business to be in. From tedious administrative tasks to marketing their business, small businesses are in need and also in want of solutions to help reduce the stress of running a business.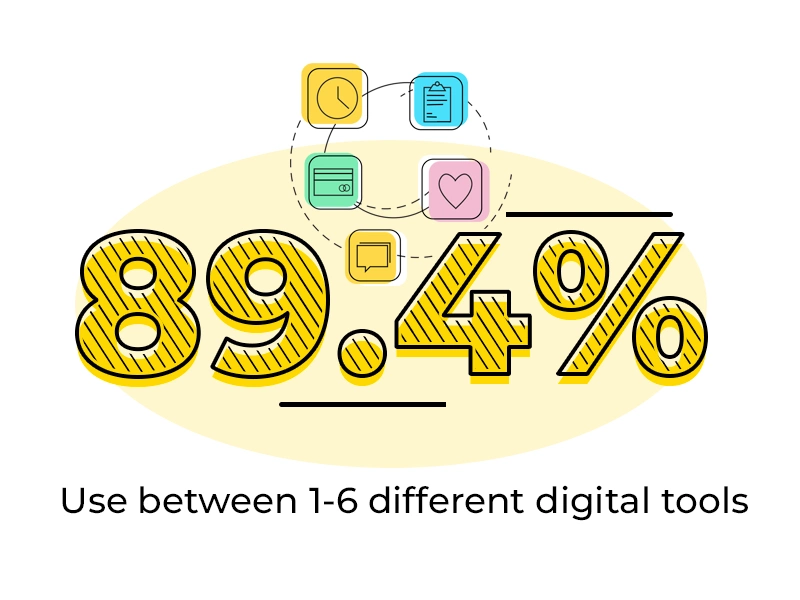 But spending large isn't the only indication that small businesses are relying on technology to sharpen up their operations. When asked about how many tools they are using, almost 90% of respondents said they are using up to 6 different tools to run their business. This is similar to last year's survey, meaning small business owners are spreading their operations thin across a multitude of digital options.
The problem with that is integration and getting each tool to cooperate with the others. It's also confusing to the small business owner and takes precious time away from their business as they are spending it on switching between tabs and software.
It's definitely a better option for them to use an all-in-one solution that encompasses all their activity under one roof.
Pivoting to digital payments
One trend that we are seeing continue from one year to the next is the change and adoption of digital and mobile payments. In the past year alone, nearly 75% of respondents added digital and mobile payments to their repertoire.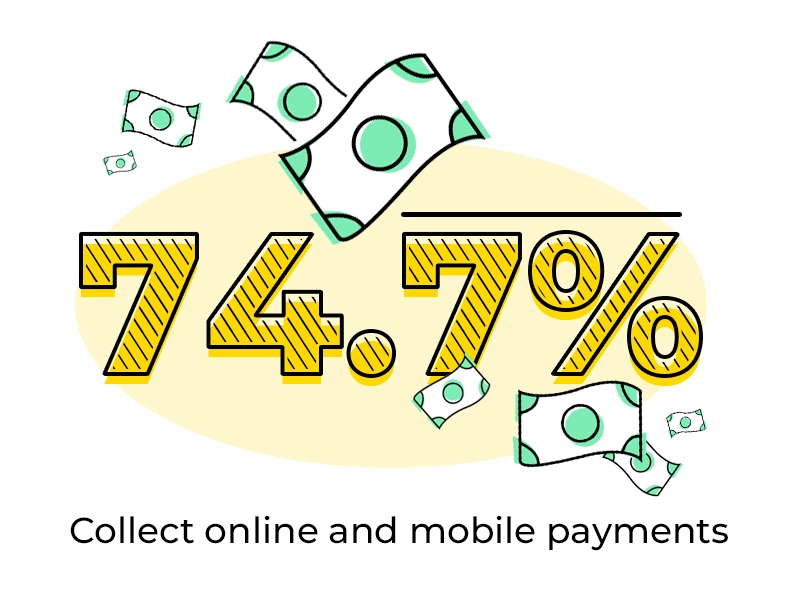 We also asked respondents which changes they have made to their payment collection methods in the past year and the most popular response was that they have started accepting new forms of payment such as Square, Stripe, PayPal, Venmo, and others.
This further solidifies that mobile and digital payments are becoming more and more of the new normal.
Going at their marketing alone
Marketing their business is a key ingredient to any small business's success, and learning how to do it properly may take time and effort. However, it seems that our small business community is up for the challenge.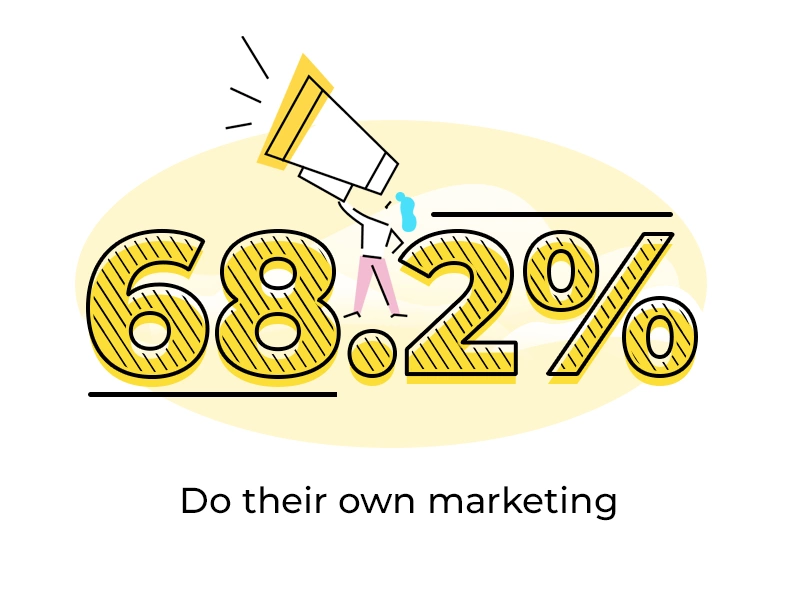 When surveyed, 68.2% of respondents said they do their own marketing for their business, compared to the 23.6% that say they outsource their marketing to an agency. The remaining 8.2% work with freelancers.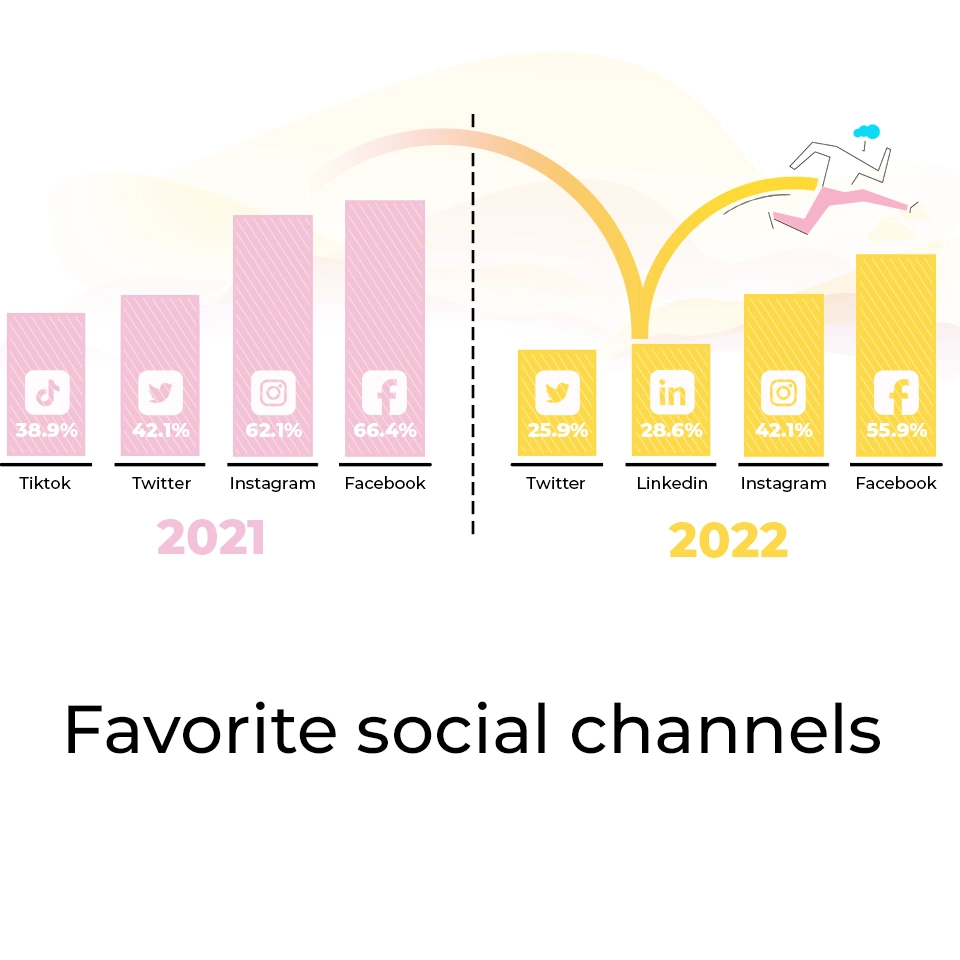 In terms of where small businesses are focusing their marketing efforts, Facebook remains to be the #1 channel, with more than half of the respondents indicating that as their favorite and most successful channel to reach their audience. Instagram comes in second and LinkedIn comes in third place.
This has significantly changed since our last survey, where Twitter was in third place and LinkedIn didn't even make it into the top 4. In addition, TikTok came in fourth place during last year's survey and didn't make it into the top 4 this year at all.
Whatever the reasons, it seems that Twitter and TikTok are starting to lose their popularity among small businesses.
It's full speed ahead for small businesses
Year after year we are learning just how resilient our small business community is. From adopting digital tools to marketing their business mostly on their own, small businesses are taking the necessary measures to ensure long-term sustainability.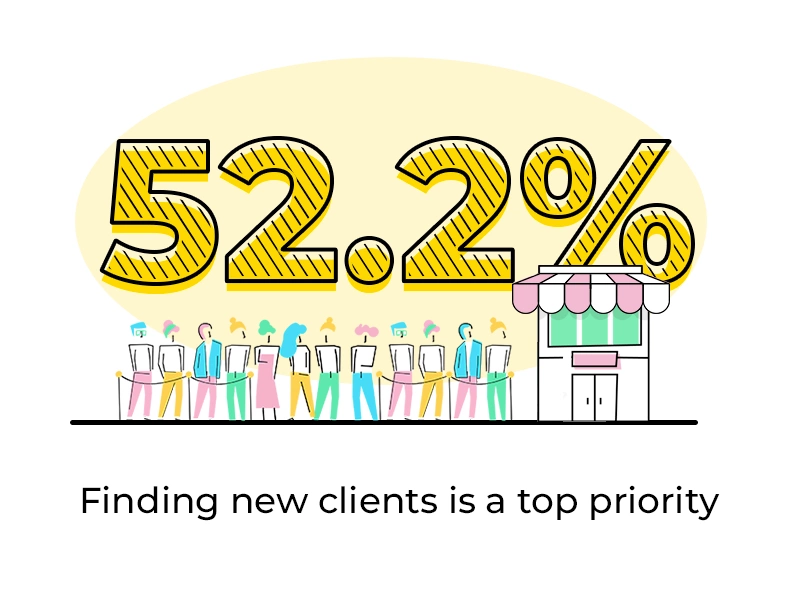 It comes as no surprise then, that these business owners are not just surviving, but also looking to grow their business, despite the surrounding circumstances that could potentially weigh them down. When asked about their top priority, 52% said they are focusing on gaining new clients, meaning they see growth in their future.
Not only does that statistic show growth in the small businesses' future, but it also shows opportunities for big businesses who serve the small business community to make every lead count and empower their SMBs to engage with their leads and turn them into loyal customers.
With their heavy reliance on digital tools to secure their future, now is the time for service providers to offer SMBs tools to solve their everyday problems, combining all their digital needs into one strong solution. There is a great opportunity here, considering their openness towards adopting new technologies, their plans to increase spending on digital tools, and the growing demand for payment solutions.
vcita is an all-in-one business management solution built especially for small businesses, helping them manage their money, time, clients, and marketing all from one place. Schedule a demo with one of our solution experts and see how vcita can better your business.
vcita partners with leading organizations that seek to propel SMB growth and digitalization, putting them at the center of their small business clients' business operations. Learn more about our strategic partnership programs.