Trends never stay the same for long and the wild world of small businesses is no different.
Simply put, 2018 is already shaping up to be a big one in terms of brand new tactics for small businesses and solopreneurs to roll out.
And there's no better time than now to look at your marketing strategy with an "out with the old, in with the new" mentality.
The good news? You don't have to totally turn your business upside down to stay booked and compete with the best of 'em in 2018.
Below we've broken down the breaking trends and tactics small businesses and solopreneurs should focus on this year. By sticking to the following principles, you can make this the year you finally turn your business into a well-oiled machine.
1. Goodbye Facebook Pages, Hello Facebook Groups
Facebook has proven to be a goldmine for small businesses when it comes to connecting with clients and customers.
However, small business owners need to rethink how they use the platform sooner rather than later.
While Facebook is still as active as ever and there's a 99% chance your customers are there, the rules are changing in terms of how much businesses can realistically reach their audiences.
Without getting into the nitty gritty, Facebook recently announced changes to its algorithm which basically "hides" the majority business Page's posts in your followers' feeds.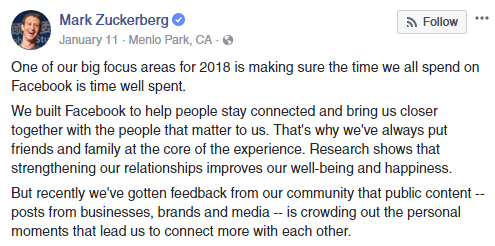 As a result, the potential reach of your Facebook Page's content is lower than ever. This means that business owners pouring all of their energy into Pages are basically gambling with their time.
Of course, you also have the option to run Facebook ads which can quickly get pricey and require quite a bit of expertise to master. Again, you're still stuck with the problem of wasting time and money.
That's why business owners are migrating toward building communities through Facebook Groups.
With a group of dedicated customers, you bypass Facebook's mysterious algorithm and create a direct line of communication between yourself and your audience.
And as an added bonus, you pull double duty by building your customer base and getting to know your clients on a more personal level. Access to clients via Facebook Groups creates yet another avenue for you to stay booked while making the most of your time spent on social media.
In short, Groups are a win-win!
2. Managing All of Your Business in One Place
If you're a small or solo business owner in 2018, you probably have more on your plate than you can handle on any given day.
From appointment requests and reminders to chasing down payments and everything in-between, it's easy to lose track of the simple task of winning clients when you're a million places at once.
That's why a prime focus of small business owners today is finding tools to help them reign in some of the insanity.
Scale down. Simplify.
And if you want to streamline your workload, you need the right tool to make it happen.
So instead of juggling between a million different platforms for payments or bookings, solopreneurs should strive to work within a single business solution.
Because when all of your daily tasks are confined to one place, you can spend more time actually getting down to business.
The problem? So few business platforms have solo or service-based businesses specifically in mind.
Solopreneurs are often torn between two extremes: bloated software that's way too complicated or something that's so bare-bones it holds them back.
It's a pain, isn't it?
Believe us: we know.
We at vcita believe that small businesses need to be empowered by the tools they use, not hindered by them.
And that's exactly why we designed a small business management software tailored to smaller operations. The essential pieces of client management, marketing and payment processing are all here to keep you moving without weighing you down.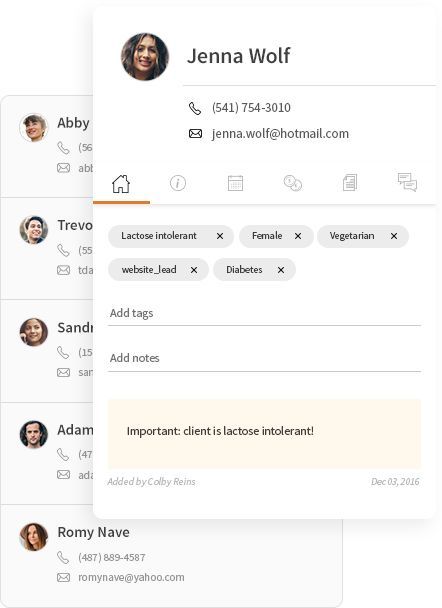 A low learning curve, no bloat: just a platform that helps solopreneurs wrangle their daily tasks. For busy business owners in 2018, such a swift solution is exactly what smaller businesses need.
3. Need to Outsource a Tedious Task? Hop Over to
Fiverr
Quick reality check.
You're a business owner.
Not a graphic designer. Not a web designer or a creative guru.
And hey' that's a-okay! Solopreneurs often put so much pressure on themselves to "do it all" in terms of their marketing tasks.
But you don't have to be a marketing Superman or Wonder Woman. In fact, savvy business owners acknowledge when it's time to outsource a tedious task or project.
After all, just because you can do something yourself doesn't mean you should.
Maybe you need a new logo for your business. Perhaps your website needs a makeover but you can't tell WordPress from Microsoft Word.
Don't sweat it.
While getting help with these sorts of tasks may have taken tons of time and cash years ago, solopreneurs today should look to marketplaces such as Fiverr as their holy grail of outsourcing.
Fiverr represents a marketplace that matches you with designers and other creatives who essentially compete for your business. You set your budget and turnaround time and the platform matches you up with professionals to hook you up.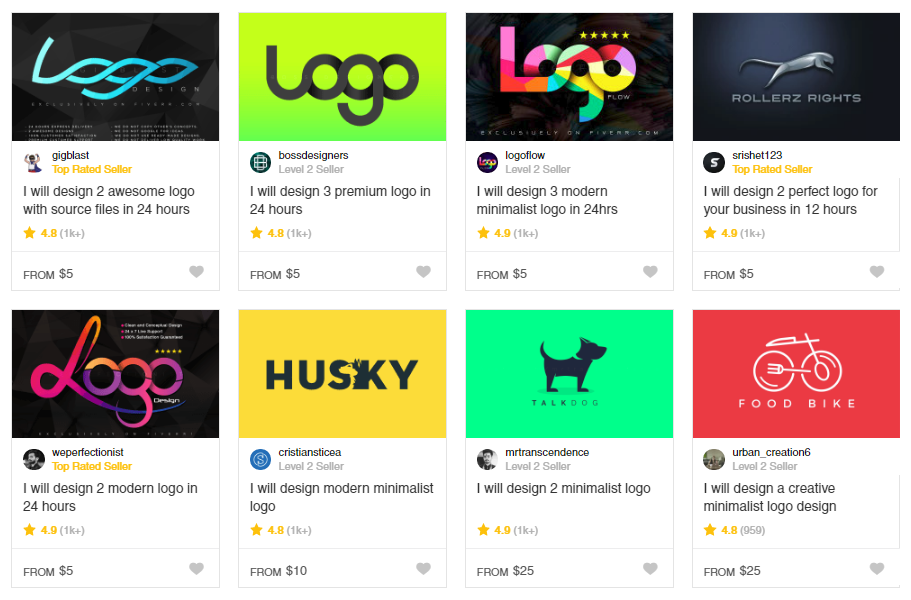 With access to your potential hire's portfolio and feedback, you can ensure that you're getting exactly what you're looking for.
Need a logo? Whiteboard explainer video? Narration? Virtual assistant.
It's all there for crazy cheap.
Rather than rack your brain over some creative project, you can save an insane amount of time and money through Fiverr. In a world where time is money, having such a platform available with such quick turnaround times is invaluable.
4. Show, Don't Tell: The Rise of Microinteractions
Don't get it twisted: SEO and content creation are far from dead for small businesses.
Despite the hype surrounding social media, what's happening on Facebook now really reinforces the need for small businesses to focus on their websites, too.
However, creating content alone isn't going to cut it.
Ask yourself: what is your website doing to truly engage your audience and sell your services?
Rather than view your website as a static advertisement, it's time to think of your site as a sort of series of interactions with visitors.
According to the gurus at Awwwards, the concept of "microinteractions" is taking over for business sites. These interactions represent "the magic components that add delight, create surprise, and offer something entertaining and engaging."
While the idea of microinteractions might sound lofty, small businesses can leverage them with a bit of creativity.
For example, injecting lively or interactive visuals into your website can better help visitors understand what you offer and leave a positive impression on them.
Something they can "touch" or "feel," basically.
Maybe it's an explainer video that puts your personality on display.
Perhaps it's an interactive slideshow that shows off your work with clients.
It could be even something as simple as having a responsive site that changes colors, or provides multiple places for visitors to click around (think: forms or quizzes).
These subtle touches to your website make all the difference to your visitors. Why? In short, microinteractions…
Grab people's attention

: in a day and age where people are so visual, eye-popping content most definitely stands out versus a wall of text

Set you apart from the crowd:

rather than look like every business on the block, your creative touch defines you as someone truly out of the ordinary

Show your human side:

businesses are people, and your creativity is crucial to making a personal connection with your audience
By paying attention to these interactions, you're more likely to turn skeptical traffic into someone who's interested in working with you.
Here's an example of a microinteraction that we use on vcita's Billing and Invoicing product page:

5. Rethink What It Means to Market to Existing Customers
As of the last few years, small businesses were laser-focused on client acquisition.
The more the merrier, right?
But we noticed something.
When asked why they weren't remarketing their services to existing or past clients, the small business owners we talked to often came back with the same replies.
"We're not that kind of business."
"We're too small to send emails."
"My clients won't go for it."
However, these assumptions are based on the wild misconception. That is, that businesses should prioritize new customers instead of the ones they have.
Think about it, though. Someone who's been a customer in the past is already familiar with you, the work you do and what your brand is all about. They're your best bet for repeat, long-term business.
Besides, any business can create a remarketing campaign. This is especially true in a day and age where email marketing is as effective as ever.
If you've ever redeemed an email coupon or taken advantage of a subscriber-specific deal, you've already seen the power of remarketing firsthand.
Today we see solopreneurs and SMBs totally kill it with email marketing all the time. That's why you can't go still can't go five seconds without seeing an opt-in form.
Oh, and don't assume that you're not savvy enough to get started with email marketing.
Building your own list is easier than ever thanks to all-in-one business tools that include built-in marketing options. Even if you're a complete technophobe, you can create online coupons and campaigns in a snap through tools such as vcita's very own easy email marketing tool.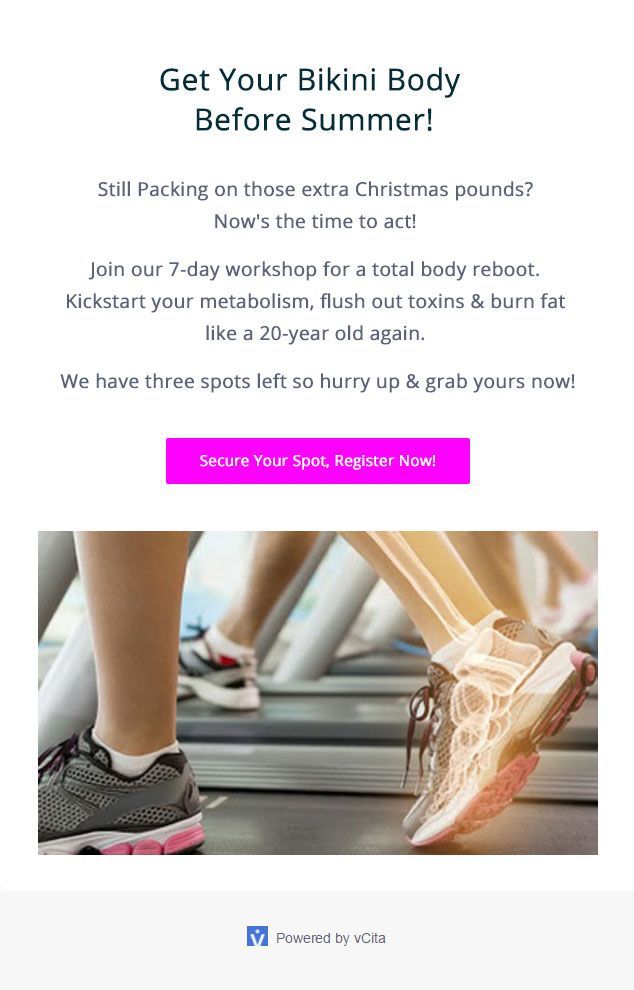 Ready to Crush 2018?
No matter how much you might have on your plate, it's a truly thrilling time to be a business owner.
While things may feel like they're moving at a million miles a minute, there's so much opportunity out there for solopreneurs and small businesses alike.
As trends change, now's the moment to take a step back to see what you can do to make your business shine in 2018. With the right tactics and tools, you can totally crush your income goals this year and we hope you do exactly that!