Thinking of offering a new service or enhancing an existing one? Good!
Adding a new service is a great way to put your expertise on the stage, and show clients you're able to offer the latest, greatest and most original solutions to their needs.
When done right, launching a new service can (and should) grow your business in two significant ways:
1– Bring new clients to your door
2– Light a fire under past and present client relationships and create new opportunities with your existing client base
In this step-by-step guide, we're going to break down the proven strategies to promote a new service that'll spread the word even if you're on a tight budget.
These tips cover every nook and cranny of marketing your business to maximize your reach.
Social media. Email. Face-to-face meetings. The works.
Oh, and we'll also teach you exactly how to replicate these strategies for your very own launch.
And with that, let's dive right in!
1. Start by Supplementing Your Current Services
For this guide, we're going to use North Carolina based nutritionist Jenn Mitchells as a shining example of how any service business owner can give their latest service a much-needed boost.
Jenn already offers a variety of services to her health-conscious clients, including:
A free 15-minute phone/video consultation
A 60-minute housecall (priced at $90)
A ketogenic diet workshop (priced at $300)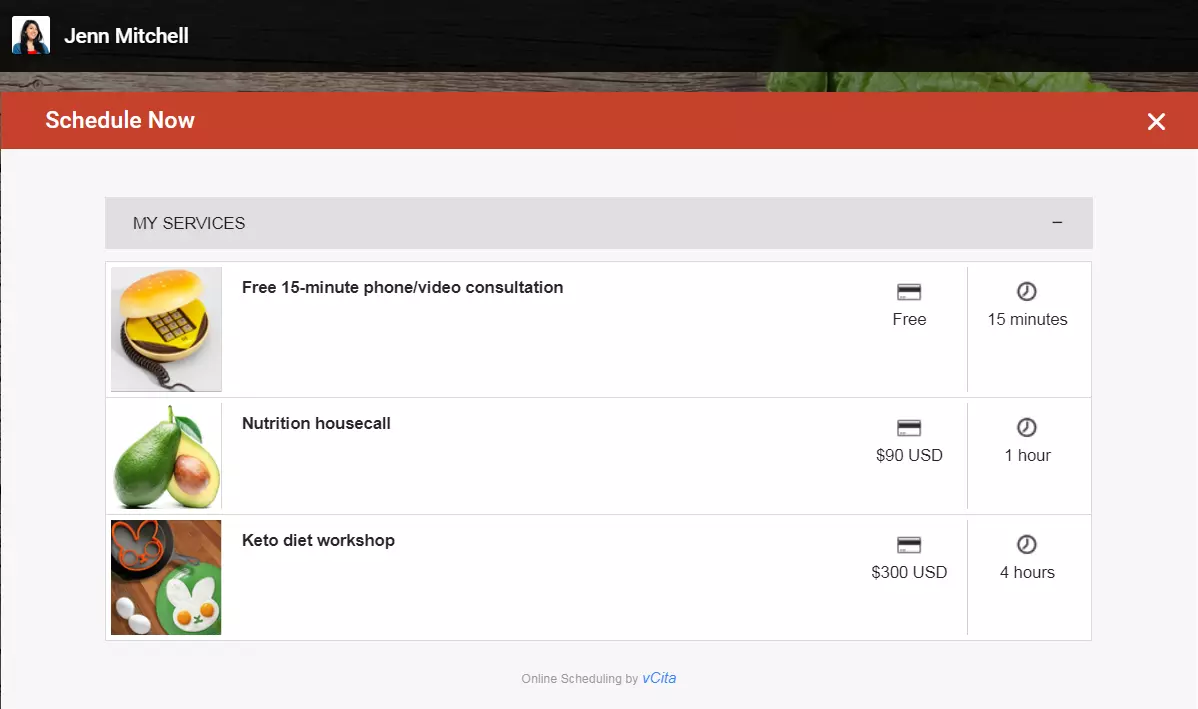 Looking to offer something fresh, Jenn just introduced a brand-spankin' new service herself: a pantry makeover that includes shopping and cooking instruction for her private clients.
Now, the natural first step for Jenn is to tack her new service onto one of her existing ones at a discount.
Why? Because current clients are low-hanging fruit for a new service.
They know you. They trust you.
And by giving clients a taste (in Jenn's situation, a literal taste), you encourage satisfied customers to potentially book again.
Jenn decides to add her new service to her already running housecalls service, and create a new, special offer: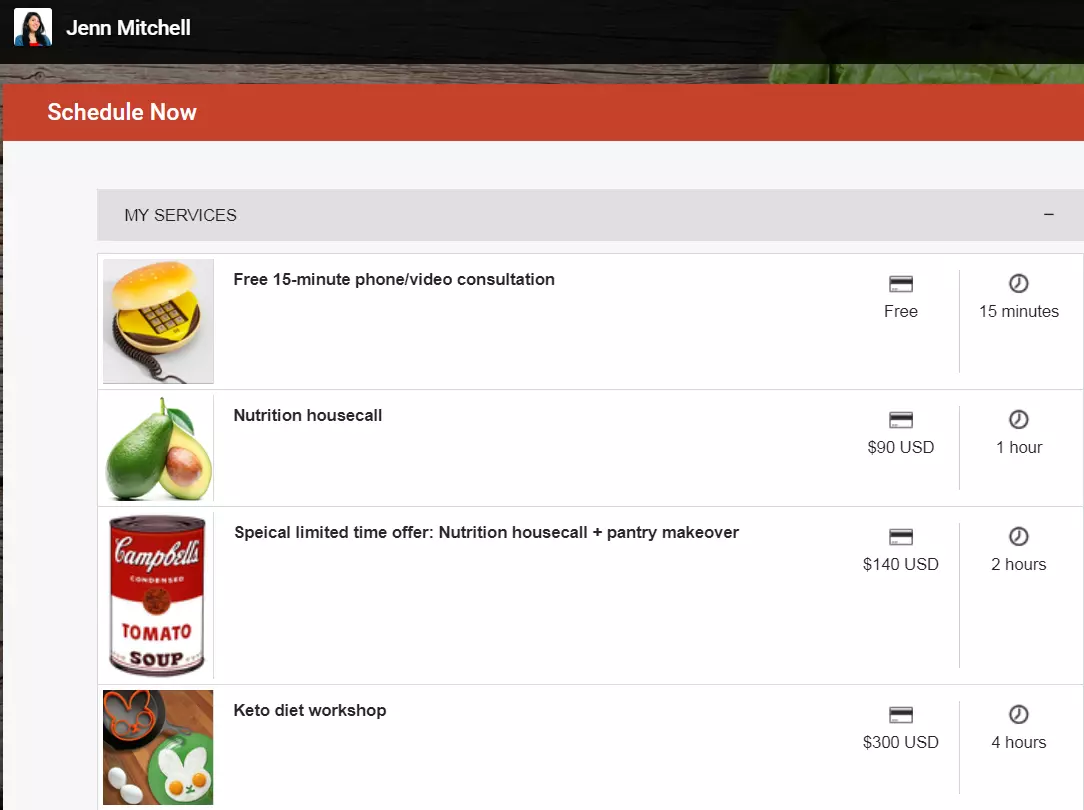 This technique essentially makes your clients feel like they're getting amazing value at a fraction of the cost, all the while helping you fine-tune your service for future clients. Which leads us right to the next step!
2. Run a Facebook Ad
Although the idea of running a paid ad might freak you out, don't panic.
Facebook ads are killing it right now for small, service-based businesses.
Why? You have the opportunity to laser-target potential clients based on demographics and location and squeeze way more out of your ad spend by attracting qualified clicks.
Besides, Facebook allows you to restrict your budget so you don't blow it out by accident.
But where do we start with targeting?
Well, let's say that 90% of Jenn's clients are female. She also notices that the vast majority of clients are on the younger side, most between the ages of 25 34.
Jennifer can craft an ad that speaks specifically to that demographic range based on Facebook's robust target audience planning. In addition, she can pick out relevant interests such as "health" and "fitness," as well as refine her ad targeting based on her service area.
Facebook then clues you in to let you know how many people your ad might reach. If your audience is too broad or narrow, tinker with the specifics of your targeting until you're in the right range.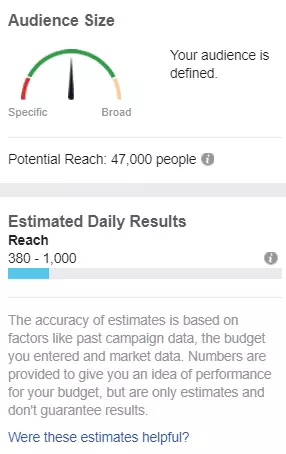 Now, what about the ad itself?
Facebook gives you tons of creative freedom.
Carousel ads. Video ads. The list goes on and on.
However, you can always start with something simple like a static image ad.
You can quickly plug in the creatives you use on-site to start creating your own advertisement on Facebook. The platform is pretty straightforward and you can even use Facebook's creative hub to generate your very own mock-up before you go live.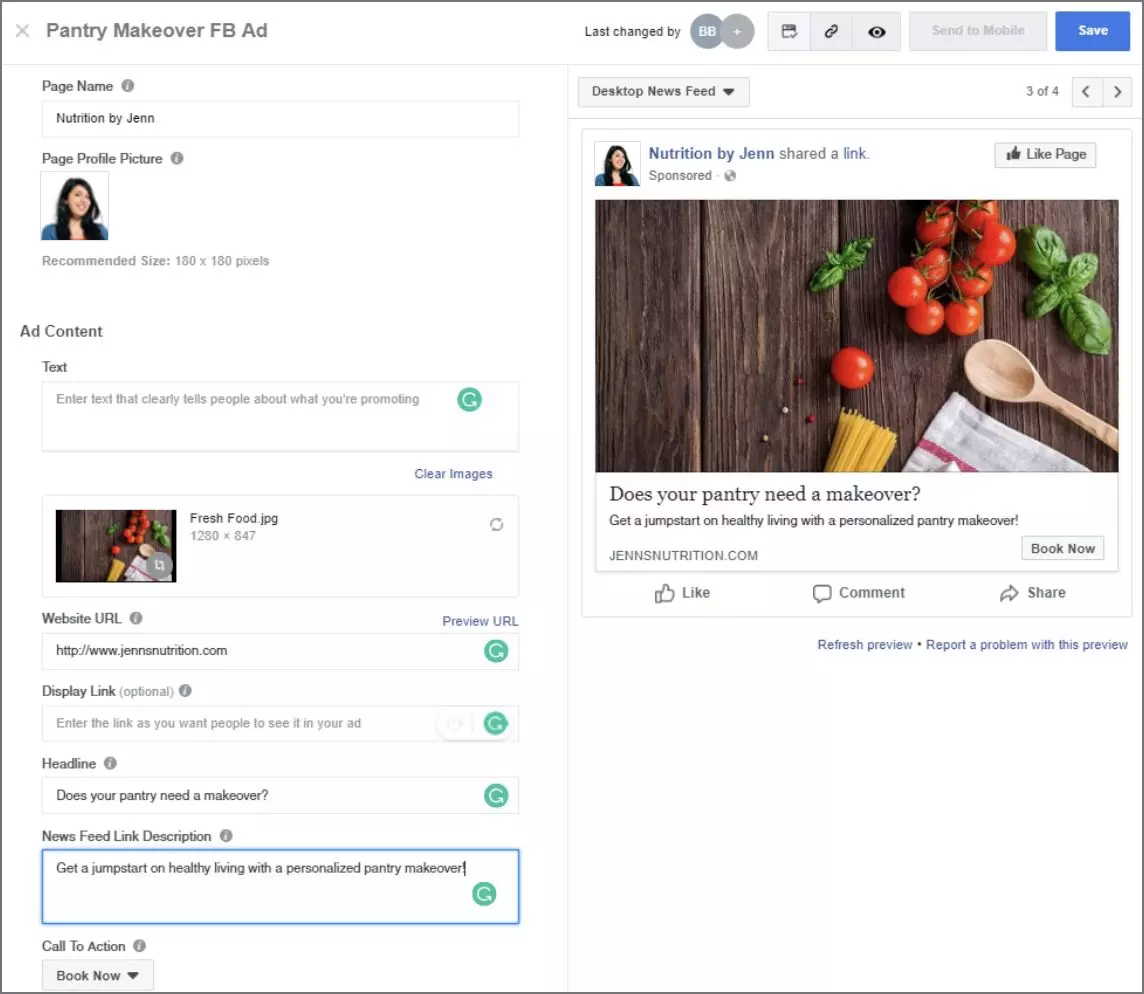 3. Give Your New Service Some Prime Real Estate
The key to winning business through a new service is making sure it doesn't go unnoticed.
That means you can't afford to be shy about your latest offer on your business' site.
Instead, it needs to come through loud and clear.
Rather than hide your new offer on a "Services" page, consider how you can put your fresh service front and center. Eye-popping "Book Now!" widgets like those from vcita are proven to work wonders for sales.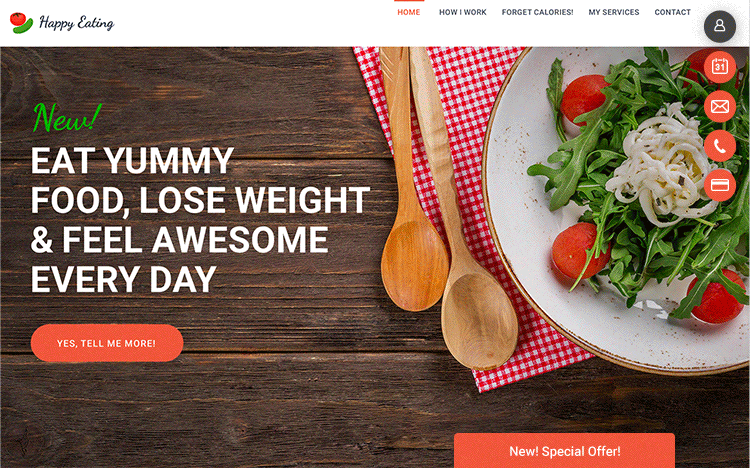 A pop-up widget ensures that your service is seen by prospective clients in addition to your current ones. As a non-intrusive way to keep potential customers in the loop, vcita's on-site integration is a simple yet effective way to drive more bookings in an instant.
4. Cook Up a Coupon for Existing Clients
As noted earlier, your current crop of clients represent the most qualified people to book your new service.
Of course, you can't assume they know about it. You need to explicitly tell them.
While mentioning such a service in-person is helpful, cooking up an email coupon puts you directly in your clients' inbox (think: where they're hanging out multiple times a day).
Coupons work triple duty as they…
Clue in current clients about your service

Re-activate past clients who haven't gotten an email from you in a while

Provide a sense of exclusivity in the form of a deal or discount
For example, check out this discount email from Jenn using vcita's very own email and coupon marketing tool: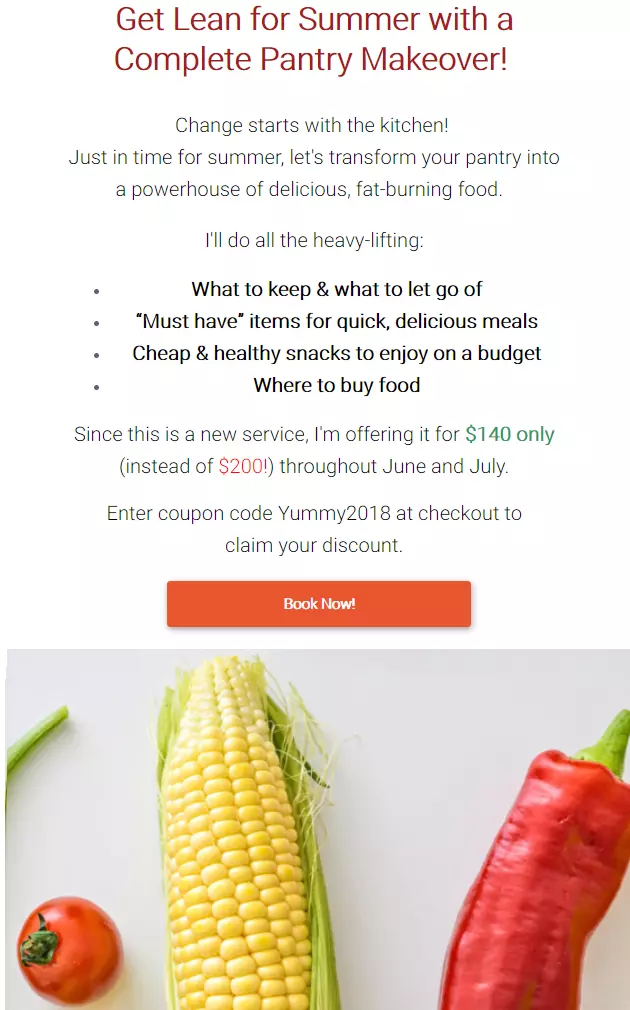 Simple, to the point and incredibly effective.
In short, a new service represents a great reason to touch base with all of your clients. Creating your very own coupon in vcita can result in a flood of new business without much legwork at all.
5. Organize a Meetup
Advertising your new service offline is easy to overlook but can really help you seal the deal with clients who might not be so tech-savvy.
For example, let's say that Jenn has a healthy living group that she meets with in person on a regular basis. Clueing those clients in on her new service and letting them experience it firsthand flat out makes sense, doesn't it?
Getting your clients together in a group setting is a cinch, and three ways you can do so is through…
Email marketing (sending a quick meetup announcement)

Facebook groups and events (which are awesome for building your own community)

Sites like Meetup.com which are perfect for getting people together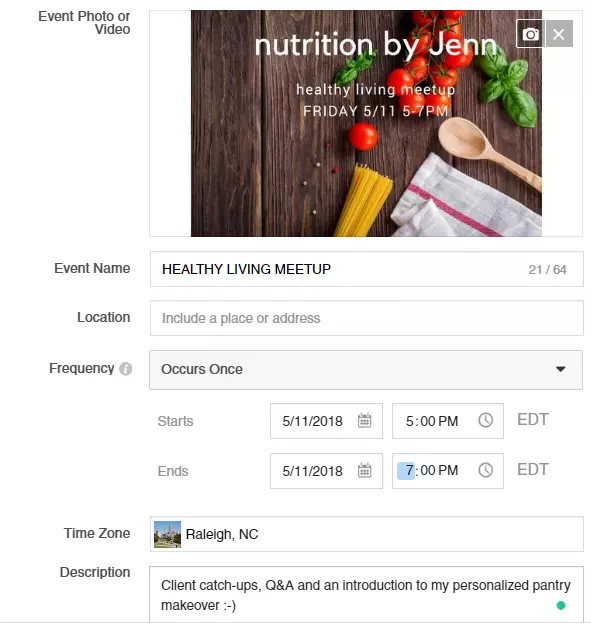 Face-to-face interactions with your clients can be incredibly powerful, so make sure to include them as part of your promo strategy.
6. Network with Other Professionals
Last but not least, make sure to tap into other networks and relationships as part of promoting your service.
Ask yourself: are there any fellow business owners in your space you can offer a referral bonus to?
In Jenn's case, she could potentially talk with gym owners, personal trainers or other health professionals who could introduce her to a new slew of clients. Through the likes of Facebook, Instagram or Twitter, those professionals could link to Jenn's service and offer their own discount coupons.
Again, it's all about creating buzz from multiple angles. These six strategies work great on their own, but are most effective when done in tandem.
Ready to Promote Your New Service?
Introducing a service is a brilliant way to drum up business with new clients and old ones alike.
As evidenced by our step-by-step guide, the key to is make as much noise as you can when you launch so nobody misses your promotion. By sticking to these tactics, you cover all of your bases to encourage a fully booked schedule as you roll out your new service!