Be honest: does SEO stress you out?
If so, we totally get it!
But we'd argue that learning the basics of SEO is way less stressful than staring at an empty calendar.
Consider that nearly half of all Google searches are focused on finding local services. Meanwhile, a staggering 97% of people learn about local companies online!
No matter how you slice it, search engines are invaluable for attracting new clients.
The good news? Boosting your rankings and driving search traffic is easier than you might think.
That's exactly why we put together this straightforward guide to local business SEO in 2020.
No coding or extensive editing required, either! Just ten actionable steps you can take to start improving your search presence ASAP.
1. Make Sure Your Site is Mobile-Friendly
Let's start with something simple!
Given that nearly two-thirds of all Google searches come from smartphones, a mobile-friendly site is a must-have for service businesses.
And if mobile optimization sounds too technical for you, don't panic!
Chances are your site is already optimized for mobile, especially if you're using a paid WordPress theme or a third-party site-builder like Wix or Squarespace.
But let's say you want to double-check. Simply copy-and-paste your URL into Google's Mobile-Friendly Test and presto! This tool automatically analyzes elements of your site to ensure that everything loads successfully and that your potential clients can navigate your site with ease.
Beyond this test, it's also a good idea to give your site a good once-over on your own smartphone to see if you hit any snags.
Below is a great example of a fine-tuned mobile site demo from Squarespace. Scroll-friendly and separated by sub-headers and big buttons, the design is inviting to visitors and encourages them to stay on-site.
All of these elements are good news to Google and signals that your traffic is in the right place. Likewise, this style of mobile design leads your visitors to the exact calls-to-action they need to see to get in touch with you.
Pssst! vcita's online scheduling software is the perfect way to encourage bookings from visitors on-the-go.
2. Speed Up Your Site's Slowpoke Pages
No surprises here.
The longer it takes for your site's pages to load, the more likely visitors are to bounce and look elsewhere.
When people fail to spend a significant amount of time on your site, that's a point against you in the eyes of Google.
In short, no interactions and low time spent on-site imply that you aren't offering a good user experience. This not only has an impact on search performance, but also your visitors' ability to find what they're looking for in a timely manner.
The trick here is to make sure that there isn't too much going on within any given page of your site. While it might be tempting to load up your homepage with media and apps, you need to double-check that doing so isn't bogging your site down.
Copy-and-paste tools such as Google's PageSpeed Insights can clue you in on opportunities to optimize your site's speed. The tool assigns your site a score…
…and then recommends action items such as compressing your images or removing links that aren't loading correctly.
Compressing and resizing images is arguably the easiest way to speed up any given site. Sticking to Google's recommendations, tools such as Compressor.io and CompressJPEG can help scale down images for the sake of speeding up your site.
3. Claim and Optimize Your Google My Business Listing
This is a big one!
Remember what we said earlier about almost everyone finding businesses from Google?
Claiming your Google My Business listing should be a top priority for any local business.
Whether it's your brand name or location-based keywords (think: columbus barber), your Google My Business puts your business front-and-center and almost represents a sort of hub for your business beyond your website.
After fully filling out your profile, double-check the following elements of your Google My Business listing:
Description, including relevant key-terms and what makes your business stand out
Location. up-to-date so searchers can find you via Maps
Hours of operation, ensuring that clients reach you at the right time
Services, highlighting your business' area of expertise
Reviews, responding to positive and negative comments to show that you're willing to listen to your clients' feedback
Booking, taking advantage of Reserve with Google to score bookings directly from your listing
Photos, including customer photos that give your business a much-needed sense of authenticity
4. Step Up Your Presence on Local Business Directories
Beyond Google My Business, claiming your company across local directories (think: Angie's List, Thumbtack) is a smart move.
Doing so is a simple way to build basic backlinks to your website. Additionally, note that third-party directories often pop up alongside search results for your business' name.
The more listings you have claimed, the more authoritative you look at a glance to potential customers. This is especially true if those listings have positive reviews.
We actually put together a list of local business directories we recommend to companies of all shapes and sizes. Given how easy it is to sign up and the fact that nearly all directories are free, claiming your listing is a low-hanging strategy to build more links.
5. Fill Out Your Facebook and Other Social Profiles
There's a lot of debate out there over whether or not social media impacts search rankings in any significant way.
However, the concept of "linkless backlinks" seems to imply that any links that point to your business' site are a positive signal to search engines.
Not unlike business directories, social sites also dominate the first page of search results. These same platforms (think: Twitter, Facebook, Instagram) all allow you to link to your business site and funnel traffic there, too.
When filling out your business' information on social media, try to include as much detail as possible that'll make your accounts appealing to search engines and potential clients alike.
For example, consider the "About" section on your Facebook Page. Here you have a prime opportunity to display your essential booking information (including your phone number and a "Book Now" button), location and relevant terms related to your business.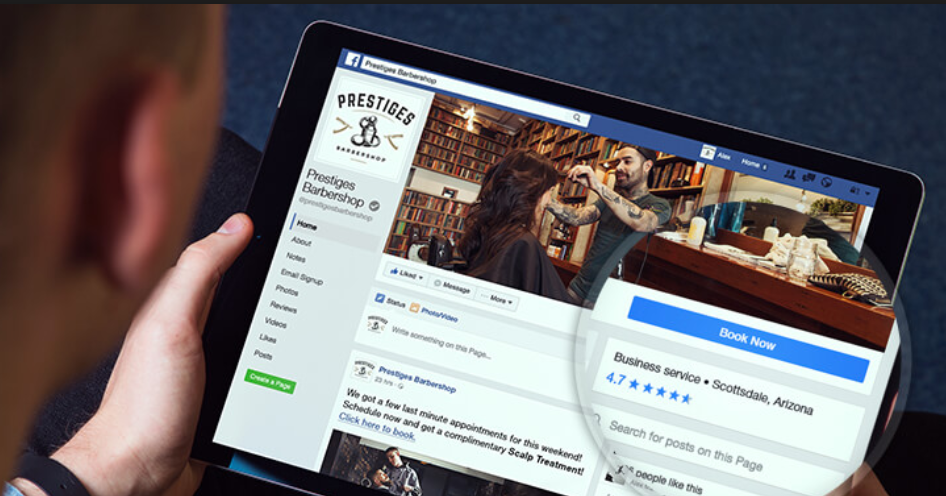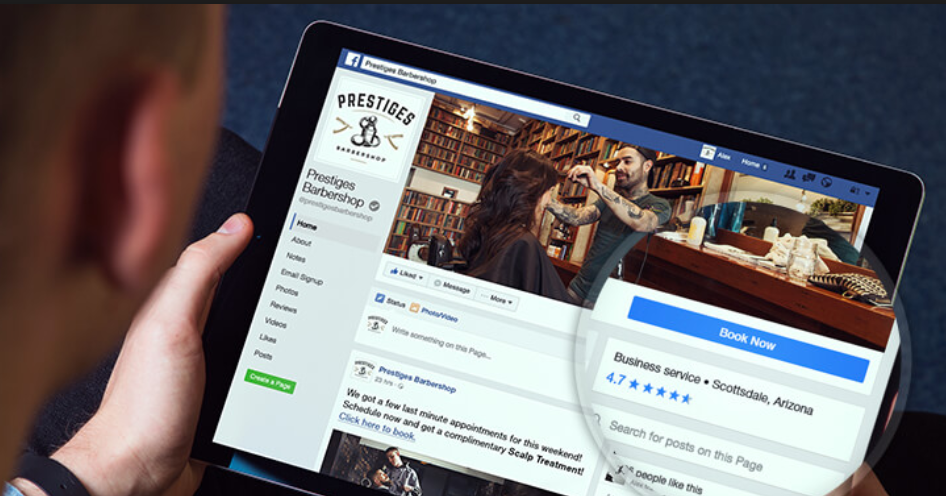 Additionally, features specific to Facebook such as the "Services" tab allow you to target keywords related to the services you offer.
For example, a dentist may be targeting "sedation dentistry" or "invisalign" for local customers in their city. Having these services highlighted on social media can actually help you pop up in local search results in the long-run.
Meanwhile, make a point to monitor how much traffic you're scoring through social media. Assuming you have Google Analytics set up, you can discover which social channels result in the most visitors and bookings.
This can help you prioritize the social media platforms and promotional tactics that make sense for your business. On the flip side, you can ditch or revamp what's not working.
6. Highlight Your Business' Location via Google Maps
This is a simple tip, but definitely one worth mentioning.
Either as part of your "Contact" or "About" page, make sure you link to your Google Maps listing and provide your physical address.
There are a couple of reasons why you should do this. The first is to highlight positive reviews from your Google listing if you have 'em.
Also, including a Map makes your informational pages seem less bare-boned and allows you to target keywords in the process:
"If you're looking for a professional Nashville dog groomer, make sure to come visit us at… [address]"
And if nothing else, a Map makes it a cinch for potential clients on the go to see how far away they are from your business. Doing so could seal the deal with customers in your neighborhood who want to support someone that's close by.
7. Keep Your Visitors Glued to the Page with Video Content
The SEO benefits of video are well-documented.
Let's be honest: not all of your visitors have the attention span to scroll through your copy.
Sure, you need to target keywords and highlight what you can do to help your clients via text.
That said, including service-based videos is a brilliant example of "show, don't tell" that can drive more conversions and keep visitors glued to your site.
For example, Kenny's Tree Removal includes a breathtaking video on their homepage which does double-duty of entertaining visitors and showing off a job well-done.
See how that works?
Putting together a mini commercial or demo is a brilliant move to win over modern customers while encouraging more clicks throughout your site.
8. Rethink Your Keywords and How You Feature 'Em On-Site
Chances are you understand the concept of keywords and how they work.
For example, someone looking to get their hair done while visiting Chicago might type "chicago salon" into their smartphone and boom!
When both researching and publishing keywords on-site, think about what you'd do as a potential client or customer.
What terms would you search for? What would you consider "spammy" on someone else's website when it comes to keywords?
Ideally, you should be able to use your best judgment to avoid keyword stuffing and use keywords naturally throughout your website.
Doing so means having a variety of keyword terms to choose from, some of which are long-tail keywords (~5+ terms) which target very specific queries and searchers (think: "best place to get highlights in chicago").
We recommend using Google's Keyword Planner to brainstorm relevant terms, new keywords and potential topics to explore throughout your site's content.
Let's look at an example of effective small business keyword usage that isn't spammy.
Check how The Peached Tortilla, which is one of the top-ranking sites for "Austin catering," naturally sprinkles relevant terms throughout their homepage copy.
By keeping an eye on Google Analytics over time, you can better understand which terms are actually resulting in traffic. Remember: ranking for keywords is a marathon, not a sprint!
In terms of where your keywords should go, prioritize your title tags, headers, meta descriptions and page URLs. For a more comprehensive look at how to pick and choose search terms, check out this guide to small business keyword research.
9. Create Pages for Individual Services to Target Specific Keywords
According to conventional wisdom and Google's best practices, businesses that want to rank for a specific keyword should have a single page dedicated to that specific term.
Let's say you run a landscaping company in Miami. Beyond "landscaping," terms related to "tree trimming," 'tree pruning" and "stump removal" would also be in your wheelhouse and worth targeting, right?
As such, make a point to dedicate specific pages of your site to services you want to rank for. This is yet another way to highlight your specific expertise while still attracting a general audience.
If you want to make your website "deeper" for the sake of targeting more keywords, these sorts of service-specific pages are the way to go. Here's a great example from Baldwin Park Family Dental.
10. Encourage Reviews from Your Satisfied Customers
As noted earlier, reviews in both directories and social media pop up in first-page search results for most service businesses.
High star-ratings represent a badge of trust that can help encourage more would-be customers to click-through to your site.
And so encouraging conversations around your business online means more opportunities for folks to mention keywords related to your business organically. It also builds trust at a glance for people who've never heard of you before.
Hungry for customer feedback to help you rank? We actually put together a guide that breaks down exactly how to score more Google and Facebook reviews (and how vcita can speed up the process).
And with that, we wrap up our guide to local SEO!
What Are You Doing to Beef Up Your Bookings via Search?
That wasn't so bad, was it?
Listen: when it comes to giving people opportunities to discover your business, your mindset should be "the more, the merrier."
That's why local businesses just can't afford to ignore SEO.
Many of the steps above don't require much legwork and are likewise proven to improve search rankings.
We recommend that you tackle 'em step-by-step. Doing so is much less daunting than trying to reinvent the wheel with your web presence.
By taking care of these tips, you can put yourself on the path to higher rankings and more bookings to make the most of 2020!