Email has become such a staple of our day-to-day lives that most of us don't think twice about it anymore.
But if you're a small business owner today, email should most definitely be on your mind.
How come? Consider that a staggering four-out-of-five people check their inbox more than once a day (with some email addicts checking it often as 15 times daily).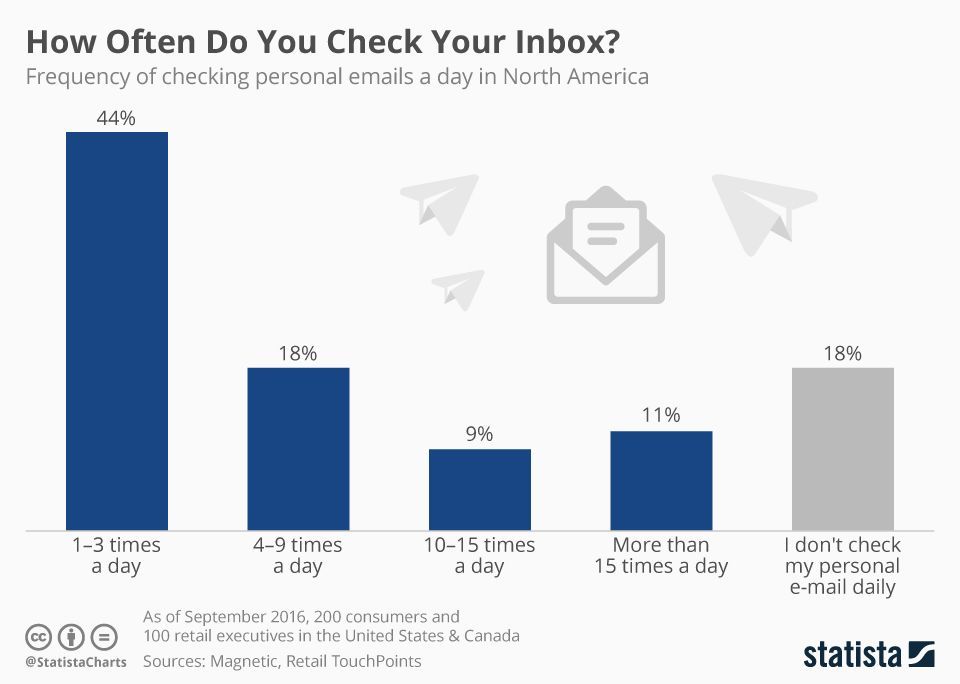 If there's one thing that small business owners have learned since the dawn of Internet marketing itself, it's the unparalleled power of email.
From company updates to perfectly timed coupons, email marketing has represented the lifeblood of service businesses looking to create repeat business for decades. In a sense, it's the one marketing tactic that's truly stood the test of time.
And it all boils down to setting up that first email campaign.
Despite popular belief, it's not too late to get started with email marketing.
Not by a long shot.
In this guide, we're going to break down the in's and out's of creating your very first money-making email campaign without breaking a sweat.
Is email marketing good for small businesses?
In short, "yes!"
A thousand times "yes!"
Nearly every business big and small relies on email marketing in some way, shape or form.
And while channels like social media are indeed important, an engaged email list is arguably one of the most valuable assets a small business could ask for.
Below are some quick reasons why email marketing is so important to "the little guy."
Email is the top tactic for customer retention
Simply put, small businesses today rate email marketing as the top-rated way to retain customers.
Think about it. Whether it's through coupons or announcements, emails encourage a constant connection with your clients on a day-to-day basis.
And thanks to the rise of smartphones, you're constantly in their pockets, too.
Whereas your Facebook post or tweet might get buried by a fickle algorithm, subscribers will always see your emails front and center in their inboxes. Instead of having to chase people down one-by-one, you can send a blast to your whole email list at once without missing a beat.
Email subscribers are your best customers
When someone opts into your email list, it's because they want to be there.
As a result, anyone who joins your list immediately signals themselves as being open to offers, deals, and future communication.
In other words, your subscribers are the ones most likely to stick around and give you your their business time and time again.
The barrier to entry is lower than ever
Here's some food for thought: everyone has an email address.
Rather than worry about someone signing up for a service or being present on Facebook, email pretty much gives you access to anyone and everyone.
The requirements for setting up an email campaign are likewise lower than ever given the wealth of platforms available to small businesses.
Therein lies part of the challenge, though.
Many businesses owners are freaked out by the idea of building a list or learning some complicated software to startup their email campaigns.
Hey, you're busy. We get it.
Thankfully, there are steps you can take to start building your email list without wasting any time.
How do I build an email marketing list?
Now, building an email list from scratch might seem daunting, right?
But it's probably a lot easier than you might think.
Even if you don't already have a crop of client emails from your current CRM, here are some additional ideas to sow the seeds of your subscriber list.
Feature a "Join My Mailing List" form on your website
Including a "join my list" call to action (also called, an "opt-in form") on your website represents a simple, passive way to collect email addresses from your clients.
The key here is to make sure your list opt-in is a can't-miss without being too in-your-face about it (think: spammy pop-ups). As such, collecting someone's email address is common practice whether they're looking to potentially book an appointment or simply ask about a service.
If you're a vcita user, great news! You can easily invite prospects and clients to join your mailing list by adding a field to your online booking form: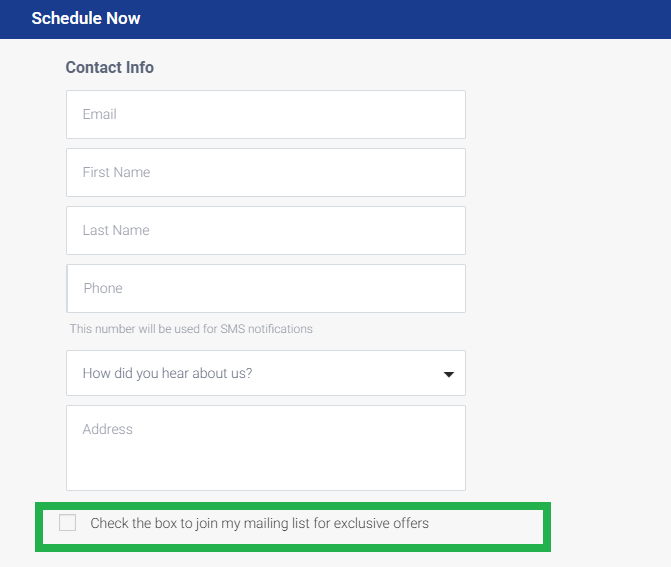 Entice subscribers with a lead magnet or offer
Think of collecting emails as a sort of exchange.
If you expect your prospects and potential clients to hand over their emails addresses, you need to hook them up with something of value in return.
Deal!
There are a variety of campaigns you can roll out to entice subscribers to provide their ever-so-valuable contact information. Some common tactics include:
Promoting a free, limited-time consultation
Hyping an exclusive e-book, guide or webinar
Cooking up a limited-time special or discounted rate for first-time subscribers
People are more than happy to provide their information, granted they have a concrete incentive to do so. When you have the right offer on deck, you can attract new opt-ins time and time again without lifting a finger.
Encourage in-person sign-ups
Don't neglect the power of promoting your email list offline!
If you run a brick-and-mortar business, asking for email addresses upon checkout is always a smart move. Likewise, a physical list at your checkout counter is totally fair game. Once you get other customers talking up your exclusive email offers and deals, you can even use word of mouth to hype up your list even further.
Hype your coupons and discounts
Perhaps the best way to encourage long-term opt-in's is by promoting discounts and deals by signing up for your mailing list.
Some businesses will provide a steep initial opt-in offer (25% off your first appointment when you sign up) and then roll out smaller, consistent deals over time.
Discount-seekers and deal-hunters can quickly become your bread and butter if you email them on a regular basis (but more on that later).
Promote a newsletter
A way to keep people in the loop and show off your expertise, promoting a weekly or monthly newsletter is another great tactic for encouraging opt-ins. This is also an effective tactic to double-dip your blog content if you're regularly publishing articles.
As you can see, there's no "right" way to build your email marketing list as long as you're actually making a conscious effort to, you know, build it.
While getting those first few subscribers might seem like a struggle, you'd be surprised at how easy it is to get the ball rolling.
It comes down to sending the right emails at the right time.
And hey, that leads up directly to our next point!
What are the best email marketing tactics?
When you know how to engage your list, scoring new subscribers becomes so much easier.
If you're racking your brain for what types of emails to send or what the best practices of modern email marketing are today, relax. We've got you covered.
Below are some tips and tactics to help define your very own email marketing strategy. These simple, straightforward tips are fair game regardless of what sort of business you're running.
Send time-sensitive offers, deals and discounts
Whether it's cooking up repeat business or winning back customers, sometimes a discount is all you need to sweeten the deal. Creating a sense of urgency with limited time offers keeps people from sleeping on your messages, filling up your calendar faster.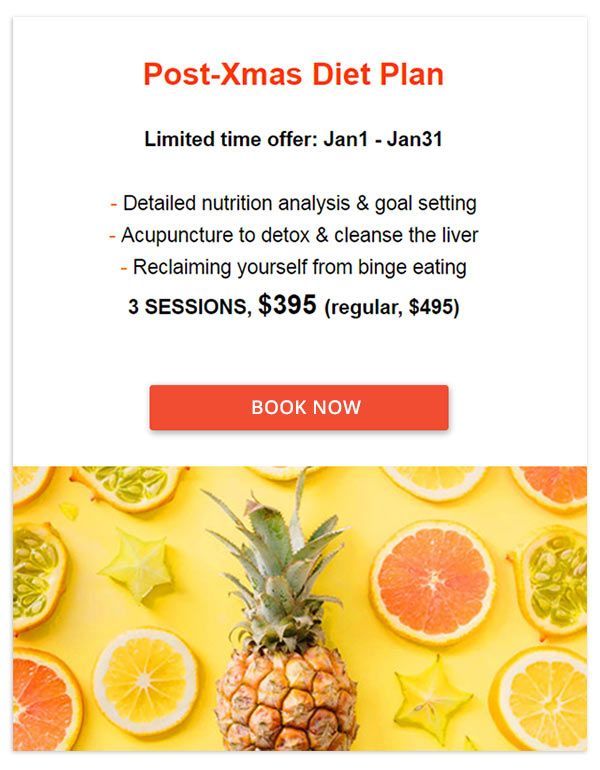 Present your list as something exclusive
People should feel good about receiving your emails, plain and simple.
To avoid coming off solely as a salesperson, it's important to both butter up your subscribers and remind them that you're a helping hand.
Framing your emails as "for your eyes only" and offering deals exclusive to subscribers gives your list a "VIP" vibe. When crafting your email copy, emphasize your appreciation for your clients to give them that sort of warm, fuzzy feeling they deserve.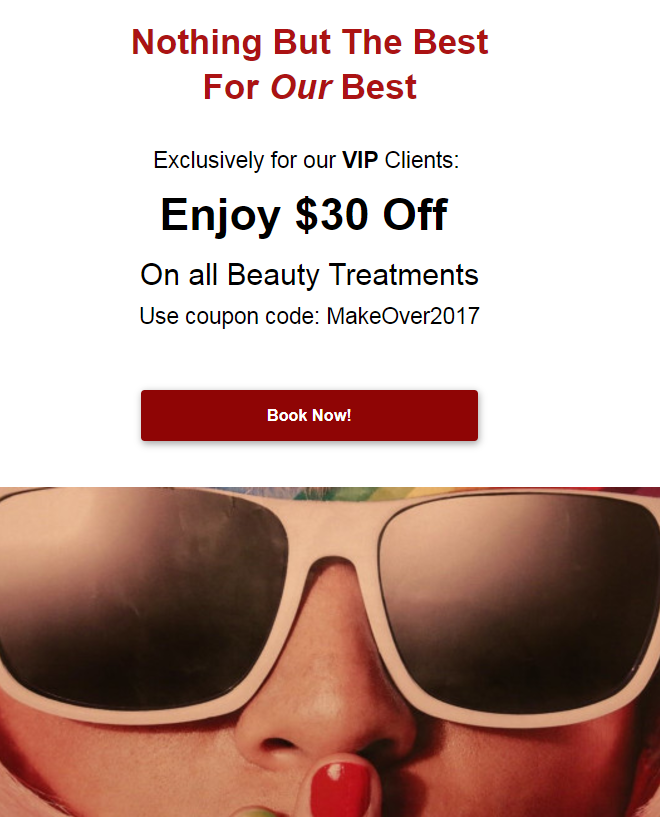 Personalize your messages
Piggybacking on the last tip, people generally don't like generic, one-size-fits-all marketing messages.
As such, it's important to both inject some of your personality into your emails and make them feel more like one-on-one messages.
For example, don't be afraid to use some slang or crack a joke if that's what your brand is all about. There's no need to be "suit and tie" if that's not your jam!
Now, perhaps the most critical piece of personalization is segmenting your email list and making sure your clients' names are front and center on each message.
You can actually do both in vcita, using personalization tags to address your clients by name rather than send a generic message. Likewise, you can send emails to specific sets of clients (think: long-term clients, new ones) to tailor your offers specifically for them.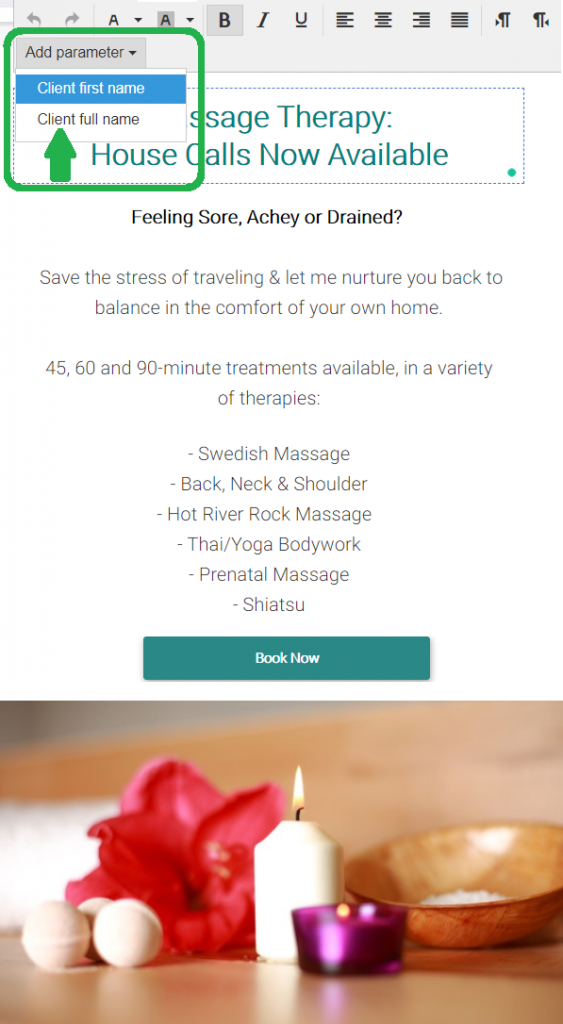 Make sure you're mobile-friendly
It may come as no surprise, but the majority of emails today are read via smartphone.
As such, mobile-friendly optimization is a must-have. This means loud call-to-action buttons, clear imagery, and emails that are just plain easy on the eyes.
Oftentimes, "less is more" when it comes to email. When you keep your messages simple and clean, readers are more inclined to take action.
Fine-tune your frequency and scheduling
There is no "right" answer in terms of how often to send emails, but anywhere between one to four times a month is considered common practice.
You don't want to overload people, but then again you also don't want to keep your list out of the loop.
Sometimes a good ol' fashioned experiment is the best way to find out for yourself.
Finally, don't forget the importance of tapping into the right timing for your messages. Similarly, there is no single best time to send emails (although weekday afternoons are traditionally the most "safe"), it's always a plus to be able to schedule your messages in advance so you don't have to worry about sending in real-time.
The ability to queue up messages is also a nice touch because you can plan out campaigns days, weeks or even months in advance without having to stress out.
What is the best email marketing platform to use?
There are plenty of options out there for small businesses when it comes to their email marketing campaigns.
And hey, you could blame us for thinking our own email marketing software takes the cake when it comes to small, service business owners.
Why, though? Consider how vcita manages to tick all of the following boxes (and then some):
It's simple. We allow you to start creating campaigns in a matter of seconds. 
It's fast. With preloaded templates and the ability to blast personalized emails to your clients in a jiffy, you don't have to wait to get started.
No bells and whistles – just the tools you need to nail the sale 
It's mobile-friendly. Our messages are inbox-ready and look brilliant on all devices.
It integrates with your client list. If you're already using vcita, you can immediately send blasts to your client list upon your first campaign.
If not, importing contacts is a breeze.
And if you want to know even more about what you need to roll out an email marketing strategy with the help of vcita, you can learn more from the video below.
Ready to send your first email campaign?
No matter how you look at it, email marketing is a must-have for modern small businesses looking to maximize profits.
That said, it doesn't have to be yet another time-consuming task on your plate.
With the help of vcita, you can set up your first email campaign in no time, minus any headaches. Hopefully, this guide can help you get started with sending emails to your lovely clients ASAP!