If you're on social media at all, the chances are high that you'll have seen at least one before-and-after post by someone following the Beachbody program.
Maybe you've completed Beachbody programs, like 21 day fix or P90X3? Perhaps you too are currently feeling fit, healthy, and strong thanks to Beachbody On Demand, Shakeology shakes, and your Beachbody coach. If you are, you're probably also thinking about how to become a successful Beachbody coach.
It's a really attractive way to earn your living. Instead of feeling stuck in a 9-to-5 job that doesn't challenge or excite you, you could be your own master: running your own business, sharing your passion for fitness and healthy living, and doing something that you love every single day.
Can you earn a living as a Beachbody coach?
People can make serious money as Beachbody coaches. In 2018, the highest-paid Star Diamond coach earned a whopping $3,038,804 that year! I wouldn't say no to that!
Beachbody makes it quite clear, though, that the amount of money that you can earn as a Beachbody coach is up to you. While the top-earning Star Diamond coach earned over $3 million, the average earnings for a coach at that rank in the same year was just over $10,000. That's a pretty big range.
Beachbody provides you with a lot of resources, like workout programs that people rave about, high quality nutrition shakes, and sponsors and mentors for when you're just starting out, but ultimately, your income depends on you. Just like with every business, it's up to you to decide whether you want to learn how to become a successful Beachbody coach, or just enjoy coaching as a side hobby that doesn't bring in serious revenue.
Now that we've said all that, if you still want to learn how to become a successful Beachbody coach, we've got all the advice you need from 3 top Beachbody coaches who earn a full-time salary, and then some, from their Beachbody businesses. Let's dive in.
1. Be motivated
If you read about any successful Beachbody coach, you'll see that their #1 secret ingredient for success is that they were motivated. First up, they were motivated to get fit and lose weight with Beachbody. Then, they enjoyed Beachbody so much that they were super-motivated to make their Beachbody coach business work. They felt excited about replacing their 9-to-5 grind with a business that they loved, and eager to share the joys of Beachbody with new people.
For example, mother-daughter duo Kim and Kalee Sorey were broke when they began their Beachbody coaching business in 2011.
They needed to make it work for the most fundamental reason: to pay their rent. That gave them the focus to just jump in and get started. They make it clear that it wasn't easy, but it did happen. Now they have both quit their jobs as high school teachers, paid off $54,000 of debt within 12 months, and travel 3 times each year, thanks to their income as Beachbody coaches.
2. Commit yourself
This is the next vital ingredient to become a successful Beachbody coach. Truthfully, it's the only way to become a successful anything. You have to be committed to building up your Beachbody business. Every top coach had moments when they were tempted to quit because the struggles were so big, but they became top coaches because they didn't quit. They stayed true to their commitment.


Treat it like a real job, because that's what it is. You need to do all those things that every other business owner does, like making a business plan and setting business goals. You need to learn how to market yourself, how to run your social media pages, how to track your income and expenses.
You'll probably find yourself stepping out of your comfort zone to promote yourself, or speak up with advice and support when you see that someone needs it. The only way to get the courage for all that is to be committed.
Successful Beachbody coach Keith Callahan emphasizes this on his blog.
He writes that when he began as a Beachbody coach, he was facing bankruptcy, hated his 9-to-5 job, and had a family to support, so he committed to Beachbody coaching 100%. And it paid off! After 3 years, he was earning over $200,000 per year, and by year 8, his annual income had grown to over $800,000!
Kalee Sorey adds that succeeding as a coach is totally optional. It's your choice whether you apply your training, dedicate time to learning new skills, reach out to help new coaches in your team, and share your genuine highs and lows. The people who commit to doing all this are the ones who become successful Beachbody coaches.
3. Build relationships
Not everybody realizes that the real path to success as a Beachbody coach is through creating relationships with your challengers. That means finding the right ways to inspire and encourage others, as well as being open about your own personal transformation.
People don't follow you on social media or sign up for your Beachbody course because you're a source of Beachbody products, but because they feel a connection with you. They join your team because they trust you to give them that boost they need when they're feeling down, and to celebrate their wins together when they achieve their goals.
Danielle Natoni is one successful coach who really gets this concept. Her website emphasizes that joining her Beachbody team is like joining a family.
Natoni's Beachbody coaching business didn't take off until she realized that she needed to share, not sell. Her commitment to growing a supportive community paid off; in 2012, 2 years after signing up for her first Beachbody coach course, Natoni paid off her debts and resigned from her job as a math teacher, redefining herself as a successful business owner instead of a struggling single mother.
Natoni uses her blog, Instagram account, Facebook page, and Twitter profile to reach out to her followers. Her Facebook page is like a "cyber support group," because she encourages everyone to share their own success stories. She's open and honest about her challenges and setbacks, and celebrates her wins with real joy.
4. Get support
It's not easy to do it alone, and with Beachbody you don't have to. Every coach has their own sponsor, and that sponsor is there to provide advice, encouragement, and tips for success. But like with everything else, it's up to you to take advantage of your sponsor's experience.
Why make newbie mistakes when someone else could tell you how to avoid them? When he was just starting out, Callahan talked to his sponsor several times a day, getting help planning and strategizing. He says that the boost he got from attending his own team trainings was critical for his success.
Some of the most successful Beachbody coaches work as a team, like Kim and Kalee Sorey, while Natoni has support from her husband, also a Beachbody coach. It's really hard to build a business all on your own, so it's vital to have a strong support system to keep you on track.
5. Nail your marketing
If you look at Callahan, Natoni, Sorey Fitness, or any other successful Beachbody coach, you'll see that they pour a lot of effort into their marketing. Every one of those role models has a website that's professional and easy to navigate. They have active social media feeds, with thousands of followers on Instagram, Twitter, Facebook, and YouTube.
They all put effort into learning about SEO so that they could write killer blog posts that bring in organic traffic, and they find out how to add simple forms to encourage new leads to sign up. For example, here's the contact form at the bottom of one of Callahan's blog posts.
Many coaches use an easy online booking software like vcita to encourage visitors to book a session or an initial free phone consultation call 24/7.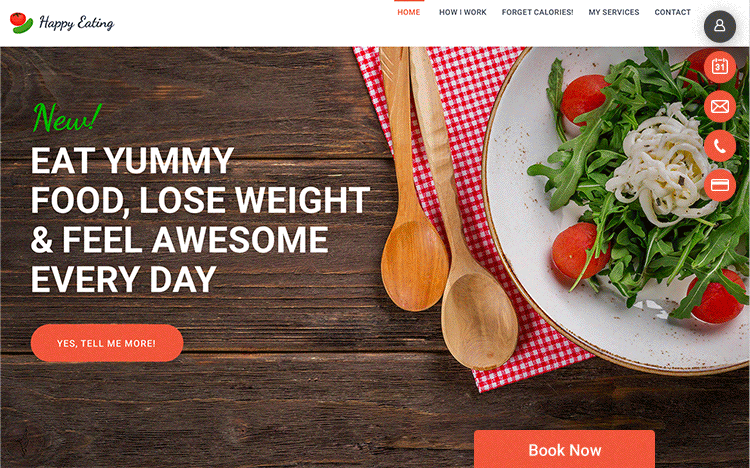 Successful Beachbody coaches make it easy for prospects to reach out to them with friendly online tools that help people get over the initial fear of getting in touch.
Another thing successful beachbody coaches have in common is that they all curate their social media profiles carefully, with attractive posts and visuals.
Take a look at Natoni's Instagram feed.
All of them work hard at providing value to their followers, the coaches on their team, and their challengers. They create lots of different types of media, like Instagram Stories, YouTube tutorial videos, blog posts, even podcasts.
As you can see, each and every successful Beachbody coach invested time and effort into learning hard marketing skills, because they know that "Field of Dreams" was wrong. Building it isn't enough to make them come. You have to make sure that everyone knows about it first.
6. Build a sustainable business
Callahan points out that it's much better to build a sustainable Beachbody business while slowly moving up the ranks, than to whizz up the ranks quickly without a solid foundation to bring in revenue. In fact, many Beachbody coaches with lower rank earn a much higher income than coaches who rank way above them.
Think of it this way: when you have a higher rank, the max income you can potentially earn is a lot higher than the maximum a lower-ranked coach can earn, because of the Beachbody bonus system.
Take a look at this table from Keith Callahan's website: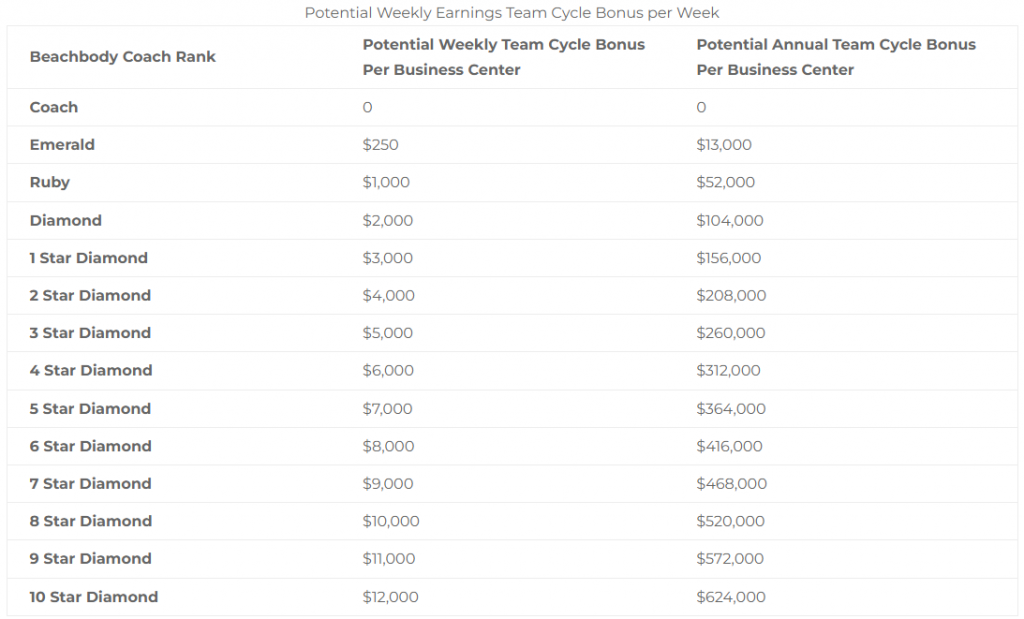 You can see that your potential earnings rise as you go up the ranks.
But the key word here is potential. If you work hard, you might earn that much in bonus payments, but there are no guarantees. Your income isn't handed to you on a silver platter (since when did that happen with anything good in life?)
Callahan's advice is to focus on educating new coaches to sponsor committed "working" coaches, meaning coaches who want to share the Beachbody program, rather than "discount" coaches, who don't intend to use their Beachbody knowledge and just signed up to get their 25% discount on Beachbody products.
That's why he took 3 years to become a 5-Star Diamond coach, but at the end of that time he was earning a solid $7,000 per week. If he'd rushed to get to 5-Star Diamond status, he could have got there in just a few months, but he'd only be earning $500 per week, if that.
7. Educate yourself
One of the best things about becoming a Beachbody coach is that it's open to everyone. You don't need to have a medical background or experience as a personal trainer to start a Beachbody coach business. But you do need to be willing to learn.
Beachbody and the Beachbody sponsors offer plenty of training. There's a huge mass of blog posts and video tutorials that help you learn how to encourage someone through a difficult period, when to push a challenger and when to tell them to take a break, and the ins and outs of marketing your Beachbody team.
But like I said before, it's all optional. You need to choose to spend time educating yourself about the deep Beachbody tactics and strategies. Find role models you can emulate and learn from, like Callahan, Natoni, and the Soreys. Read their blogs, follow them on social media, and watch their videos, until you work out how it's done.
There you have it. 7 actionable tips taken from real-life, top Beachbody coaches who are earning a good living from their Beachbody coach business. Now you know how to become a Beachbody coach; all you have to do is to put these tips into action. What are you waiting for?