It's no secret that email is the number one way to stay connected to our clients and colleagues.
Let's be honest, though.
Most of the messages in our inboxes aren't much to get excited about, are they?
Anything you can do to spice up your client emails is a huge plus.
And that's exactly why we recommend adding .GIFs to your messages to give 'em some much needed-flavor.
The good news? Adding GIFs to your emails is easier than ever, especially if you're using Gmail.
In this quick guide, we'll break down how to include eye-popping animations in your next email.
Why You Need to Start Adding .GIFs to Your Emails
Before we get into the nitty-gritty, let's talk about why .GIFs deserve your attention in the first place.
For starters, more and more brands are including .GIFs as part of their email marketing strategies.
That's because .GIFs have the potential to boost your read-through and response rates.
Why? .GIFs keep readers glued to the page. While it's easy for your recipients to gloss over a wall of text, .GIFs naturally draw your readers through to see what you have to say.
And if nothing else, .GIFs are fun! They're a lighthearted way to inject some personality into your emails and stand out from the crowd.
How to Add .GIFs in Gmail
Alright, now onto the good stuff!
Thankfully, you don't need to be a creative genius or tech mastermind to add .GIFs to Gmail.
Below are three ways to include animations in your emails, all of which can be done in a matter of seconds.
Boasting over one billion .GIFs shared daily, GIPHY is by far the most popular place on the web to find just about any type of animation.
And thanks to their Chrome extension, that massive library is just a click away from your own inbox.
Simply put, the GIPHY Chrome extension allows you to pull .GIFs directly from GIPHY's library and drag 'em into your email. It's just that easy.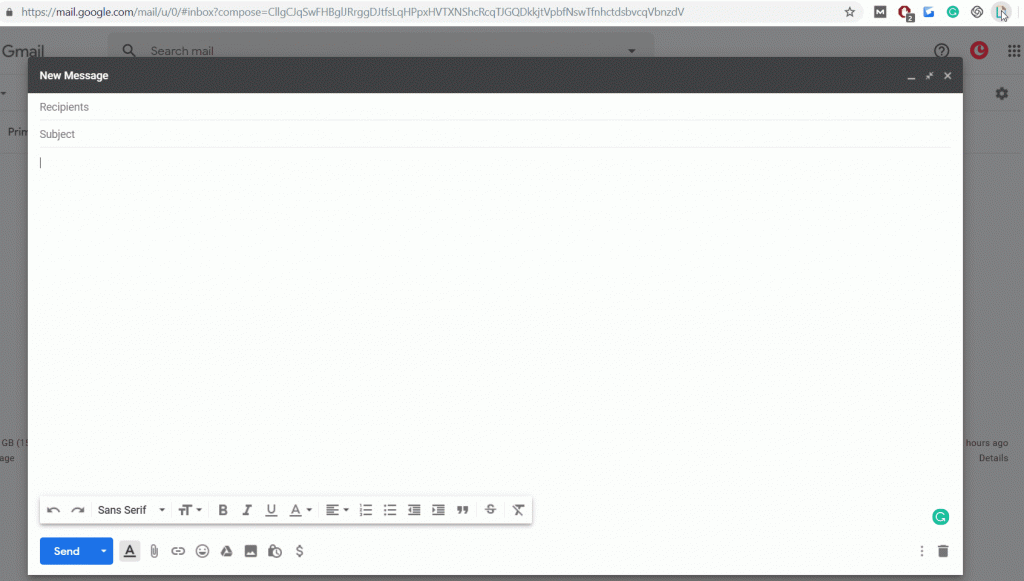 The extension recommends new, trending and popular .GIFs in addition to its search function. For example, you can search by specific reaction tags ("excited" or "confused") or by media source (The Office or Seinfeld).
As a side note, you can either keep or delete the "via GIPHY" tag which automatically populates when you drag-and-drop.
Although GIPHY might be the undisputed king of .GIFs, Gfycat's own library is nothing to scoff at.
And it never hurts to have options, does it?
Gfycat's Gmail app works similarly to GIPHY's extension as it gives you instant access to a ton of .GIFs.
However, this app actually works within Gmail itself.
The app has a clear breakdown of reaction gif types as well as trending, timely .GIFs to choose from. Once you click a .GIF, it'll be added to your email body.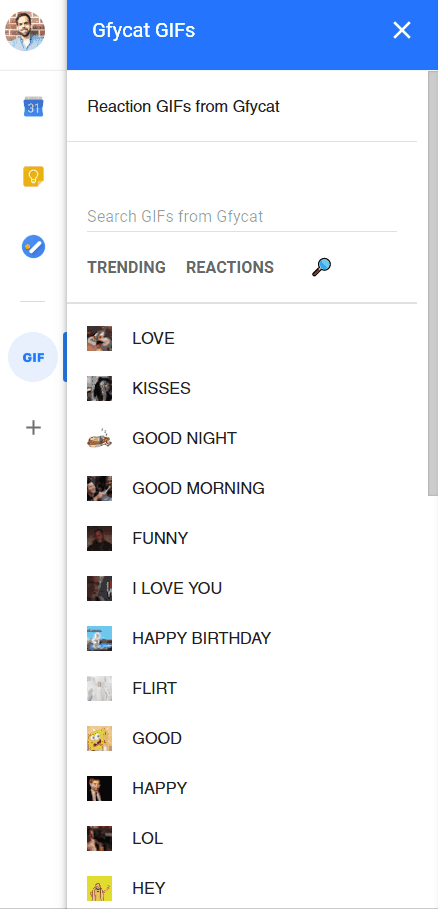 An added bonus of Gfycat's app is that it can actually recommend reaction .GIFs to you based on emails that you receive.
Based on the context of the message, the app will find you a snappy, relevant reply that doesn't require you to do any digging.
Nice, right?
3. The Ol' Drag and Drop
No tricks here!
Gmail actually allows you to drag-and-drop .GIFs directly into any given message from a file folder.
Why would you want to do this? Well, this method is useful for .GIFs you might already have saved on your computer.
Additionally, it can be used to share animations that you or your company have created yourselves which aren't hosted on GIPHY or Gfycat. Consider the various places you find new .GIFs such as Reddit's /r/gifs or /r/reactiongifs.
All you have to do is open your Gmail and .GIF destination folder side-by-side. Drag-and-drop the .GIF into your new message and presto!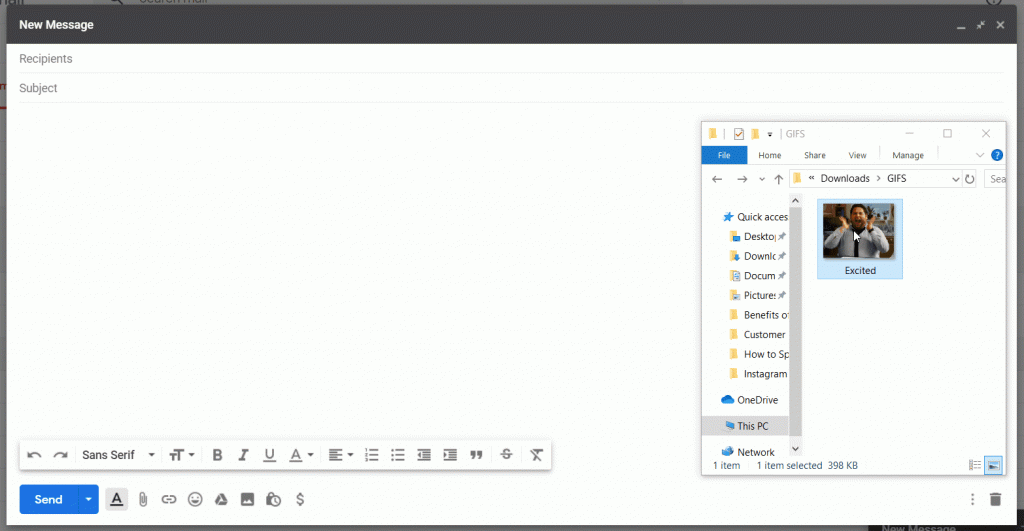 Any combination of these tactics works to get .GIFs into your emails ASAP. We recommend experimenting with each, especially given that you can install the associated plug-ins and extensions in no time.
Quick Tips for Adding .GIFs to Emails
Okay, now you're ready to start integrating .GIFs into your client emails.
But before you go totally .GIF crazy, let's talk about a few pointers.
Bear in mind that due to their file-size, .GIFs can accidentally cause messages to get flagged as spam. This tends to happen especially if you're sending an email to someone for the first time.
As a result, consider sending .GIFs to folks that already know and recognize your name in their inbox. The benefit of using extensions like GIPHY and Gfycat is that your .GIFs should already be optimized for email, but you can resize them accordingly.
Speaking of size, make sure that you double-check the quality of your .GIFs to prevent sending a grainy, low-quality image to someone. In short, don't excessively shrink or stretch 'em out. When in doubt you can always preview your message before you hit "send."
Oh, and use .GIFs sparingly!
Yes, they're tons of fun and we can't have enough of them!
But if you rely on them too much, your recipients might start to expect them or see them as gimmicky.
Reserve them for emails that you really want to pack a punch or keep lighthearted (think: congratulations, big news and so on). In some cases, you might find that some clients love your .GIFS – if so, keep 'em coming!
Ready to Make Your Emails Must-See?
If you want to make your emails more eye-catching, .GIFs can certainly do the trick.
With these tips and techniques, getting .GIFs into your emails is a total cinch.
And before we let you go, we just wanted to remind you that you can also integrate .GIFs into your business' email marketing campaigns with the help of vcita.
Want to add your favorite .GIF to your next client coupon or offer? vcita lets you do so in a matter of seconds
If you haven't already, make sure to check out our email marketing campaigns to get started yourself.
Now get out there and give the gift of .GIFs!