Being a small business owner is a blessing and curse.
True, you get the freedom to do what you love, manage your own time, and call your own shots.
But being boss also comes with great responsibility. Like never losing sight of the big picture. And planning ahead for the whacky, unexpected curveballs life may throw at you (Covid-19, anyone?).
That's exactly why you need to bulletproof your deck with a powerful card you can pull when things get tough. In other words: You need insurance.
What made us partner with Next Insurance & why you should too
Partnering with Next Insurance was an easy choice for us. Their vision aligns so perfectly with ours that it feels like we were separated at birth!
Unlike many other companies in the insurance-tech space, Next Insurance offers so much more than a product. They have a vision that they take very seriously. Like removing the anxiety and small print that comes with buying insurance and replacing it with transparency, fair pricing, and trust.
Just like vcita, Next Insurance is 100% committed to giving small businesses the confidence they need to grow without fear of the unknown.
But hey. Instead of us telling you what makes Next Insurance so great, let's hand over the stage to the Next Insurance team and let them tell you why you're gonna love buying insurance with them.
In their own words: Meet Next Insurance!
Hello vcita users! At Next Insurance, our goal is to help small business owners thrive by saving you time and money.
Here's why we think you'd love our service:
1. You can save up to 30% on your business insurance costs
When small businesses switch to us, they often save up to 30% compared to other options. That's because we only work with small businesses and utilize technology that creates the right coverage package at an affordable price.
On top of that, you can make easy monthly payments at no additional cost. You will also have access to free, unlimited and instant certificates of insurance.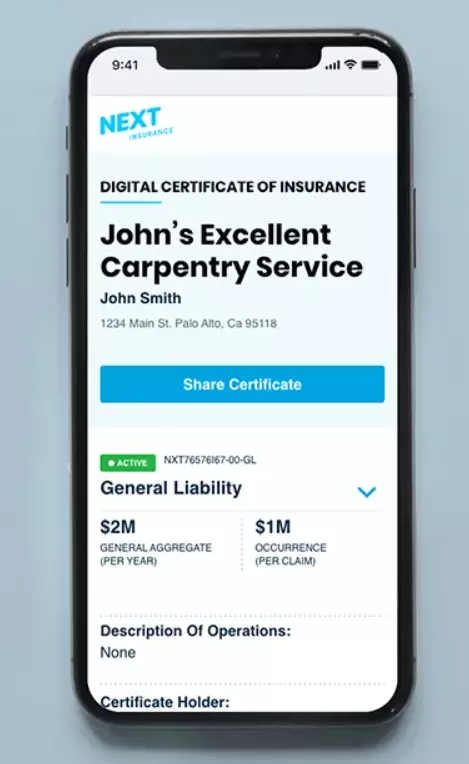 2. We are 100% dedicated to small businesses and the self-employed
Unlike other insurance companies that offer every type of insurance, we only cater to small businesses and the self-employed. We offer customized insurance packages for more than 1,300 types of professions that are based on the unique risks of each business type. That means you only pay for the coverage you need, not unnecessary coverage that doesn't apply to your work.
3. We offer a seamless & painless way to purchase insurance online
Our insurance product is simple, affordable and tailored to the needs of small business owners just like you. We know you have a million things to do every day and becoming an expert on small business insurance is not high on your list. That's why we created an online experience where you can explore your options and purchase insurance in less than 10 minutes and manage your coverage 24/7.
4. Customer service is our top priority
Our customers love our service. We have an average rating of 4.8 stars out of 5 stars on Google reviews from our 150k+ customers. Check out this review from Dominica:
If you have any questions, our team of U.S.-based, licensed insurance advisors are standing by to help you via online chat, email or phone.
5. We work hard to resolve claims quickly
We know that insurance claims can be disruptive to your business and your customers. . If you have a claim with your Next Insurance coverage, you'll be assigned a dedicated claims advocate who will work with you to resolve it as soon as possible. We strive to make claims decisions in 48 hours.
Ready to explore Next Insurance?
You may be the type that loves exploring and purchasing an insurance policy 100% online, straight from your mobile phone.
Or you may prefer a little hand-holding and the opportunity to talk to a professional before making a decision. Either way, and whoever you may be, we're ready and look forward to meeting you. Find out more about what we can do for you by clicking this link.