As the old saying goes, every cloud has a silver lining. Although the COVID-19 pandemic was (and still is) hard on most individuals and businesses, there are some companies that have done amazingly well throughout the crisis. 
Clearly, there's an opportunity for innovation hidden within every predicament, and some companies were able to find it… and capitalize on it. Here are five companies which saw their business, revenues, and reputation skyrocket during what most of us are calling a hard-knock year.
1. Comeback of the year: Birchbox
Birchbox is a beauty box company that sends monthly boxes of assorted beauty goodies to subscribers, for a flat fee of $10.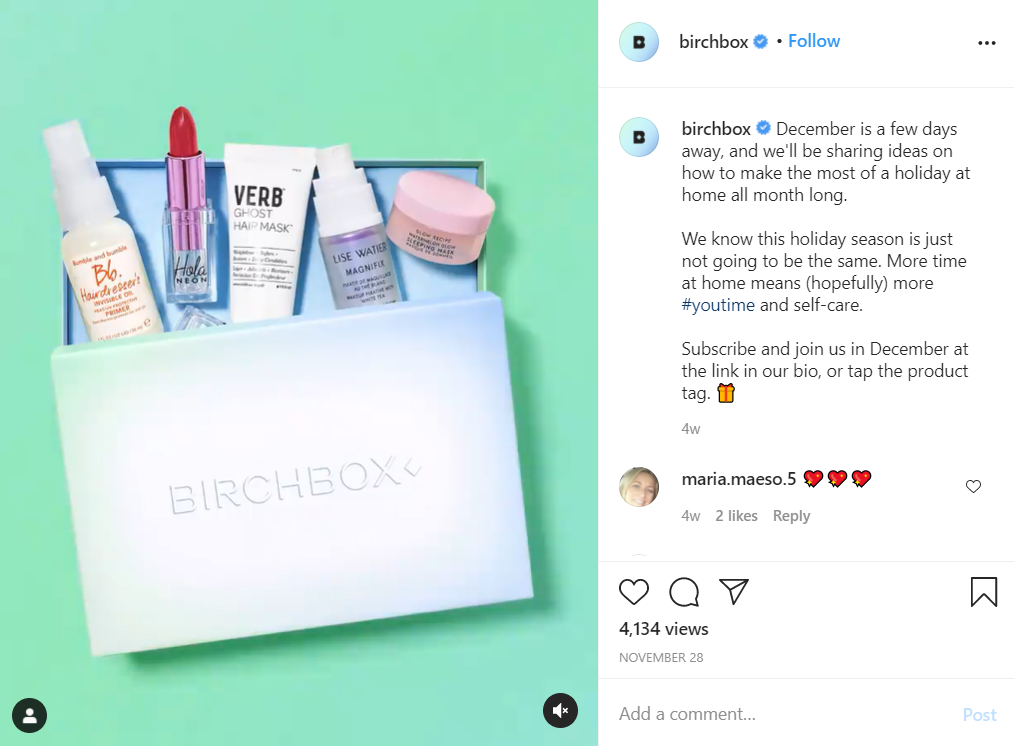 When Birchbox launched in 2010, it captured the public's imagination massively, securing $1.4 million in seed funding in just its first month of business and expanding rapidly into multiple locations throughout Europe. By 2014, Birchbox was valued at $485 million, but then it all went downhill. 
The novelty of beauty boxes wore off, and it seemed like they had had their day. Birchbox shrank, reaching its lowest point in February 2020 when it had to lay off 25% of its global staff.
Then, along came COVID-19.
Sure, it dragged business down for a while because as we all know, initially, consumers were trying to cut costs. But by mid-March, things were changing for Birchbox because cocooning was on the rise. 
Cocooning is the practice of doing everything at home where you can be warm and snug. And isolated. Loads of people were secretly pleased when 'shelter in place' restrictions meant that they couldn't go out to socialize or commute to the office on a crowded bus, and instead had to stay comfortably indoors, on the couch, in their pajamas.
The jump in cocooning also brought about a significant leap in Birchbox subscriptions.
Women realized that if they were stuck at home anyway, they could finally adopt the beauty regimen that they never had time for before. The pandemic is the perfect excuse for upping your self-care, because with the end of the world raging outside, you might as well feel good about how you look.
With mall visits on hold, consumers started subscribing to Birchbox to get the high quality beauty products they needed delivered right to their door. Subscription bounded upwards.
But it's worth pointing out that Birchbox didn't just sit back, passively, watching subscriptions pile up. Its executives paid attention to data about their new customers and noticed that many of them shared similar characteristics.
Birchbox's traditional customer persona had been beauty experts with a lot of knowledge about particular products, and that's the type of consumer it targeted. But its new pandemic customers were more casual beauty consumers who weren't familiar with a large range of products and wanted to start learning more.
Birchbox took note of this and pivoted its marketing strategy accordingly. 
Birchbox leadership realized that the company could expand by bringing in customers who were entirely new to the beautybox industry, and nurtured that new group with samples, content, and guidance. Birchbox has made its subscription model more flexible to meet the needs of this new target market, and ramped up its educational content for people who might find the beauty industry intimidating. Instead of making lemonade out of the 2020 lemons, Birchbox made cash. 
2. New telehealth disruptor: K health
If the pandemic's been kind to any industry, it's the telehealth sector. The industry has been growing steadily for several years, but the expansion was slow and incremental — that is, until COVID-19 made it unsafe to attend in-person appointments.
Suddenly telehealth is booming. Health-related chatbots are being rolled out left right and center, by the likes of Facebook, IBM, and Microsoft as well as the CDC and new startups.
K Health is one of the companies that's riding the wave.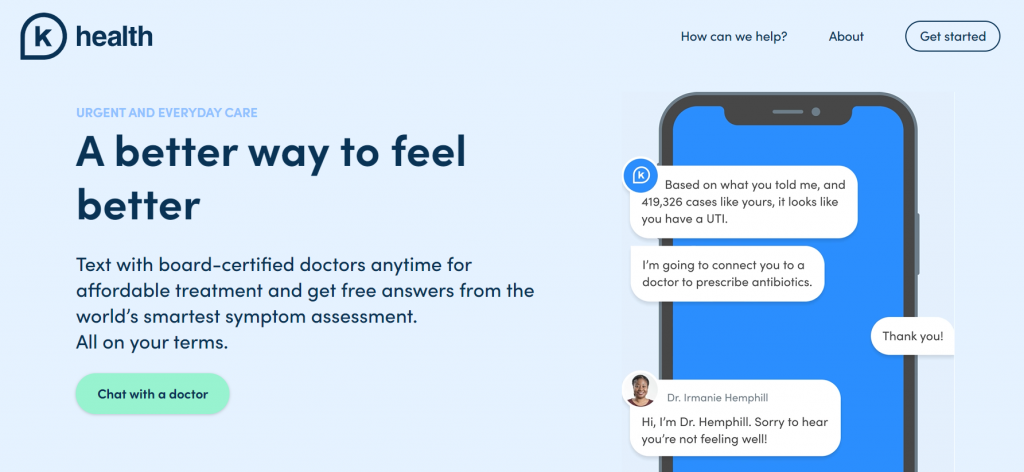 The company grew by over 1,000% in 2020 and added over 1 million new users. In November, K Health announced that it had secured another $42 million in funding, and signed a collaboration deal with the Mayo Clinic to integrate its Clinic Data Analytics Platform. 
A little background: K Health is a digital platform that uses machine learning and big data to give personalized medical advice to users. It crunches real world input from thousands of doctors and millions of medical histories and clinical outcomes to deliver treatment information for an entire gamut of conditions and diseases. Users start by answering questions about their age, gender, and health, and then the ML engine generates medical advice. Users can share reports with their doctors. In addition, the K Health smartphone app can connect users with doctors for an in-app tele-appointment. 
Like with Birchbox, the K Health success story didn't happen while the executives sat back and played Candy Crush. K Health was quick to roll out new products and services, like free COVID-19 risk assessments and one-on-one remote consultations with certified doctors who answered questions about the pandemic. 
The pandemic gave K Health a shot in the arm, but the company wasn't slow to take the opportunity and run with it. 
3. Best pivot of 2020: Uber
Everybody's heard of Uber. The unicorn startup became a dictionary word all on its own (both a noun and a verb, like Zoom.)
But when the pandemic hit, it looked like it might wipe Uber out entirely. Socializing was on hold, restaurants, bars, and events were closed, business travel plummeted to zero. No one was taking a cab anywhere. Consumers were uncomfortable with the idea of sharing a car with a stranger due to infection risks, and rising unemployment meant that a lot of people were cutting down on their expenses, avoiding luxuries like taxis.
April 2020 saw business drop by 80% for Uber Rides. So, the company began the pivot of the year.
The truth is that Uber was already interested in expanding into food delivery, grocery delivery, and courier services, but up until March, the company had just kinda played around with the idea. COVID-19 made it really urgent. 
First, Uber poured attention into Uber Eats, its restaurant food delivery business, which suddenly became its most popular product. Orders grew enormously between April and June, and restaurants scrambled onto the platform because they suddenly needed a way to provide home delivery. Uber Eats has become so important to the Uber brand that the app has just been redesigned to give equal space to Uber Rides and Uber Eats.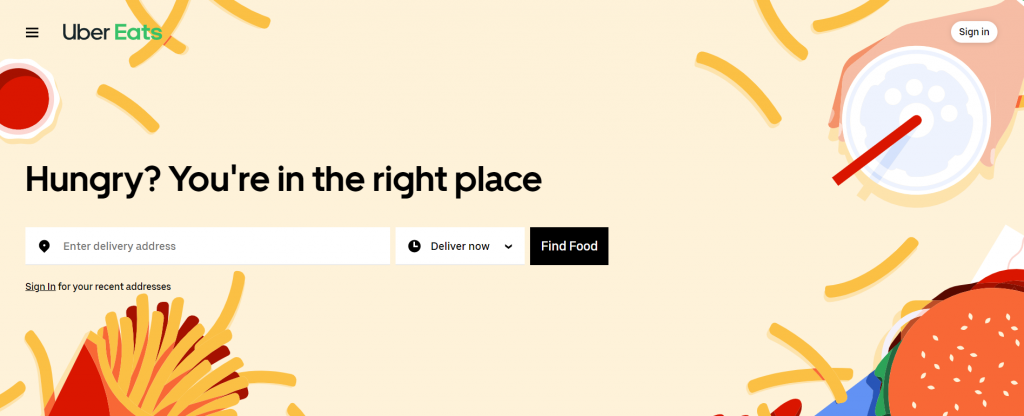 Uber executives have realized that they need to rebrand themselves, not just as a ride service, but as experts on everything to do with home delivery, whatever the items might be. They're working on adding more services to deliver essentials and groceries. 
During the pandemic, Uber Eats saw grocery bookings jump by 117%. Uber acquired Cornershop, a grocery delivery platform, and is launching service in Canada, Latin America, and the US. In April, Uber unveiled a new courier service called Connect, and in September it acquired Postmates, a food delivery platform, to help advance its food, grocery, and courier delivery services. This year Uber also launched Hourly, which places a driver and a car at the user's disposal for hourly increments.
As you can see, Uber really uber-charged (see what we did there?) its service offering to rise to the occasion of the pandemic. It's not yet seeing consistent profits, but the company is very hopeful that all this work — and the impact of the pandemic — will pay off.   Supporting love during a crisis
4. Love, reloaded: BLK
COVID-19 sucks for in-person socializing and dating, but it's been fire for online dating apps. BLK App is no exception.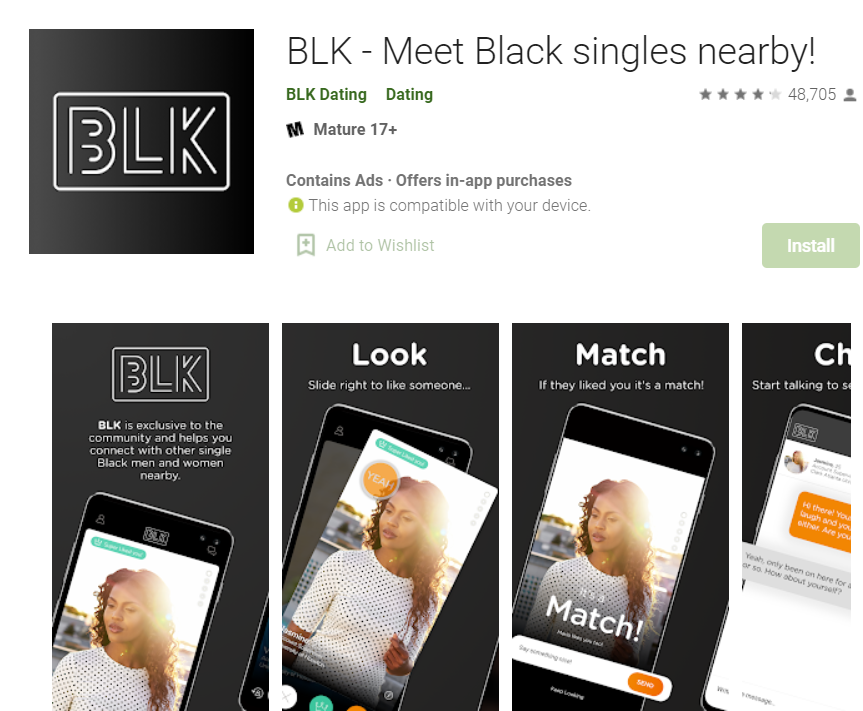 If you're living alone, you know what we're talking about. Even when you've got company from roommates or parents, it's not the same as hanging out with friends or hooking up with someone new. 
During isolation periods, people flocked to online dating apps to make connections, have a conversation, and just feel part of a human community.
BLK was launched in 2017 by the dating powerhouse Match.com, aimed exclusively at Black singles, but its growth really surged during the pandemic, with activity rising 38% month over month.
Just like the other companies mentioned here, BLK App was proactive during the pandemic to turn the platform into a community and a destination, not just a dating service.
It's not surprising that the platform reacted very strongly to the Black Lives Matter movement over the summer, taking out full-page ads in leading newspapers and starting a conversation with female BLK App users about Black safety in America. BLK App's team also encouraged people to get out and vote, and to sign up to work the polls.
Love can't be squashed by a pandemic, and it seems like dating apps can't be kept down by one, either.
5. New world of remote recruiting: myInterview
It might sound crazy in the middle of a pandemic, when everyone's working from home and people are getting laid off all around you, but lots of companies are still hiring (and incidentally, so are we).
Life goes on, even during COVID-19. Companies still need a way to handle recruitment processes when they can't hold face-to-face interviews, so many of them turned to video interviews, which has given a huge boost to myInterview. 

myInterview is a startup that was founded in 2016 to support asynchronous video interviews. The idea is that because they are asynchronous, it's easier for both sides to find time for them. The platform also uses machine learning to analyze candidates, helping recruiters sift through piles of applications and match the applicants to the position successfully. 
When myInterview began, they thought their tool would help recruiters gather more information about applicants. They never expected a global pandemic that would make in-person interviewing potentially unsafe, but they've certainly made the most of it.
Since the start of COVID-19, myInterview saw a 500% jump in revenue, a rise in new users, and added prestigious clients like Ocado, B&M, and P&O Ferries. This kind of traction must have helped its latest funding round, because the startup netted $5 million in its seed round in December.
Don't let a pandemic slow you down
It's clear that even a global pandemic can be a trigger for growth, but if you take away one lesson, it's that nothing comes for free. All these companies seized the moment to grow bigger, better, and faster. You might need to wait for things to change before you can grow your business, but opportunities only come to people who are ready for them. Kick yourself into growth gear and act now.