Think life's good? It's about to get infinitely better.
After months of anticipation and build-up, we're excited to welcome Square as vcita's new integration partner. Let's hear it for the good times!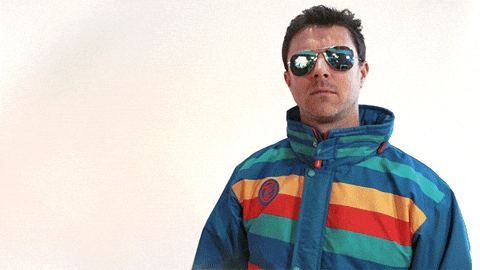 Why Square, Why Now
In all the client surveys we ran this year, Square was voted time and time again as the most wanted payment integration by vcita users.
If there was ever a reason to welcome Square into vcita (and there were many) – this was it.
But that's only half the story.
Founded in 2009, Square quickly became Small Business America's go-to solution for easy payment processing.
Secret of their success?
Square was able to identify and solve a major pain point for millions of small business owners: The ability to accept credit card payments on-the- go in a simple, affordable, and secure way.
Now what happens when vcita and Square come together?
We're so glad you asked! Let's take a look at what makes Square and vcita such a power couple.
Why vcita and Square Are So Much Better Together
Like Ginger and Fred, some things just go better together. If you're using Square, you're already getting the best that a POS system has to offer:
Easy to use hardware, flat and predictable pricing, and fast deposits.
But it gets even better: When you pair vcita with Square, you get a powerful client management solution that brings together all aspects of your business under one roof:
Manage all bookings and payments in one place? – Check.
Accept payments in-office, online, and on the go? – Check.
Sell, upsell and remarket services to you clients? – Check.
Keep spotless client records with notes and tags? – Check.
Let's dive in a little deeper.
Manage Everything in One Place
When pairing vcita with Square, your accounts will become fully synced. Every transaction that you swipe through Square will show up in your vcita records.
vcita will now function as your centralized control hub, giving you a comprehensive view of your bookings, payments, and whether you were paid in full for your services.
The icing on the cake?
Every contact that you have on Square will get full "vCitizenship":
They'll be automatically added to your vcita client list along with a fresh, crisp client card: name, contact info, custom fields, tags, notes – the works.
Now that your Square contacts are part of the vcita ecosystem, you can manage them just as you would your own vcita clients.
Here's a quick recap of the actions you'll be able to take:
Invite clients to book and pay online
Accept payments online, in-office and on-the-go
Send SMS appointment reminders
Issue green invoices & price estimates
Charge and refund clients
Send automated payment reminders
Create automated email campaigns
Issue coupons, updates and promotions
Itching to try the new integration? Wait, there's more.
Accept Payments, Everywhere
Square's easy credit card swipe solution turns you into a walking point of sale: whenever there's a client ready to make a purchase – there you are.
But what happens in situations when a credit card – or even the customer – aren't present?
Pairing Square with vcita amplifies your ability to accept payments wherever you or your clients may be.
For example, you may have a client who's hot and ready to make a purchase but is unable to meet you and pay in person.
That's a crucial moment when vcita's virtual payment terminal comes to the rescue and allows you to accept credit cards over the phone.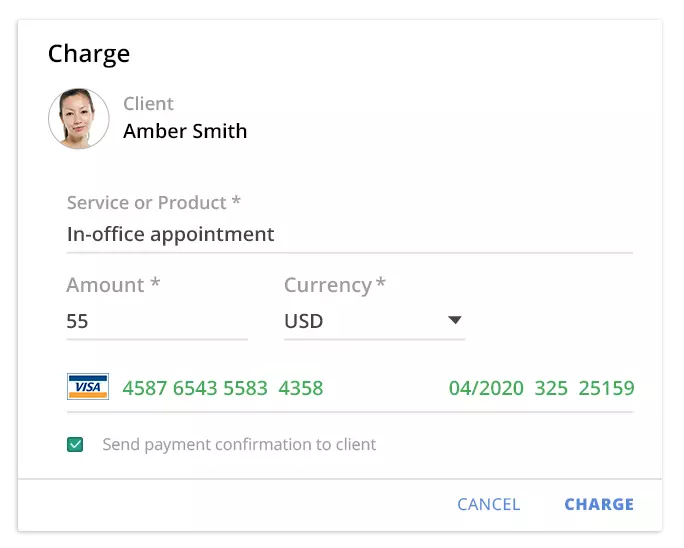 But it doesn't stop there.
With 87% of shoppers now beginning their buyers' journey online, you need to meet your clients where they are and let them purchase and pay on the spot.
With vcita, you can suggest or request that clients pay online when they schedule with you in order to secure their booking. There's another job done!
Even if you're selling a service that doesn't require an appointment, you still have your back covered. You can grab a paying link/button from your vcita account, stick it on your website, and connect it to Square just the same.
By pairing vcita with Square you supersize your ability to accept payments whether you meet your clients at work, online, or on the go.
Sell, Upsell, Repeat
Using Square as your payments processor and vcita as your appointments and payments CRM, opens an exciting world of possibilities for your business.
Every client you swipe through Square will be automatically added to your vcita client list along with their full contact info. This is exactly where both random and regular buyers turn into clients you can re-target and re-market to. Ka-ching!
Let's take June for example, a mani-pedi professional who accepts walk-ins when available.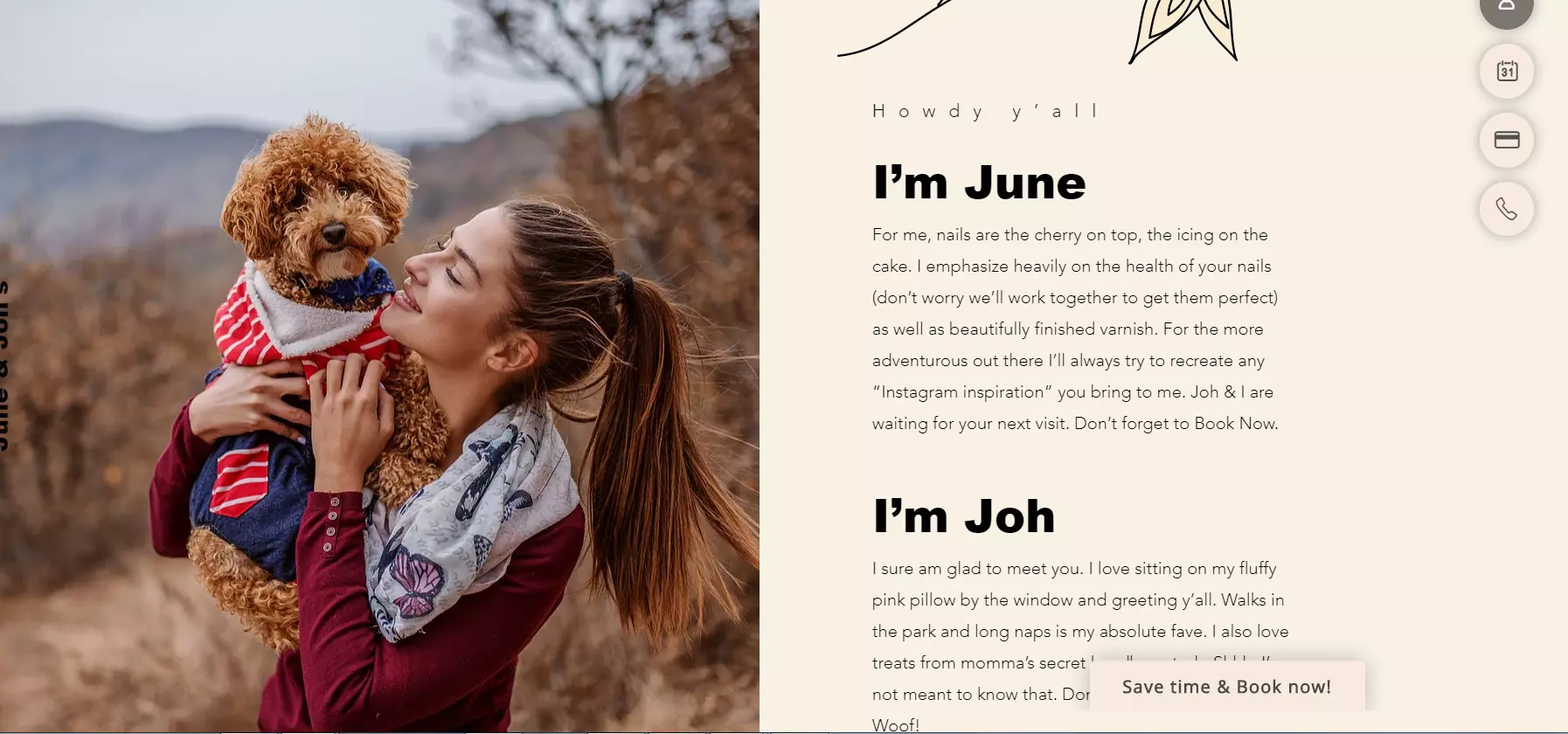 June swipes clients' credit cards through Square, and is able to see the transaction and the customer's information on her vcita CRM right away.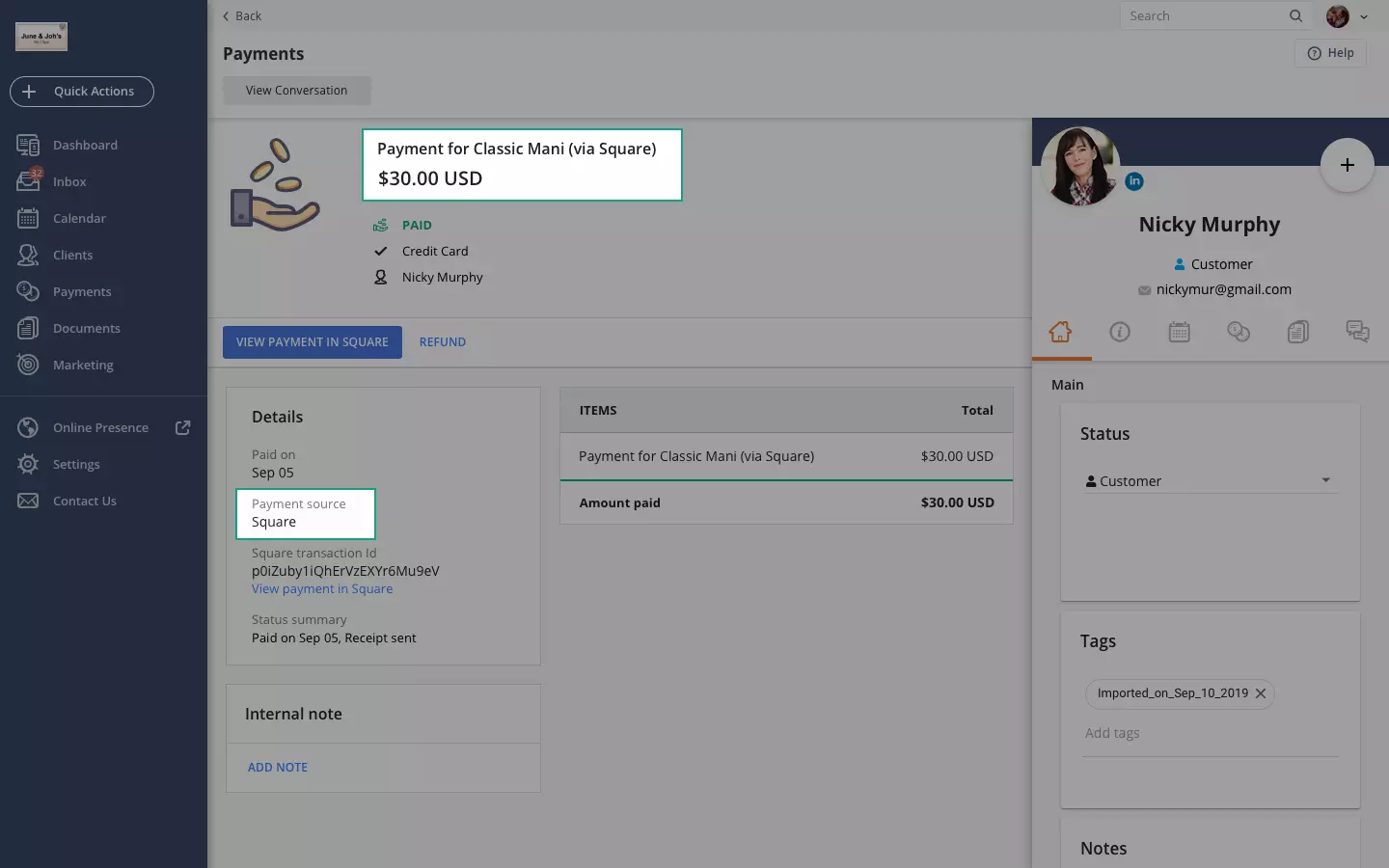 Now that she has a client card for every walk-in, June can use vcita to engage with her customers. She can send them a coupon, a newsletter, a promotional SMS or email, and update them about every new service and event.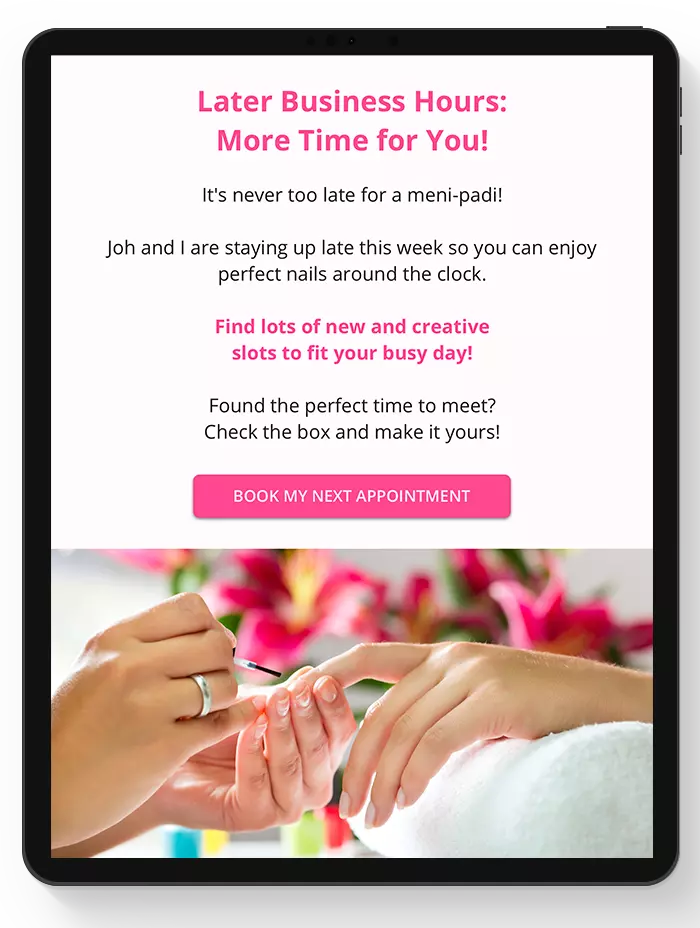 That's the power of vcita and Square fused into one: the ability to leverage and maintain good client relationships based on a single or impulse purchase.
Ready to Start Using vcita and Square?
Connecting your Square account to vcita is easy:
Log in to your vcita account and click Settings > Payments.
Choose Square, hit the connect button and…
Presto! You're all set!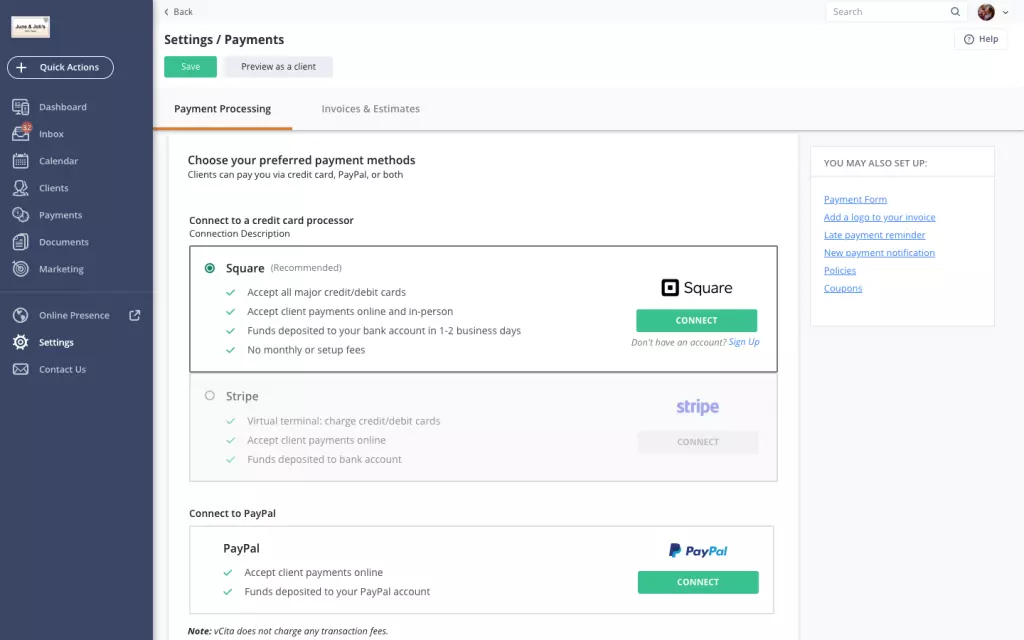 Now that you've connected Square to your vcita account, here's your fortune cookie prediction: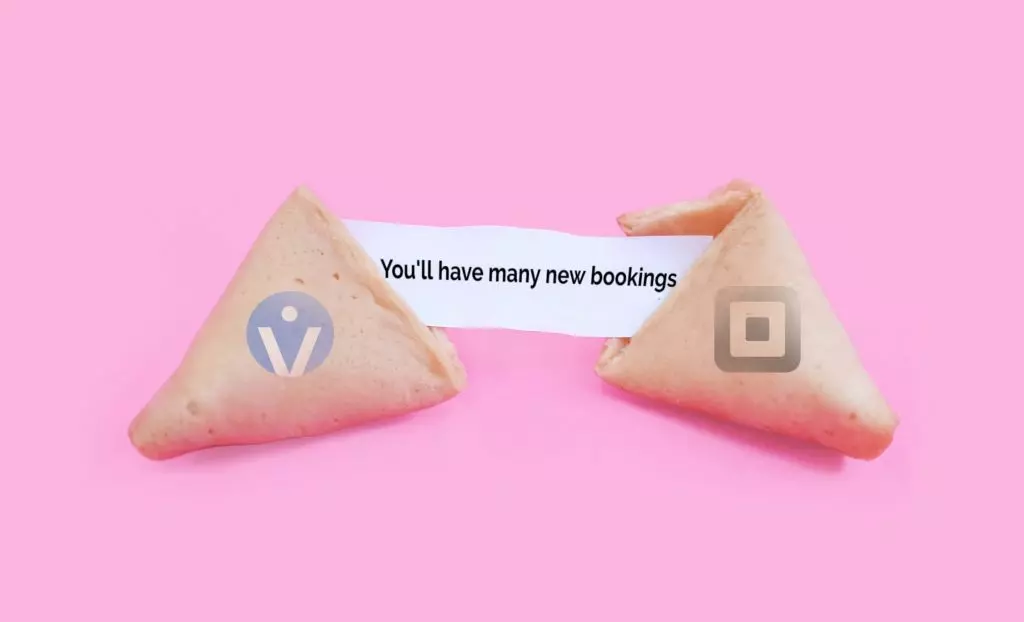 Toodeloo!