Few industries are more hands-on than the beauty business. Nail technicians cradle their customers' hands as they do manicures and nail art. Hairdressers expertly mix dyes before brushing them carefully onto the client's hair. Brow and lash artists examine clients up close before recommending and applying solutions for a luxurious yet natural look.
When the COVID-19 outbreak was declared a global pandemic, only essential businesses were allowed to remain open, and this did not include hair, nail, or lash salons. Owners, employees, and customers alike were left wondering whether these services could make the transition online. With direct contact being an important part of service delivery, would it be possible?
Fortunately, the answer is YES. In this article, we'll profile the owner of a popular brow and lash business in Australia, show how his team is continuing to support their clientele online, and suggest ways that your beauty service can adapt too.
How one business owner made the jump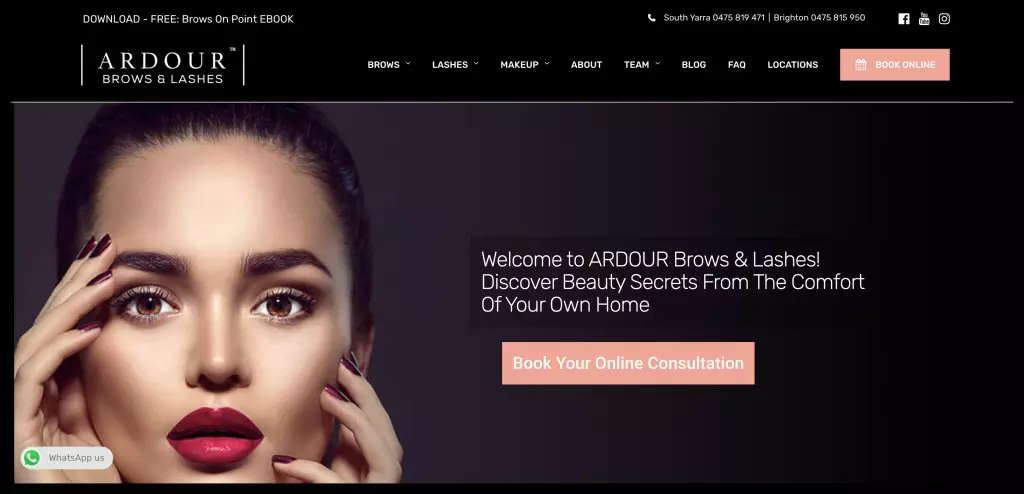 Last year, Steve Pan and his partners purchased a successful brow and lash business with two salons in Brighton and South Yarra. The company, which was rebranded to ARDOUR Brows & Lashes, specializes in brow shaping and color and lash lifting, tinting, and extensions.
Business was thriving. Then, on March 26, ARDOUR and other service-based beauty businesses across Australia were ordered to temporarily close. While some ceased operations, others, like ARDOUR, identified innovative ways to deliver their services online.
Steve and his partners decided to offer one-on-one 30-minute brow consultations over Zoom. Clients go to their website, select a convenient date and time on a web-based calendar, and complete a pre-consultation form that helps their brow artist understand what they want to achieve. After paying via Stripe, they receive an email confirmation with a Zoom link and copy of their completed pre-consultation form.
These personalized and guided sessions help ARDOUR's clients achieve a polished appearance by:
Removing stray hairs
Using pencils or gels to fill in any sparse areas
Shaping their brows to flatter their face
The brow artist also provides advice on makeup and lash care routines and recommends appropriate products. If the client decides to purchase one of the available brow styling packages, they receive 50% off their consultation fee.
"We continue to nurture, educate and keep in touch with our clients and audience during this time," Steve explains.
When asked if he had advice for other service-based beauty businesses during this challenging time, he responded, "Pivot and think outside the box. You need to change and modify your business accordingly.
"Given the current climate, it's important to continue building and nurturing relationships to set you up for when the lockdown period ends. Build up and refine your marketing systems and think about how you can bring new clients into your business as well as retain existing clients. Education and content are powerful, so make use of them through the appropriate marketing channels."
How your business can do the same
As Steve's example shows, hair, nail, and lash salons can continue to serve their customers online, although the same range of services and treatments won't be available. By maintaining contact with your clients in this way, you'll have a happy and loyal following that will be there for you when your shop reopens.
Here's how you start.
Identify what can and cannot be transitioned
Some services should only be administered by a professional. Bleaching hair is a good example: searching for 'hair bleach fail' on YouTube shows that in inexperienced hands, peroxide is more likely to leave someone bald than blonde.
Take time to itemize all of your services and identify which ones could be done safely at home. For example:
Going from black to blonde in one sitting is a no-go, but a temporary color boost with hair chalk is a possibility.
Lash tinting may not be something a novice should try at home, but mascara color and application tips can achieve a similar effect.
If your shop sells retail products like nail polish, brow kits, or temporary hair color, you can follow Steve's lead and make them available for delivery. Clients who buy them can receive a discount on either their consultation fee or the products.
Talk to your staff
Once you have a list of services that can be delivered online, talk to your employees. Do they know how to use video conferencing software like Zoom? Are they comfortable with the idea of supporting customers from home?
If the answer to these questions is yes, sign up for a business account with one of these providers.
You should all do some practice sessions together before the business starts advertising online services, so that everyone is comfortable with communicating instructions via video. Don't forget to issue guidelines for staff regarding where they should do these consultations: a kitchen table with a load of dirty dishes in the background is neither appropriate nor professional.
Use scheduling software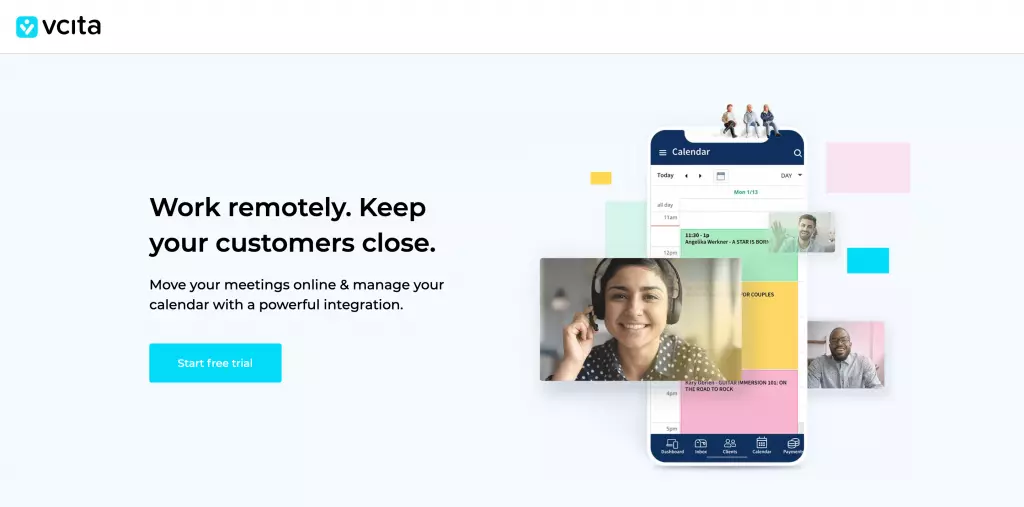 When you plan to deliver services online, a reliable scheduling app is a must-have. You need to embed an appointment calendar on your website, so that clients can review available time slots and book immediately. The best software also integrates with Stripe, allowing people to pay in advance via credit card and preventing losses due to no-shows.
One of the most popular scheduling solutions is vcita. A shared calendar app used by a wide range of service-based businesses, it lets you manage your bookings from any device. If you currently use Google or Outlook calendar, vcita's two-way syncing capability lets you keep both platforms up-to-date. Other features include:
A personalized client portal. Customers can share files, pay invoices, and view their past services and communications with your business. If they say, "I love what you did last time," doing it again will be a breeze.
Integration with Zoom, so you can schedule all your meetings online. 
Stripe and Paypal integration that lets you take online payments, even if you don't have a merchant account!
Ability to share appointment calendars on social media and via email. Embed one next to your most popular Instagram photo and watch your bookings go up!
Automated reminders that prevent the client from forgetting their appointment.
Other popular scheduling options include MeetFox, and ScheduleOnce. Most of them have free trials, so you can try them out before making a commitment.
Promote your online services
You know what services you can support online. Your team is on board. Your website has a dedicated booking page with an appointment calendar and payment processing capability. Now it's time to tell the world!
If you have their phone numbers, call your regular clients and let them know that you're still there to support them, lockdown or no lockdown.
Announce details on all of the company's social media accounts and include a link to your booking page.
If you don't have a YouTube channel, set one up and shoot some tutorial videos that demonstrate your team's expertise.
Issue a press release. With so many businesses facing an uncertain future, the knowledge that your company is making a promising transition can inspire others who never considered that they could offer their services online too.
Looking good feels, well, good.
Although we're now living in a society characterized by social distancing and remote work, we still take pride in our appearance. Looking good feels, well, good. If a person's job requires them to video conference regularly with clients and colleagues, a well-groomed and professional appearance is essential. Despite the pandemic, the need for beauty services continues, and businesses that know how to deliver will be the ones to thrive once this is over.