Even when you're an expert in your field, lacking much of an online presence can hurt your career. Lawyers are no exception. Most clients expect a good lawyer to have a website at minimum—but driving traffic to that website means putting a little extra energy into marketing.
When it comes to online marketing, it's helpful to start by thinking about your client's journey to finding you—what actions do they have to take in order to find your website? Whether they type a specific legal question into a search bar, find you on a legal blog or database, or find you on social media, making it as easy as possible to find your website is a good first step. Making it as painless as possible to book a consultation is a good second one. Below are a few tips on how to do both, plus some additional marketing strategies to make your practice stand out online.
1. Start off with a great website
Decide on the colours, voice, and style of your website and professional materials, so everything is consistent and polished. One of the hallmarks of a great corporate identity is consistency, because consistency builds trust. In the legal profession, clients looking for your services will be in a vulnerable place, so building trust should be the cornerstone of your marketing strategy. For example, take a look at the website of Kraayeveld Divorce & Custody Attorneys—it has an elegant, clean look with simple complementary colours and an intuitive UX design. Here are a few other website tips:
Showcase your expertise
People searching for legal help want someone that knows what they're talking about. A blog, series of educational videos, or other informative content on your website demonstrates that you understand the ins and outs of your practice. In addition to helping your website's SEO ranking, a blog post can give you content for your social media and email drip campaigns too.
Have a separate landing page for each practice area
If there's too much information on one page, it gets difficult for your visitors to find what they're looking for. This is especially true if you or your firm practices more than one type of law. Splitting up your website into practice areas will make navigation easier, and the individual pages targeting unique keywords will have a better chance of ranking high for that specific keyword on Google. In the example below from Gomez Trial Attorneys, you see an example of a landing page targeted specifically for users, looking for 'accident lawyer' on Google.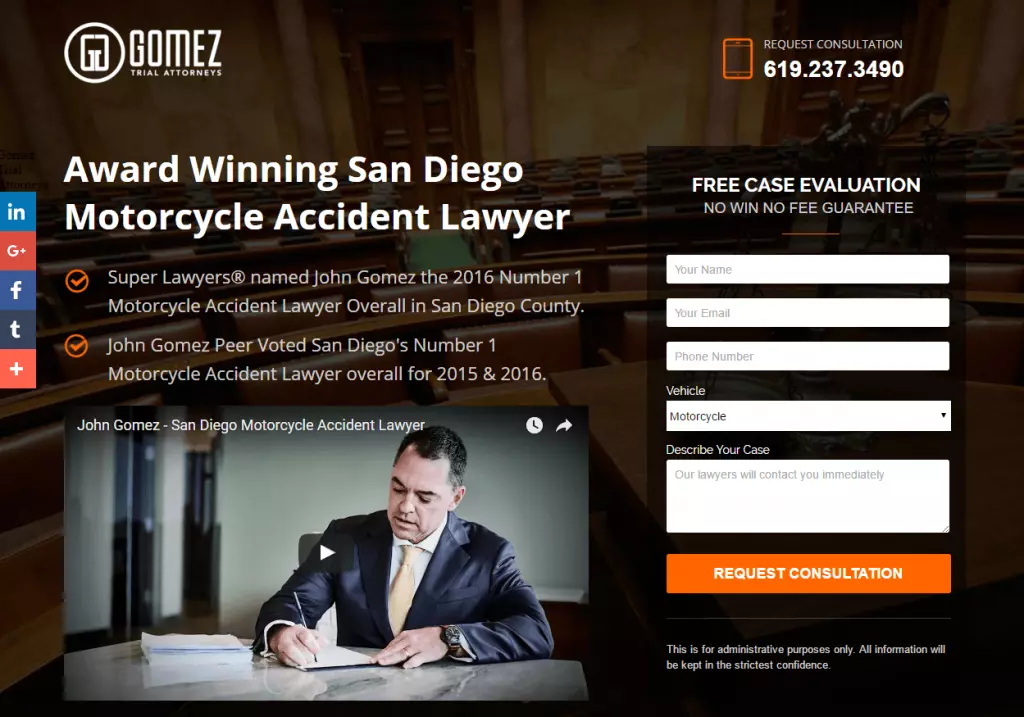 Make space for testimonials
If your practice area lends itself well to collecting feedback from clients, try asking your satisfied clients if they'd be willing to offer a testimonial for your website. Visitors to your site will get a better sense of your strengths when they read through the words of other clients who liked you.
2. Make it easy to find your website

The best website in the world won't do you any good if people are never directed to it. There are several ways to do this: PPC advertising, SEO strategies, social media marketing, and more. When using these strategies, think about which in-demand practice areas you might want to highlight. Here are a few of the best ways to get more traffic on your site:
Create a google my business listing: people searching for legal help will usually search for someone in their area. This makes it all the more important to set up a Google My Business page that will help you get ranked in local search results, and will put your business on Google Maps. Businesses with a GMB listing also can be rated on Google by clients.
Use PPC ads with landing pages: PPC ads, also known as pay-per-click ads, can be another great strategy if used wisely. If you go this route, make sure you get a positive return on investment by focusing on specific keyword searches that lead to specific landing pages. For example, if one of your practice areas is employment law, make a PPC link that leads to a landing page outlining your expertise in that area. If you face steep competition in your practice area, you might want to consider consulting with a marketing specialist on what keywords to target.
Consider databases and guest blogging: in addition to search engine results, another place you'll want to show up is on popular directories like Avvo and com. You can also generate leads by guest blogging, as long as you choose your platform wisely—guest blogging done right will grow your professional reputation and direct traffic back to your website.
3. Optimize your click-through-rate
Have a call to action button on your homepage and social media: when clients visit your social media page or website, they should immediately know the next steps they can take to book a consultation with you. How? With a clear call to action that's placed in a prominent area of your website or Facebook page. Here are a few tips to make the most of your CTA:
4. Send appointment confirmations and reminders
Confirmations and reminders aren't just practical; they're a marketing tool. Since you're still in the initial stages of the intake process, it's important to put your best foot forward. Appointment confirmations and reminders help communicate not only the appointment itself, but also the care and attention you will put into serving your client. Moreover it reduces no-shows and last minute cancelations.
5. Consider a virtual assistant
If you're so bogged down with paperwork that your calendar is the last thing on your mind, consider hiring a virtual assistant. Some VA companies specialize in legal assistants that can help you with legal documents, scheduling, and communications. When you're extremely busy, it's better to avoid burnout by outsourcing admin tasks than it is to start providing rushed or mediocre service.
6. Nurture existing client relationships
When you did a great job and provided an outstanding client experience, chances are your client will tell other people. For some lawyers, referrals are a small percentage of their clients; for others, it's the lifeblood of their marketing strategy. No matter what percentage of your new leads come from referrals, it's a worthwhile source to tap into.
Send a thank you note: after you've successfully made a case for your client, send them a brief thank you note with a gift card or other small gesture. It's a thoughtful, professional gesture that will help your work end on the right foot. If you can't get to the post office, try a service like postable to send cards without leaving your office.
Send a monthly newsletter: e-mail drip campaigns like a monthly newsletter accomplish two things: first, they attract a readership if you have a blog on your website. Second, they help you get referrals. Keeping in touch with your former clients with software that has email marketing features will help keep you at the top of their mind when someone else needs your services.

7. Leverage your network with social media
One of the unique features of social media marketing is its capacity for generating both leads and referrals. When someone likes you on Facebook, their whole network is able to see it. Lawyers can leverage this by posting links to blog posts or even short comments on current rulings. This way, clients and their network can get to know how you work, and feel more comfortable hiring you.
Keep in mind that you don't have to try every marketing strategy at once. Pick one or two that you'd benefit the most from right now, and move on to others once you have those ones down. When you're identifying weak spots in your marketing strategy, take some time to think about your sales funnel and where your strategy could use more help.
For example, if you're not getting a lot of traffic to your website, think about implementing a lead generation strategy like PPC advertising or SEO optimization. If you get a lot of visitors to your website but nobody is booking with you, think about strategies that increases your conversion rate, like adding clear call-to-action elements on your website, or might hold people's interest, like a blog or video series that showcases your legal expertise.
Although it seems like a lot, you can streamline these strategies so you won't even notice you're doing them at all. A great marketing strategy will fill your schedule with the right clients, and grow your practice just the way you want.