The uncertainty of our COVID-19 world coupled with a rapidly expanding digital marketplace is quickly transforming how SMBs do business. Even as early as 2018, businesses that implemented digital tools achieved 4x the revenue growth over the previous year as well as 2x the revenue growth per employee. Most of these successes, however, came from large enterprises.
Despite all the documented benefits, 80% of US-based-SMBs have not yet pivoted from excel spreadsheets, paper invoices, snail mail, appointment books, and print advertising.
These small businesses are still so busy, trying to manage their everyday administrative duties, rather than researching and adapting to the latest technology trends.
As a marketing agency or business consultant, you're perfectly positioned to help SMBs adopt digital tools that will enable them to scale. But, before you go full steam ahead with this, you should be looking into expanding and diversifying your own services first.
Diversify with a reseller partnership
It's so simple. One of the easiest ways to diversify your offering is by creating reseller partnerships, which allow you to deliver a whole new set of services to your clients.
Just imagine, your partner's got the expertise and you have the network and customer base. It's a win-win for everyone involved.
You don't have to look far.
vcita's xpert program provides the expertise and the product to sell. Not only can you increase your business revenue and expand to new markets, but it comes with almost zero expenditure.
Interested in becoming an xpert?
Book a discovery call with our partnerships team
Already a vcita user?
If you're already a vcita user, you know you'll never go back to paper and pencil ever again. vcita's digital business platform is just too good.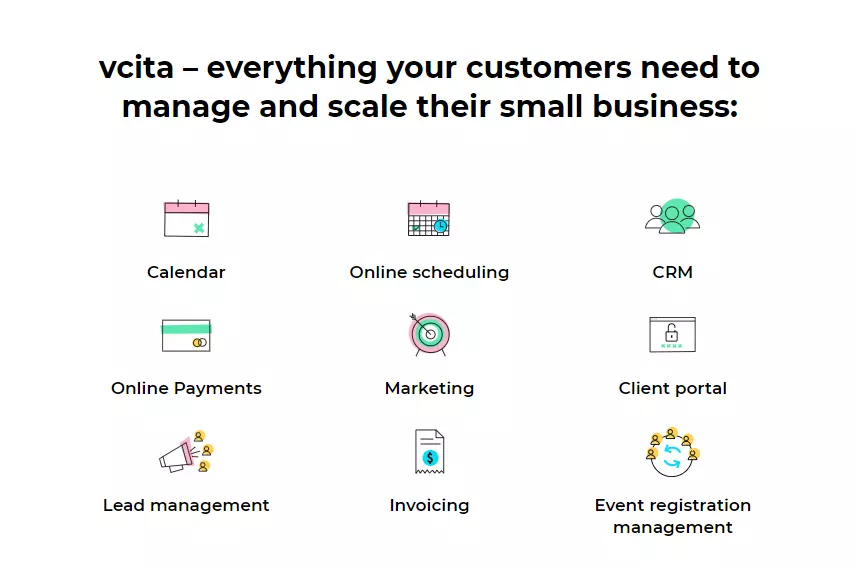 In fact, you've seen firsthand how powerful it really is.
Now you can advise small businesses on how to shift their day-to-day business management online, and onto one comprehensive app, enabling them to reclaim at least 30% of their time spent previously on admin tasks.
Align vcita's xperts program with your business goals
When you work with xperts, you get a personal account manager who works together with you, to build a step-by-step sales plan tailored to your business and client needs.
Even better, you can customize what you sell via xperts to better fit your business goals. If you're a marketing agency, you can focus on offering vcita's lead capturing and email marketing features. If you're a business consultant, you can resell vcita's CRM feature and offer your clients a virtual assistant to help automate their business and save time! It's all up to you!
As an xpert, you'll be certified to resell the vcita app as well as offer additional new services to your clients, like vcita training hours or a tiered remote support package. You'll always have both control and flexibility in deciding how many vcita services you offer your clients.
Whether your clients seek a new payment strategy, automated booking, a better approach to managing their leads, or ongoing monthly support, you can offer them all that plus much more by joining vcita xperts.
What you'll get as a vcita xpert
You'll reap the following benefits plus more by partnering with vcita.
1. The ability to attract more clients and upsell your existing customers
You'll be able to offer more services to your clients and provide them with even more value. For example, you can show them how to:
Automate their marketing communications
Create unique service packages
Take bookings from Facebook and Reserve with Google
2. The capacity to expand your existing packages
You don't need to completely transform the way you do business. Just add vcita services to your current packages, and be able to increase pricing structures.
If you prefer not to onboard clients, that's ok,  vcita will take over for you, and you'll still earn revenue.
3. A quick setup and all the materials you need
After you participate in a discovery call, vcita provides you with all the marketing assets you will need to help guide and teach your clients, as well as make sales. Here's what you get:
A pitch deck
A client cheat sheet
Verticalized presentations
Useful sales scripts
Social buttons and ads
Onboarding materials
An account manager to help you get started
And, so much more
4. Expand your horizons and your earning potential simultaneously
By providing expanded consulting services, you'll be able to increase your earning potential, earn commission on sales, and fatten up that bottom line without any initial investment. Capitalize on what you already know and what you already have!
5. A chance to help your clients build their businesses
You'll get access to your clients' successes and failures, from sales and marketing wins to missed income opportunities, so you can help them better strategize their business journey using the vcita app.  With so many aspects to keep track of,  you'll be able to continuously guide them towards more effective and profitable business processes.
6. Bonus benefits
When you register for the xperts program, you'll receive a complimentary vcita business subscription. This entitles you to meet with a vcita onboarding specialist, helping you to gain familiarity with all the platform's features and functionalities. You'll also receive an advanced partner dashboard for tracking your subaccounts' progress. And, when you're ready to pound the pavement, you'll have access to marketing collateral to kick-start and support sales.
Diversification is a low investment revenue builder
Leveling up your business by diversifying your services will help you scale and increase your revenue. Interested in becoming a partner?