Start sending invoices, accept and track payments from one app or download our free blank invoice template for Word or Excel.
Create branded invoices in no time
Free invoice template you can customize and edit in minutes with vCita invoice, billing and payment app. Make your own invoice with our blank invoice template by adding your logo, company information and terms of payment. You'll be able to set currencies, taxes and discounts, email the invoice to your clients, and track the payment status in real time. Clients can securely and conveniently view the invoice online, respond with a billing inquiry, and even pay online with credit card or PayPal. Looking for other template types? See also our work schedule templates.
Free Invoice template you can download for Word or Excel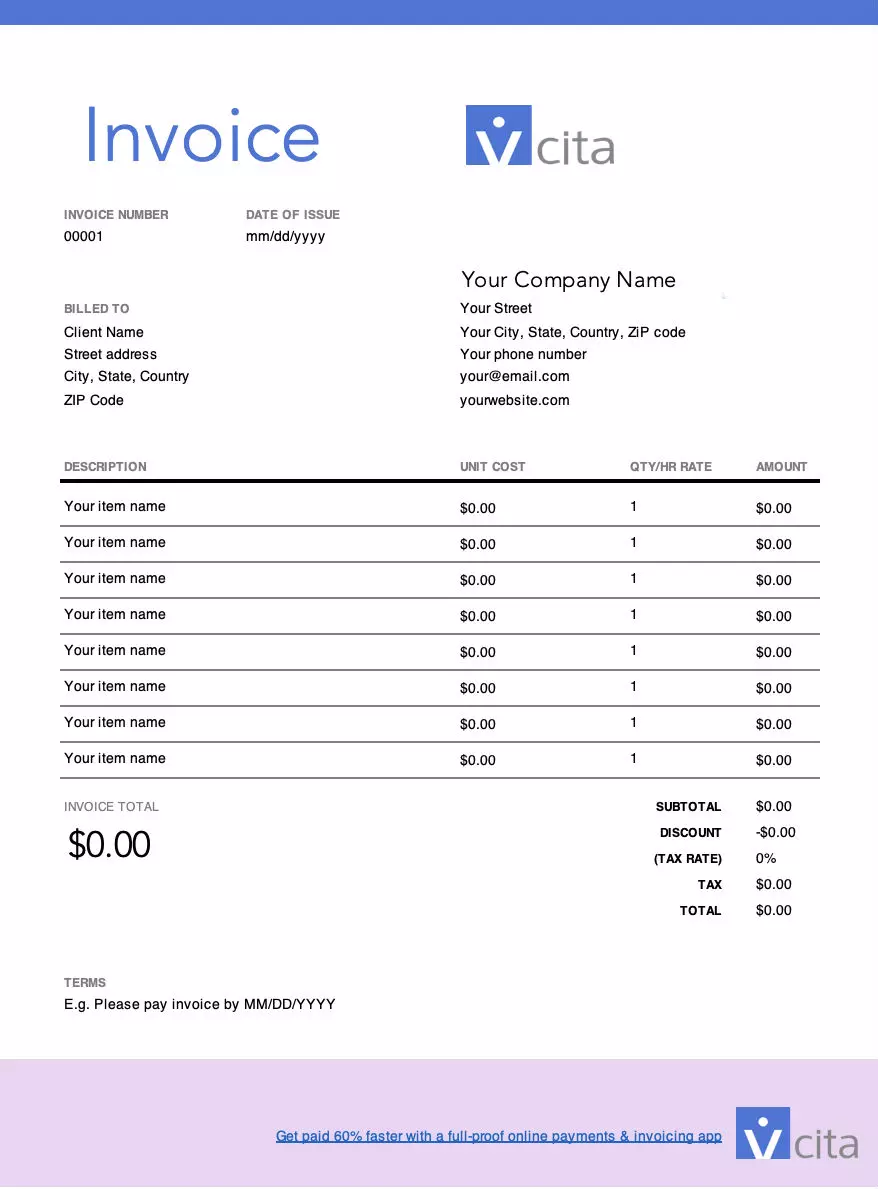 Why You Need an Invoice Template
Invoicing can be one of the most time-intensive and arduous tasks a small business owner or solopreneur deals with. For those unfortunate enough to be trapped in the habit of manual, pen-and-paper invoicing, sending out bills to clients can be a positively draining experience. But it doesn't have to be! Using an invoice template, better yet a free invoice template, can allow business owners to create professional and effective invoices in seconds.
Read on below to find some of our best info on:
Choosing the right invoice format in Word or Excel
The disadvantages of using manual, pen-and-paper invoicing solutions
The advantages of using automated, electronic invoicing, and
The different types of invoices commonly used in small businesses
Along the way, we'll point out a couple of resources and solutions we've created here at vCita to make your life easier. Feel free to click the provided links and have a look. Everything is free, or at least free-to-try!
Tips on choosing the right invoice format
2 tips on how to create a professional invoice format in Word
A fully featured word processor, Microsoft Word is most people's first go-to when creating an invoice template. We've got just a few comments about how to go about creating beautiful free invoice templates inside of this program.
Use Preformatted Invoice Templates from Word's Library
Microsoft Word comes complete with a variety of different searchable templates to use when you're creating a new document. To create an invoice document, search the term "invoice" in the template search box, and Word will show you different options for creating a new invoice.
Use vCita's Professional Microsoft Word Template
If you really want to take all the guesswork out of the process, simply download vCita's ready-made Microsoft Word invoice template. It comes pre-formatted with all the necessary fields and functions you'll need to create a professional and functional invoice in seconds.
3 tips on how to create an Invoice format in Excel using formulas
If you wish to create your own invoices in Excel, there are several ways to go about the task. A few tips will serve you well.
Use Excel's Invoice Templates
Like Word, Excel comes with several invoice templates pre-installed. When you're creating a new document, search "invoice" in the template search box. Excel will show you several different formats and styles of invoices. Simply choose the one that suits your purposes best and fill it in!
Working with formulas
If you're making an invoice template from scratch in Excel, remember to make heavy use of the formula functionality. Otherwise, you'll need to enter in the amounts for every field manually, which defeats the purpose of using software as powerful as Excel.
Use vCita's Professional Microsoft Excel Template
Like the Word template, vCita's ready-made Excel template is everything that you could need in an Excel-based invoice. Making full use of Excel's extensive formula and formatting functionality, vCita has thought of everything you'll need to create an effective and simple invoice in Excel.
Disadvantages of Manual Invoicing
The disadvantages of using a manual invoicing system are many:
Tracking
No ability to tell which invoices are paid, which are due, and which are overdue. Trying to tally the totals of the invoices that fall into each of these categories requires a lot of additional manual labor and time (which you probably do not have).
Taxes
When it comes time to prepare your taxes, or even when you want to organize your finances and get a good snapshot of where your business stands at any given time, manual invoicing will have done you no favors. The amount of work required to categorize and total all your earnings for tax or planning purposes can be staggering. Even finding one particular invoice out of many can be a daunting task when the documents are not organized electronically.
Accessibility
Lastly, features that software users take for granted, like easy online payments and automatic payment reminders for clients, are nowhere to be found in manual invoicing solutions. The lack of these features alone can significantly increase your accounts receivable and overdue invoice balances by creating obstacles to payment for your clients.
Advantages of Automatic Invoicing
There are innumerable advantages to working with an automatic invoicing system. We've listed just a few of them below.
Create estimates
Most automatic invoicing systems will allow you to quickly create estimates based on pre-set hourly or service rates. So, for example, you may specify that your work costs $100.00 per hour or that website design costs $200.00 per page. Automatic invoicing software would allow you to enter the number of website pages or hours and issue a pre-formatted estimate to the client. Moreover you have the option to send invoices and receipts easily.
Clients can pay online
Many automatic invoicing systems will integrate with online payment platforms. So, when the client receives an invoice, he or she can simply click the "Pay Online" button, and they'll be taken to a page that allows them to pay by credit card, debit card, PayPal, or other online payment solution.
Track clients balance and payment histories
Automatic invoicing systems are great for easily keeping track of ongoing client balances. With the click of a button, you can see how much a client owes your business. At the same time, software will usually allow you to see when and how much a client has paid you in the past, and whether those payments were on time or overdue.
Track overdue and pending invoices
Most software will allow you to see which of your clients or customers currently have pending unpaid invoices. You'll also be able to see how many of those unpaid invoices are overdue (and by how many days/months).
Send automatic payment reminders
Reminders can be a powerful way to nudge your clients to pay invoices that are coming due or are already overdue. Automatic invoicing software will almost always include options for sending clients automated reminders that their bills are due or past due. This feature alone can reduce your outstanding overdue invoices significantly.
If you're looking for invoicing software that does all of these things, and more, take a look at vCita's invoicing and billing software. It's free-to-try, fully functional, and easy to use.
13 Types of Invoicing
Invoicing is flexible enough to accommodate over a dozen different types of transactions. We've adapted FreshBooks' Small Business Invoicing Guide to bring you thirteen different kinds of invoices you might require in the course of running your small business.
1. Standard Invoice
The workhorse of the bunch, the "standard" invoice covers most of what a small business will need in the course of its operations. Be sure to include contact info for the business and the client, a unique invoice number (to identify and distinguish this transaction from any others), and the amount that is due.
2. Credit Invoice
A credit invoice becomes necessary when your business wishes to refund or return an amount of money to a client or customer. So, for example, if a customer returns a product or you discover that you've overbilled a client, you may need to issue one of these. Credit invoice amounts are always negative amounts, to distinguish them from standard invoices.
3. Debit Invoice
Debit invoices modify a previous invoice by increasing the amount owed by the client to the business. Think of them as the opposite of a credit memo. If, for example, your business performs an additional hour of work on a contract at the client's request, but an entirely new standard invoice isn't called for, you may issue a debit invoice instead. The amounts are always positive, to reflect an increase in the amount owing to the business.
4. Mixed Invoice
Mixed invoices combine both debit and credit amounts onto a single invoice. So, if you were to issue a refund for a returned product and request payment for a product provided in substitution, you may issue a mixed invoice. Whether the amount is positive or negative depends on which amount is higher, the credit or the debit.
5. Commercial/International Invoice
Commercial, or international, invoices contain additional information often required by customs agencies when deciding whether to permit a package to cross an international border. Information like a description of the contents, weight, quantity, and value might be included.
6. Timesheet Invoice
Timesheet invoices are used when the billing unit is a unit of time. Professionals who bill by the hour frequently use timesheet invoices to keep track of their earnings.
7. Expense Invoice
Expense invoices, or expense reports, are frequently submitted by employees or contractors for reimbursement for expenses incurred while on the job. Your small business may send these if you incur expenses while fulfilling a contract for a client, in which case the expenses would be called "disbursements."
8. Pro Forma/Estimate Invoice
A pro forma, or estimate, invoice is sent before the job is completed to give the client or customer notice of how much you expect a given job to cost. These are frequently used in industries where the eventual cost of a service varies depending on details that cannot be known at the time the contract is entered into, like auto repair.
9. Interim Invoice
Interim invoices require payment of a portion of the total cost of a large job after the completion of only a portion of it. Interim invoices are used to keep a client apprised of the current status of a large job, as well as to "smooth out" cash flow over longer periods of time by breaking up the payment for one large job into smaller, interim, payments.
10. Final Invoice
A final invoice is the last invoice sent to a client once a job has been fully completed. It's highly detailed and often refers to all the services that have been provided.
11. Past Due Invoice
Past due invoices are sent when a client has missed a payment deadline for a previously issues invoice. These frequently contain late payment penalties, fees, or interest.
12. Recurring Invoice
A recurring invoice is one that repeats on a regular basis, often monthly, and is frequently used by small businesses that package their services based on a repeating, regular fee. For example, a security company may charge a monthly alarm monitoring fee to a client.
13. Electronic Invoice
Electronic invoices are simply any of the above forms of invoice issued in electronic form. Increasingly common, electronic invoices allow for greater flexibility, simpler record-keeping, and greater ease-of-use for the small business.
Never overdue invoices again
So, there you have it. From free invoice templates, to our tips and tricks on how to use Excel to its fullest, we hope we've been able to provide some helpful information. In particular, please keep in mind our advice regarding manual vs. automatic invoicing. We cannot stress enough the professional benefit's of switching from a manual to an electronic invoicing system.
Automatic invoicing software, like vCita, will free you up to take care of the million other things that require your attention in your small business. It will also reduce your accounts receivable balances and overdue invoices by making it easier for your clients to pay and reminding them when they haven't!
Quicker payments, less hassle and more time to focus on your clients.
Join over 100,000 Happy Service Providers
Rated 4.4 out of 5 by GetApp
Integrates with dozens of platforms