Therapy billing software
Self-care for your invoices.
The all-in-one-software that takes the stress out of billing and payments.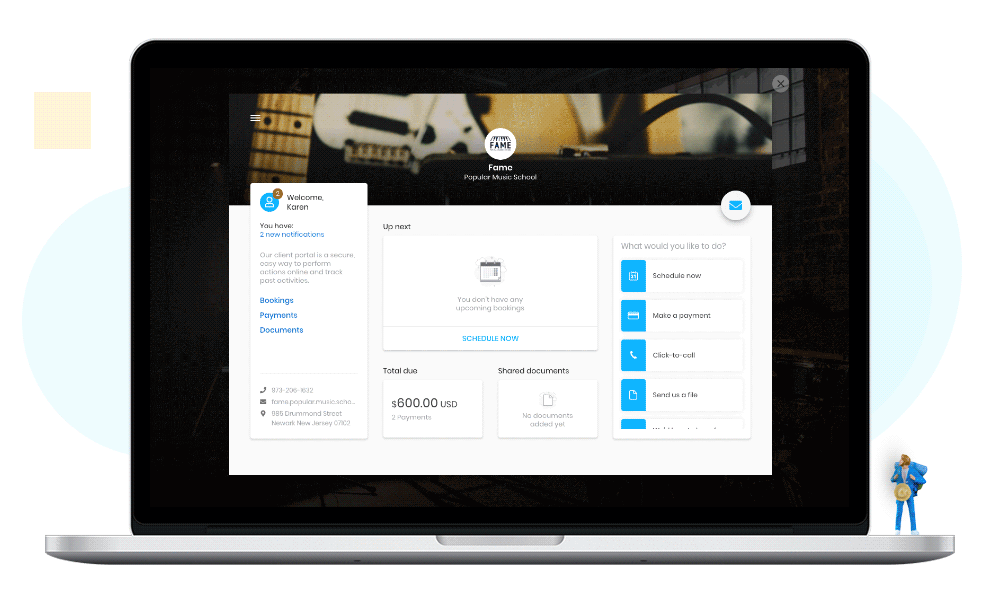 Your clients don't just need an hour of your time – they need your energy, focus, and empathy.
Make your billing and payment process as easy as possible with vcita's therapy billing software tailored for mental health professionals, so you can both focus on the important things. You'll be able to breathe a little easier, and your clients will too.

Invoice from anywhere with desktop and mobile features that let you generate quick, professional invoices with all the important details. Your clients will be able to pay you any time, in any currency using vcita therapy billing software.

If clients (or their insurance providers) are a little behind in payments, you can send out automated reminders to help them catch up.

With a CRM system linked to your client files and invoices, you'll be able to seamlessly look at your clients' notes and payment history at the same time, from the same platform.

Mental health professionals risk burnout by taking on too much—ease your workload by checking out of the billing process, not out of your clients' sessions!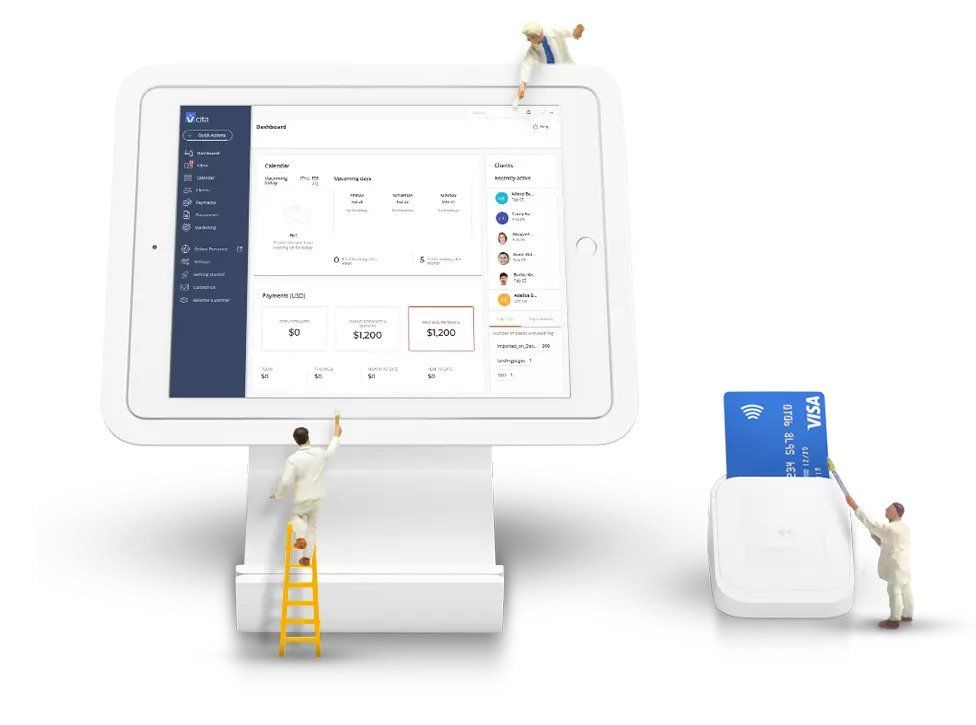 Invoice accurately, every time
If you've ever put the wrong CPT code on one of your client's invoices, you know that it can leave you waiting for reimbursement from insurance companies.
Or worse: including the wrong client name on the wrong invoice can be a confidentiality hazard.

Get it right every time with software that autofills invoices from your client's stored information. Bill from anywhere with an easy to use mobile app that creates beautiful, professional invoices right from your phone.

Even when you're meeting your client remotely or away from your computer, you don't have to wait to send them a clean, accurate invoice.
Stress-free payments
Mental health sessions can get intense, but that doesn't mean payments have to be.

Let your clients pay you in person or remotely with vcita's payment processing services.

A link right on the bottom of your invoices makes payments easy; one click, and your clients can pay you with their credit card, in any currency.

Clients can also pay through their client portal 24/7, or up front when they schedule an appointment.

Making individual payments easier gives you the freedom to focus on more complicated payments, like taking insurance.

Whether you decide to charge prior to the session or afterward, vcita has you covered.
Track payments effortlessly
If you're billing insurance companies, you know it can take up to 30 days to get paid.

That can make it easy to lose track of which invoices have been paid and which are still outstanding. Throw in a mix of clients paying out-of-pocket and through insurance, and it's hard for any mental health professional to keep track of who to follow up with and when.

With vcita's billing software, you'll be able to see all of your clients' outstanding invoices at a glance. It's easy to follow up once you have clean, accessible notes about when you can expect to be paid.

Users can rest assured that vcita's HIPAA compliant security will keep your information safe.

Send automatic payment reminders to clients, or remind yourself to follow up with vcita's scheduling software.
Automatic receipts to take your mind off taxes
Even if you don't send invoices, you'll likely need to generate receipts for tax purposes. Whether it's for your own government tax deductions or for your clients' tax claims, having organized receipts right when you need them is just good practice.

Your clients might have trouble staying on top of everything—make it easy for them with automatically generated receipts that save to their client portal, so they're ready whenever your client is.
Simplify scheduling
If you've ever had an endless back-and-forth conversation about scheduling, you know how stressful it can be.

Therapy clients are already in a vulnerable place, and many of your clients might be more comfortable scheduling an appointment online.

Making that first appointment can be intimidating, but it's a lot easier with an online scheduling widget right on your website. vcita's online scheduling tool lets clients see your availability, so they can pick a time that's good for both of you.

Once you approve it, set up appointment confirmation and reminder emails to avoid any missed sessions.

Integrated billing and scheduling features also means you can also track invoicing and payments right from your schedule.

Make the most of remote work
Can't meet with your clients in person? No problem!

With vcita's zoom integration features, you'll be able to meet with your clients remotely, with an easy link in their appointment reminder email.

You can also use vcita to securely exchange links and documents with your clients through their client portal, if you have an article you'd like them to read or worksheet you'd like them to complete.

And as long as you're meeting with clients one-on-one, zoom is free to use.

Therapy is different online, but that doesn't mean it can't still be good therapy!

Make the most of it with software that lets you do more of what you love.
Billing help for you means better help for your clients
Multiple insurance providers, sliding scale fees, and different client schedules can make billing and payments a whole other job. Make billing a breeze with vcita. Invoice templates, payment processing, and automatically generated receipts will keep you on top of your paperwork. You'll have all your records there for your clients and their insurance providers, at the right time with the right information.

If there's one thing your clients need from you, it's to know they can trust you. You'll earn that trust with professionalism, both in session and out. Having online scheduling options plus organized, timely invoices, receipts, appointment reminders, and follow up emails will help your clients trust that you're able to handle your own life. You'll also feel more relaxed knowing everything is organized and easy. Make your billing and payments as reassuring as you are with mental health software that keeps your business on the right track.