When you run a small business, you not only have to keep track of your own agenda. You also need to know when your employees are available for next week's work schedule or when a key client has an open time slot so you don't have to keep their administrative assistant on speed dial.
This is where a shared calendar app can save you time and money. Everyone has access to a calendar that confirms everyone's availability without having to call or email. You'll have the information you need to create schedules, book meetings, and advertise available time slots for appointments at your business.
If you don't use a shared calendar yet, here are some features that can make it one of your most valuable business assets.
Syncing between multiple calendars. Most calendar apps can sync with Google or Outlook Calendar, so if you use either one, you can view and change your schedule without having to log into two different platforms.
Privacy options. You can use the same app to create public calendars you want to share outside your company and private ones intended for your employees and partners.
Event notifications and reminders. No-shows are a waste of valuable time and resources. Every time an appointment, meeting, or other event is booked, everyone involved receives notifications and reminders via email and/or SMS.
You can use the app to create calendars for groups, such as a project team, or events like training sessions and appointments..
Import and export contacts. Many calendar apps will exchange contact information with your email account, so you don't have to input client addresses into two different platforms.
Color-coded events. As your business grows, your calendar is going to get busier. A good app allows you to color-code events so you have a quick visual overview of the coming week or month.
Prevent double-booking. When your public calendar only allows available time slots to be booked, it prevents accidental double-booking.
Specify permissions. You can specify who can view or edit any calendars you create, such as meeting and staff schedules.
Shared calendar apps are easy to set up and manage. Once installed on your website or made available to clients and staff, they practically run themselves, which leaves you with more time to expand your product line, research new services, and take other steps to grow the business.
Below is an overview of the 5 best shared calendar apps for small businesses.
Vcita
From tattoo shops and tanning parlors to business coaches and bistros, vcita is a calendar management solution and scheduling software that meets the needs of small service-based businesses. You can create and share calendars for schedules and events, send automatic reminders, and sync with your Google or Outlook calendar to display up-to-the-minute availability.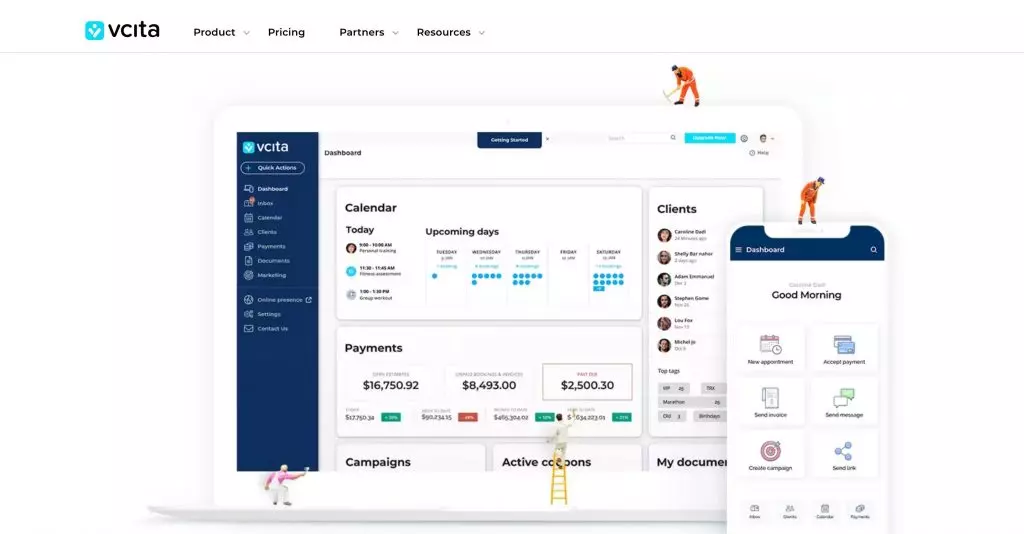 Features:
Calendars can be shared on your website, social media, and by email
Automated meeting reminders
Online portal for customer bookings and communications
Stripe and Paypal integration for online payments
Syncs with outside calendar software
Create schedules for group events and classes
Pros:
Clients and customers can book meetings and appointments 24-7
Only open time slots are available, preventing double-booking
Two-way syncing keeps your calendars up to date
Email and SMS reminders eliminate no-shows
Free 14-day trial available
Cons:
With the scheduling plan, notifications can only be sent via email
Pricing: The appointment shceduling plan is $19 USD per month. Regular plans start at $19 (for individuals) and $65 (for teams) a month. Annual plans are also available.
Vcita is a shared calendar app that lets you create and manage your business calendars from any computer, tablet, or smartphone. If you have an existing Google or Outlook calendar, you can import all scheduled events into vcita and use the two-way syncing feature to keep both platforms up to date.
Calendars can be created for practically any purpose. You can set up a public calendar and embed it on your website so site visitors can book their own appointments, or put together a private workweek schedule accessible only by staff. Any updates are instantly visible, which prevents double-booking, while automated reminders make it less likely that anyone will forget their shift, appointment, or meeting.
Although it is a powerful calendar management app, vcita has capabilities that make it a premium customer support tool. The client portal feature personalizes each client's experience by archiving their past appointments and communications and allowing them to share files and make payments.
One reviewer stated, "(Vcita) gives you 'wind at your back' and strengthens the ability to scale RAPIDLY whether you are a bigger business, or just a single entrepreneur."
In short, vcita is a combination of virtual secretary and customer service agent that works for you around the clock. If you have questions, scheduling plan users receive prompt and efficient email support.
2. Joan
Joan is a meeting room booking software and calendar app that smoothly integrates with your business calendar. A basic color-coding feature delivers a quick and accurate overview of booked and available time slots.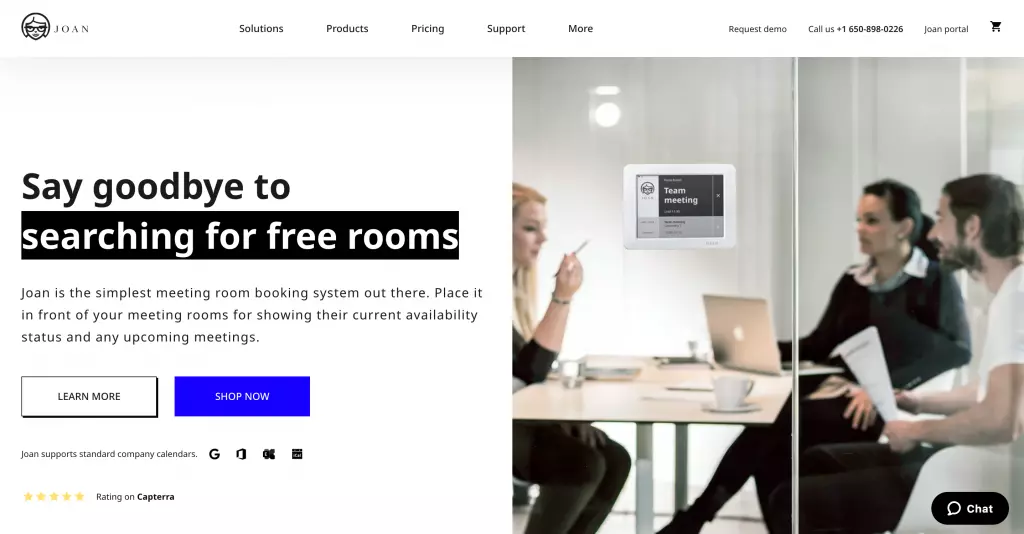 Features:
E-boards with clear black and white displays
Integrates with Google, Outlook, and Apple calendars
Real-time booking capability
Use your own display device with Premium Plans
Schedule board, team grid, and room views available
Mobile app available to book meetings on the go
Pros:
Black and white color coding makes availability easier to determine
Boards use little power and can run for months on a single charge
Upload a custom logo to the Joan display board
30-day free trial for Premium plan
Cons:
Requires proprietary hardware to use free and basic plans.
Pricing: A basic subscription with all the essentials is free, but you are required to purchase a Joan 6 for $549 or Joan 13 for $899. The Standard plan, which also requires a device purchase, is $11 per device per month. The Premium Plan, which lets you use your own device, is $21 per unit per month.
Joan is a combination software and signage solution designed to simplify the process of booking meeting rooms. The display boards come in two sizes: a six-inch unit intended for mounting outside a meeting room door and a 13-inch unit capable of booking multiple rooms. If you're not looking for a hardware solution, you can use Joan on your own device with the Premium plan.
All devices communicate with the Joan portal, which coordinates the various devices on the meeting room doors and provides both meeting coordination and notification services. If you use GSuite, Office 365, or iCalendar for your corporate calendar, Joan can sync with it and use the information to provide accurate room availability on the device display. It also has a mobile app you can use to book rooms on the go.
Once a meeting is booked, all outside participants receive email notifications that include room location directions, which is convenient for those that may never have visited your location before.
If you run into problems using Joan, help is available via live chat and a dedicated support agent.
Although Joan makes it easier for you and your team to book meeting locations, its benefits are more internal. As of yet, it does not appear to support client-driven meeting and appointment requests.
3. Wrike
Wrike is a popular project management software with collaboration features that includes a shared calendar and seamless syncing with other calendar software.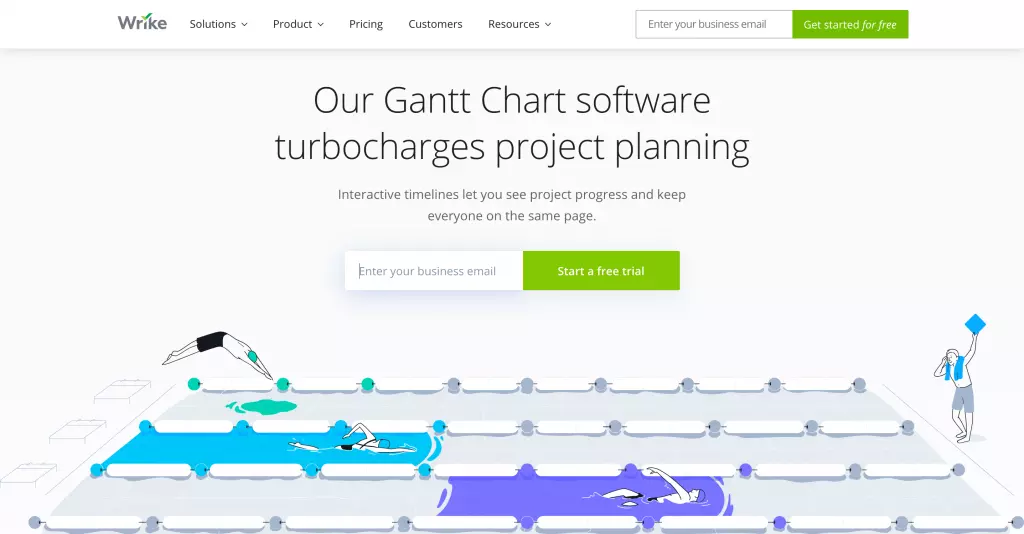 Features:
Shareable task management calendars
Syncs with external calendar software like Google
Interactive Gantt chart schedules
Simple drag and drop functionality
Email notifications for all calendar updates
Mobile app available to update calendars on the go
Pros:
Calendars can be shared externally
Custom viewing and editing permission settings
Create calendars for various teams and events
Color coding available for easier overview
Free version available for up to five users
Cons:
Not suitable for booking appointments online
Pricing: Wrike offers a free version for small teams of up to five users. The Professional Plan, which covers up to 15 users, is $9.80 USD per user per month. The Business Plan is $24.80 USD per user per month. Those interested in the Enterprise Plan must contact Wrike for pricing.
Wrike is a project management app with a shared calendar feature. The calendars, which are available in timeline and Gantt chart format, are color-coded and support all scheduled tasks with related information like files and discussions. Users have reported that this capability makes it easier to go right to work after viewing the calendar.
Wrike calendars are easy to set up and share. All you have to do is specify the team members that you want to share the calendar with or, in the case of non-Wrike users, email them a direct link. You can specify editing permissions and, thanks to the external syncing option, ensure that the calendar always presents up-to-date information.
Free plan users receive email support 24 hours a day, five days a week. Paid plans offer email, phone, and help center support during the same time frame. There is an advanced support plan available for purchase: it offers a one-hour response time and is available 24-7.
If your business is project-based, such as app development or marketing, Wrike calendars can provide you and your team with an invaluable level of transparency. However, a calendar needs to be shared in order to view it, which makes public access and appointment bookings difficult for service-based businesses.
4. MeetFox
MeetFox takes the hassle out of scheduling appointments, meetings, and video calls with 24/7 online calendar management.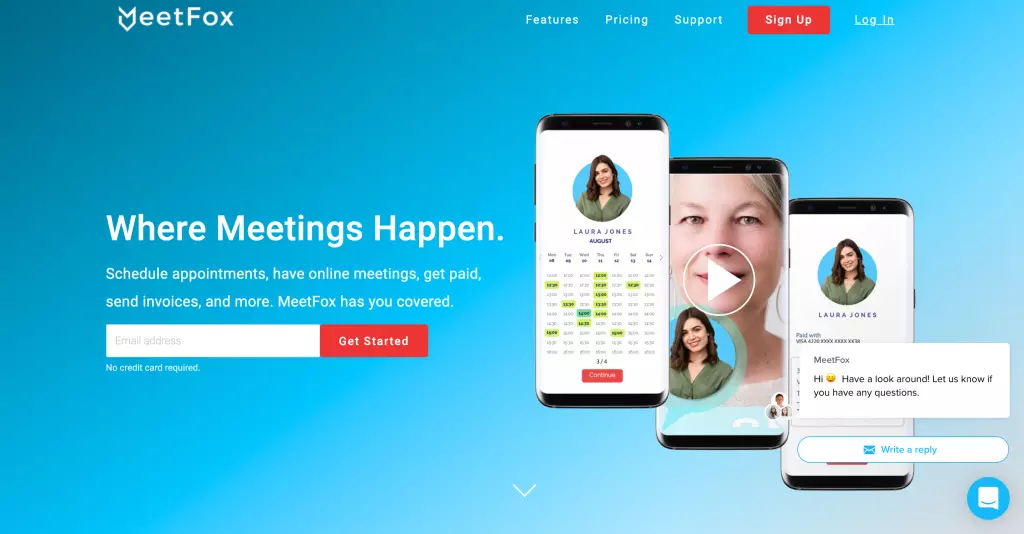 Features:
Customized booking page
Syncs with Google and Outlook Calendars
Email and SMS reminders
Integrates with websites and social media platforms
Fully-integrated video and instant chat capability
Free credit card payments
Pros:
Email and SMS reminders help avoid no-shows
Make video calls within your browser
Automatic invoices sent on your behalf
Time zone recognition for overseas clients
Free trial available
Cons:
Payments feature not available with Basic Plan
No free version available
Pricing: The Basic Plan is $11 USD per month while the Professional Plan is $29 USD per month. Annual discounted plans available.
MeetFox makes it easy to manage your online calendar 24 hours a day. After setting up a customized booking page with all of your services, you can connect it to your Google or Microsoft Outlook calendar and import all existing events and appointments. Afterwards, the sync feature keeps both calendars current without having to update separate platforms.
MeetFox shared calendars can be embedded on your company website and social media calendars and even shared in your email signature. Once a meeting or appointment is booked, all participants receive automatic reminders via email or text to avoid no-shows.
If you run a coaching business or other enterprise that uses video conferencing, MeetFox lets you run and even record sessions within your browser. Automatic invoices can be sent on your behalf, and the free credit card payment feature lessens the frequency of late payments.
If you need support, help is available via phone, email, chat, and an online knowledge base.
With an online calendar, payment processing ability, and ability to connect to any calendar software you currently use, MeetFox has what you need to run and grow your service-based business.
5. Fruux
Fruux is a shared calendar app that also unifies information for all of your contacts, which simplifies team management and collaboration.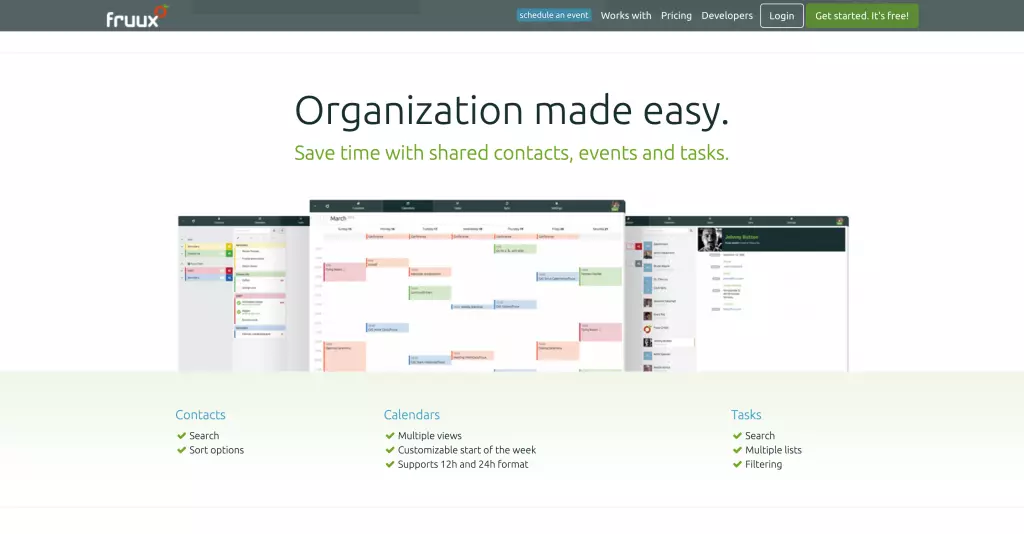 Features:
Syncs with Google and Outlook Calendars
Delegation feature lets you share calendar management
Public calendars can be embedded on websites
Pros:
Build and manage calendars in and out of the office
Calendars available in 12-hour and 24-hour format
Free version available
Email support available 24-7
Cons:
No payments feature
Public calendars are read-only
Pricing: There is a free version available for individual users. The Pro Plan is €4 per month and can be used on up to 10 devices. Team Plan is €20 per month for up to five users, with additional users being an extra €4 per month.
Fruux is a team support tool that centralizes all of your contacts and creates fully-customizable calendars in both 12-hour and 24-hour format. Their clean and intuitive layout helps you quickly identify convenient meeting dates and times, and you can see right in the calendar who is going to be in attendance.
While you have access to all Fruux tools outside of the office, the delegation feature allows you to hand calendar management over to an assistant or manager when you're on vacation or otherwise unavailable.
If you encounter difficulties, email support is available 24-7.
Fruux calendars can be made publicly available, but in read-only format, so site visitors cannot use them to book appointments. You can, however, assign reading and writing permissions to team members, making Fruux more of a meeting coordination tool than an appointment-booking resource.
Conclusion
Instead of using multiple personal calendars to manage tasks, you can select one of these 5 best shared calendar apps for small businesses. While some are more beneficial for service-based businesses than others, all of them enable a greater transparency that can inspire employee and client loyalty and trust.