Start sending receipts and accept and track payments from vCita billing app or download our free blank receipt template for both Word or Excel.
Start to look professional today
If you don't love accounting, you might not feel excited about invoices and receipts.
What a lot of small business owners don't realize is that they aren't just a necessary part of doing business—they're marketing documents, and their level of professionalism will reflect back on you.
A lot of small businesses send disorganized, inconsistent, and difficult to read receipts, so making yours beautiful and clear will set you apart as a professional.
Not a designer? Find a receipt template to make sure your receipts are consistent, branded, and easy to read.
Finding a great receipt template, whether it's in Word or Excel, means your client's accounting department will love you, and you'll both have an easier time tracking purchases.
Free receipt template for Word or Excel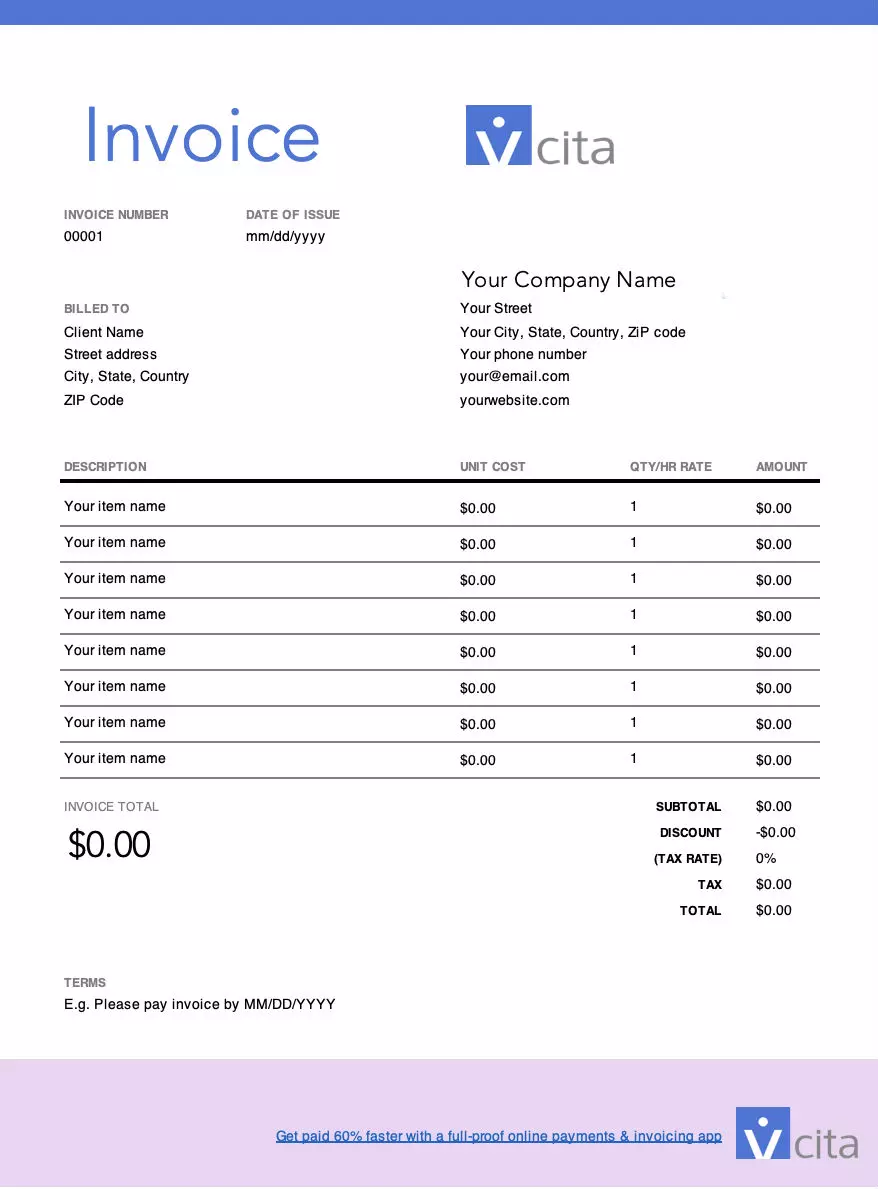 Invoices and receipts: what's the difference?
Invoices are documents asking for payment, while receipts are documents confirming payment.
Some small businesses only choose to send invoices, but in doing so, they're missing an opportunity to communicate with their clients! Since receipts are sent after the client has paid, they are your last chance to thank your client for payment, recommend related products, or offer discounts on future purchases.
Getting into the habit of sending receipts can also help you track accounts receivable—it's easy to forget to record payments, and creating receipts will give you an additional way to double-check payment details before you contact a client about unpaid invoices.
Tips on creating a receipt in Word
Word is an intuitive, user-friendly software that offers a lot of formatting versatility. It also has free receipt templates that are easy to create and use.
When you open Word, select File>New and search for "receipts" in the Office.com Templates search box to bring up its selection of free receipt templates. It's advisable to customize the template you're using, since Word templates can look generic to clients that use the Microsoft Office suite.
If you don't feel up for modifying one, download vcita's ready-to-use elegant, free receipt template. 
You can easily add your logo, fonts, and other branded elements like headers and footers, and save it as a template in Word so you can access it later.
Tips on creating a receipt in Excel
While Excel doesn't have as many formatting options as Word does, its main advantage is its formulas.
With Excel, you can also create additional worksheets by clicking on the "+" icon beside "Sheet 1," which is helpful if you need multiple receipt templates for one client—for example, one official receipt and one packing slip. You can also use the sum function to add the totals from receipts on different worksheets, which is a helpful way of tracking AR if you don't have automated billing software.
You can also use free templates or create custom templates in Excel, but for an easier solution, download vcita's professionally designed, and pre-formatted Excel receipt template. As with Word, you can save it to Excel's template files to access it later whenever you open a new document.
Receipt templates can boost your brand
A key element of brand identity is consistency, so having a receipt template will help you reinforce your brand and establish your professionalism. Having a template means you're less likely to forget important elements, like your logo, receipt number, and contact information.
Additionally, if you have to go back through your records, it's helpful for both you and your client to know at a glance where totals, subtotals, and receipt numbers are.
It might not seem like a big deal, but when you're looking through 100 different receipts, you'll be glad they're all formatted the same way!
What to Include in a Receipt
What you should include in a receipt depends on how you do business. For example, point of sale receipts might have a refund policy, while receipts for clients you invoice often will have payment terms instead. If you're a point of sale merchant, receipts are essential since they're the only detailed record of the transaction; other business types that invoice may not generate receipts too, even though it's good practice to do so. Here are some general pointers about what information to include on receipts, including those for clients who receive invoices:
The word "Receipt" clearly and in bold: if you're sending a receipt to a client with a lot of invoices to pay, it can be easy for them to make the mistake of issuing a second payment on a receipt. Then, you're faced with the hassle of either applying the credit to unpaid invoices or returning the funds. Avoid the hassle by making it as obvious as possible that it's a receipt and not an invoice!
Your Company Logo and Details: it's always good business to make yourself as easy as possible to get in touch with. If a client decides they want to reorder something from you, putting your contact details on the receipt will make sure they have all the information they need in one place.
Your Client's Contact Info and Client Number: this information is mostly for your benefit, so you can avoid sending the receipt to the wrong person. If you use client numbers, including them will also make it easier to cross reference receipts with CRM information.
Date of Payment: including the date of payment is essential for both your client's records and yours. You'll be able to track the length of time between invoicing and payment, and your client will have a record of when you received payment for their own accounting purposes.
Summary of Purchases: include what your client purchased—this can either be formatted in a similar way to your invoices, or summarized if you're making a collection receipt. Point of sale merchants should generally have an itemized list of items sold, with SKU numbers or other identifying information.
Tax Information: your client may be able to claim taxes back from their purchase in B2B transactions, so you should make sure to itemize the subtotal, any taxes you've charged, and the total. If you're legally required to include your tax number on your invoice, include it in your receipt as well so your client has more than one place to find it.
Receipt Number: having receipt numbers can help you track payments, since they give you a way to numerically identify them. This is particularly helpful if you have recurring payments from clients that are the same dollar amount, or are receiving large payments for multiple invoices.
Invoice Numbers Paid, if Applicable: if a payment you've received is for multiple invoices, make sure to include all the invoice numbers you're applying the payment to on the receipt. This helps you and your client can see at a glance how their payment has been applied. If you're sending multiple itemized receipts for one payment, you can include this summary as a separate page or as an addendum on each one.
Method of Payment: if there are any issues down the road—for example, your client thinks a payment was misapplied—it's helpful to be able to look up what payment method they used. That way, you'll know what to look for when you're double-checking the numbers.
7 types of receipts you might use as a small business owner
Sales Receipt
Usually for point of sale businesses, a sales receipt is generated at the till in a bricks-and-mortar store or as an email on an ecommerce site. It usually includes an itemized list of purchases, tax information, store contact information, and a refund policy.
Delivery Receipt
This is a receipt used when shipping items to customers. It's a confirmation that the item sold was received by the customer, who may need to sign the delivery receipt depending on what delivery service you use.
Collections Receipt
This type of receipt is generated for clients who have multiple outstanding invoices. If a client has paid six different invoices at once, these receipts summarize the invoice numbers and totals, showing how the payment was applied.
Billing Statement
Although some would argue that a statement is technically separate from a receipt, it's still an important document that goes along with them. A statement is a summary of which invoices have been paid on a client's account; unlike a collections receipt, it also shows

all outstanding invoices

for that client as well. It's a good idea to send statements once a month if you are invoicing a client regularly.
Official Receipt
Official receipts are important for auditing purposes; if your government has requirements about the information needed to claim taxes or expenses, an official receipt will contain all of this information. Make sure you look up tax law in your area so that the information is complete—that way, your client won't need to get in touch with you for a modified version if they get audited.
Purchase Order Receipt
If your client has made a

purchase order agreement

with you, then you may have two receipts: one that confirms you can deliver the products on the PO, and another that confirms payment. The second receipt will often reference the PO and summarize its status, particularly if there are still deliverables on the PO that haven't been invoiced and shipped yet.
Gift Receipts
While a gift receipt may contain the details about what the customer purchased, all price information is usually left off so that the recipient has the option to return the item or exchange it without seeing the price right away. Return and exchange policies are particularly important to put on gift receipts, along with store contact information.
How to Deliver Receipts
How you deliver receipts will depend on your business type. Point of sale merchants will either offer the paper copy at the till, or send it via email.
Other service-based small businesses usually send receipts via email, although some clients may request having their receipts delivered via mail.
While email is more cost-effective, mail can be a good strategy if you're including other print materials, such as flyers, with your receipts.
POS merchants who offer to email receipts can take the opportunity to ask if the client would like to subscribe to their newsletter. However you decide to deliver receipts, make sure you deliver them as soon as possible after you've received payment, and take care to send it to the right client.
Sending receipts with automated billing software
Vcita automatic invoicing software can take a lot of the hassle out of invoicing, eliminating data entry tasks and freeing up your time to focus on the business. Below are some of the more significant upsides to manual invoicing:
Less Data Entry means Less Human Error: when you're invoicing manually, it can be easy to accidentally forget to update the date, invoice number, or client contact. With automatic invoicing, much of this data entry is done for you, reducing the amount of human error possible.
Automatic Reminders for Clients: vCita's software will automatically remind your clients when they have outstanding bills due, so your receivables don't pile up. Using automated billing software means you'll only do collections personally if you really have to.
Automatic Accounts Receivable Tracking: knowing which clients have outstanding invoices and how much they're worth is an important part of keeping your cash flow positive. Automatic billing software will track AR automatically for you, including updating AR automatically when clients pay online. This reduces the risk of you working over a long period of time for a client who isn't paying your invoices.
Mitigating the Risk of Fraud: if you have employees who invoice, consider automated billing software for your own peace of mind. Automated invoicing means that you have access to any invoices your employees create, reducing the risk of employees making fraudulent invoices.
Consistent Invoice and Receipt Numbering: receipt and invoice numbers are one of those things that never seem important until you need to use them. Software that automatically generates receipt numbers will ensure that your numbering system is consistent. It will give each receipt a unique number, in chronological order, which can become very important when you need to dig though your records.
Ultimately, you should develop the system that works best for you—but keep in mind that if you're feeling bogged down by paperwork, there's software out there that can make your life a lot easier! Receipts aren't essential if you send your clients invoices, but you should send them anyway.
Much like a thank-you card, they're a great way to close out a transaction, keep track of numbers, and help your clients keep you in mind for future purchases.
Quicker payments, less hassle and more time to focus on your clients.
Join over 100,000 Happy Service Providers
Rated 4.4 out of 5 by GetApp
Integrates with dozens of platforms