The best real estate agents will tell you that knowledge is power. The more you know about your customers and properties, the more likely you are to match the right ones and close deals. Yet keeping track of that knowledge can be tricky, escpecially once you have more than a few clients.
That's where CRM (Client Relationship Managment) solutions can really save the day. CRM applications are programs that help organize and manage contact information, but they can do so much more. They can often generate email marketing campaings, track where customers are in your sales pipeline, provide in-depth marketing analytics and many other things in addition to being a database.
The best CRM solutions for realtors have a user-friendly interface and automation features that minimize data entry.
Below are a few more of the best features of good real estate CRM systems, plus the top 10 solutions on the market today.
What to look for in CRM for real estate agents 
Cloud CRM: a cloud CRM means you'll be able to access the software even when you're on the go. This is a must-have for real estate agents, who spend a significant portion of their time meeting with clients out of office. A CRM with a mobile-friendly app is even better.
Social media integration: social media marketing is essential in today's real estate market. Instagram and Facebook are great venues for your clients to preview properties, saving you hours of time you might otherwise spend showing the property in person. The best real estate CRM will have features that integrate well with your social media campaign.
Automated email features: a good email marketing strategy helps you convert leads by building trust. Sending clients property listings that fit their needs goes a lot more smoothly when you have a CRM program to manage those communications. Additionally, automated reminders and confirmation emails can be a lifesaver when it comes to arranging viewings, avoiding no-shows that waste your time.
Lead capture tools: while the specific lead capture tools can vary, features like website widgets, customizable lead pages, and lead capture integration will help you find more clients and keep them interested. Whatever your lead generation strategy is, your CRM software should help you see it through.
Analytics: analytics are great for any business, but they're especially important for real estate agents. Since the sales are often fewer and more high-stakes, you'll want to adjust your sales strategy according to real data about what works and what doesn't.
The best 10 CRM systems suited for real estate
1. vcita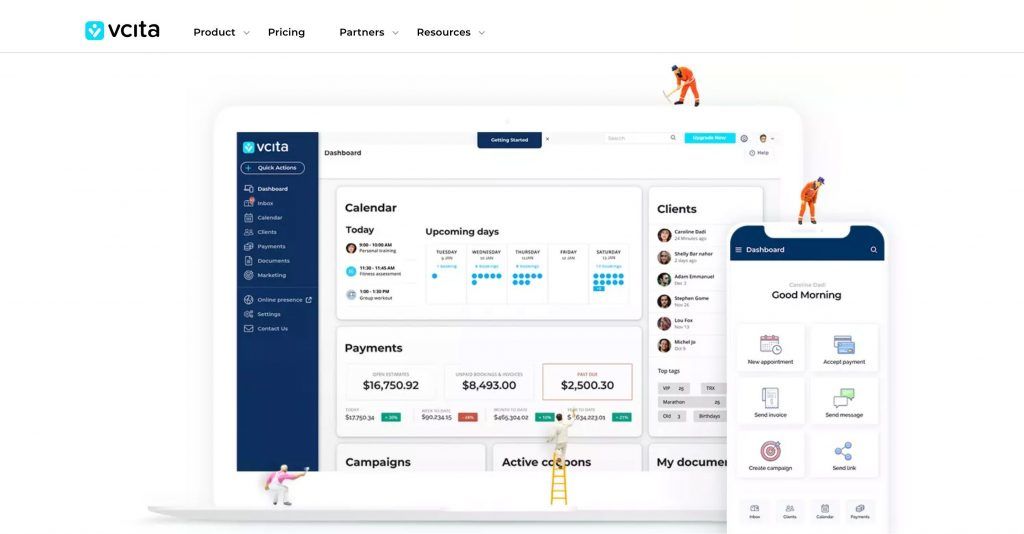 Features: an all-in-one business management platform, vcita offers CRM management, scheduling, email marketing software, lead management, web design, and billing tools. Scheduling features like the Meeting Scheduler make it easy for clients to see your availability and book property viewings right from your Facebook page, website, or email signature.
The CRM features allow you to attach documents, appointments, payments, and communication to your client notes; so for example, you can attach property reports and service documents to seller data. If you have a team, you can assign leads to specific agents and schedule them with the scheduling tool. Since everything is integrated, you can still have it all at your fingertips, even if you're on mobile. A good all-around CRM for smaller businesses, vcita helps minimize the number of additional apps you'll need to get your job done.
Pricing: vcita starts at $19 USD per month for the basic plan, with more options available for businesses that need more marketing and automation features. If you need some time to think about it, vcita also offers a 14-day free trial.
2. BoomTown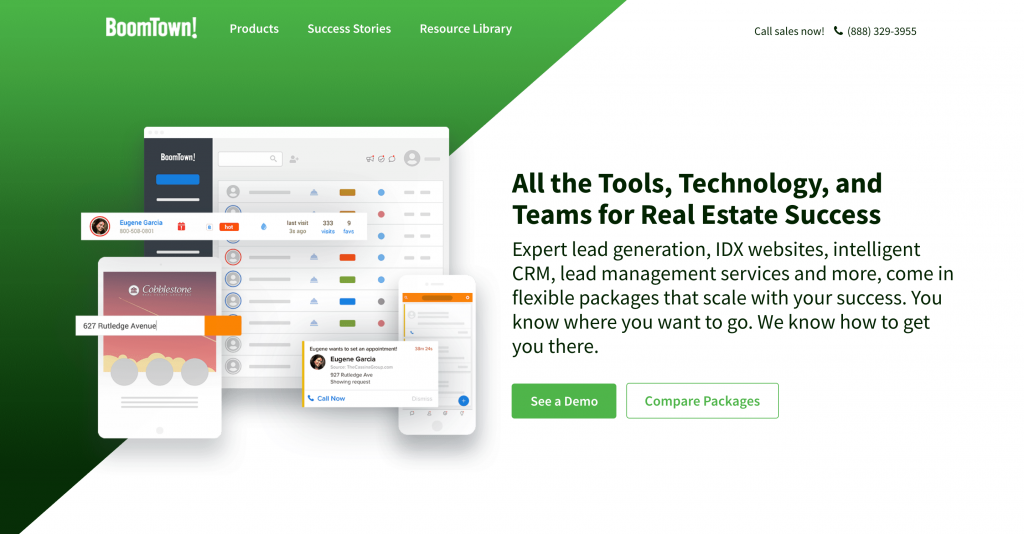 Features: BoomTown offers a more complex, CRM-focused product, with web design and sophisticated lead management features. Specialized for the real estate market, BoomTown offers a Hot Sheet with MLS updates integrated into the software. With analytic features such as predictive intelligence, it helps you know when to get in touch with your leads and which ones are more likely to be responsive. You can also create websites with a property search tool, which generates leads.
While vcita can integrate with popular applications like Quickbooks, Google, Facebook, and others, BoomTown can integrate with more real estate specific apps like Brokermint and Realtors Property Resource. However, you'll have to use (and pay for) other apps if you want invoicing or scheduling features; it's a better option for larger real estate companies with these systems already in place.
Pricing: BoomTown's premium features come with a premium price tag at $1,000 USD/month for its basic "Launch" plan, and an additional $750 setup fee.
3. Contactually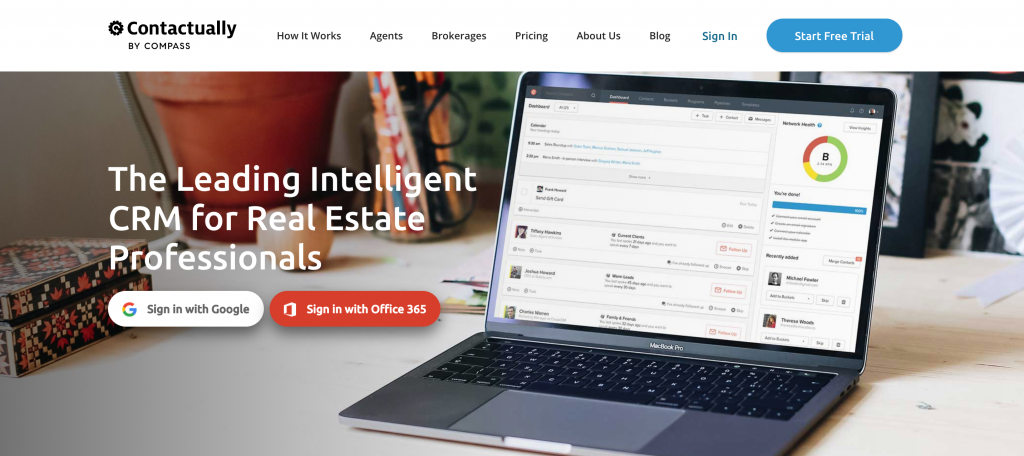 Features: Contactually's focus is more on building relationships, offering less built-in versatility than BoomTown or vcita but with a few cool features. One of its unique features is a contact list that you can organize clients by "buckets," or categories which you can set up to determine how frequently you need to contact them.
Contactually has the usual CRM marketing features like email drip campaigns, but you can also send a physical card or thank you note for an extra small fee. Its custom email templates are tailored towards the real estate market, as is its pipeline productivity interface. Its focus is on building relationships with clients, but is limited if you want to build landing pages or a home page. On the plus side, it offers a lot of platform integrations like Brokermint and Zapier.
Pricing: Contractually starts at $69 USD per month for the "Professional" plan, but offers a 14-day free trial. A cheaper option than BoomTown, but you will still pay more for its industry specific features.
4. Clientlook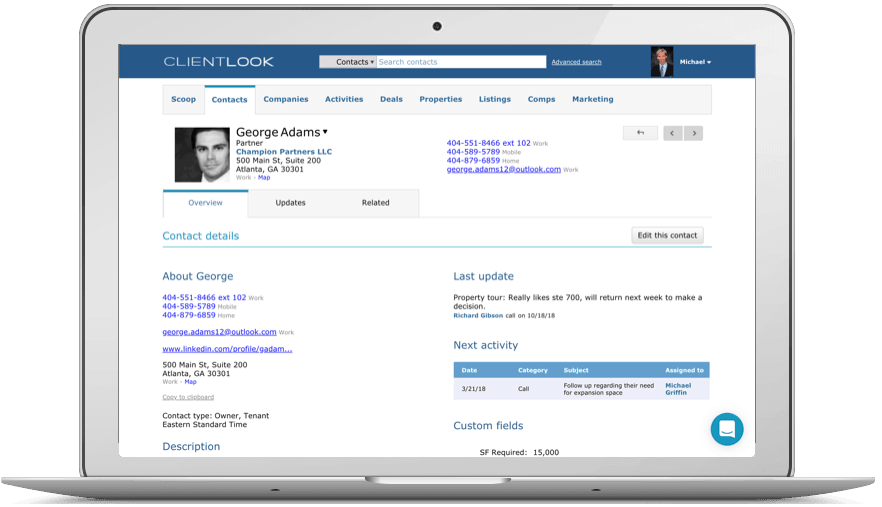 Features: Clientlook offers similar CRM services as Contactually, but with some unique features of its own. In Clientlook, you can use the software to relate people from your client list to properties from your property list. It has email marketing features, but only if you connect it to MailChimp. Clientlook also has a client portal, where clients can log in to see features of your property, including updates on phone calls and property tours.
Access to a virtual assistant team is a feature of the software as well, allowing you to use the VA for various data entry tasks, like listing updates. Like Contractually, Clientlook doesn't include landing page builders or scheduling software. It also integrates with fewer applications than the first three. This software might be a good choice for someone who needs data entry done on the go by a third party.
Pricing: Clientlook offers a unique 6-month free trial for new brokers, after which it's $99 USD per month. Otherwise, it's $89 USD per month or $129 annually—a little more expensive than Contractually, likely due to the virtual assistant feature.
5. Propertybase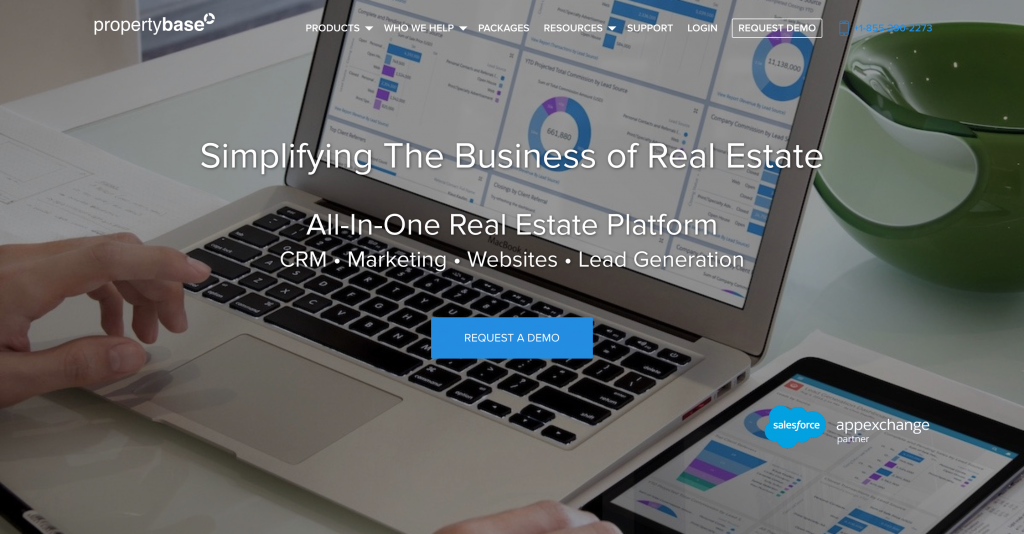 Features: One of the great features about Propertybase is its unique IDX websites from Boston Logic. It also features a dashboard where you can view well-designed analytics, like an overview of your pipeline and the number of people in each pipeline stage. Another bonus of Propertybase is the seamless way it syncs with MLS listings; you can add MLS listings to your email campaigns right in the app, and use a client's preferences to create customized drip campaigns with new listings updated automatically.
In general, anyone interested in viewing detailed analytics and having a top-notch user interface and web design should check out Propertybase. You can customize your pipeline and leads, as well as the notifications you receive. However, it doesn't offer some of the features of other CRM applications, like scheduling software or a virtual assistant, and the website template is only available at a much higher price point.
Pricing: Propertybase starts at $89 USD per month, but if you want to build an IDX website with it, you'll need the Blue Tier package at $399 USD per month.
6. RealtyJuggler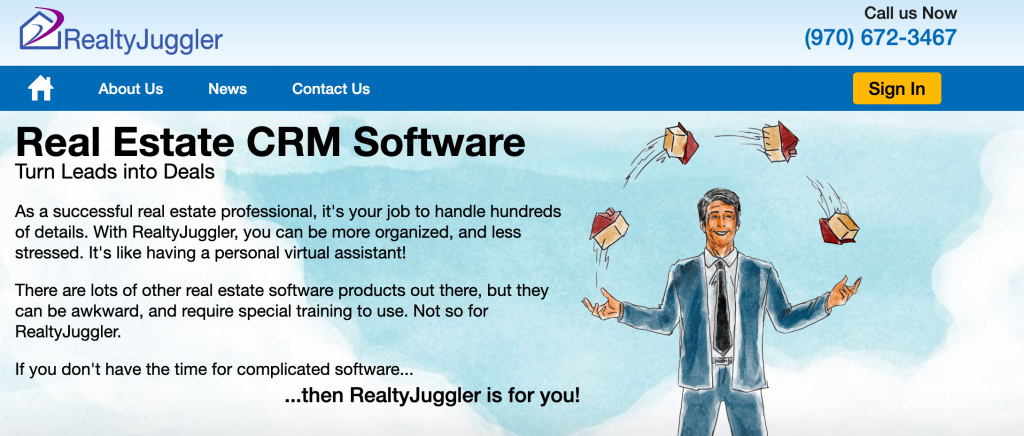 Features: RealtyJuggler is a simple platform that has been around for a while—founded in 2003, the software has been a mainstay of the industry for 17 years. In addition to the usual CRM database, it offers financial organization tools such as an expense and commission calculator, rental management tools, and a real estate calculator to qualify prospects. The software also features a huge variety of templates for print letters and print flyers, for agents who still like to work with paper.
The downside of the software is that it's dated; in addition to having a bulky interface, it also doesn't integrate with a lot of other apps, making it difficult to expand. Using the software will involve a little more data entry than the other applications listed here. It also doesn't offer as much in terms of automated marketing options and analytics. On the plus side, there are over 70 free tutorial videos on YouTube that serve as a walkthrough of the software.
Pricing: RealtyJuggler is $179 USD per year (per user), but offers a 90-day free trial. It's the cheapest option on our list, but doesn't offer the same automation and integration.
7. CINC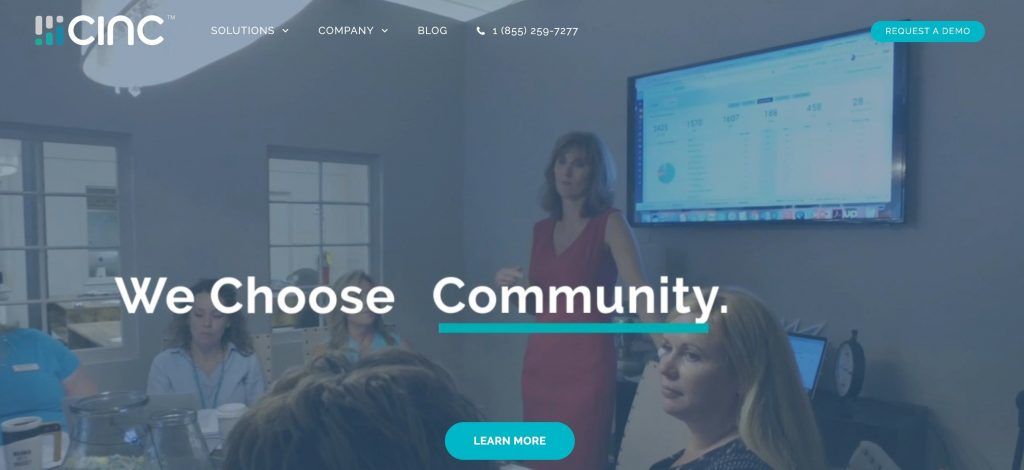 Features: in opposition to RealityJuggler, CINC is a very powerful, complex platform with a sleek interface and a lot of features. It can automatically message clients that click on certain links with behavioral messaging, tracks MLS listings, and has many features for team management. Email campaigns include customizable DISC drip campaigns that send marketing emails tailored to the personality of their recipients. You can also use CINC to design professional-looking websites with great UX design features, and without a lot of hassle.
Like vcita, CINC gives clients the ability to request appointments from your website. A lot of add-on features means that you can customize the software according to your needs, but you'll pay extra for them. Like RealtyJuggler, they offer tutorials, but unlike RealtyJuggler, you'll have to pay extra for them, too.
Pricing: CINC starts at around $900 USD per month for basic features, but the more features you add, the more expensive it will be. It's comparable to BoomTown in both price and complexity.
8. Real Geeks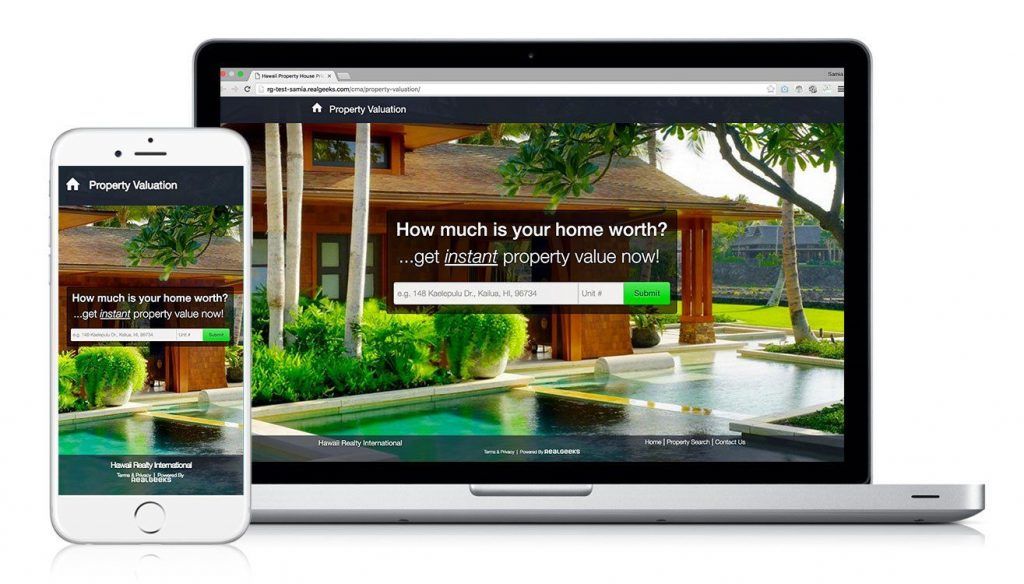 Features: RealGeeks provides CRM, website building features, and other marketing features. Websites with lead generation features make it easy for visitors to search for listings on your site and sign up for email alerts. It also offers automated SMS messages and emails. One of Real Geeks' strong points is its lead-generating focus; with Facebook Ads and Google PPC services managed by an in-house marketing team, Real Geeks might be a good solution for realtors who have difficulty finding clients.
Although the website template is a bit dated compared to some of the other options, its strong SEO features and more affordable pricing might make up for it. If you're concerned about ranking on Google, Real Geeks websites often take top spots. However, the extra marketing features come at an additional monthly cost. While its user interface isn't as clunky as RealtyJuggler's, it's not as sleek as some of the other options, like CINC.
Pricing: starting at $249 USD a month, RealGeeks is a middle-of-the-road option in terms of pricing, but a good investment for a real estate agent looking for someone else to manage online ads.
9. ReferralMaker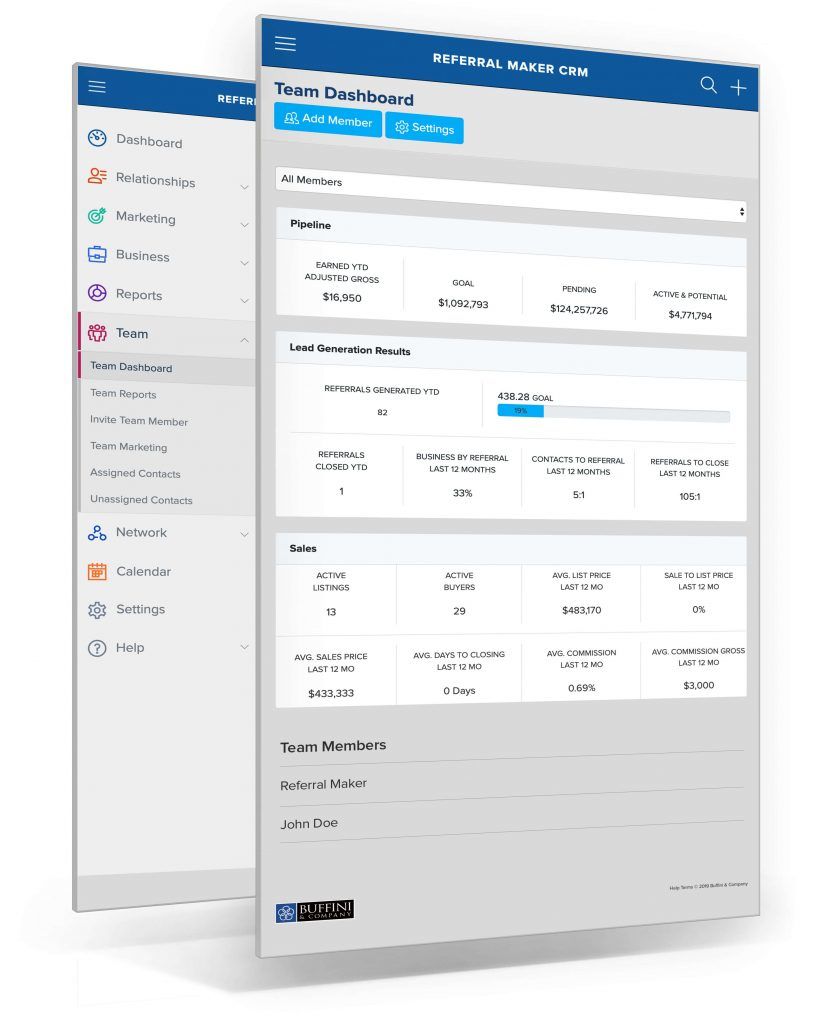 Features: ReferralMaker is a CRM with a relational marketing strategy in mind. As opposed to RealGeeks, which focuses on generating leads through ads and SEO marketing, ReferralMaker tracks your clients and activities and constructs a to-do list designed to help you win referrals. Its focus leans more towards productivity, with an integrated calendar as well as a trademark referral generation strategy. ReferralMaker's CRM will tell you when and how to get in touch with each client, but doesn't have the same automation features as the other applications.
One feature of ReferralMaker that none of the other systems have on this list is a way to track expenses. It also has robust analytics based on your interactions with clients, as well as reports which show your productivity over time. ReferralMaker is for the agent that wants to do most of the legwork themselves, but would benefit from a way to track it. The "pro" option comes with a unique networking opportunity called "Buffini Groups," which gives you an opportunity to network with others in your field.
Pricing: starting at $49 per month, ReferralMaker is one of the less expensive options on the list, but is also limited in its ability to automate tasks.
10. Nutshell CRM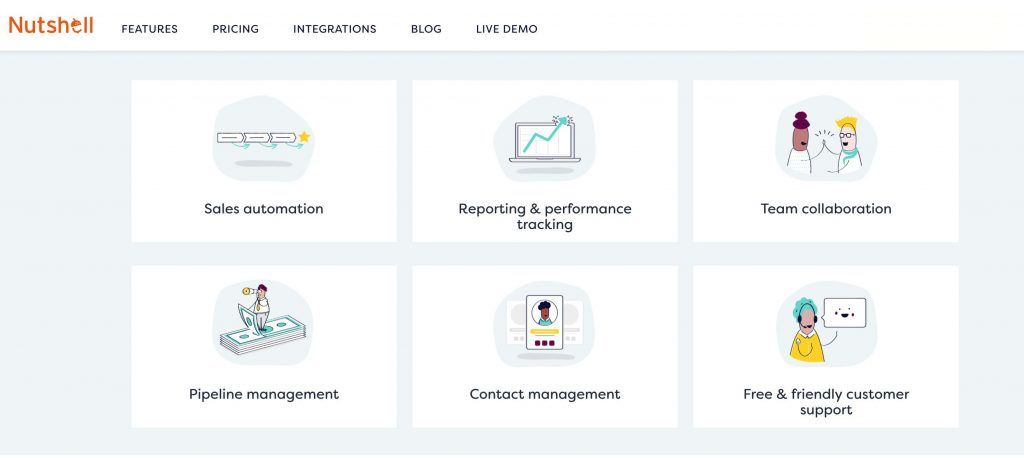 Features: Like vcita, Nutshell is a CRM that's not tailored specifically for real estate agents, but its easy to use interface makes it a top contender. With drag-and-drop pipeline management tools and an easy way to tag your colleagues on specific deals, Nutshell is a great option for real estate agents that just want a simple, clean CRM that helps them collaborate. It also offers performance tracking reports to show which team members are leading in sales.
Nutshell has some interesting automation features, including the ability to search the internet for the details of your contacts and auto-populate fields in the CRM. It monitors the view rates and reply rates of your sent emails to give you an overview of who's interested. Although its interface is easy to use, its simplicity may also be its drawback for smaller companies. It doesn't have solutions for building landing pages, or ads, and you'll need MailChimp to automate Nutshell email campaigns. However, businesses that already have solutions for web design and other marketing campaigns might benefit from Nutshell's simplicity.
Pricing: Nutshell starts at $19 per user per month; it's cheaper because you're paying for fewer features—but might be a solution for situations in which less is more.
Choose the right CRM for your workflow
The CRM that's perfect for you will depend on your business structure and workflow—larger businesses might benefit from a more comprehensive CRM like BoomTown or CINC, while smaller businesses that need more admin infrastructure might benefit from a simpler, all-in-one option like vcita.
Individuals who depend more on referrals might opt for ReferralMaker, while agents working in smaller towns where people request print material might benefit from RealtyJuggler's print versatility.
While it's tempting to choose a CRM that looks flashy, it's important to take some time to think about what your business needs (and doesn't need) so you don't end up paying for software you don't use.
The perfect CRM is like the perfect house—it's an investment in the comfort of your real estate business model.