It can be hard for a small business owner to choose the right CRM. At the time of writing, there are over 400+ CRM solutions in the marketplace today, and it can be time-consuming and frustrating to research, vet, and select the right small business CRM
In this article – we will help you understand what a CRM does, what are some reasons to invest in one today, what features you should look for, etc. Our goal is to help speed up your research, and also make it easier to select the right CRM solution.
We will also list and compare 10 CRM solutions specifically built for and used by small businesses.
The benefits of using a CRM
A CRM software (customer relationship management software) helps businesses store, track, and manage all their sales interactions in one central place.
The CRM will record all types of interactions (calls, emails, meetings) between your company and all your leads, prospects, or current customers.
As you start to grow your team and acquire more customers – it will become challenging to manage all that information on multiple spreadsheets.
At this point, you want to collect and store as much about your prospects and customers in a centralized location. It will allow you to sell and service them much more effectively. And this is precisely the point when using a CRM will help your team.
Let's look at some of the most common benefits of using a CRM for your small business.
Contact Management
It helps manage all your information in one system. It becomes more accessible for everyone in your team for all the contacts regardless of what stage they are in (lead, prospect, customers, renewals, etc.)
Lead Nurturing
You want to ensure that your team actions the leads & prospects in your database. Having the contacts organized by various stages helps you target them with the right activities to move them along your sales funnel.
Email Marketing
The ROI of email marketing is significantly higher than other marketing/sales activities. Once you have your database organized and segmented – you can then target them with the right message and offers.
Manage the sales pipeline
As your team engages with leads and prospects – everyone needs to know which stage they are in (qualification, proposal, negotiating, closing, etc.). This will help you with forecasting and managing revenue expectations. The more precise you are with deal/opportunity pipeline – the more you can know which specific action to take for each stage of the sales cycle.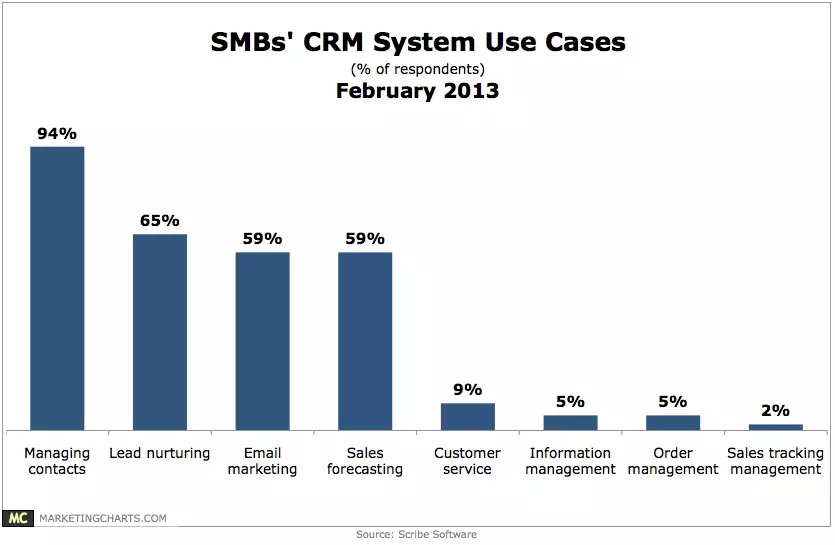 What to look for in a Small Business CRM?
As a small business, you might not need every single feature that most enterprise CRM offers. Besides they also tend to be more expensive. You might want something simple, so you can get your team started, and then scale as you grow your business. Here are some things to look for when choosing a small business CRM:
Ease of use
Any CRM that you use should be simple and easy to install use for everyone in your team. If the learning curve is too steep, then that might affect the adoption of the software.
Good UX and intuitive design
Most consumers do not forgive a slow and poorly designed website or an app; it prevents them from using that system every day. A CRM is usually an application that is used every single day by most sales teams. So, having a simple and intuitive design is very important.
No clunky features
Too many CRM solutions in the market confuse users with a wide range of features that most of them don't use. You want to choose a CRM that has the right amount of features that you can use every single day.
Low-Cost
It goes without saying. You mustn't be overspending on software. So you can spend money on other important business growth activities such as marketing, sales, etc.
5) Integrations
Any CRM you choose must be able to connect with or integrate with other tools that your team uses every day. It will save everyone's time, and also make it easier to find information in one place.
What is the best CRM for small business?
So….Which company offers the No 1 CRM?
1. vcita
vcita is an intuitive and affordable CRM solution especially designed for small business needs. More than 1 mio. small businesses worldwide are currently using vcita CRM.
Vcita is an all-in-one CRM solution for small businesses – A platform from which you can manage everything from lead generation to appointment booking, marketing campaigns, lead nurturing, invoicing and payments, etc.
Pros:
Single platform to manage all contacts, leads, clients.
Meeting Scheduling & Appointment booking.
Email & SMS Marketing.
Online billing, invoicing, and payments.
Custom branding throughout the platform.
Cons:
Additional features can take some time to learn.
Pricing:
Starting at $19 per month
14-day free trial
Features:
Manage leads, contacts, and clients in a single app or platform.
Lead tagging which enable you to create personalized sales drips
Mobile App available (iOS and Android)
Team calendar and meeting scheduler
Online appointment booking system.
Automate and schedule client communications.
Create marketing campaigns (email, SMS, etc.).
Invoicing and Online Payments
Using vcita, you can manage all your leads, contacts, and clients in a single app. The CRM enables you to easily import and sync all contacts from various places – smartphone, or spreadsheets, or your email into one single destination.
With vcita, you and your clients can schedule and book appointments from any device – the system easily integrates with your calendars (Gmail, Yahoo, Outlook).
You can use vcita to automate your client communications i.e. confirmations, follow-ups, reminders, etc. You can also communicate with clients on multiple channels (emails, SMS, etc.).
Moreover vcita CRM enables you to segment your client list, and send out personalized marketing campaigns (both via email and SMS).
The CRM comes with a full billing and payment module which enables you to create estimates, invoices, and receipts, and also accept credit card payment.
If you already have a preferred payment method you are using, vcita integrates directly with Quickbooks, Square, Stripe and Paypal or you can use Zapier to connect with other accounting softwares.
vcita CRM comes with a client portal, where clients can log in to their accounts and reschedule or cancel appointments, as well as make payments from all devices.
Plans starts at only $19 per month.
2. Pobuca Connect
Pobuca Connect is a simple contact management system to store all your customer data in one place.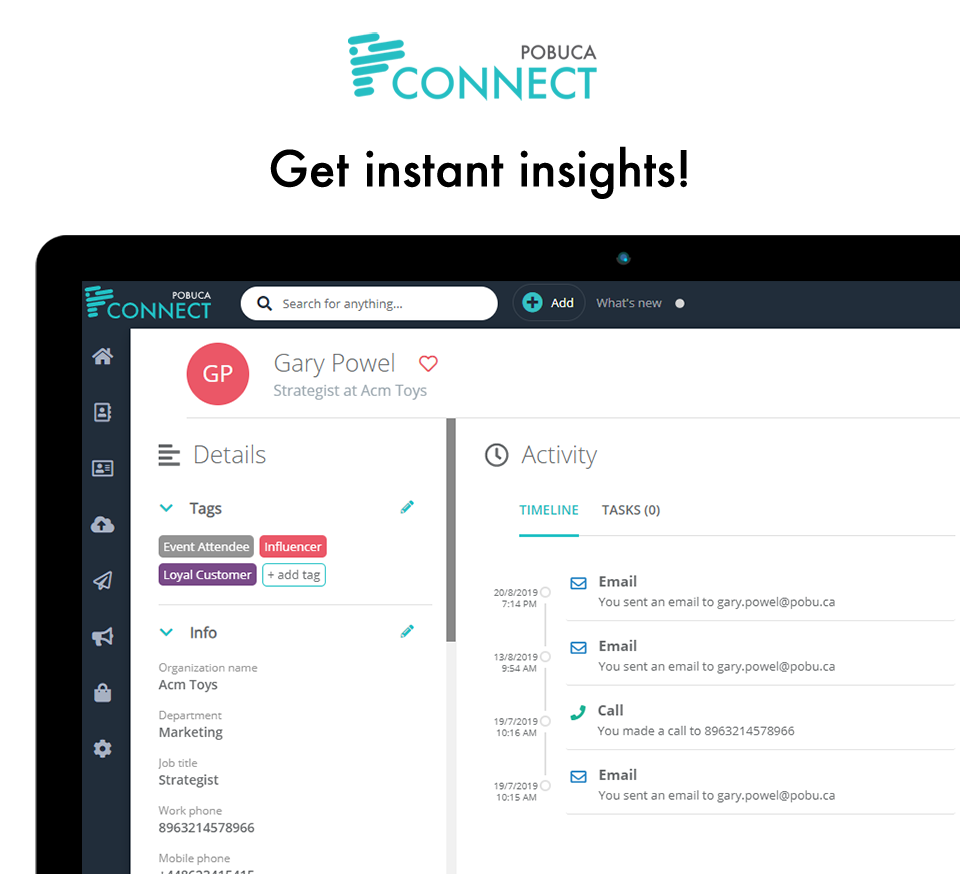 Pros:
Sync contacts between desktop and mobile.
Scan business cards.
Activity log.
Contact data enrichment. (Premium version)
Cons:
No sales module
No pipeline management.
No email marketing.
Pricing:
Free Forever
Pro version – $2 per user per month. (15-day free trial).
Features:
Contact organizer and management.
Import from Gmail or Outlook.
Scan Business Cards.
Capture contact information from email signatures.
Create follow-up reminders.
Pobuca Connect allows you to collect information from multiple sources and create a comprehensive database.
The Premium version ($2 per user per month) allows you to use their Pobuca bot to look for more information on social media (LinkedIn, Twitter, Facebook) and gather additional information about a contact.
You can use Pobuca Connect on both your desktop or mobile app.
Pobuca Connect is free forever and has limited CRM features. There is no support for the free version.
They have a premium version (Pobuca Enterprise) that works specifically for Microsoft users built for Dynamics 365, and you get premium support.
3. Xero
Xero is cloud-based accounting and CRM software for small and medium-sized businesses.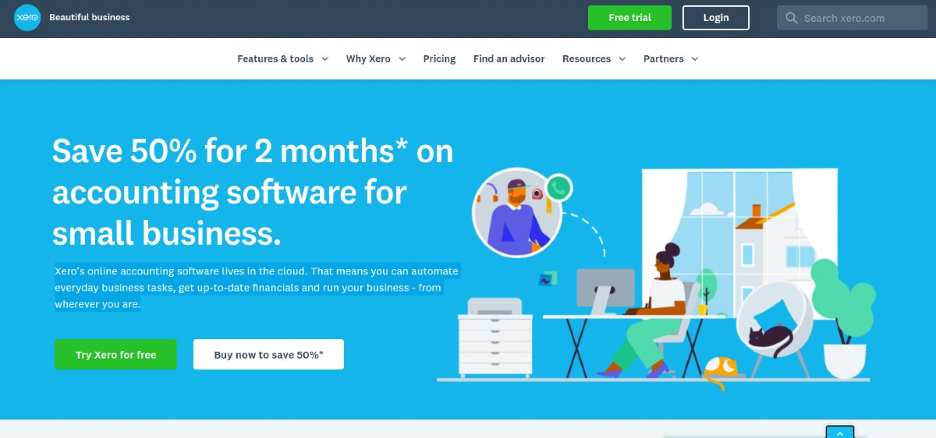 Most of the modules /features in the platform are geared for day-to-day-finance operations such as billing, accounting, invoicing, payments, etc. However, they do have a free solution that allows their users to view and manage all contacts.
Pros:
Create customer groups and smart lists.
View all the customer's purchase history in one place.
Send invoices and accept payments.
Connect with many other tools using Zapier integrations (800+ apps).
Cons:
Limited CRM features
No deals/opportunity pipeline.
No appointment booking.
Pricing:
Starting at $20 per month
30-day free trial
Features:
Customer Transaction and Purchase history
Send invoices, purchase orders, bills, etc.
Accept credit card payment.
Email Integration (Office 365 and Gmail).
Customer Segmentation and Smart lists.
Create and schedule bill payments.
Simple payroll tool.
Contacts and Smart Lists are a free feature that all Xero users can get access to.
Xero is a comprehensive cloud-based accounting software created for small businesses. It has an extensive collection of features to make your day-to-day accounting run smoother.
It does not offer a full-blown CRM, but the Contacts feature allows you to segment and group your customers based on their purchase history.
You can group your customers based on location or history, and then target them for future marketing campaigns. You can also add discount codes for loyal customers' future purchases.
You can connect and sync your email accounts (Gmail or Office 365) to track and log emails that are relevant to client purchases.
The most significant benefit of Xero is its depth of accounting and invoicing feature – allowing you to accept and manage payments from your clients.
Also, you can use Xero for other business functions such as expense management, payroll, bill payments, etc.
The pricing starts at $20 per month, and the pricing tiers depend on the number of invoices, quotes, bills you need to transact per month. All plans include 24/7 support.
4. Less Annoying CRM
Specifically designed for smaller teams – Less Annoying CRM is a no-frills solution that offers an affordable yet simple CRM. Less Annoying CRM currently serves over 19000+ users.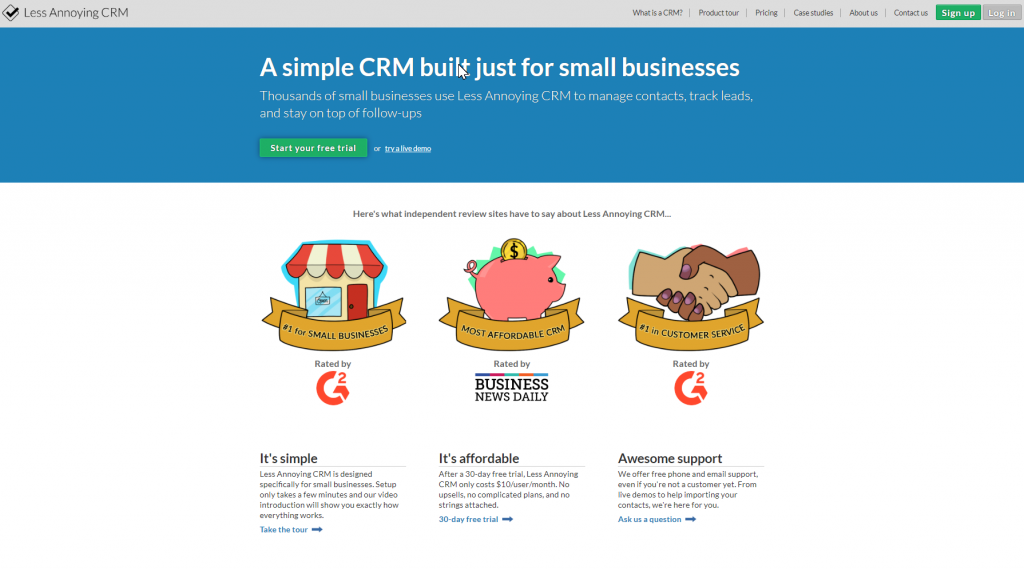 Pros:
Simple CRM to manage and store all leads, contacts
Unlimited Contacts.
No commitments or contracts.
Free Email & Phone support.
Data is always backed -up and protected.
Cons:
Limited Features – does not have a deal/opportunity pipeline.
Limited or no integrations with other apps/tools.
Pricing:
$10 per month per user
30-day free trial
Features:
Unlimited contacts.
Email logging, Email tracking.
Syncs with Google Calendar.
Prioritize and Assign leads.
Easy to import and export data.
Collaborate easily with other members of your team.
Less Annoying CRM is designed for small teams that require basic and limited features to maintain their contacts database.
They allow you to add unlimited contacts to CRM and also update each contact with all the information that you need to track and manage your relationship – tasks, notes, files, events, etc.
You can easily import all your details from your spreadsheets into the CRM when getting started. You can also export all your records out of the CRM anytime you like.
All email communications with clients can be logged and tracked inside the CRM.
Sync with Google Calendar, and view all your client activities in a single place within the CRM. You can log and track all client communication, regardless of which email provider you use.
You can also manage and assign leads with your team based on their priority.
They do not have a dedicated mobile app. However, since the CRM runs on a web-based application – you can access all your contacts on any device. You can easily access all the tasks, meetings from your phone.
The software always includes backups and security to protect all your data. Also, you will receive free email and phone support.
5. vTiger
VTiger CRM allows you to get a 360-degree view of all your contacts, and also manage the opportunity pipeline in one place.
300000+ businesses of all sizes currently use VTiger.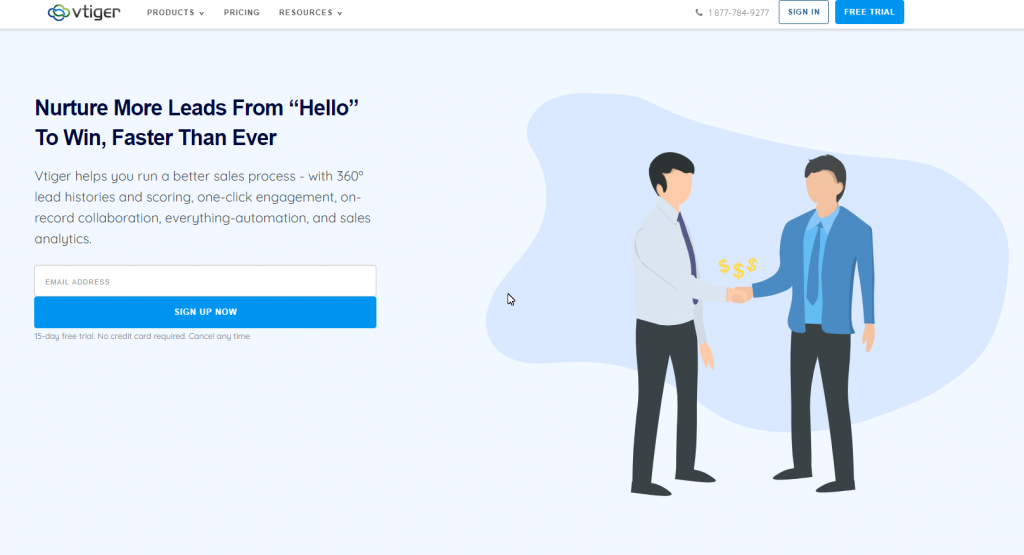 Pros:
Detailed history of each contact.
Meeting Schedule with appointment pages.
Cons:
Too many features – potentially steep learning curve.
Limited support options. Phone support is limited to specific business hours during the week only.
Pricing:
Starting at $10 per user per month
15-day free trial
Features:
Track all activities within the contact record.
Easily import data into CRM.
Easy collaboration with other team members.
Track all your deals, opportunities.
Meeting calendars and appointment booking.
Workflows and Automation
Dashboard, Analytics, and Custom Reporting.
Vtiger CRM is a comprehensive CRM to boost your sales team productivity and accelerate your pipeline. The extensive suite of features that allows you to view & manage all your touchpoints with your leads, contacts & customers in a single window.
You can also manage your opportunities and deals pipeline in a single view. You can send quotes and invoices directly to each sales opportunity (for premium versions).
The detailed reporting allows you to measure and manage your opportunity pipeline in a dashboard view, so you are not missing any opportunities.
You can also create either individual calendars or team calendars.
vTiger also integrates with Google, Outlook, and other schedules.
vTiger also integrates with other softwares/tools to help track customer interactions and purchases.
Sales CRM from vTiger also has the option to send out mass emails and run campaigns. There is an option to create quotes and send invoices at the Professional and Enterprise pricing options. However, they do not have an in-built feature to accept payments.
VTiger pricing starts at $10 per user per month for the Sales tools, and you have the opportunity to upgrade to $30 per user per month and get more features.
6. PipelineDeals
PipelineDeals is a contact management and sales pipeline platform that allows you to view all your client and pipeline history in one place.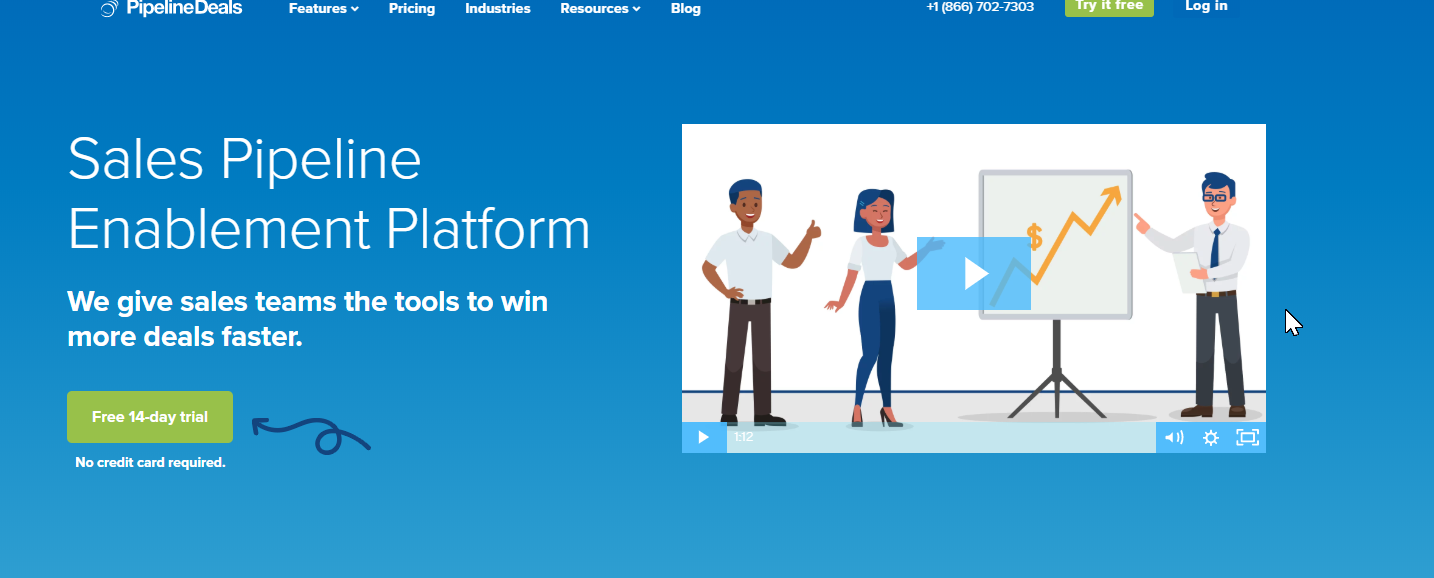 Pros:
Detailed reporting – sales activity, forecasts, deals, etc.
Free Mobile business card scanner.
Automate sales activities using workflows.
Email integration (Gmail, Outlook); and email tracking.
Cons:
No meeting scheduling or appointment booking.
No payment options.
No email marketing
Pricing:
Starting at $29 per user per month
14-day free trial
Features:
Manage all the activities, projects, milestones associated with any leads contacts.
Deals and Opportunity pipeline management.
Collaborate with other teams within your company.
Use workflows to automate communication with customers.
Create multiple dashboards and reporting to track deals.
Mobile App allows you to view and manage all CRM records on the go.
Integrate with leading customer and business management applications. (MailChimp, Quickbooks, GSuite,etc.)
PipelineDeals is a sales enablement platform that allows teams to manage all their leads effectively. You can use the platform to track and manage unlimited leads, contacts, deals, and companies.
You can also create unlimited reports and custom dashboards.
PipelineDeals syncs with your email client so that you can track and log all your client emails in one place. You can also use the mobile app to view all contact records and activities.
Also, the mobile app allows you to scan business cards and store that contact information.
There are three pricing plans to choose from – Start, Develop, and Grow.
Pricing for the Start plan starts at $29 per user per month, which, however, does not include pipeline and opportunity management.
The Develop and the Grow plan includes more details about the accounts, opportunities, pipeline, etc.
All tiers get access to free US-based customer support.
7. Nimble
Nimble allows users to connect their prospect and client information from multiple sources (email, social media, web) and showcase them in a single place.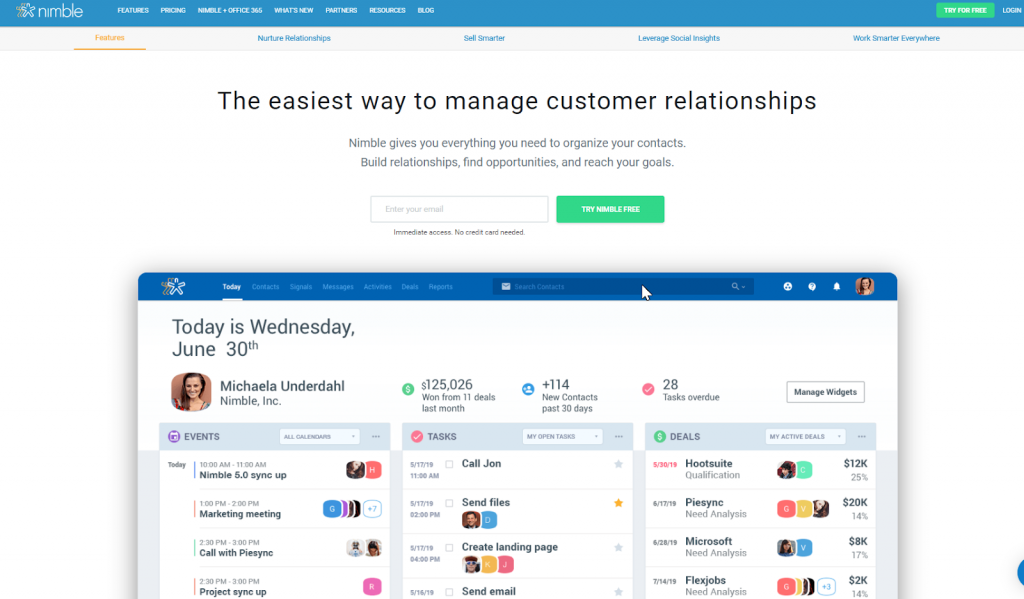 Pros:
Connect lead and contact data from multiple sources.
Details sales insights.
Social media integration.
Work within the email client. (Gmail or Office 365).
Sales Opportunity pipeline.
Cons:
No meeting scheduling or appointment booking function.
No online payment options.
Pricing:
$25 per user per month
14-day free trial
Features:
Unify the data about your contacts from various sources (Gmail, Facebook, LinkedIn, Twitter) in one place.
Get a 360-degree view of your contacts.
Manage your entire sales team's productivity in one place.
Chrome extension to collect insights about contacts from other websites.
Mobile app (iOS and Android) to view all contact and pipeline activity in one place.
Intelligent email tracking to see the most engaged prospects.
Forecasting and analytics to help manage the sales pipeline.
Nimble offers a clean and intuitive contact record that provides all the information you need to know about them in one place.
The CRM allows you to collect information about a prospect from multiple sources such as LinkedIn, Instagram, Hootsuite, etc. and unifies them in one place.
It means you don't have to jump between multiple tabs or screens to see information on a particular contact.
Nimble also offers a 2-way sync with many business apps to save you and your team time.
They have a simple pricing option – $25 per user per month, and it includes all the features. All users get free onboarding and free online and email support.
8. Bitrix24
Bitrix24 has a suite of different tools that helps teams to collaborate using their intranet and extranet solutions. Also, they offer contact management, CRM and project management, and HR management solutions.

Pros:
Free CRM (basic functionalities)
Manage sales funnel, pipeline and reports.
Dashboard and marketing intelligence.
Quotes and invoices inside CRM.
Cons:
Too many features – steep learning curve.
No online payments.
Limited number of appointment scheduling (under the free plan)
Pricing:
Free CRM (up to 12 users)
CRM with additional features – starting at $24 per month per user.
Features:
Full view of all leads, contacts, clients in a single place.
Multi-channel communication -(live chat, phone calls, email, social media ).
Scheduling and Appointment Booking
Send meeting confirmations and reminders
Advanced report on sales activities, pipeline, etc
Automation to boost productivity and close more deals
Bitrix24 is a freemium CRM and the pricing varies based on the features you choose to use.
The free version gives you access to limited functionality such as basic contacts and lead management.
In the premium version get access to more advanced lead management, such as managing your sales pipeline. Moreover you get the ability to send quotes and invoices right inside the CRM.
Another nice feature in the premium version, worth mentioning, is the ability to make phone calls from the CRM, and also manage all your client communications from one window.
The marketing module, that is contained in the Premium package, allows you to run different types of marketing campaigns (i.e. social media, email, SMS, telemarketing, etc.)
You moreover get access to live chat support during business hours in the Premium package.
9. Pipedrive
Pipedrive is a CRM platform known for its intuitive design and user experience and is widely popular amongst salespeople. Today, Pipedrive has over 90000+ customers.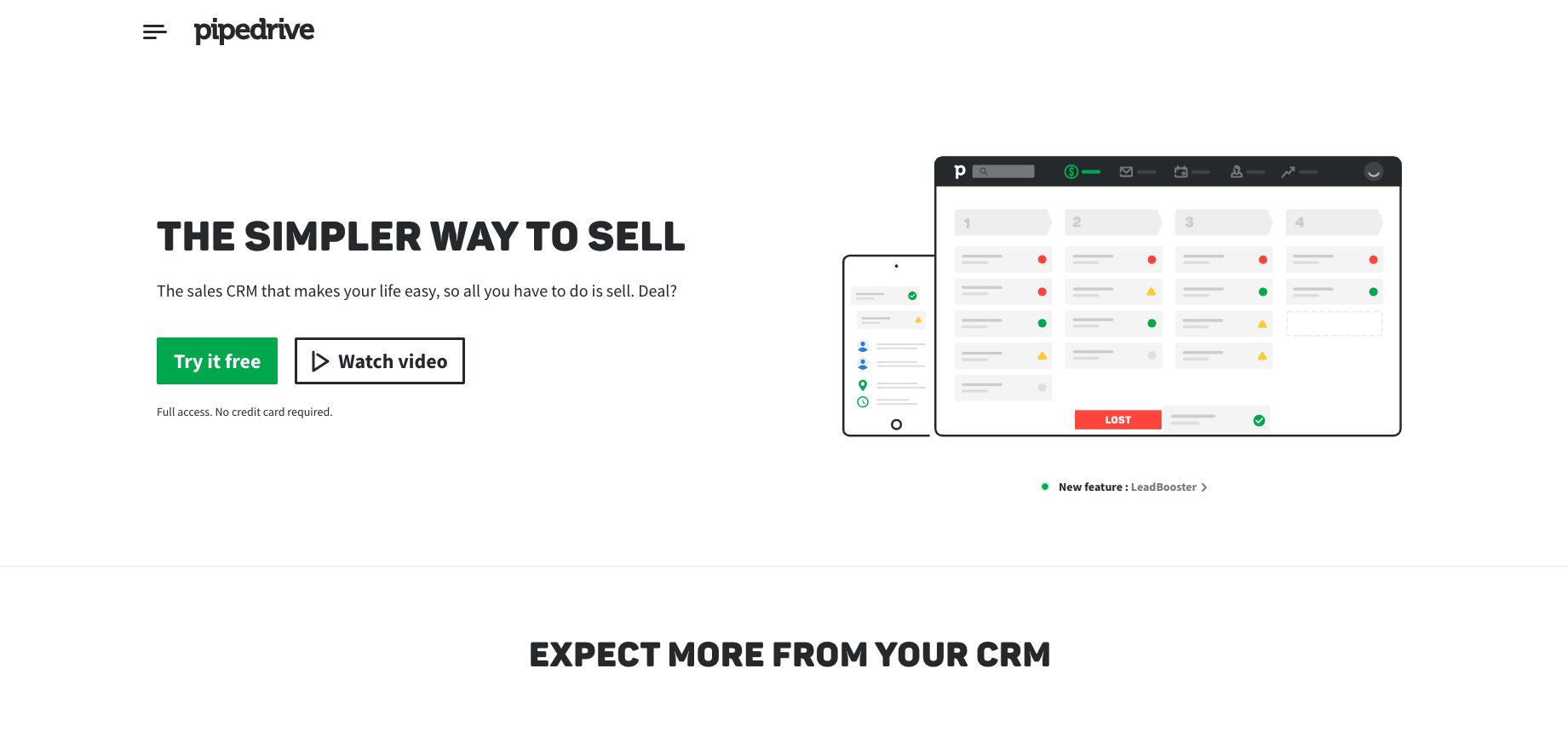 Pros:
Clean UX and intuitive design
Customize contact fields.
Easy data import.
Lead Scoring & Sales forecasting.
Extensive app integrations
Mobile App.
Cons:
No quotes or invoices
No payment options.
Pricing:
Starting at $15 per user per month
14-days free trial
Features:
Customize the contact records based on your needs.
Customize the deals pipeline to suit your company sales cycle.
Sync emails and track all communications.
Schedule meetings using calendar integration(Google, Outlook)
Automate repetitive tasks to save time.
Reporting and Dashboard features
PipeDrive allows you to import leads and deals from spreadsheets or other CRM easily. You can set up 2-way sync between the CRM and your email to ensure that all client interactions are properly tracked between all your communication channels. To enable email tracking, however, you will need to purchase the advanced version ($29 per user per month).
One of PipeDrives' advantages, are their rather advanced reporting features allow you to create custom dashboards. Here you can also set both team and individual goals.
PipeDrive also has a native mobile app (Android and iOS), so you can view all your contacts and activities on the go.
Moreover they have a well-assorted apps marketplace that allows you to install other business tools to boost your productivity and marketing activities.
The pricing plans start at $15 per user per month and increases based on the features and individual customization requirements you may have.
All plans include 24/7 support offered via Chat and email.
10. FreshSales
FreshSales provides the features and tools a small team requires to manage all their contacts and opportunities in one place.
FreshSales currently serves over 15000+ users.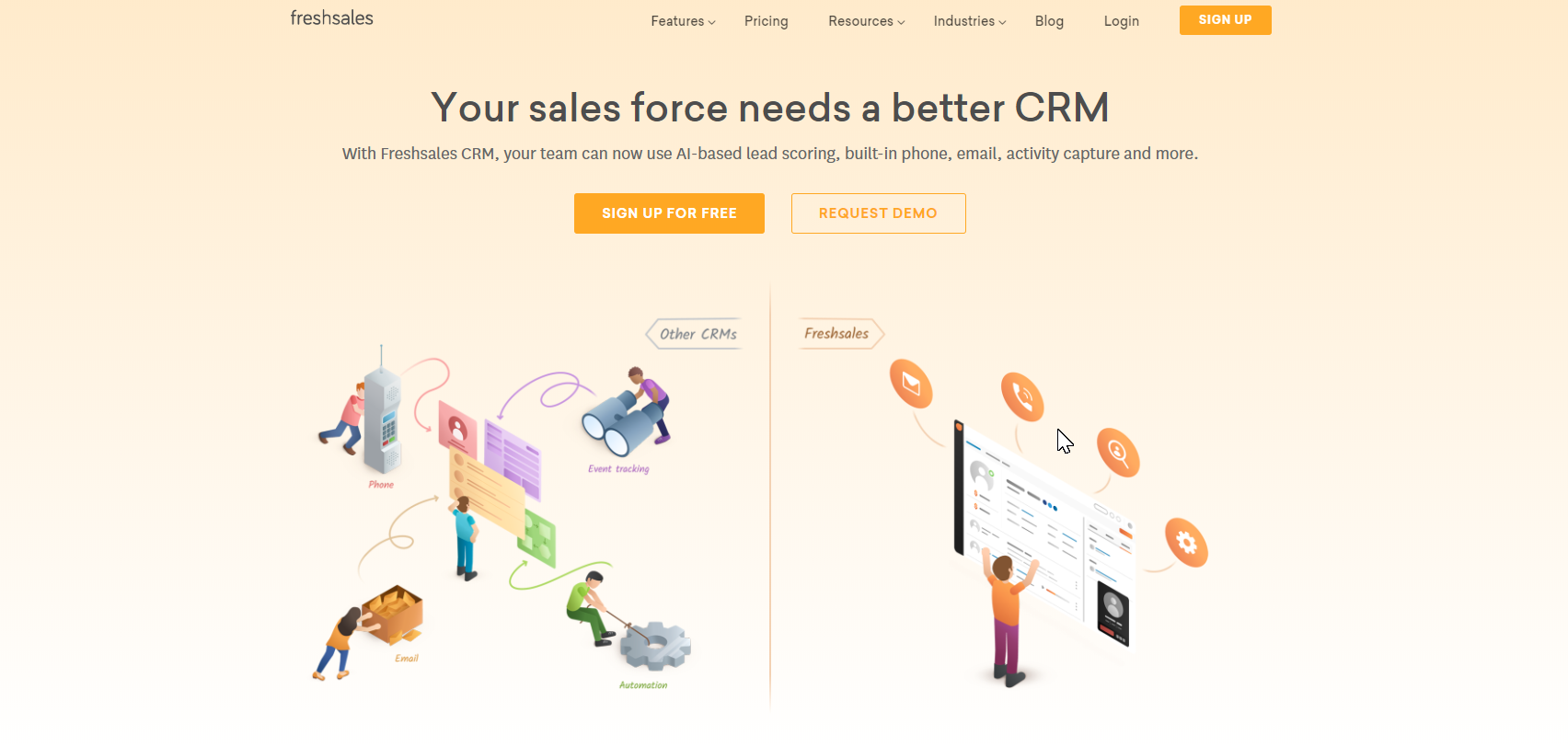 Pros:
Contact and Deal management.
2-way Email Sync.
Lead Scoring.
Visual Sales Pipeline.
Integrations with other software tools.
Cons:
Limited support.
No invoice or payment options.
Limited marketing module
Pricing:
$19 per user per month
21-day free trial
Features:
Detailed view of the contacts.
Communicate (emails, calls) from within the CRM.
2-way email sync.
Email tracking and notifications.
Visual sales pipeline.
Built-in lead scoring to prioritize conversations.
FreshSales allows you to get a 360-degree view of the customer on one screen. You can also segment and organize teams based on the product, geography, deals size, etc.
For sales people FreshSales give you the unique ability to oversee your entire team's sales pipeline in one window. You can also create workflows to automate sales follow-ups to ensure that all leads and opportunities are actioned right away. It's in other words a great project management tool for sales professionals.
FreshSales allows you to track all your email interactions with the help of a 2-way sync. Here you have the option to get real-time alerts on email opens, link clicks, and new emails.
Tracking wise, FreshSales come with some quite advanced BI options, which enables you to create visual reports and dashboards to track & analyze all your activities, deals, revenue, etc. There is also an option to auto-generate reports and have them delivered to you at a set time.
The mobile app allows you to view all contacts and track your sales pipeline on the go.
The marketing module at FreshSales is limited to a simple opt-in function and thus doesn't offer more advanced campaign options.
All plans get 24×5 email, chat and phone support.
Good luck choosing the right CRM solution!
If your small business team is exploring a new CRM – then we hope the review and comparison of the tools mentioned here will come in handy.
Your final choice of a small business CRM comes down to your unique requirements, team structure, and budget.
It is essential also to choose a vendor that can help you scale with the right features as you grow your business.
Choosing & implementing the right small business CRM will help your team to manage all their activities, help you manage your sales pipeline, and grow revenues.