Making the most of your business relationships
When you started your business, you may have managed your contacts using an Excel spreadsheet or the contacts app on your smartphone. However, as the business grows, you'll quickly find that these basic tools are too limiting and you need a dedicated contact management software to store, organize, and track information about your prospects, leads, and customers as well as employees, vendors, and other key personnel.
Benefits of contact management software
Contact management software stores important information about clients, leads, employees, and other business contacts in a single app, so you can easily access it and, when appropriate, take steps to strengthen the relationship. In addition to supporting more meaningful communication with contacts, the best platforms make your sales and marketing efforts more successful by:
Letting you respond faster to new leads. Start a dialogue in seconds!
Adding leads directly into your CRM, where you can tag them for follow-up.
Identifying where leads are in the sales funnel so you can cultivate them more effectively.
Storing client purchase history so you can provide targeted and personalized offers and services.
Allowing you to interact with contacts on the go- share files, accept payments, and schedule meetings.
With data privacy being a central concern, you also need a CMS that encrypts and stores contact data in accordance with regulatory bodies like General Data Protection Regulation (GDPR) and Health Insurance Portability and Accountability Act (HIPAA).
In this article, we'll go over the 5 best contact management software for small businesses and the unique value propositions for each one.
1. vcita
vcita is a scheduling app with contact management features that let you get the most out of your business relationships.
Pros:
Manage all of your contacts in a single app
Funnel leads directly from your website
Data handling is compliant with the Privacy Shield Framework and is HIPAA compliant too.
Cons:
Users who want automated marketing features like email and SMS campaigns have to upgrade to the Business Plan.
Pricing: The Essentials Plan, which includes the client management features, is only $19 USD per month when billed annually. A 14-day free trial is available.
Features:
Client manager that imports existing clients while adding new ones
Custom contact forms
Mobile CRM app
Automated appointment notifications and payment reminders
Over 100,000 service-based businesses worldwide use and trust vcita, and it's easy to see why. vcita's comprehensive contact management features are packaged into a single convenient app, saving you time while you nurture the relationships that matter most to your business.
If you've been storing client information on your phone, in your Gmail account, or on a spreadsheet, vcita smoothly imports everything so you can start building on those relationships. The software also:
Delivers data from custom contact forms directly into your CRM, so you and your team can quickly evaluate new leads and take steps to convert them into long-term clients.
Captures important activities like messages, appointments, and purchases, so that you can personalize communication and marketing efforts.
vcita has a reputation as one of the best contact management software for small businesses. Unlike ebCard, its basic plan includes many of its strongest features, and it is not tied to a particular platform (unlike Copper), so any small business owner can easily adopt and customize it to meet the needs of their company.

2. ebCard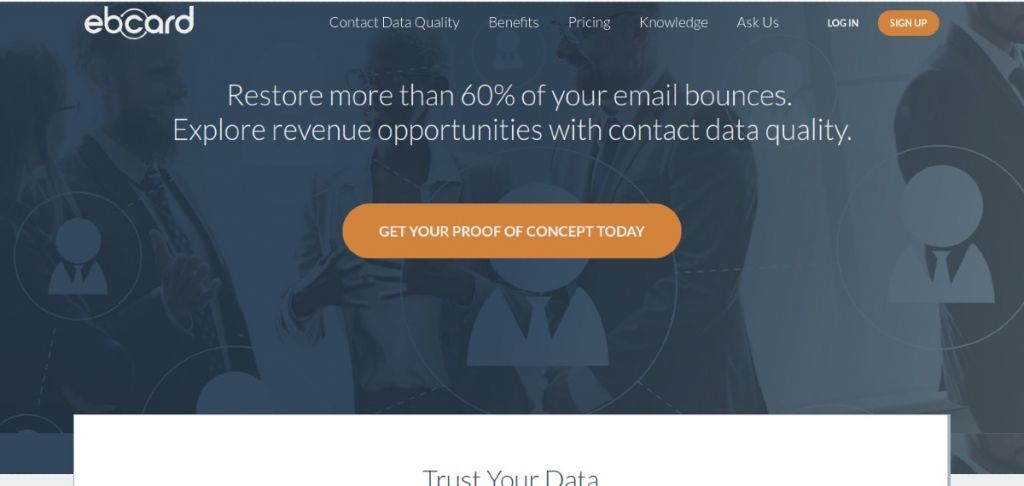 ebCard is a contact data quality platform that collects data from multiple providers to efficiently build and maintain a comprehensive CMS.
Pros:
Collects data from multiple sources
99% data capturing accuracy
Checks data for missing information
Cons:
The Essentials Plan does not include lead capturing, cross-platform synchronization, or custom lead management. To obtain these features, upgrade to the Professional Plan.
Pricing: The Essentials Plan is $229 USD per month (billed annually). The Professional and Prime Plans are custom-priced per user.
Features:
Real-time synchronizing with your CRM, sales and marketing tools
Custom property management to personalize and qualify leads
Duplication monitoring during data entry
Missing attribute completion (e.g. emails, phone numbers)
ebCard is mainly a data quality software with a basic version that checks the validity of collected email information. Small business owners seeking to get the most insights and benefit out of their content management software will have to upgrade to the Professional Plan, but the advanced features will help you to:
Identify the potential of qualified leads
Transform contact information into actionable insights
Increase ROI on sales and marketing campaigns
Make more accurate revenue projection
Unlike vcita, there does not appear to be a free trial available for ebCard. It also does not have automated client support features like appointment and payment reminders, but its emphasis on data integrity leaves business owners with reliable information to work with.
3. Keap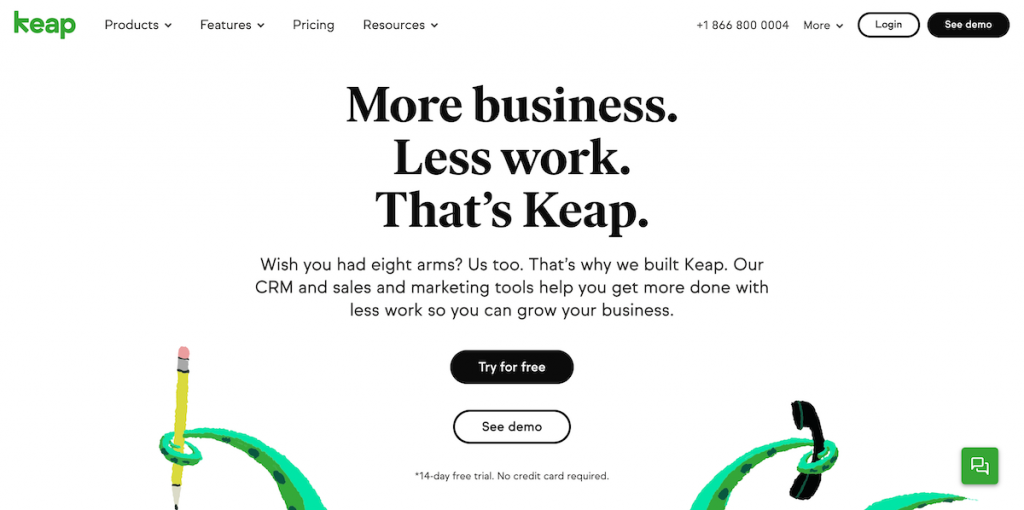 If you're a small business owner who still wears multiple hats, Keap is a convenient and central resource for your contact management and marketing activities.
Pros:
Generates highly personalized communications
Pulls contact details from multiple sources
Data processing is GDPR and HIPAA-compliant
Cons:
The basic plan price is $79 per month, which is higher than some providers charge.
Pricing: Keap Grow, which includes a full suite of client management tools, is $79 USD per month. One-month free trial available on all packages.
Features:
Connects to Gmail and Outlook to automatically update contact records
Automatic response to new leads
Smart Forms collect specific information
Contact tags support easy categorization
Trusted by small businesses of all types, Keap treats contact management, sales, and marketing as a unified process. It promptly responds to both existing contacts and incoming leads with personalized communications that inspire action and sales.
Keap pulls client contact information from multiple sources (your smartphone, a spreadsheet, a web contact form, etc.) and connects to your Gmail or Outlook inbox to update your contact records every time you send or receive an email, so you always have an up-to-the-minute overview of your business relationships.
Like vcita, Keap has a scheduling capability that makes it easy for you and your clients to quickly identify convenient meeting times. It's a great software that keeps your business running as you gradually build your team.
4. Copper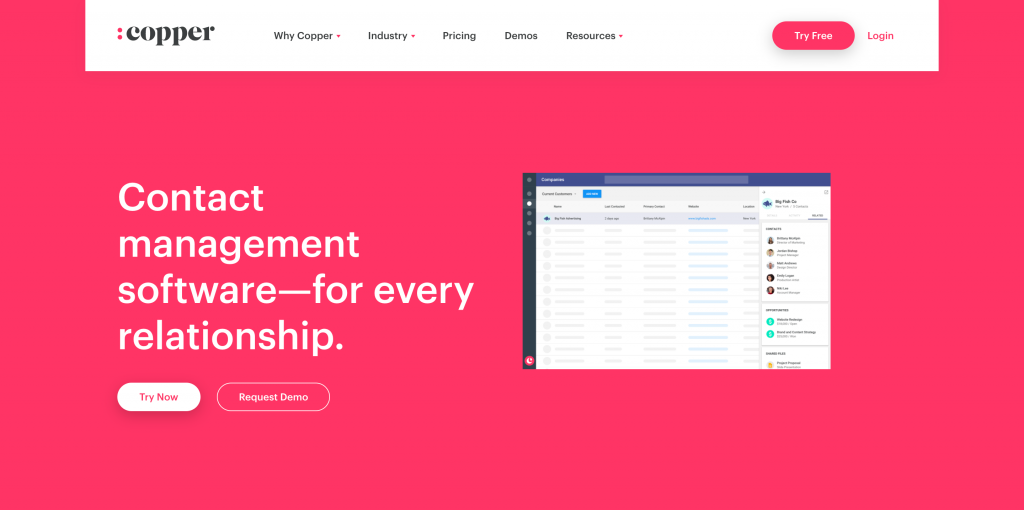 Copper is a contact management solution that integrates with all GSuite products, providing additional relationship management functionality to GSuite users.
Pros:
Manages all of your GSuite assets in one place
Automatically pulls in contact details like phone numbers, email addresses, and social media
Tag, filter and sort leads and clients by any criteria
Cons:
Task and workflow automation not available with basic plan.
Pricing: The Basic Plan is $19 USD per user month for up to three users. Free 14-day trial available.
Features:
Real-time feed of contact and account activities
Lead qualification
Notification when emails are opened
Custom field capability for contact profiles
Contact tags for easy relationship categorization
If you've been using GSuite to manage your business files and communications, Copper organizes all of your files, notes, calls, and emails so that you have a single overview of each client relationship. It even searches the Internet for you to find and record social profiles, company information, and more.
Copper's versatile tagging feature enables you to tag, filter, and sort all contacts by any criteria that makes the most sense for your business. You can then use this information to send targeted communications and be notified when these messages are opened.
Being a GSuite accelerator, Copper may not be suitable for small business owners who don't use Google tools, but if you do, you'll likely find it indispensable during your relationship building efforts.
5. Solve360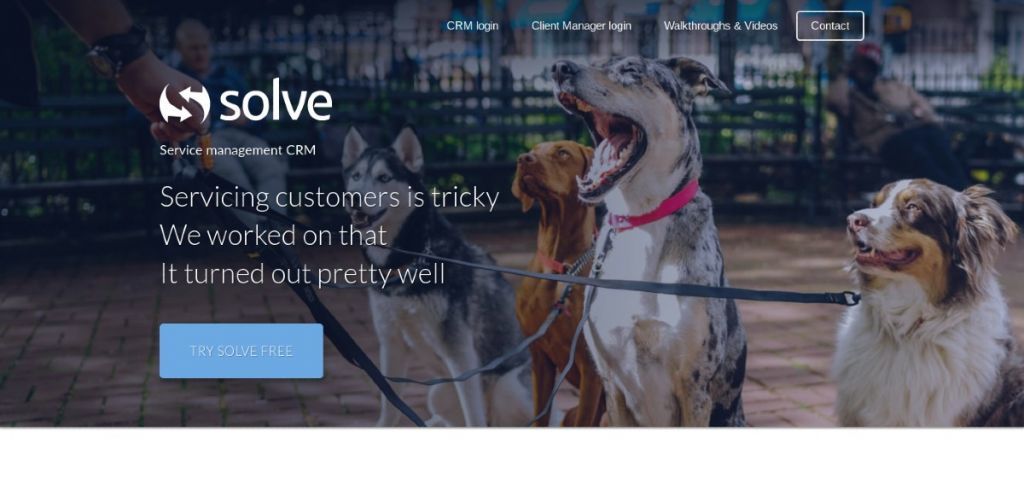 Solve360 has a lot of powerful features designed to help you make the most out of your contact management, scheduling, and sales processes.
Pros:
Has several points of integration with GSuite
Customizable fields and category tags
Create company 'communities' for contacts from same business
Cons:
Solve CRM plan requires a minimum of four users.
Pricing: Solve Client Manager is $25 USD per month while Solve CRM is $25 USD per user month, with a minimum of four users. Free 14-day trial available.
Features:
Apps available for iPad, iPhone and Android
Activity templates for routine processes
Integrates with apps like Constant Contact, Zendesk, and Freshbooks
GDPR-compliant data processing and storage
Solve 360 is a productivity CRM consisting of three plans: Solve CRM, Solve Client Manager (which includes a web portal) and a combination of both. You can use it to capture information and store data on contacts, companies, projects, and even cases and jobs across a variety of service industries.
Google Calendar and Gmail integrations make it easier for you to schedule activities across different resources while keeping all information and activity history centralized. Although Solve 360 is primarily a business planning, scheduling, and resource management software, it is similar to vcita in that its contact management capabilities are robust and not a mere add-on.
Conclusion
The best contact management software for your small business will depend on its needs. If you're a dedicated GSuite user, Copper or Solve360 will blend seamlessly into your daily work processes. If you're gaining momentum fast and want advanced features like web portals and payment processing, vcita is a great option, while ebCard and Keap will build and manage detailed client records that improve sales and marketing strategies.
Business has always been about good relationships. In their individual ways, all five of these software packages will bring your interactions to a whole new level.