Unexpected phone calls. A constant flow of texts and emails. People dropping by to inquire about classes, upcoming shifts, and other events integral to your business. How can you keep on track with so many interruptions each day?
An online schedule maker helps you plan your activities so that you can tackle priorities and achieve goals despite these demands on your attention and time. Below are some examples of how they can be applied in academic and business environments:
Students can keep track of class times and exam periods
Professors and teachers can plan the academic year
Business owners can create and share meeting times and employee work schedules
Fitness, gym, and yoga instructors schedule and advertise their classes
No matter whether you're a student, educator, or small business owner, you need a scheduling tool that you can customize to meet your needs. The best tools can automate the process by syncing with your Google Calendar and Gmail so that meeting times, classes hours, and work schedules can be generated and shared effortlessly.
Here are the best schedule maker tools for 2021, along with details about how they can help you be proactive and stay on track.
Best schedule makers for service providers and college professionals
Whether you are a college staff, professor or service provider you need an effective scheduling solution to accept appointment and registrations for events, services, classes or supervision.
Whether you run a small consultancy business, teach at a college or university, you rarely have 'down' time during the academic semester or work week. From the moment you get up, you're preparing for classes, meeting with clients, and planning for winter and spring exams.
With so many competing demands on your time, you need a schedule maker that practically manages itself. The ideal tool will sync with your GSuite account so that your public schedule always displays and adjusts itself in real-time. When students or clients book appointments or class times are changed, you always know what lies ahead and can prepare accordingly.
1. vcita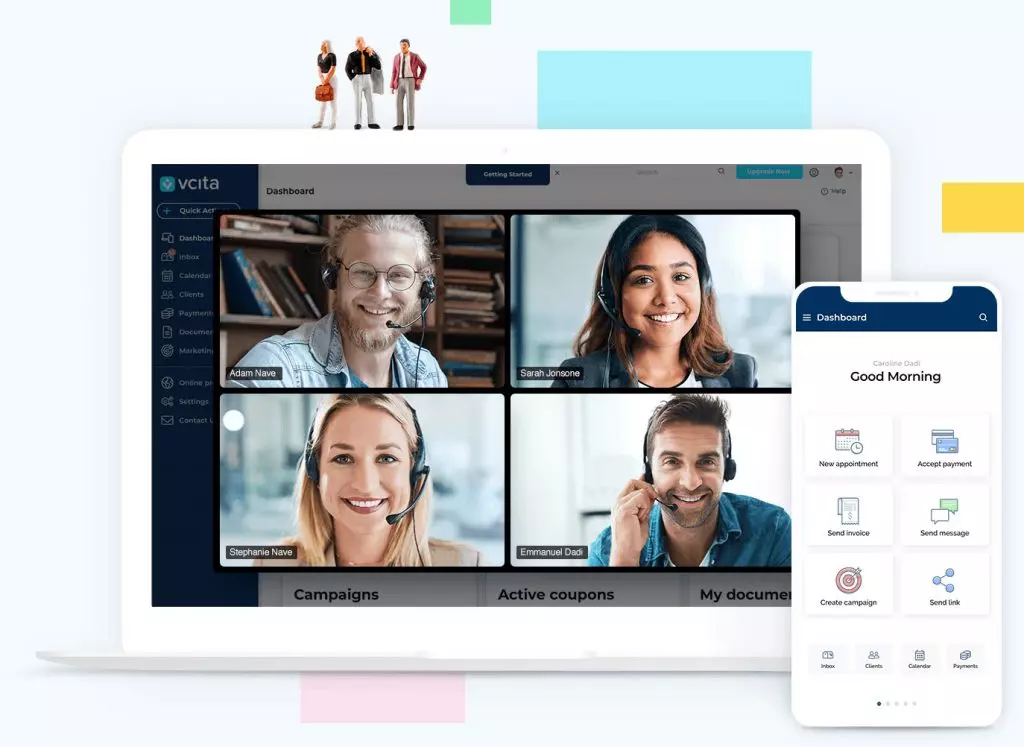 Features
Students and faculty can schedule meetings 24-7
Zoom integration that allows you to accept appointments and host classes and events via Zoom
Automated meeting and payment reminders
Online portal for sharing course material
Stripe and Paypal integration to pay for classes or material
Syncs with your existing calendar software to create an accurate schedule
Create and manage group events like research studies and workshops
Cons
SMS notifications are not available with basic plans

Pros
Students and faculty can schedule meetings 24-7
Schedule button (widget) you can add to your website, social channels, Google Maps and many other places
Automated meeting reminders
Online portal for sharing course material
Stripe and Paypal integration to pay for classes or material
Syncs with your existing calendar software to create an accurate schedule
Create and manage group events like research studies and workshops
Pricing
14-day free trial
$From 19 USD/Monthly
Vcita is a versatile schedule maker and class registration softare, widely used by professionals in academia and service providers. Vcita comes with a vide range of automated features that makes it an ideal calendar management, appointment scheduling and class registration tool, widely used for professors, business consultants, home services, tutors and many other service providers. It syncs with your Google or Outlook calendar to create a consistently accurate public schedule, sends notifications and reminders of upcoming meetings to prevent no-shows, and even has a secure client portal where you can share course material, accept and manage payments and see all upcoming and previous appointments and payments per student or client.
College and university professors are busy enough during the school year without having to constantly respond to meeting requests, deal with no-shows, and cope with an unexpected double-booking. Vcita manages the scheduling process for you so that you don't have to let these details take your focus away from your academic obligations.
If a student needs to meet to discuss course material or a thesis subject, they can review the public calendar posted on your faculty profile or other public location and choose an available time slot. Once they've claimed it, no one else can request the same time and all attendees receive automatic reminders, which reduces the likelihood of no shows. Should one of you have to cancel for any reason, rescheduling is as simple as choosing another convenient time slot.
Unlike other scheduling software vcita offers you a detailed service menu, that gives students the option of selecting the reason for the appointment, such as academic concerns, a thesis review, or career development consultation. They can even upload supplementary files via the client portal to help you prepare for the meeting.
Moreover one of vcita great offerings are the ability to collect online payments and accept event registrations and appointments in one seamless flow. Choose whether you would like to accept pre-payments or collect payments after the service or course have taken place. Vcita syncs with a wide variety of online payment options, i.e. Paypal, Square, Credit cards etc. Moreover vcita can be set up to send automatic payment reminders per SMS or email, with a user-friendly payment link, that allows your students or clients to pay directly from their mobile.
Vcita has in 2021 more than 1.4 mio users worldwide. Right now you can get a free trial for 14 days. No commitment. No credit card needed.
Best Schedule Makers For Students
If you're attending college, a good schedule making app will help you manage your busy academic and social calendars. Once all of your course registrations are confirmed, use your scheduler to:
Populate your weekly course calendar. If this is your first year, you can even set up automatic reminders so that you don't forget to attend class.
Schedule study times. Having a routine makes it easier to get into 'study mode.'
Schedule personal activities, like coffee dates, trips to the gym, grocery shopping, and other things that are part of college life.
These two schedule makers are inexpensive, easy to use, and can help you make the most of each academic year. Note that the 2 tools below are template solutions, meaning they are not scheduling software, but solutions you can use to create calendars you can print and organize your semester or study schedule.
2. Adobe Spark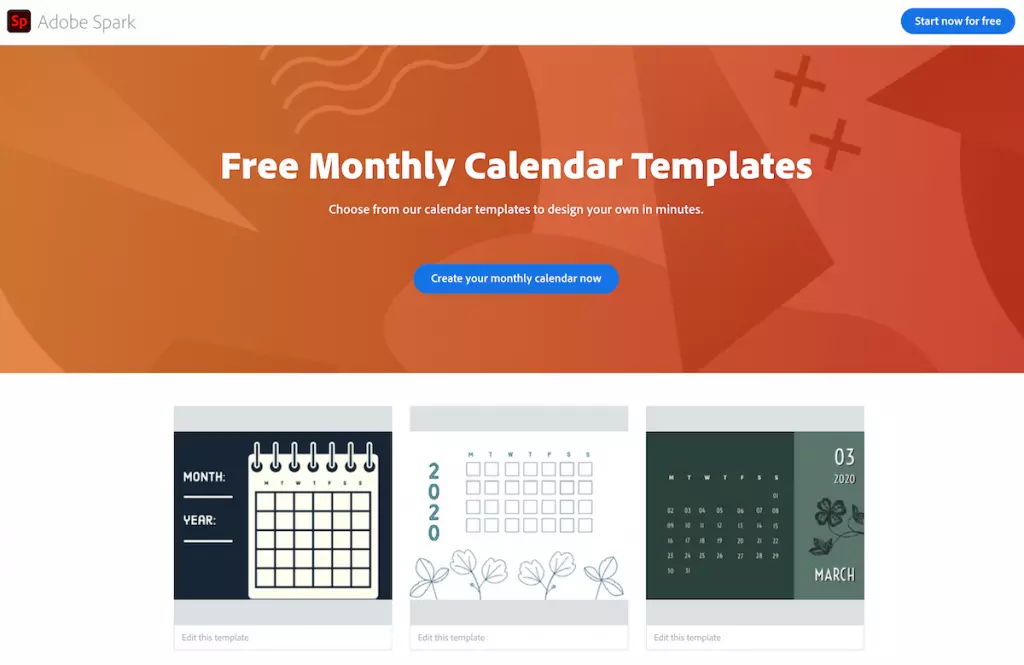 Adobe Spark, a mobile design app, comes with a schedule maker that helps you build a daily or weekly schedule. You'll be able to personalize it without any graphic design or programming skills.
Adobe Spark has a well-deserved reputation as a social influencing tool. It is regularly used to create short videos, web stories, and infographics, but its capabilities also include college schedule making.
The Spark Post feature offers several ready-made templates that are beautiful, functional, and easy to customize. Over one million free photos and graphics are available to let you add your own unique touches to your schedule, or you can upload your own images. As you change the layout, font, and imagery, the preview mode displays the results, so you can keep adjusting until you're completely happy with the results.
Once you're done with the layout, your new college schedule is easy to update and share with friends and family. If you want to remove the Spark logo or access live chat and phone support, you can upgrade to a paid plan.
Cons
Some limitations with the free starter plan
Product support only available with paid plans
Pros
Accounts are easy to set up using your Adobe, Facebook, or Google profiles
A suite of other apps and tools are bundled in, including worksheets and DIY flashcards
Pricing
No free trial
$9.99 – $19.99
Features
A wide variety of beautiful schedule templates available
Personalize your template with custom fonts, colors, and layout
Thousands of royalty-free graphics, images, and photos available
Interface has an easy-to-use drag and drop functionality
Share your schedule to all your social media accounts to keep friends and family up to date
Calendars can be downloaded and printed
3. Visme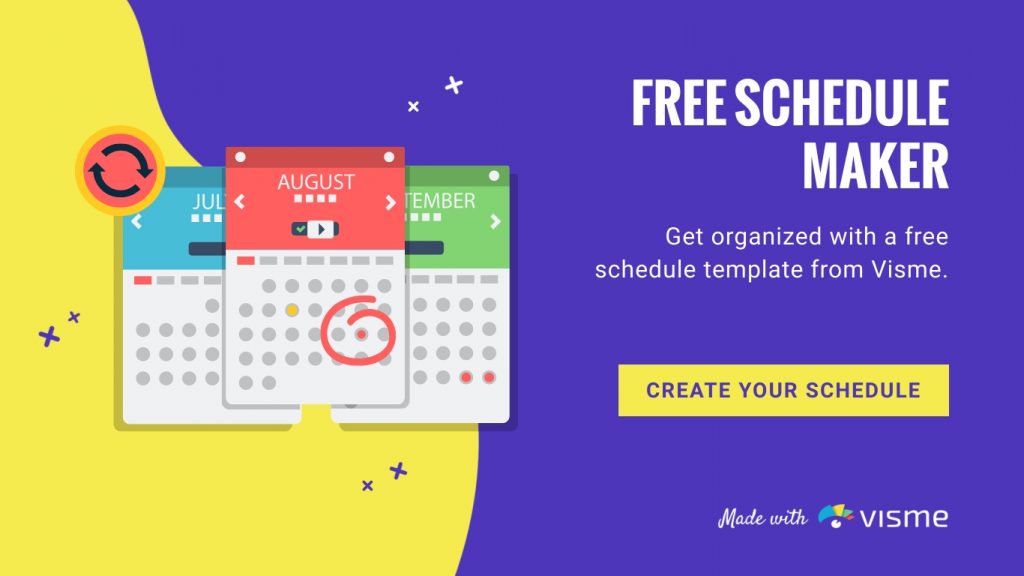 Visme is a one-stop solution for visual marketers, who use it to translate bland data into sophisticated and impactful infographics and presentations. It includes a fully-customizable schedule maker that produces equally beautiful and effective college schedule calendars you can print and use to organize your college schedule.
As a template website, Visme makes it easy for non-designers to create presentations, charts, and reports quickly and easily. Its built-in schedule maker lets you create a visually appealing college schedule that outlines your daily, weekly, and monthly activities.
You don't need any programming or graphic design ability to use Visme. All you have to do is choose a template, create a color palette, and add your college schedule details. The table maker tool lets you assign colors to time blocks, resulting in an easier visual overview of the week ahead. You can even add photos, icons (your own or from the Visme library) and your school logo.
Visme calendars are easy to save and share. You can print them out, email them, and share the URL. Support is available via an online knowledge base and contact page.
Cons
No available app for editing through your phone.
Fewer design elements than other schedule makers.
No automation – purely a template tool.
Pros
Easy to use by dragging and dropping icons.
Easy download as an image file or PDF.
Online knowledge base with how-to tutorials.
Pricing
No free trial $ 25 – 75 Monthly
Features
Several colorful templates to choose from
Schedule elements are fully customizable
Intuitive blocking to identify and organize all classes and activities
Free stock photos available (users can also upload their own images)
School logo can be added to student schedules
Schedules can be shared online by embedding them on blogs or websites
Best Employee And Work Schedule Makers
Managing employees can be time-consuming and complicated. You have to call around or send a flurry of texts to confirm availability, and even after you build the schedule, staff can call in sick at the last minute or simply not show up, forcing you to start calling around again.
Using an employee schedule maker can automate many of these tasks, saving you both time and money and eliminating errors in scheduling.
Depending on your business or industry, there are several different types of work schedules that determine the days and hours that employees are scheduled to work. Decide which of these work schedules are best for you when planning and organizing employee shifts:
Full-time schedule
A full-time schedule is based on working five days each week with an 8-hour day, typically 9 a.m. to 5 p.m. Most employee scheduling apps are based on a full-time schedule.
Fixed hours schedule
With a fixed work schedule, employees are working full-time, but their schedule is set for alternative working hours, such as Wednesday to Monday from 11 a.m. to 6 p.m. Organizing your work calendar for fixed hours lets you build your schedule ahead of time since the shift for these employees never changes.
Part-time and flex schedule
With a part-time schedule, employees work less hours than full-time workers. The reduced hours mean that employees may only work two to three days per work for 8 hours each day. Or they may work 4 hours a day spread out over multiple days. Part-time employees mean customizing your scheduling software to accommodate 4-hour shifts.
Rotating shift hours schedule
Shift hours are typical for businesses that operate 10 or more hours each day. Rotating shifts are required to fill the hours you're open which means you'll need to customize your scheduling software to ensure that all times are covered.
Freelance schedule
If your business hires freelance workers, you may want to include them in your scheduling app. Paid by the hour or by project, keeping track of freelance time worked can help you manage your business more effectively.
Seasonal schedule
For businesses that operate seasonally, customize your schedule for these dates and hours of operation. Some businesses are open year round but require more employees to work during the holidays. Schedulers make is easy to add employees when needed, removing them from the schedule when seasonal work is complete.
On-call schedule
Create separate schedules for employees who are on-call and only required when in demand.
Unscheduled employees
Some employees have a specific job task they need to complete but they can set their own hours of work. Scheduling software helps you keep track of these hours for your own payroll records.
Overtime schedule
Schedule makers should include the ability to track overtime worked by your employees. This way you can see where you can keep labor costs down by scheduling more employees to avoid overtime hours.
The software below can generate and manage different types of work schedules, from full-time to freelance, seasonal, and on-call.
4. OpenSimSim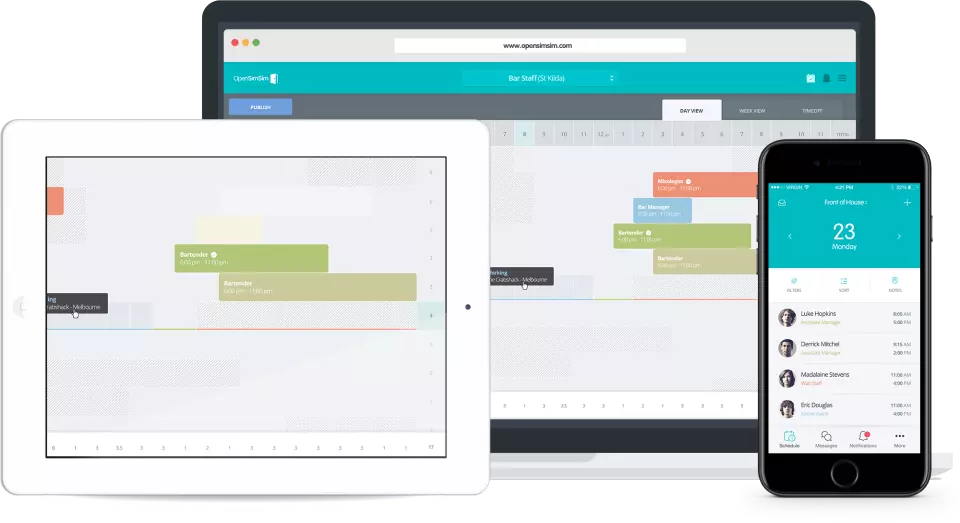 Designed for employee scheduling in the retail, hospitality, and restaurant industries, OpenSimSim makes it easy for employers and managers to schedule workers, cover shifts, and control costs.
If you run a business in hospitality or retail where you have to manage a big staff count, OpenSimSim can help you create a schedule based on employee availability and share it with your entire team. Employees can swap shifts, claim shifts that suddenly become available, and receive notifications every time the schedule changes.
OpenSimSim is easy to set up and use. Each employee profile includes their personal information and pay rate, which helps you control labor costs. The premium plan can ensure compliance with labor laws by sending automatic break reminders to staff and managers and alerting you of overtime hours and costs. You will even get a notification if anyone clocks in early or late.
Employees will get automatic reminders before their shift, reducing the frequency of late arrivals and missed shifts. The messaging function lets you send individual and group messages, making it easier to communicate with employees directly and send team announcements. If you run into any issues, chat support is available 24-7.
Cons
Free version has more limited features
Pricing is not a flat rate
Pros
Staff punctuality and overtime reporting available
Employees can swap shifts
Track paid and unpaid breaks
Pricing
$2.99/Monthly
Features
Create and manage schedules for hourly and shift workers
Daily and weekly views
Easily manage shift replacements
Quickly view and manage open shifts
Manage time cards and payroll
POS system integration
Detailed reports on labor costs and schedules
Online setup user guide
5. Planday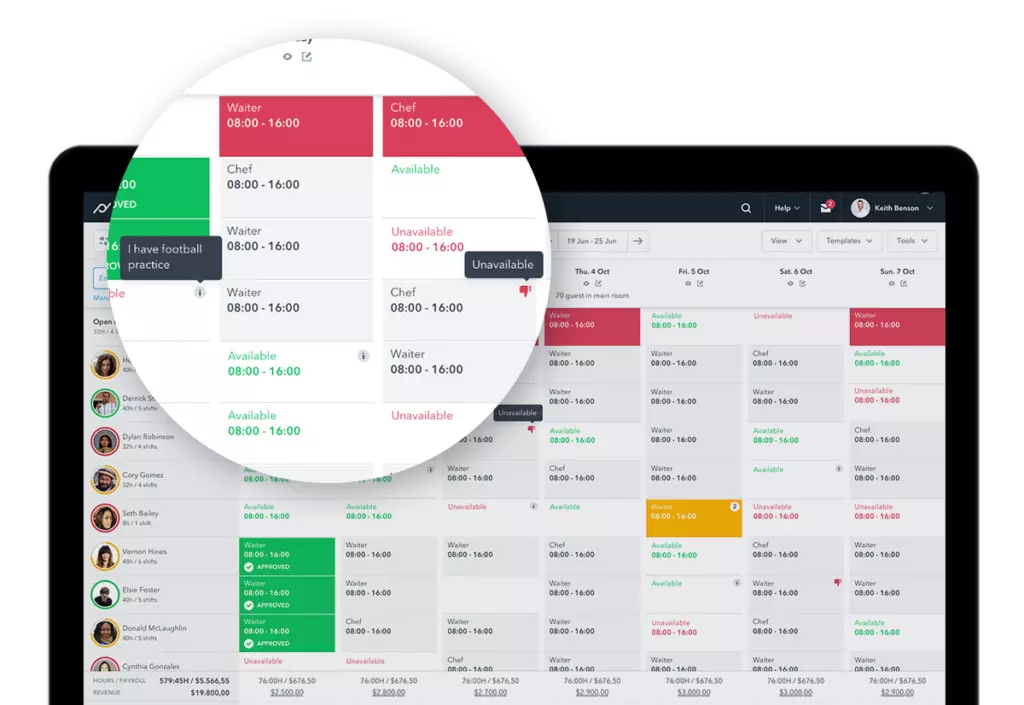 A scalable cloud-based platform for employee scheduling, Planday is designed for both small and medium sized businesses. If workweeks rarely vary, you can create a template based on an existing schedule and use your employee's self-reported availability to populate it.
When you're growing your business and need a schedule that practically creates and runs itself, Planday delivers. Employees can provide you with their availability, which helps you avoid scheduling conflicts, and once the schedule is made, they can swap shifts if necessary without you having to get involved.
The Punch Clock feature lets your employees use the app to clock-in when they start their shift. You can set up location-specific clock-in parameters, so they can only use the punch clock when they're actually at work and/or connected to the company WiFi.
One Planday feature that business owners find especially valuable is the financial report that accompanies each schedule. You can see at a glance whether you're on track with the company payroll budget. Another owner-friendly feature is the compliance warning system, which alerts you when shifts are too close together or an employee has been scheduled for too many hours.
Planday is easy to set up and use, but if you require assistance, telephone, email, and chat support are available.
Cons
Overtime tracking and notifications not available with Starter plan
Pricing is not a flat rate
Pros
Provides financial insights needed to control payroll costs
Employees can report availability and trade shifts
Send automated shift reminders
Pricing
30-day free trial$2-4 per user/Monthly
Create templates using frequently-used schedules
Each schedule includes a financial report
Build weekly, biweekly, and monthly overviews
Employees can report availability and trade shifts
Individual and group messaging
Integrates with popular financial software such as QuickBooks, Flow, and ADP Payroll
Best Gym and sports club schedule maker
If you are a fitness or yoga instructor, you face unique scheduling challenges. Not only do you manage group classes, you also work with clients one on one. A quality gym class schedule maker will make your life easier by:
Indicating your availability for consultations and sessions
Allowing clients to book online
Posting class dates on a public calendar
Helping you track attendance for upcoming fitness classes
Limiting the number of class slots available to prevent overbooking
Sending automatic reminders to reduce no-shows
6. Playpass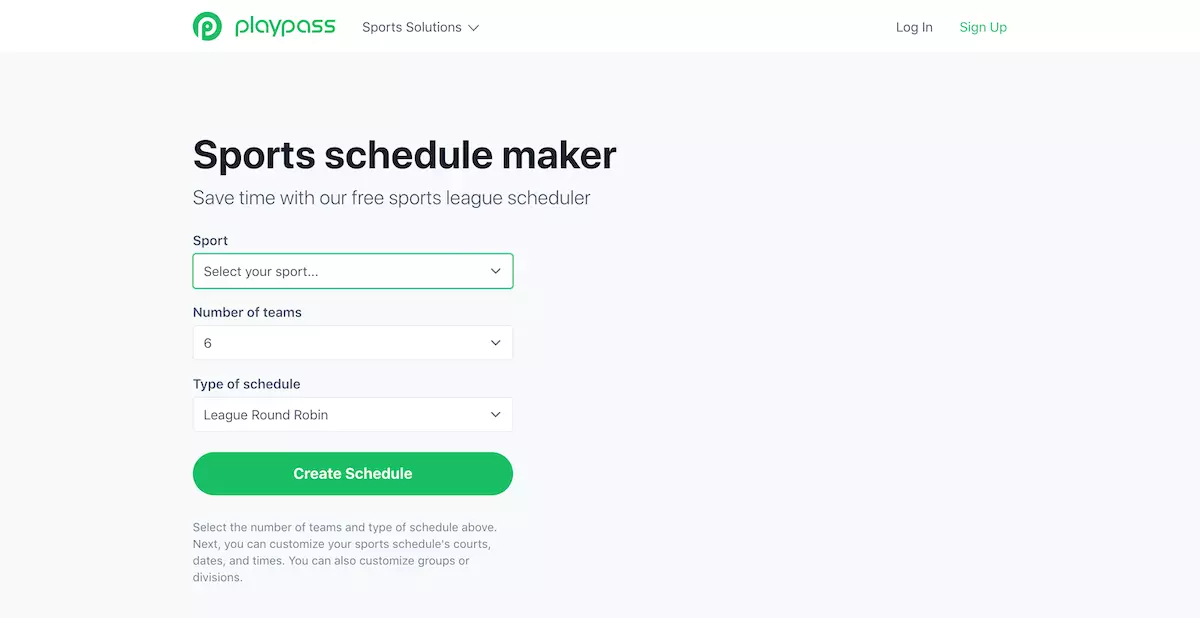 Playpass is designed for small and medium sized businesses that host sports tournaments, weekly leagues, and community events. Using the schedule maker, you can create an event schedule, register players, and even collect signed liability waivers.
Playpass has a lot of powerful sports-specific features, but it's beginner-friendly. After selecting a sport or fitness activity and the number of participants, you can choose to create a League Round Robin or single/double elimination tournament. Once the schedule is ready, you can share it publicly.
Playpass makes it simple to add and remove games quickly and track all scores and games standings online. Customize each of your schedules by adding logos for each team. You can also build custom website pages that provide useful information about the game. Should you need assistance at any time, you can consult the online knowledge base or email Playpass.
Cons
Public schedules not available with free version
1-3% registration fee
Pros
Can be used for a wide range of sports
Collects and stores liability waivers
Customize schedules with team logos
Free version available
Pricing
7-day free trial$10.75 – 100/Monthly
Free Sports league scheduler covers multiple sports types
Set dates, times, and game duration
Schedule for multiple courts and groups or divisions
Track scores and standings online
Schedules are publicly available
Add playoffs to league schedules
Upload and share documents such as facility rules and signed waivers
7. Timetap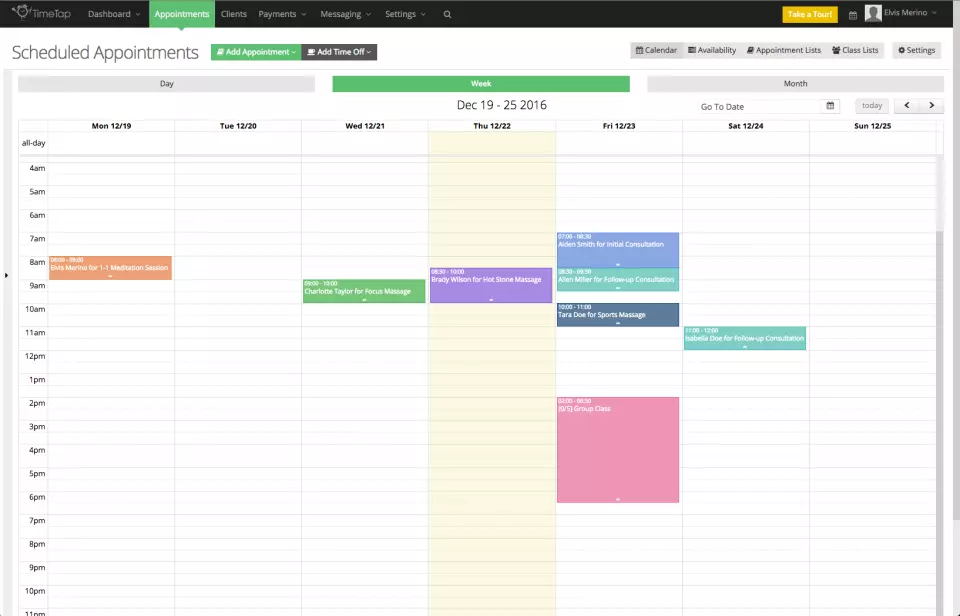 Used by a wide variety of businesses and organizations, Timetap is an online scheduler that lets you set your schedule for fitness, yoga, and gym classes.
If you're a fitness instructor or run your own gym, Timetap makes it easy for clients to book and manage their appointments and classes. It can also handle multiple trainer schedules and ensure that your personal training commitments don't conflict with your classes. If you make your facility available to outside trainers, Timetap offers an online reservation system that they can use to book rooms or equipment.
Are you just starting out? Timetap lets you run promotions on specific classes or services to encourage attendance or attract new clients. If you want your schedule to only be available to members, clients can receive unique login credentials to access the schedule and manage their bookings.
No matter what industry you work in, these best schedule maker tools for 2020 can simplify the way you do business. With calendar management off your plate, you're free to explore, expand, and achieve your next milestone.
Cons
Paid plans are more expensive than many other scheduling tools
Free version lacks important features like calendar syncing
Pros
Automates appointment waitlists
Schedules can be embedded on websites and social media platforms
Clients can book online 24-7
Free version available
Pricing
$ 24.95 – 74.95 Monthly
Syncs with external calendars like Google
Alert reminders and notifications for clients
Manages individual and group bookings
Supports recurring appointment bookings
Book across multiple locations
Accept online payments via Paypal or credit card
Disclaimer forms and waivers available
If your business or industry doesn't fall into any of the categories here, or if you're looking for an online free schedule maker tool that you don't need to sign up for, there are several fundamental tools available.
No matter what schedule maker you choose, these tools are effective in creating your own personal schedule that you can use to keep track of your daily, weekly, and monthly agenda. Whether it's for you, your employees, or your clients, the right scheduling tools can simplify the task of organizing your life and business.