Most marketing tools aim to communicate something important to a client: a special sale, a new service, or a brand identity. Yet it's also important to ask yourself: how easy is it for your client to communicate with you? According to a recent pwc survey, most customers value communication and efficiency in customer service. In other words, the easier it is for your clients to access your service, the more likely they are to be repeat customers. Having a WordPress customer portal that lets them schedule meetings, make payments, and communicate 24/7 will make your customer service exponentially more efficient—and the best part is, you don't even need to hire a customer service rep.
What to look for in a WordPress client portal plugin
 WordPress client portal plugins are software that lets you extend the functionality of your website so your clients can login and manage their accounts. The best client portal plugin for any business is relative—it's the one that has the features the business needs. For example, a salon owner might want a client portal that lets clients update payment information, schedule a new appointment, and select a preferred stylist or haircut. If you're a business coach, you might use a client portal to sell ebooks on your site in addition to appointment booking—so document sharing capabilities would be important too. Client portals often let you communicate directly with clients, and the record of your interactions can be an important tool when it comes to creating personalized marketing communications in the future.
Another important feature (that often gets overlooked) is the ability to sync existing contacts into your client portal. If you already have a number of clients in a CRM or spreadsheet that you want to import into your new plugin, the ability to sync your contacts can be a huge asset, saving you both time and the risk of making typos. Overall, it's a good idea to weigh the benefits and drawbacks of each option so you can make the right decision for your business. Below are five of the best client portal plugin options, and who they're best suited for.
The 5 best WordPress client portal plugins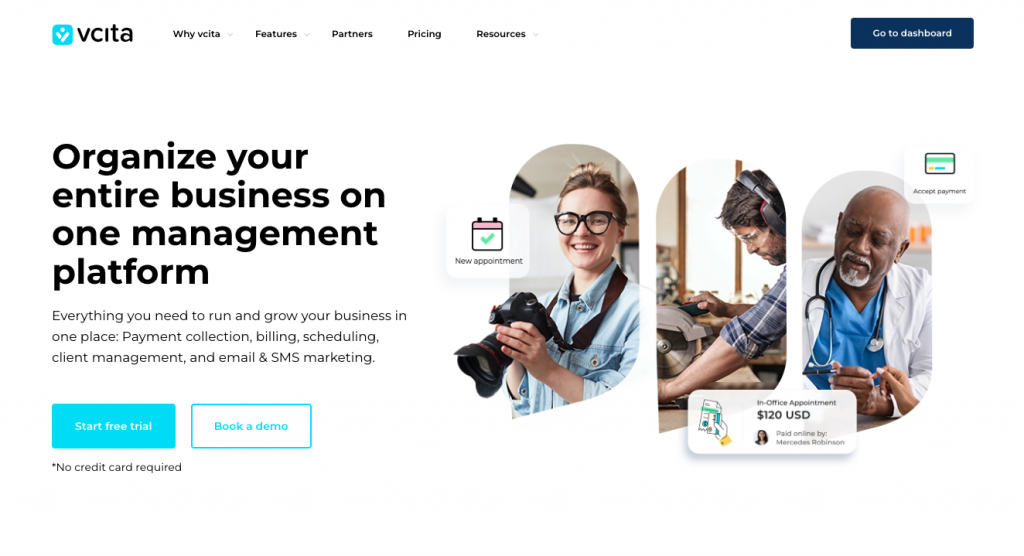 Pros:
all-in-one solution for scheduling, invoicing, billing, and crm
easy to use interface
customer support available
Cons:
no permanent free version; you need a subscription to vcita to access the features
Pricing:
Starts at $19/month for the essentials plan, with a 14-day free trial.
Features:
online booking and calendar
automated appointment reminders
payment processing via credit card or PayPal
fully translated to 9 languages, with options to manually translate to others
CRM tool that shows client communication history
invoicing templates
import contacts list from Google, Outlook, or Excel
Vcita's customer portal plugin combines scheduling, payment, invoicing, and CRM functionality in an easy to use interface. Clients can schedule appointments through the calendar in their portal, which shows your availability and updates your schedule accordingly. They can also pay 24/7, message you directly through the portal, and share documents. It's everything you need for a small business, and the ability to sync your existing contacts is a bonus not offered by the other four plugins.
While larger businesses working on more complex projects might need additional plugins for project management, vcita is a good option for service businesses that need scheduling services, or small business owners who don't have access to a graphic designer. vcita's customer portal is a sleek-looking solution that doesn't require any special design or coding skills.
Download vcita client portal plugin
Learn more about vcita – schedule a demo
2. Vipps for Woocommerce
Pros:
customers don't have to log in through your website to pay
easy way to gather data about your customers
Cons:
doesn't have scheduling, invoicing, or more complex features
clients may incur transaction fees, and have to give their data to Vipps
plugin depends on users having Woocommerce installed
Pricing:
Free
Features:
payment processing—customers can choose Vipps at POS checkout
checkout from cart, email links, or digital and print QR codes
customize plugin behaviour with filters and hooks
access to information of existing Vipps users who checkout on your site
Vipps for Woocommerce is a plugin that allows clients to pay you without logging into your website directly. When clients pay through Vipps, they must consent to share their information, which in turn is shared with you. You can build your database of CRM information through Vipps and use the information to personalize marketing messages for returning customers.
It's a good solution for businesses that primarily need a payment processor for point of sale purchases, and don't yet have many contacts—new retailers, for example, might benefit in particular. However, it doesn't have the breadth of functionality that vcita does. You can't add your existing contacts to Vipps; you'll only be getting the information from clients who are already signed up with them.
3. Sprout Clients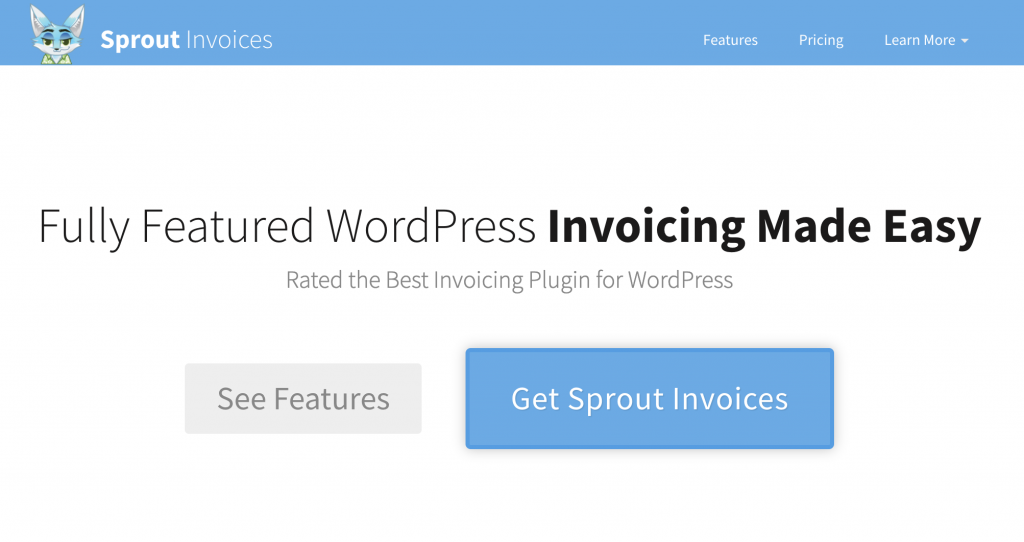 Pros:
highly customizable
efficient and easy to use CRM tool
pairs easily with Sprout Invoices
Cons:
no scheduling features
can't sync existing contacts
Pricing:
Free version with very limited functionality, with premium plans starting at $59.99/month.
Features:
scheduled messaging
app integration with Sprout Invoices
CRM tools to save client contact information
filters and actions allow you to customize the plugin
create engagements with clients
integrations with Stripe enable automated billing
Sprout Clients is a CRM tool that helps you engage with clients and save their contact details. While it doesn't enable clients to schedule appointments with you, you can still schedule messaging. App integration with Sprout Invoices means you can also generate professional looking invoices if you install both plugins.
Sprout Clients is a more thorough CRM tool than Vipps, but doesn't have as many scheduling features as vcita. It's a good option for business types that don't have a lot of client appointments to manage—for example, developers that work with the same client for long periods of time, and just need invoicing and contact management. Additionally, since there's a free version, it's a good option for businesses with extremely tight budgets. 
4. WP Customer Area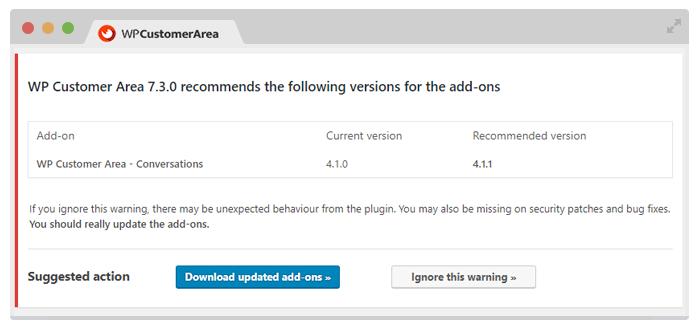 Pros:
more power to design your client portal from the ground up
free software with optional premium upgrades
Cons:
more complex to set up than the other solutions
Pricing:
Freemium version with limited functionality, add-ons start at $20/year each.
Features:
Manage private content, such as password protected pages, files, etc.
Add-ons that enable invoicing, PayPal processing, project management, and more
Allows you to create different roles for different users
Fully customizable
WP Customer Area is for those that want more control in designing their own client portal. With WP Customer Area, you can customize the look and feel of the basic plugin, and also customize its functionality with a range of additional plugins like design extras, billing and authentications. With WP Customer Area, you pay only for the features you need.
Although it gives users more freedom to create exactly what they want, it's also more difficult to set up than the other plugins. This might be a good option for businesses that have subscription-based content on their site that they want handled in a specific way, or larger businesses with IT support to design and manage the portal.
5. Clinked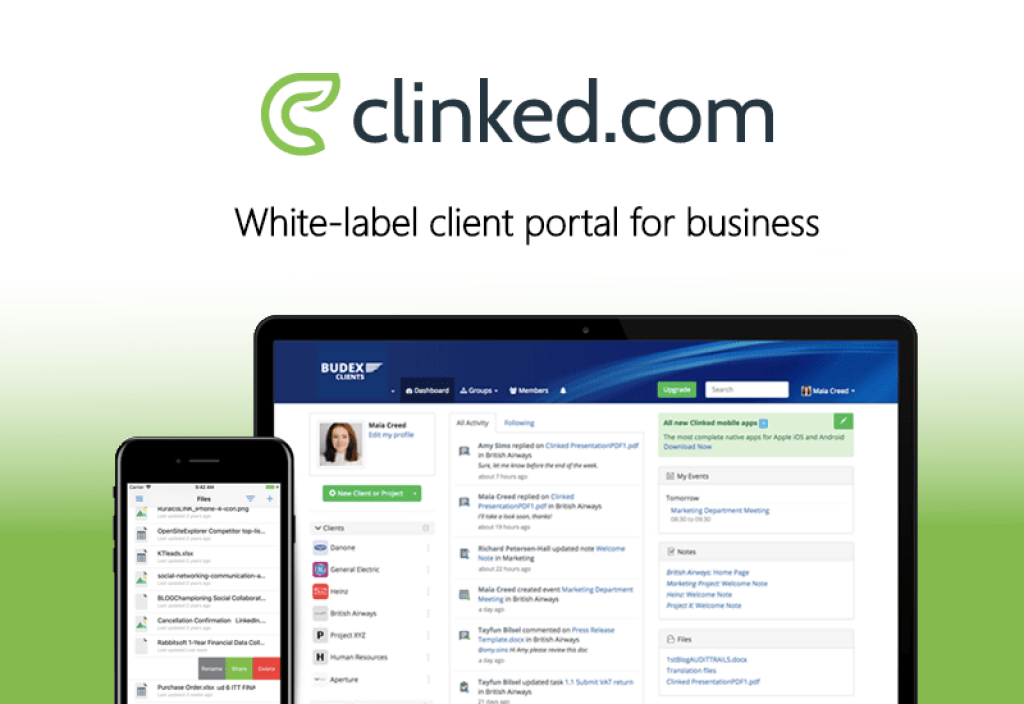 Pros:
Team management features make project management easy
Access and restore previous versions of documents
Cons:
No payment processing or scheduling features
Can't sync existing clients
Pricing:
Free for up to 3 users, with priced plans starting at $83/month.
Features:
Customizable workspaces
Fully translated to 13 languages
File sharing
Real time group chat
Universal search keywords within files
Collaboration tools for teams
With complex team management features and file sharing with bank-level security, Clinked is a good option for teams working on large projects, or projects with sensitive information that needs to be shared safely. Workspaces that show clients exactly what has been done on a project can help you and your clients keep track of project task completion.
Since it's a pricey and complex plugin for more than three users, it's better for larger firms that can afford the premium price. The plugin has specialized solutions for financial, legal, and government services, so businesses in those sectors might benefit from the industry-specific specialization. However, smaller businesses might benefit more from the simplicity of plugins like Sprout Client and vcita
Find the right client portal plugin for you and your clients
Ideally, your client portal should help your client engage with your business. Even if you don't think you need some of the features, your clients might disagree. For example, being able to message with clients might sound like more work, but your clients might appreciate the ability to send a question when they think of it, even if you can't respond right away. Clients who are online for most of their workday might appreciate the ability to schedule appointments online, even if you don't have a problem scheduling over the phone. If you're unsure about what features your clients might want to see on your website, try asking a few of them, or setting up a small survey. The best WordPress client portal plugin is the one that's best for both you and your clients.