You're a busy small business owner, juggling multiple clients, jobs, and appointments each week. Between answering calls, coordinating schedules, and ensuring each customer gets the service they need, your days fill up fast.
There never seem to be enough hours to get everything done. With an automated booking system handling the scheduling for you, you'll gain back hours each week to focus on the work that really matters – your customers. No more playing phone tag or penciling in appointments on a paper calendar.
Offer your customers the convenient, 24/7 booking experience they expect, and watch your business start booking up. An online booking system is a total game changer for the small business owner wanting to simplify appointment management. The time savings and increased organization will transform how you do business.
The challenges of managing appointments as a small business
As a small business owner, managing appointments and coordinating schedules can feel like a full-time job. Here are some of the major challenges small businesses face when it comes to managing their appointments.
Double-bookings
One of the most frustrating appointment management challenges for small businesses is the occurrence of double-bookings. This leads to confusion, inconvenience, and potential customer dissatisfaction. Double-bookings can not only waste your precious time but also tarnish your reputation as a reliable service provider.
No-shows
Another common challenge is dealing with no-shows. Despite your best efforts, some clients may fail to show up for their appointments without any prior notice. This not only disrupts your schedule but also leads to lost revenue as you could have accommodated another client during that time.
Streamlining workflows
Streamlining your workflow is another significant hurdle that small businesses often face when managing appointments. Juggling calls, emails, and that messy paper calendar is stressful and inefficient. Maintaining efficiency in your appointment management process can be complex, especially when you're juggling multiple clients and services.
Playing phone tag with customers
Small business owners often find themselves caught in a never-ending game of phone tag with customers. This back-and-forth communication can be highly inefficient, as you and your clients struggle to find a mutually suitable time for an appointment. Moreover, missed calls and voicemails can lead to misunderstandings and missed opportunities.
Don't let appointment chaos hold your business back. An online booking system is an easy, affordable solution that will transform how you manage your schedule and serve your customers. Now that we've looked at the challenges, let's take a look at the benefits.
Benefits of using an online booking system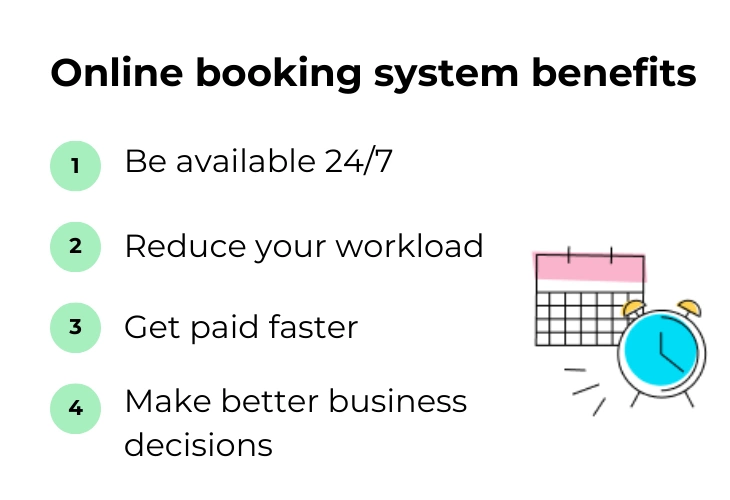 An online booking system is a game changer for small businesses. It allows you to easily manage client appointments and scheduling, saving you time and money.
Be open 24/7
Your online booking system never closes! Clients can book appointments day or night, even when you're sleeping. No more missed calls or playing phone tag. Offering round-the-clock booking maximizes sales and provides convenience for your customers.
Reduce workload
Say goodbye to manually handling appointments over the phone or email. An online booking system automates the process, reducing time-consuming administrative tasks. With an online booking system you can eliminate double-booking errors or missed appointments. Your calendar is always up to date and synchronized across all devices.
Get paid faster
Many booking systems allow you to require prepayment or deposits for services. Customers pay quickly and securely online, and the funds are transferred directly to your bank account. No more chasing clients for payments or waiting 30 days for checks to clear. Getting paid faster improves your cash flow and business productivity.
Analytics and reports
A good booking system provides data and insights to help you make better business decisions. See reports on popular services, busiest days/times, and client details. Send targeted promotions to fill last-minute openings or re-engage inactive customers. The more you understand your clients and business, the more you can optimize sales and service.
Key features to look for in an appointment booking system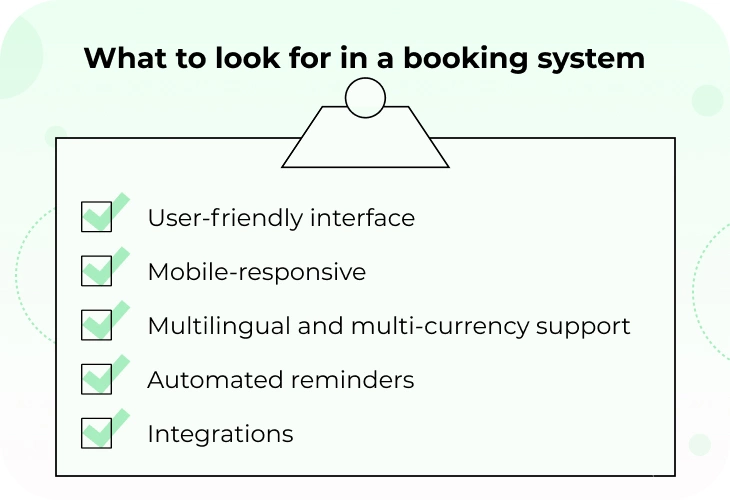 An online booking system can streamline your appointment scheduling and make life so much easier as a small business owner. With the right solution, you'll gain back hours each week and provide amazing customer service.
User-friendly interface
Look for a system with an intuitive, easy-to-use interface. Your clients should be able to book, cancel or reschedule appointments in just a few clicks. A simple calendar layout where they can see your availability at a glance is ideal.
Mobile-responsive
In today's world, most individuals (76%) schedule appointments via mobile devices. Ensure any system you choose is fully responsive, with a design that works beautifully on smartphones and tablets. Your customers will appreciate the convenience of booking on the go.
Multilingual and multi-currency support
If you serve international clients or handle payments in various currencies, choose a system with support for different languages and currency options. You'll make your customers feel welcomed by enabling them to interact in their native language and pay in their local currency.
Automated reminders
A good booking system will send automated appointment reminders via email or SMS to reduce no-shows by 90%. Look for options to customize the content and schedule of reminders to best suit your business needs. Your customers will appreciate the thoughtful touch.
Integrations
See if the system integrates with other software you use like your website, payment processor, business phone system, email marketing service or accounting platform. Integrations make running your business so much more efficient since information only needs to be entered once. You'll save time and avoid data errors.
Implementing an online booking system: tips for a smooth transition
Implementing an online booking system is exciting! It will revolutionize how you manage appointments and free up more of your time. To ensure a smooth transition, here are some tips:
Provide thorough training for your team
Make sure all employees understand how the new system works. Walk them through creating and editing appointments, sending appointment reminders, checking customers in and out, and accessing reporting features. Offer opportunities for them to ask questions so they feel fully comfortable using the software. When everyone is on the same page, adoption of the new system will go much more smoothly.
Start using the system for new appointments first
Begin by only accepting new appointments through the online booking system. Continue managing existing appointments in your current system. This allows you and your customers to get used to the new system gradually. Once all existing appointments have been serviced, you can fully transition to the online booking system. This phased approach minimizes disruption.
Promote the benefits to your customers
Let your customers know about the new convenient online booking system! Send an email highlighting the key benefits like 24/7 appointment scheduling, appointment reminders, and minimal wait times. Place a message on your website and social media pages explaining the new system and provide a link for them to book their next appointment.
Track key metrics to measure success
Use the reporting and analytics features to see how the new system is performing. Metrics like number of online bookings, most popular appointment types and times, and revenue from online bookings help determine if you're getting the most from the software. Look for trends to gain insights into your customers' needs and preferences. Make adjustments to settings or promotions to drive even more online bookings.
Online booking system by vcita for small businesses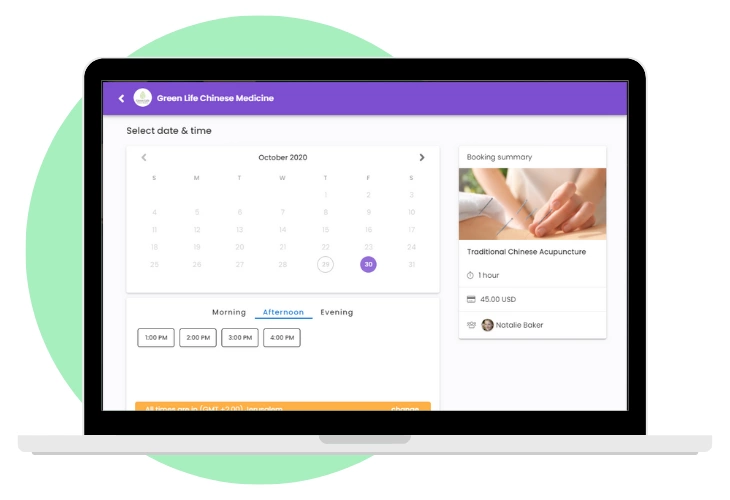 With vcita, you can streamline your appointment scheduling and gain all of the benefits of an online booking system in a sitch!
Easy to set up and customize
vcita's online appointment booking and scheduling software is designed to be simple. In just a few minutes you can create your booking page, set your business hours, add your services and staff, and you're ready to start accepting appointments. You have full control to customize the look and feel to match your brand.
Convenient 24/7 access for clients
Your clients will love the convenience of booking with you anytime. They can view your real-time availability, select from your list of services, pick their preferred date and time, and complete their booking in just a few clicks, day or night. For recurring clients, the system will automatically remember your client's contact details to save time.
Automated reminders
Never double book or forget about an appointment again and reduce no-shows significantly. vcita automatically sends email and SMS reminders to your clients before each appointment. You'll receive notifications as soon as a new booking comes in so you can plan your schedule accordingly.
Manage your business from anywhere
With vcita's mobile app, you have your complete appointment calendar in the palm of your hand. See your schedule for the day, week or month. Get real-time notifications about new bookings or changes so you can stay on top of things even when you're on the go. Make quick updates to your availability or services and the changes will sync across all devices instantly.
With vcita, small business owners finally have an easy, affordable way to professionalize their appointment scheduling. Streamline your operations and provide the modern experience your clients expect!
Take control of your schedule
An online booking system is an easy, affordable solution that will save you time and money while improving your customer experience. Your clients will love the convenience of booking 24/7 on their own time. You'll gain peace of mind knowing your calendar is organized and appointments are automatically confirmed. Make your life easier and your business more efficient with an online booking system. The time you save can be spent focusing on what really matters – growing your business and serving your customers. Take that important first step now towards simplifying your scheduling and improving productivity and try out vcita. The rewards for your company will be well worth it!