More sales. Repeat business. A full schedule brimming with clients eager to sit down with you.
With the help of an effective email marketing strategy, you can have all of this and then some.
And at vcita, we believe in keeping email simple for service business owners. That's why our email marketing tool allows you to whip up campaigns in a matter of minutes.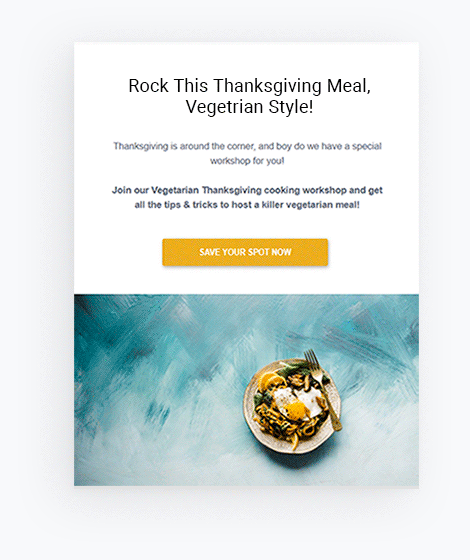 But this begs a big question: what kind of emails are you going to send to keep your clients coming back for more?
If you're like most small business owners, you're probably more comfortable working with clients than you are with writing emails, right?
Hey, we get it! Rather than racking your brain for email campaign ideas, we decided to do the legwork for you.
10 Awesome Email Ideas You Can Swipe for Yourself
News flash: you don't need to be a creative genius to come up with awesome email ideas.
In fact, there are tons of tried-and-tested examples that service business owners can roll out time and time again.
Whether you want to drum up repeat business or re-engage former customers, we've broken down ten newsletter ideas that can help. Feel free to swipe these ideas, subject lines, and templates and adapt them for your own email marketing strategy.
1. Limited-Time Offers
Let's kick off with the easy stuff!
Any sort of deal or discount you can offer is a good start for your subscribers. Whether it's $20 off or a 25% discount, sometimes a bit of price-slashing is the exact push a client needs to book with you again.
However, a limited-time offer can really sweeten the deal.
Why? Because such offers tap into your clients' sense of urgency. In short, it's much harder for people to sleep on your offer when the clock is ticking. Creating a 24 to 48 window of time gives people enough time to act without treating your deal like an impulse purchase.
Subject Line: "Flash Sale: 25% Off If You Book Within the Next 24 Hours"
2. Special Occasion Discounts
If you're looking for a reason to send a "thank you" discount to your current crop of clients, look no further than a special occasion.
Events like your business' birthday or a major milestone are perfect for deals. This allows you to frame your outreach as a matter of appreciation rather than strictly business. These types of emails are also smart to save for your best offers since they rarely roll around.
Subject line: "Celebrate Our 5th Anniversary with 20% Off!"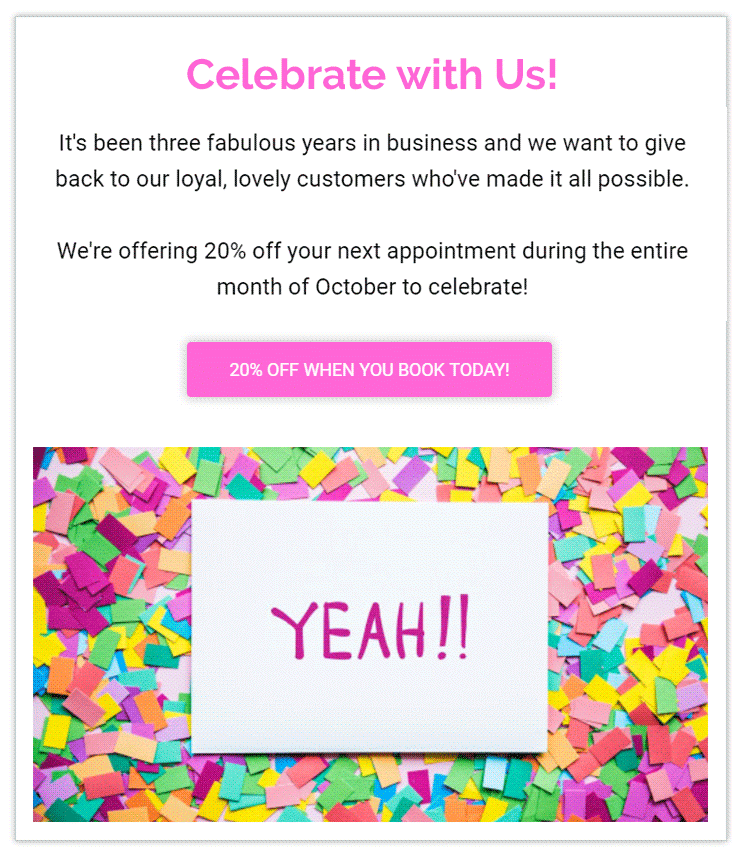 3. Helpful Hints
Here's some food for thought: not every offer email you send needs to be a "hard sell."
For example, you can use your email newsletters to educate your readers with useful tips and tidbits and information for absolutely nothing. A nutritionist might highlight common weight loss tips or a contractor could provide tips for preparing your home for a disaster. These sorts of hints can frame a specific problem where your service is the much-needed solution.
Whether these tips lead to your latest blog post or booking page is up to you: just don't underestimate the power of being a teacher to your clients.
Subject Line: "5 Things Holding You Back from Your Goals (and How to Overcome Them)
4. Refer-a-Friend Deals
Spoiler alert: referrals are still as important as ever for small business owners.
And no, you don't need a full-blown loyalty program to make referrals work.
Refer-a-friend offers do double duty of bringing new potential clients through your door while keeping yourself fresh in the minds of your current ones. Giving your referring clients a quick freebie is totally worth it if that means more bookings in the future.
Subject Line: "Free Deep Conditioning Treatment When You Refer a Friend!"
5. Success Story Specials
Clients are rightfully skeptical when it comes to new services, especially if it means splashing a lot of cash.
And so sometimes you need to provide some social proof to win them over.
For example, do you have an awesome customer success story to tell your clients? Is there someone who recently gave you a raving review or testimonial? Such stories can be major marketing firepower that makes your service seem absolutely magnetic, empowering your clients to want the same sort of awesome experience themselves.
Subject Line: "We helped Jane triple her sales in six months. Are you next?"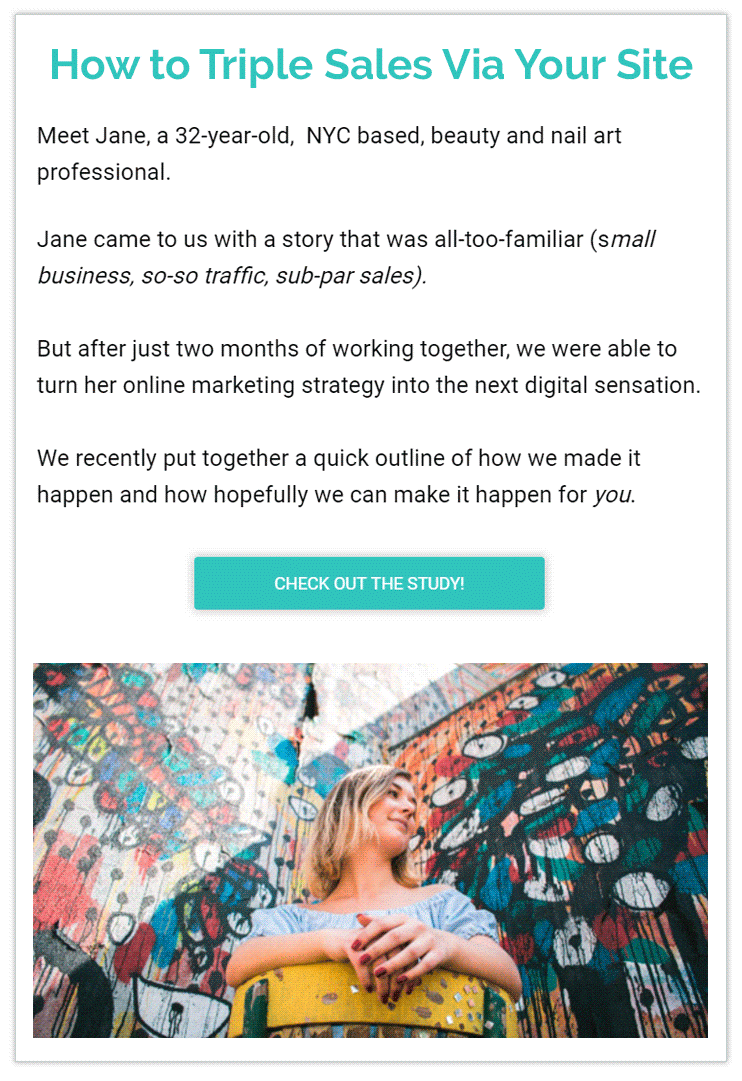 6. Exclusive Event Invites
If you're lucky enough to run a local business, getting your clients together is a brilliant way to create a sense of community.
Organizing a meetup requires a bit of work on your part but they're brilliant for establishing your business' influence. For example, you can hold a Q&A event where people can pick your brain and advertise a meetup-specific deal for those who show up.
Subject Line: "You're Invited to This Month's Mastermind Meetup!"
7. Giveaways and Freebies
We've said it before and we'll say it again: nobody can resist the power of "free."
Giveaways make your business look generous, all the while grabbing the attention of your readers. One common freebie tactic is to tack on a free additional service for bookings within a certain time frame. On the flip side, you could also enter all bookings for a certain month in for a contest for a bigger free prize. Either way, building buzz through freebies is a sure thing.
Subject Line: "We're Giving Away a Free One-on-One Session. Want In?"
8. Service Launch Specials
If you've ever had to promote a new service, you know just how important it is to hype it up.
Email marketing is a crucial part of creating that much-needed sense of hype. Offering up initial savings or encouraging people to get in on the "ground floor" can do just that. Another good idea is to send a few emails leading up to your big launch, leaving your readers hungry for the big day when it finally comes.
Subject Line: "Be the first to book our brand new coaching package and save big!"
9. Seasonal Specials
It's well-established that people love to spend during the holidays more than any other time of year.
But rather than confine your holiday deals to one-off emails, consider how you can run a season-long special to keep people coming back for more. These types of specials can drum up business from people with extra money to spend, all the while appealing to the deal-hunters on your list.
Subject Line: "Looking to beat the 'Winter Blues?' Our special coaching packages can help!"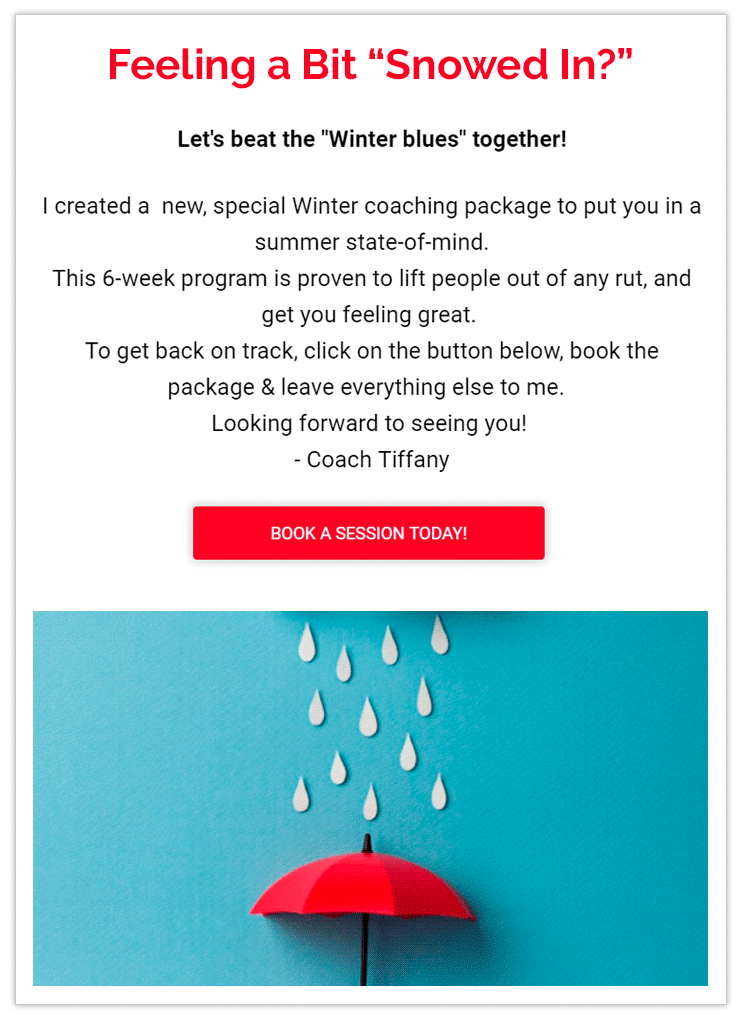 10. Early Access Offers
Want to give your clients the VIP treatment?
Providing early access to a special or service can do exactly that. These types of emails can be reserved for your most dedicated clients. Also, providing early access to a service to a limited group can help you gather feedback and work out any kinks before you launch to your whole list.
Subject Line: "Want an Exclusive Preview of Our Upcoming Site Audit Special?"
Ready to Roll Out Your Own Email Marketing Strategy?
Despite popular belief, email marketing doesn't have to be stressful or time-consuming.
Rather than reinvent the wheel, consider how you can adapt these time-tested ideas and templates for yourself.
The sooner you do, the sooner you can create a stronger sense of loyalty among your clients.
And with the help of tools like vcita, your next email campaign is only a few clicks away!