Being a small business owner usually means that you need to work harder, and longer, than everybody else – that's just part of building a business.
However, one risk that busy small business owners face is losing sight of the very things that lead to success: more appointments, more repeat business, more bacon.
That's exactly why our new feature, Automated Campaigns, is a lifesaver for small business owners.
Just like Energon to Transformers, Automated Campaigns will fire an energy blast into your work routine and squeeze x10 more juice out of the clients you already have.
Sounds good? Read on.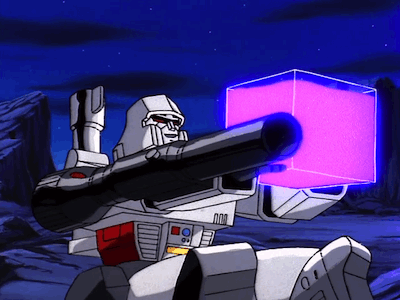 What Are Automated Campaigns
Although "Campaign" may sound like a scary word, it really just means any promotional email (or text message) that you send out to clients with the intention of closing more sales. Back in winter 2017, we released our first Email & SMS Marketing feature to help our users send simple and beautiful campaigns straight from the vcita platform.
But somehow, we felt something was missing. As a company that loves keeping things simple, a nagging question started rattling in our minds: Can we turn email marketing into a brainless, one-click task?
And so, Automated Campaigns were born.
Here's a quick fact sheet about Automated Campaigns:
Automated campaigns are a set of three, beautiful, ready-made templates crafted by our studio and marketing teams to win hearts, minds, and wallets
All three templates come complete with a strong marketing message, beautiful visuals, and a compelling call-to-action – everything you need to grab attention and make an instant impact on your customers
Want a bit of your own personality thrown into the campaigns? No problem. All templates feature easily customizable text-boxes to make every email truly yours
vcita's Automated Campaigns follow a simple (yet powerful) logic: Reaching out to your clients at key moments throughout the year when they're most likely to value and accept your offer
You can choose to activate all three automated campaigns or just the ones that fit you and your clients most. Your business, your choice
Our Automated Campaigns deliver unparalleled ease of use. If you can switch a button, you can use Automated Campaigns. Not too bad for an advanced feature, right?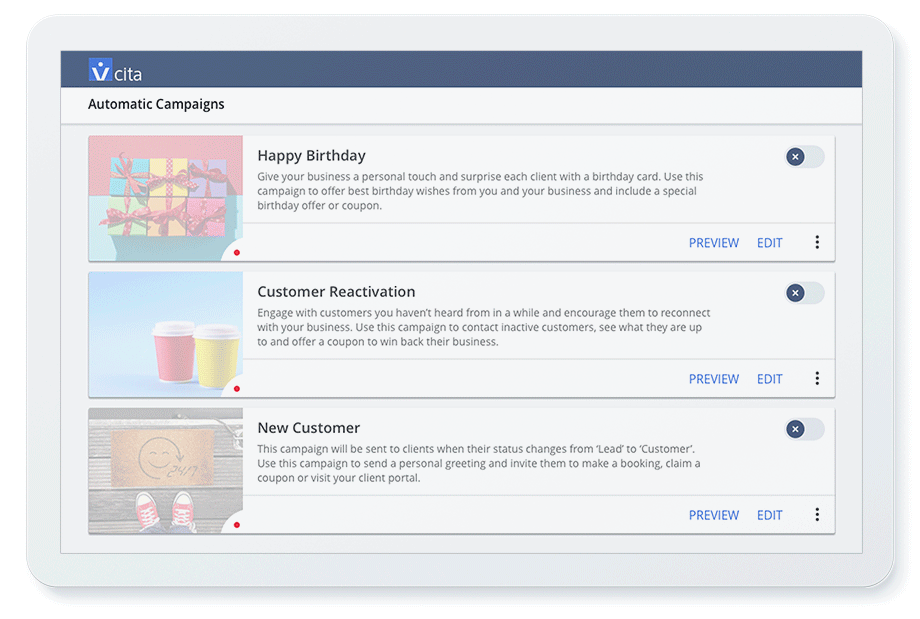 Sounds Great, Show Me the Campaigns!
Our first batch of Automated Campaigns includes three beautiful email templates:
A happy birthday email
A re-activation email (more commonly known as the "we miss you" email)
An email that invites clients to your 24/7 vcita-powered client portal
Let's take a closer look at each of these campaigns:
The Happy Birthday Email
Birthdays are a perfect occasion to engage with your clients and remind them why they chose your service in the first place. Unlike any other day in the year, people are more open to receiving emails from brands on their birthday (and some may actually expect it!).
Birthdays put us in a special state of mind: It's the one day of the year where people actually expect us to break from the busy hustle and spulrge a little – after all, it's our birthday!
Our automated birthday campaign taps exactly into this pleasure-seeking state of mind. As any practiced marketer knows, timing is everthing, and a client's birthday is the perfect oppotunity to send them an offer they simply can't pass up.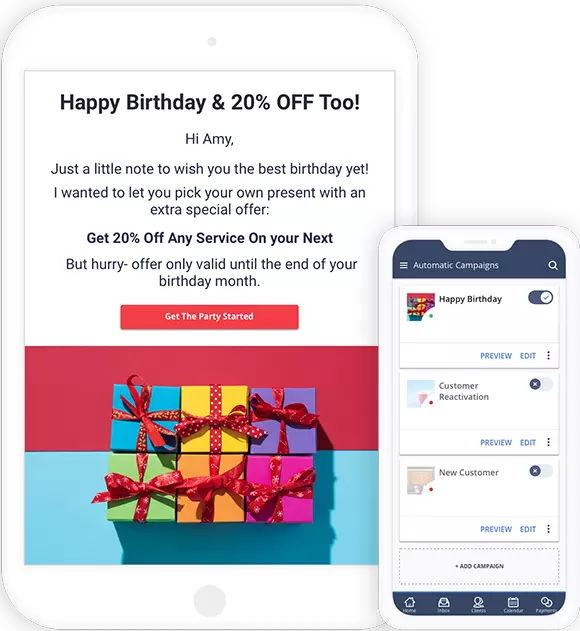 The Re-Activation or "It's Been a While" Email
Most small business owners have dozens or hundreds of clients in their database that they haven't heard from in a while. While some of these clients may be lost and gone for good, others may only require a gentle nudge to get back in touch and purchase your services again.
But how do you reconnect with inactive clients?
In comes our automated reactivation email.
Clients who've had a positive experience with your business in the past, are likely to be happy to book your services again – if given the right incentive. Our automated reactivation email gives them the perfect reason to come back: a nice, timely discount that no dedicated deal hunter can resist.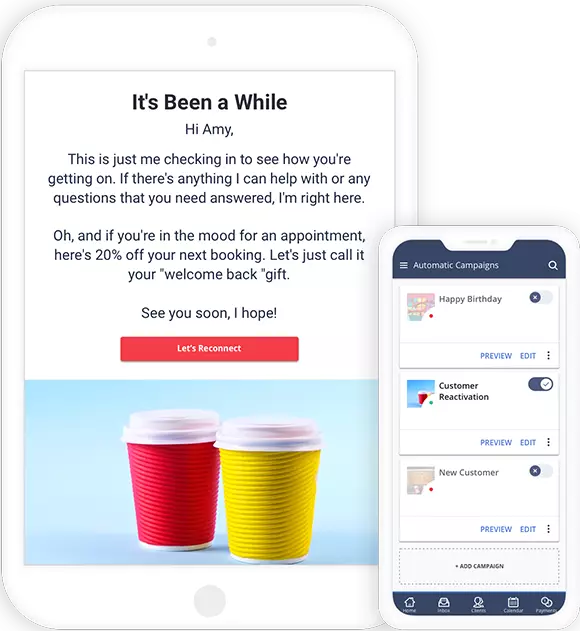 The New Customer or "Welcome" Email
One thing that everybody can agree on is that new clients require special kind of attention. One way to keep new clients close is to show you're available to them, whenever and wherever they need you.
vcita's personalized client portal sends that message loud and clear.
vcita's client portal is a friendly, mobile-first digital hub where clients can book appointments, pay for services, and review past or upcoming engagements with your business 24/7.
For today's customers, this is a big draw: In 2019, people want to communicate with service providers on their own free time, without having to set aside time from their daily activities.
The "New Customer" email campaign is your opportunity to position yourself as your customers' hero. By inviting new clients to your online client portal you're letting them know that as far as customer service and customer experience go, they've come to the right place.
For clients who are Digital Natives like Millenials and gen Xs, this can be the defining moment when they choose you over going with the competition.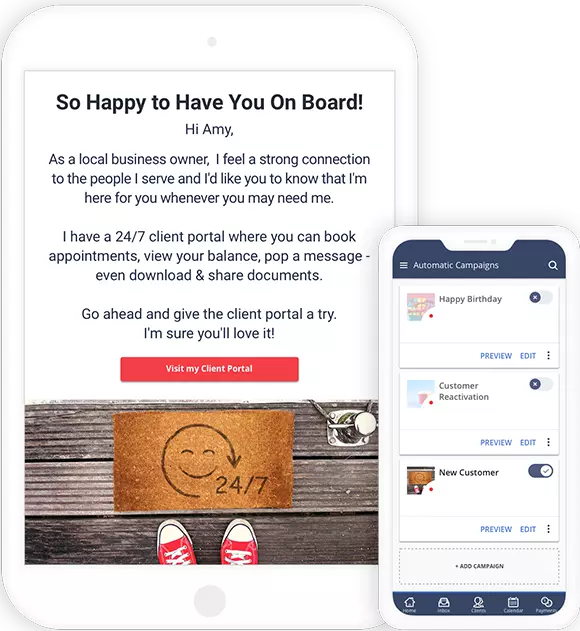 Automated Campaigns – FAQ
Q: How do I enable Automated Campaigns?
A: Log in to your vcita account. On your left-side menu bar, click Marketing>Automated Campaigns. Toggle the on/off button on each template to activate the campaign.

Q: When will the Happy Birthday campaign be sent?
A: The Happy Birthday campaign will be sent to your clients on their birthday. However, if you like, you can change this default setting and set your email to be sent a few days (or weeks) before the actual event.
Tip: Make sure you have your clients' birth dates listed in your vcita client records before activating this campaign. Here's how you can easily collect birth dates from your clients through vcita.
Q: When will the Reactivation campaign be sent?
A: The Reactivation campaign will be sent to clients who haven't initiated any contact with you in the past 90 days. You can customize the timeframe for when this campaign is sent by changing the "trigger and time setting" on the campaign's page.
Q: When will the "New Customer" campaign be sent?
A: The New Customer campaign will be sent to all of your new clients. In vcita, a new client is someone whose status on your client card has changed from "lead" to "customer".
Q: Can I change the discount on the templates?
A: Absolutely! You can edit any part of the template, including the discount rate.
Q: Can I add an online coupon to an automated campaign?
A: Yes and we actually encourage it. Adding a coupon will make it easier for your clients to redeem your offer while they book your service online. If you don't know how to add a coupon to a campaign, this short how-to video is a must-watch.
Q: What If I changed my mind and want to disable a campaign?
A: You can easily disable a campaign by toggling the button on the template to the left.
Have more questions about Automated Campaigns? Hop on to our Help Center to find the answers to more commonly asked questions and tips.
Ready to Get More Appointments?
In a world where business owners come from different backgrounds and have different skill sets, Automated Campaigns are the great equalizer. With Automated Campaigns, you too can become a master marketer, without taking a long, costly journey.
Go ahead and give Automated Campaigns a spin today to see just how easy it is to drive more business and more engagement from your customers.