Ever wished you could make money in your sleep?
We all have. And while most of us still need to work hard to bring in the Benjamins, our next upcoming feature will make it easier for you to make extra cash without having to put in any extra work.
Wait. Say that again?
Yes, you heard right. Our next big feature, Automated Campaigns, is designed to win you constant wallet-opening engagement from your customers, while you go about your business stacking the dishwasher or browsing Netflix.
Tell Me More! What Are Automated Campaigns?
As a small business owner, there are plenty of (good) reasons to send email or SMS updates to your clients. There may be some important news you need to share: a change in your business hours, a new staff member who just joined the team, a recent change you made to your rates.
But primarily, sending email updates is a great way to motivate your clients to book your services again, or even encourage prospects to book with you for the very first time!
A short, beautifully designed email with an exclusive discount can easily push clients to spend more of their time – and money – with you.
This begs the question: if email marketing is so darn good, then why isn't everybody doing it?
Here's the deal:
While the technology behind email marketing is simple and inclusive, the entry bar is simply too high. Think about it: Even the most basic email campaign still requires strong marketing copy, fantastic visuals, and a killer subject line that begs to be opened. What's a busy business owner to do?
Well. In a few weeks, vcita will be releasing the next generation of email and SMS campaigns, tailored for busy service providers just like you.
Our upcoming release, Automated Campaigns, will include three beautiful ready-made campaigns, crafted by our marketing team to win hearts, minds, and wallets.
But wait, there's more. Sending automated campaigns won't require early planning, scheduling, or any work on your part. All you'll need to do is switch "Automated Campaigns" on and all three emails will be automatically sent to your clients, all year round.
Our first batch of automated campaigns will feature:
A "Happy Birthday" email that will be sent to customers – you guessed it – on their birthday
A "Welcome" email that will greet new customers and invite them to use your client portal
An "It's Been a While" email that will be sent to inactive customers and encourage them to get back in touch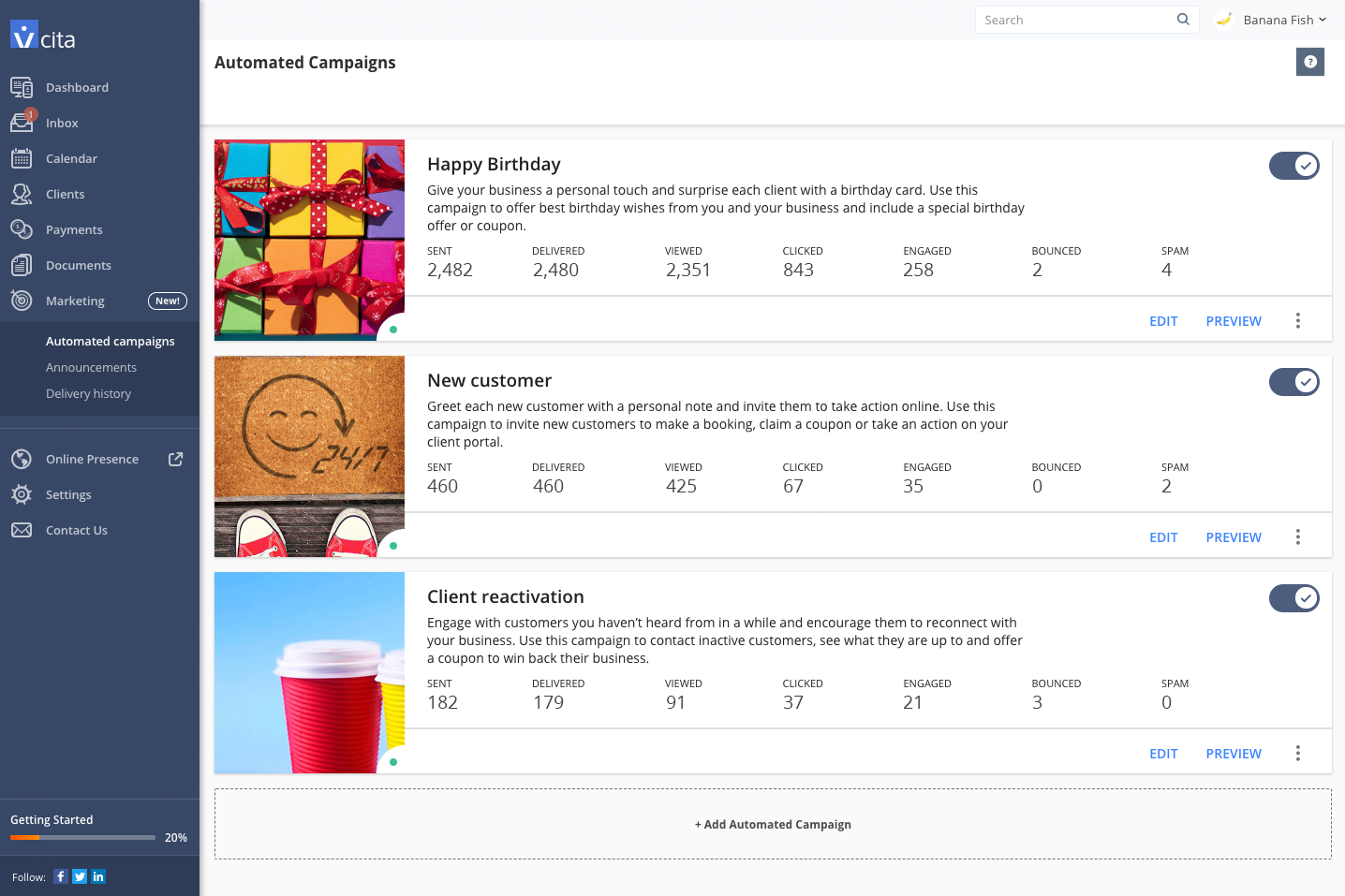 We're not ones to spill the beans but it's going to be awesome.
Will I Be Able to Start Using Automated Campaigns Right Away?
Yes. Absolutely. But before we release this feature, here's a little checklist you should go through to make sure your vcita account is optimized to get the most out of Automated Campaigns.
1. Start Collecting Birth Dates from New and Regular Clients
To be able to send birthday campaigns to your clients, you'll first need to make sure that you have your clients' birth dates saved to your vcita client cards. If you're already collecting birth dates from customers, you're all set. If you're not, there's no better time to start. You can easily collect birth dates through vcita by adding a custom field to your client card.
If you've never added a custom field to your client card, here's a step-by-step tutorial to show you exactly what to do:
2. Familiarize Yourself with Online Coupons
Sending a promotional email/SMS is great. But sending a promotional email/SMS with a coupon is ten times better.
According to industry research, adding a coupon to your email campaigns increases revenue by a whopping 48%. Definitely not something you'd want to miss out on.
Best supporting argument for coupons? Clients LOVE them. Just imagine the look on your customers' face when they realize they can book the service they've already grown to love for 20% off. If there's a happier face in the world, we'd like to see it.
Enough said. Here's how you can create and add a coupon to your campaign:
3. Join our Business Plan (If You're Not a Member Already!)
As you may already know, vcita's premium plans were tailored to meet every small business' needs and budget. Different plans come with different features – and limitations – so you may want to review the plan you're using from time to time and see if it still ticks all the boxes.
The Automated Campaigns feature will be joining our Business Plan, our flagship plan by popular vote.
If you want to harness the power of automated campaigns to boost your income, we invite you to visit our pricing page and read more about our Business Plan.
Not sure Automated Campaigns or the Business Plan are right for you? You can contact us online 24/7 or post your thoughts on our Facebook group.
Toodelo!