Away from the office? On-the-go? No problem. Manage, follow-up and serve your clients from anywhere, anytime – with the only mobile CRM that will help you remove "unavailable" from your business' vocabulary.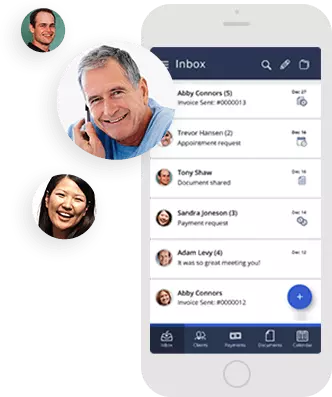 Manage your clients on-the-go
Keep your clients close wherever you are, building long-lasting customer relationships.
Swiftly reply to new client inquiries – wherever you are
Store all client information and history in one place – appointments, payments, documents & conversations
Schedule appointments with clients or invite them to schedule with you
Accept payments and process invoices away from your workstation
Instantly import your existing contacts
Bring your business' address book into the digital age. Quickly import and organize your clients into our contact management system from your smartphone, Gmail or Excel.
Finally, a CRM that connects to your website
Transform your website into a lead-generating machine. Instantly funnel leads from your site directly into your online CRM with absolutely no hassle, never losing track of your leads.
Keep better tabs on your clients
Add private notes and custom client tags ("VIP client," "new client") to keep your clients organized and your client management simple. No more wondering "who's who" when sending out promotions or inviting clients to your next event.
Always stay in touch with your team
Manage your staff's work schedules, assign appointments to specific staff members and share client information across your entire team – without missing a beat.
Apple or Android? We've got you covered
Our mobile CRM app is available for Apple fans and Android lovers alike.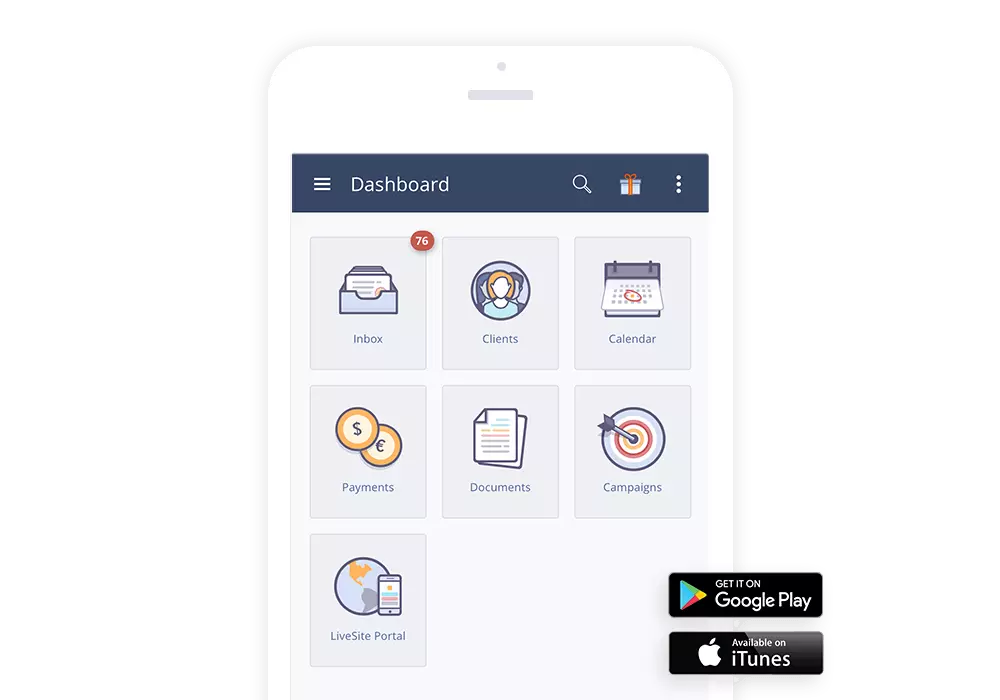 It's the only client management software that will help you both manage AND grow your client base.
Free forever when you sign up for a free account.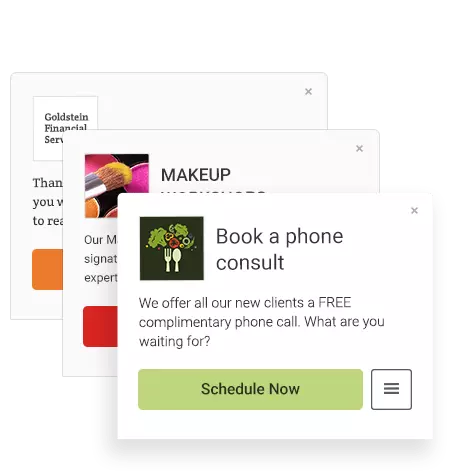 Lead management made easy
Spend less time juggling leads and more time closing them with a mobile CRM that streamlines lead management:
Add a pop-up contact widget to your website, inviting clients to connect with your business
Collect leads from your website and social channels, directly into your CRM
Invite potential clients to book a free consultation or appointment online 24/7
Send targeted email promotions and special offers to new leads
Gather essential info about your clients
Learn more about your leads in an instant, ensuring that you make the perfect first impression. When a new lead comes in through your site to book an appointment or get in touch, our CRM software gathers essential personal information from their public social media profiles.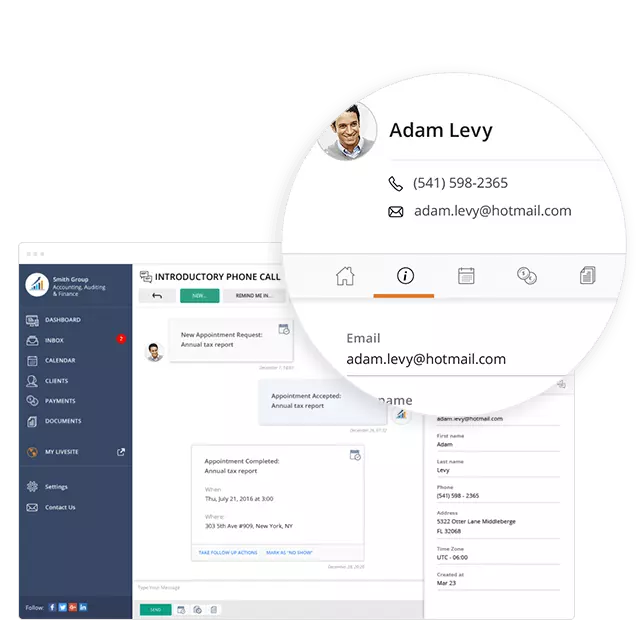 Provide great service with a personal client portal for each client
Small business software should be simple for everyone involved, right? With the help of a self-service client portal, communication is easy and efficient for all sides. Our client portal includes any action your clients could possibly take to engage with your business, all in one place. It's the ultimate customer experience on any device, providing a mobile-friendly experience that anyone can navigate through with ease.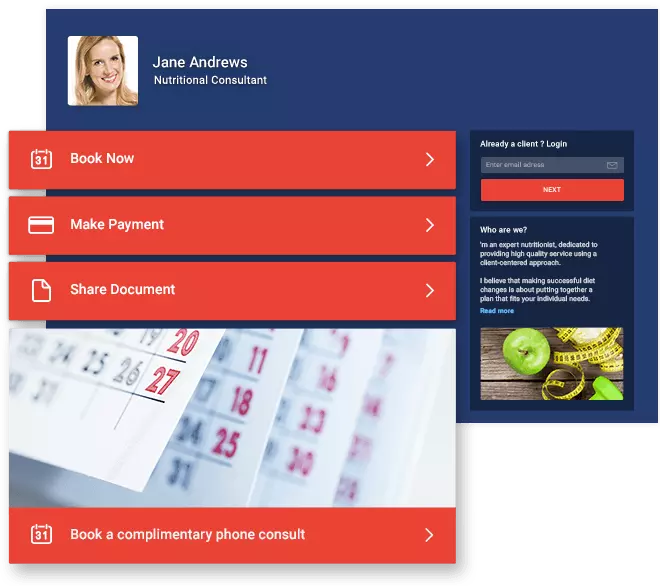 Your clients are empowered to self-serve online at their convenience:
Book & reschedule appointments and services
Review past activity with your business
Securely share files with you and your team
Pay for services & invoices online
Your search for the perfect mobile CRM ends here.
Free forever when you sign up for a free account.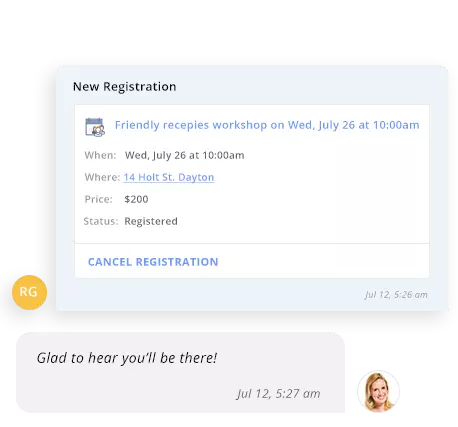 Guarantee timely responses
Your clients shouldn't be kept waiting, should they? Get push notifications to your mobile for every incoming inquiry and provide speedier service.
Auto reminders to keep you on track
Keeping your appointments and billing straight doesn't have to be a headache. Built-in reminders for follow-ups, appointments and invoices means that you never miss a beat when it comes to wrangling your schedule.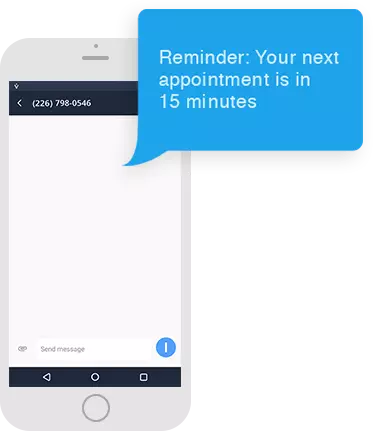 Business owners worldwide love vCita
vCita is a fundamental infrastructure for any small business, essential in managing leads and opportunities.
Because vCita runs on multiple platforms, I can take my business with me when I'm away from my desk and work from anywhere.
We include vCita on every new website we build for our clients, because it turbo charges engagements.
Build stronger customer relationships, save time and expand your business.