For any small service-based business in 2020, appointment scheduling software is essential for improving client service and saving you time and money. Scheduling apps come with a variety of features to make it easy for your clients to book with you, such as being mobile-friendly and accessible on your web page or social media account.
Scheduling apps also have features to make booking easier for businesses, with automated reminders for clients and calendar syncing.
Different industries will have unique needs for booking solutions depending on the services they provide. Businesses such as hairdressers, spas, and salons need scheduling software that lets clients choose an appointment time as well as a particular service such as a cut or color. Fitness trainers and yoga instructors will need to schedule appointments based on class times, while contractors and home services require a way to keep their crew informed of the progress of each job.
What To Look For In Your Appointment Scheduling App?
In addition to managing your schedule and letting clients book and set up appointment times with you, appointment scheduling software should have other features that make your job more efficient and your business run smoother.
Here are the key features to look for in a scheduling app:
Pricing
A subscription-based service, scheduling software is paid based on a monthly or yearly fee. Look for apps that offer a free trial so you can determine if the software is a good option for your business before committing. Also look for scheduling apps that give a price break if the subscription is paid annually.
Calendar syncing
Software scheduling should sync your bookings with a calendar. There are two options for syncing:
Using the calendar embedded in the scheduling app.
Integrating the app with external calendars. In addition to an email reminder with the name and time of the appointment, the app is automatically sync'd with your Google, Outlook, or other calendars.
This prevents double booking and missed appointments, letting you efficiently manage your schedule and stay up to date.
Number of users per account
How many users will be actively using the account? Most scheduling software will have different price points for the number of users accessing the app.
Employee scheduling
Scheduling apps that let you see and manage your employee's calendars can prevent missed shifts or conflicts in scheduling. Software should make it easy for employees to indicate availability and allow you to approve requests to drop, pick up, or switch shifts.
Automated reminders
With automated reminders, you can send clients notice of upcoming and future appointments via email and SMS notifications. Reminders are typically based on your payment plan, so look for scheduling software that offers an email/SMS credit on unused notifications.
Options for customized branding
Options allow you to customize and style the scheduling software to fit your own brand identity. By adding logo and brand colors to your scheduling app or a client portal, clients can engage more fully with your business.
Flexibility
Look for flexibility in your scheduling app so you can customize features to fit your industry needs. This can mean being able to book multiple clients for classes or assigning employees to rooms and resources for each appointment. For instance, massage therapists would need to combine booking a treatment with a specific room.
Unique features for each business industry
Enhanced scheduling features allow specific industries to set a service menu for clients to choose from when booking an appointment. For example, file sharing for therapists and life coaches to write and share notes – or document and contract sharing for lawyers and real estate agents.
Review of appointment apps divided by small business type
1. Massage, Spa, and Beautician/Nail Salons
Daysmart Salon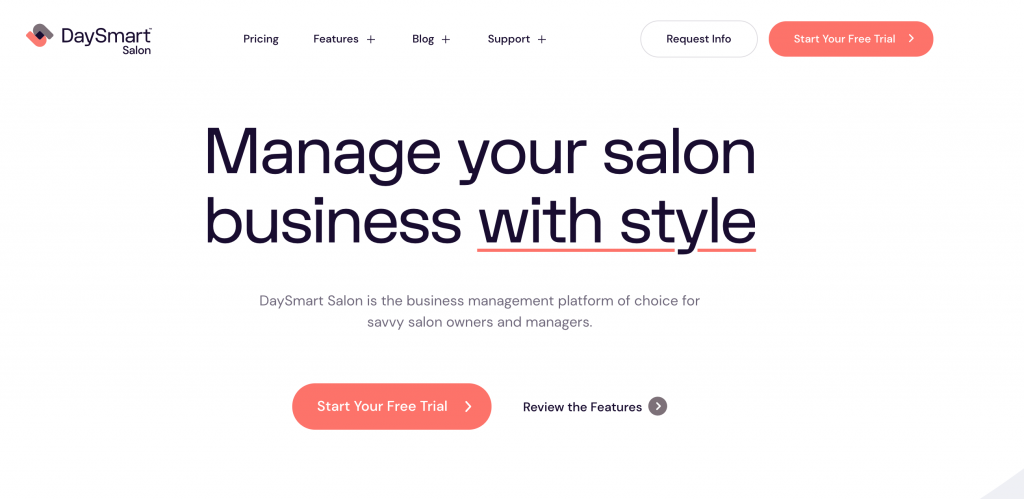 You can simplify appointment scheduling with Daysmart Salon, integrating booking with your POS system.
Pricing:
$29 USD/ month for 1 user
14 day free trial
Features:
Scheduling

Calendar – online bookings
Automatic confirmations + appointment reminders

Payments, including cash and card payments
Client lead capture through:

Instagram and Facebook
Mobile apps for Android and Apple to manage clients on the go

Contact management – detailed appointment history, contact details, and keep detailed client notes
Activity dashboard – see upcoming appointments, cancelations, and client notifications

Sales statistics
Track client purchases

Built in POS system

Manage invoices and receipts
Pros
Automate your marketing email and send out customized promotions.
Upload consent forms to a client's profile so it's ready at the time of the appointment.
Salon Iris performs data backups, so your past scheduling data is still accessible.
Cons
Customer support can be slow to respond to user questions.
The many functions and features of the software take some time to learn.
Daysmart salon has different plans available for the small salon all the way up to large salons with numerous employees. The software performs as a POS system, which you can use for both payment and appointment scheduling. You can also keep track of client information, such as hair color formula, which provides a more personalized service.
You can schedule client appointments with Daysmart salon by integrating the software with your Facebook and Instagram business accounts. Clients will be able to book appointments and learn about your new products and services. Clients can also log into their account to reschedule or cancel appointments, as well as keep their credit card on file for easy payment.
The functionality of client management lets you reduce and avoid no-show appointments by sending out email and text notifications. In their latest version, Salon Daysmart has over 30 email template designs so you can customize your reminders and notifications with a message that's unique to your business.
With the basic plan, Daysmart salon will provide you with chat and email support – if you upgrade to the next level at $59/ month you'll also receive phone support and training for up to three users.
Fresha (previously Shedul)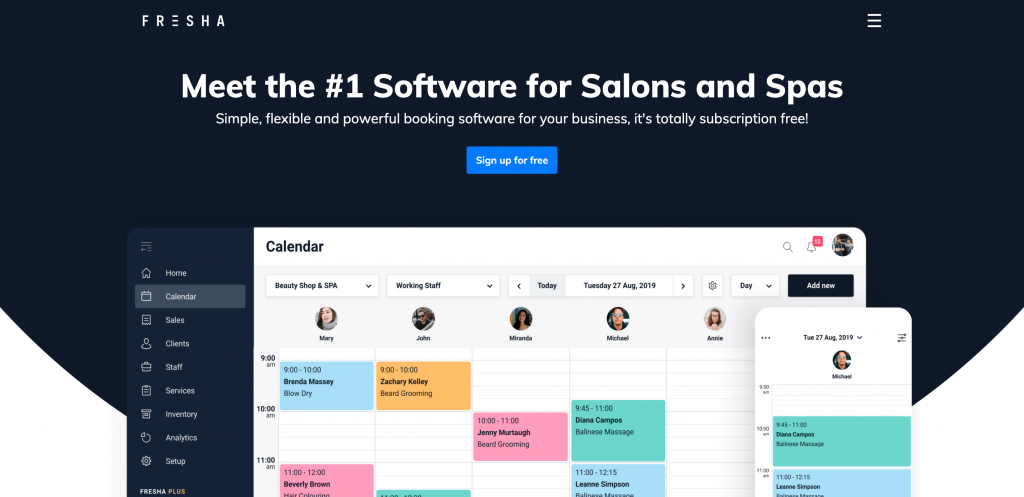 With advanced features, Fresha manages client bookings for hair and beauty salons, spas, and massage therapists.
Pricing:
Features:
Scheduling

Calendar – online bookings
Automatic confirmations + appointment reminders to reduce no-shows

Payments, including cash and card payments
Client lead capture through:

Facebook button
Website widget
App

Contact Management – detailed appointment history and contact details
Activity dashboard – see upcoming appointments, cancelations, and client notifications
Built in POS system

Manage sales, invoices, and receipts
Keep track of transactions
Manage tax rates
Retail product management, including list of suppliers
Pros
Fresha is free to use.
User-friendly software with a basic user interface.
Options are clearly labeled and easy to navigate in the dropdown menu.
Frequent updates offering new functions and features.
Cons
Fresha has fewer features than other scheduling software.
Lacks a mobile app that would allow for increased communication with clients.
At this time, you'll only be able to access your client information when you're online – but Fresha plans to add offline features with future upgrades.
Specifically designed for salons and spas, Fresha is completely free to use. You'll be able to access this cloud-based software from anywhere, which is ideal for when you're not at work. The user interface is simple to navigate even for those with little experience using apps.
Fresha lets you keep track of upcoming appointments and book specific equipment and rooms depending on the requested service. Setting up appointment times is flexible, based on the service you're providing, and allows for flexibility to add time when you know an appointment may take longer.
The software comes with employee management functionality, letting you keep track of staff, including their schedules and times for availability. You can add more employees as users to the app, giving them customizable user permissions that allows them to have access to their own calendar, book appointments, and view client contact information.
Online booking lets your clients manage their own appointments without having to call, integrating with your business website and Facebook so they can easily book with you. When appointments are booked, they're automatically sync'd with your business calendar, so you don't manually have to duplicate the information.
2. Fitness, Gym, Yoga, and Personal Trainer
TimeTap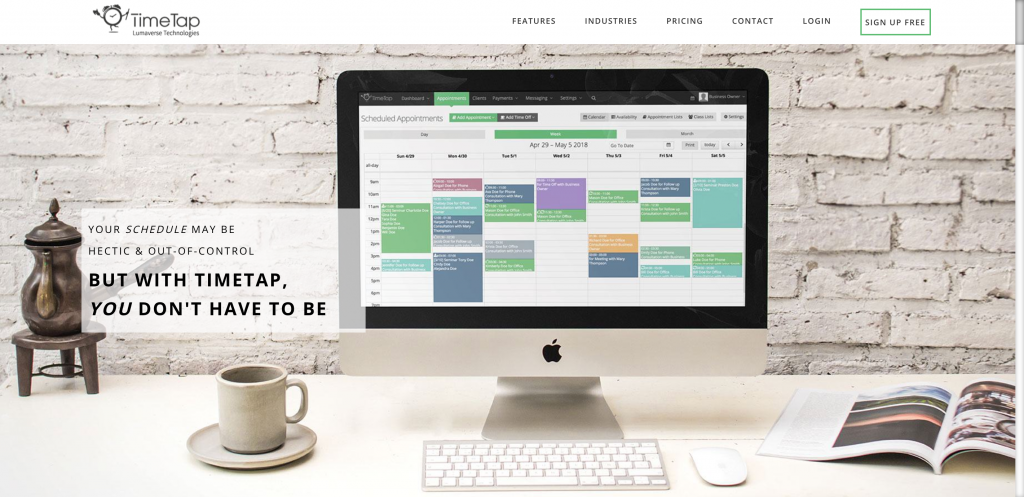 Avoid those no-shows and canceled appointments that you could fill up with other clients by using TimeTap. This appointment scheduling software comes with numerous features for both individual entrepreneurs and medium-sized businesses.
Pricing:
$0 free
Solo plan $24.95 USD/ month
30 day free trial
Features:
Scheduling

24/7 online booking
Schedule unlimited appointments
Book repeat appointments
Book multi-day classes + workshops
Automatic confirmations + appointment reminders
Automated waitlists

2-way external calendar sync to and from Outlook and Google calendars
Accept payments
Customize booking forms for appointments
Pros
Easy to reach customer service and support.
Easily copy your TimeTap link into your email, giving clients quick access to book with you.
Customize notifications sent to clients.
Cons
There's a learning curve as you understand what each of the scheduling options can do for your business.
Limited number of users even for the professional plan of pricing.
TimeTap is easy to use and can be used across a wide variety of industries, including fitness, gyms, yoga, and for personal trainers. The software is ideal for the solo or small business where you count on filling all your booking times. You can avoid those no-shows and missed calls that lead to lost revenue by sending out reminders to clients.
Unlike some other scheduling apps, TimeTap allows for unlimited clients and appointments. You can book clients for individual sessions or book classes, keeping track of attendance rates so you know which clients show up.
With its online booking system, TimeTap lets clients book when it's convenient for them, taking away the need for time consuming phone calls or email. TimeTap also lets you maintain a more personalized relationship with each of your clients by tracking their preferences and fitness goals, adding notes after each appointment.
You can also set up repeat appointments every week or month, eliminating the need for you or your clients to book again. Your clients will get a reminder before each scheduled appointment so they can cancel and rebook well ahead of time. The flexibility of TimeTap lets you indicate your hours of work and the availability of your staff – this way each day is displayed with appointment availability for your clients.
Another feature of TimeTap is being able to sync appointment scheduling with your main calendar so you don't waste time doing it yourself.
Although not all features are intuitive to use at first glance, a support call can be scheduled with TimeTap for any questions.
Omnify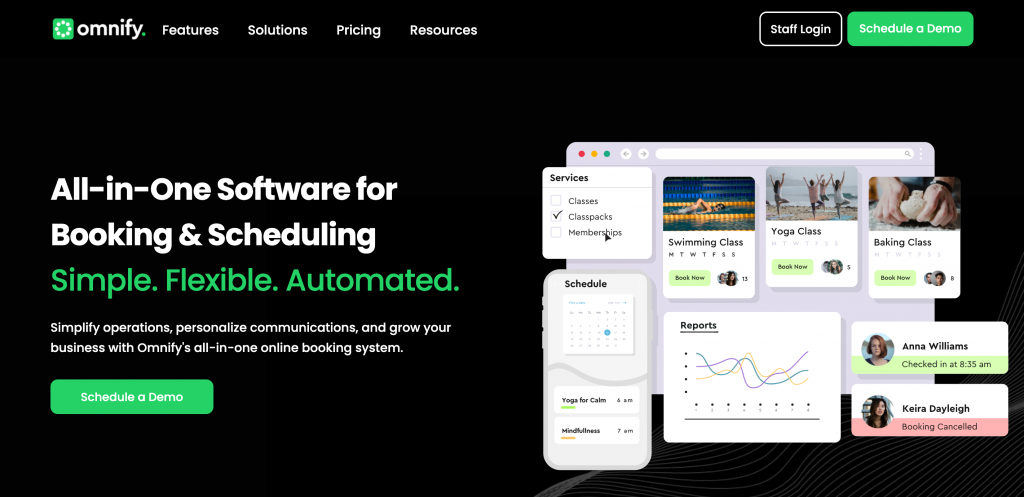 Omnify lets you engage with your clients and schedule appointments for your services. This appointment scheduling software is ideal for businesses that offer fitness classes and personal training, including yoga, martial arts, Pilates, and dance.
Pricing:
$79 USD/ month for 5 users
14 day free trial
Features:
Scheduling

Calendar booking – sync with Google calendar
Unlimited bookings and clients
Automated reminders + notifications
Track class and event attendance
Waitlist booking

Access to a client portal
Client lead capture through Zapier, a web automation app
Customize booking and scheduling fields
Payment accepted

Accept discount codes
Add tax to invoices
Pros
Integrate with PayPal so clients can make payments online.
Create client profiles for more personalized service.
Mobile apps available for both IOS and Android.
Customize by adding your own images.
Template are easy to customize.
Cons
International booking doesn't allow for time zone conversion.
Detailed customization requires that you have some technical knowledge.
Depending on the phone, app responsiveness can be missing some features.
Using Omnify, your clients can book classes with you wherever they are and at any time. You'll reduce the amount of time you spend booking over the phone or through email. You can customize your own appointment booking across multiple instructors and trainers who have different schedules and classes, which allows for more flexibility. By using the 2-way calendar sync, appointments booked by clients are automatically added to your Google calendar, eliminating the need for manually syncing these times.
Omnify also allows you to set different price points for each of your facilities and rooms, disabling facilities on the calendar when they're not available. Planning an event or workshop? Take registration and booking online to reduce the amount of time you would usually spend organizing these events.
It may take a bit of time to learn how to use all the features of Omnify, but with the basic subscription, both email and in-app support are included.
3. Business Coaches
Satori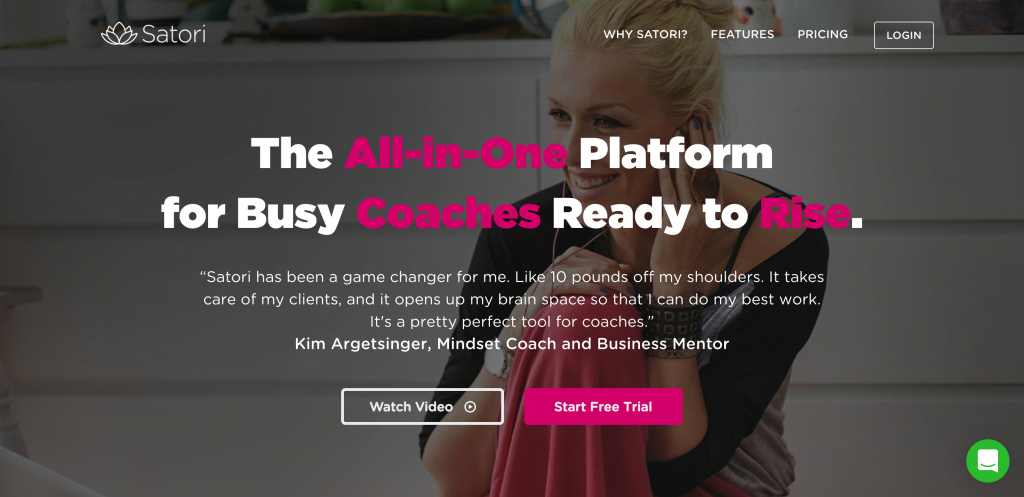 Coaches are using Satori to schedule appointments, onboard their new clients, and automate their billing process.
Pricing:
$33 USD/ month, billed yearly
30 day free trial
Features:
Scheduling

Calendar booking – sync with Google, Outlook, BusyCal, and iCal
Automated reminders + notifications
Time zone conversion

Client portal with client login
Build a variety of customized coaching packages and programs
Send questionnaires prior to coaching sessions
Payment accepted
Client lead capture through:

Branded landing page
Add CTA buttons on websites, newsletters, and blogs

Email marketing – create drip campaigns with Aweber and Mailchimp
Gather client reviews and testimonials
Pros
Clean, professional, and streamlined interface.
Easy to navigate dashboard.
Customer support provides quick answers to all your questions.
Use Satori to track your sales revenue and generate easy-to-read reports.
Cons
Some users have experienced double-booking when syncing with iCalendar.
Some of the features are less intuitive and require an email to support for assistance.
Developed for your coaching business, Satori lets you make online bookings for individuals or group sessions and take online payment for your services. With this scheduling software it's easy to track your schedule and fill up remaining or canceled sessions so your calendar is full. To make future appointments even easier to schedule, you can book sessions from month to month or for a fixed period of time.
Other unique features of Satori include appointment reminders and follow ups with your clients when it's time to book another session. You can also track client progress by making session notes, adding an even more professional experience for your clients.
Satori lets you provide an even more personalized experience for your clients by letting you create customized questionnaires to send out prior to appointments. You'll be more prepared for each booking so you can streamline each coaching session.
You'll be even more efficient in booking appointments by syncing Satori into your other calendars, including Google and Outlook. Now all your scheduling information is available when you need it.
First time users may take a bit of time to get set up using Satori, but once you're done with the initial setup the software becomes easy to use.
Coaching Lobby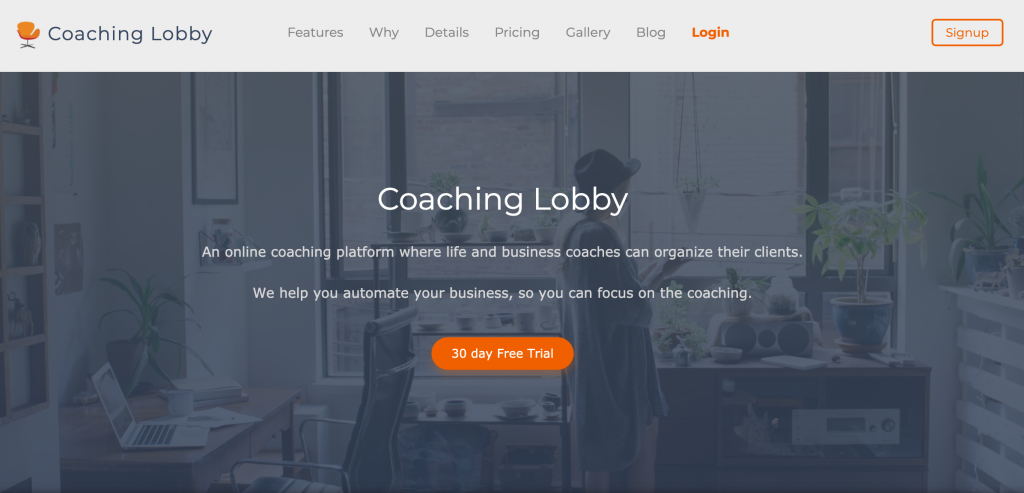 An application that allows for time-saving scheduling of appointments, Coaching Lobby has automated many of the functions that take up a lot of your valuable time.
Pricing:
$24.95 USD/ month
Includes 1 coach, with unlimited clients
30 day free trial
Features:
Scheduling

Calendar booking – sync with Google, iCloud, and Office
Automated reminders + notifications

Share files
Streamlined client services:

Progress tracking
Create private + shared notes
Create private + shared tasks for clients
Pros
Clients can use PayPal to make online payments.
Schedule appointments and meeting across time zones.
Easy to navigate dashboard.
Cons
Limited to online payment with only PayPal.
Basic monthly plan for one coach is less cost effective than other scheduling software.
With Coaching Lobby, you have complete control of your booking and scheduling, managing all your appointments quickly and efficiently and syncing appointments into your other calendars. Coaching Lobby will sync up with Office 365, Outlook, Google, iCloud, and Exchange.
You can choose when you send out reminders, such as one day before an appointment and/or one hour before. Streamline your appointments and make even more use of this scheduling software by creating private and shared client notes. Other coaches can add notes or leave comments, making for a better client experience.
Another good feature of Coaching Lobby is easy payment– set your clients up with agreements that allow them to pay with PayPal online.
With Coaching Lobby you'll be able to focus on coaching, not on time consuming administration responsibilities.
4. Construction and Home Services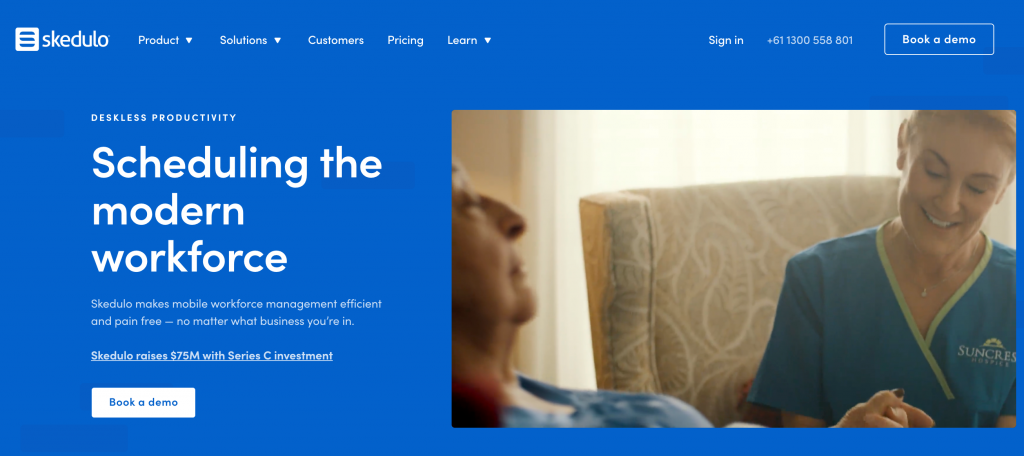 A scheduling solution for businesses providing construction and home services, Skedulo allows for appointment booking when you're in or out of the office.
Pricing:
$79 USD/ month, billed annually
1 user
Features:
Scheduling

Book appointments based on client requirements
Schedule bookings with availability of relevant workers
Receive dispatch messages and notifications
Manage availability and leave
Simplify complex scheduling

Overview of job status – pending, in progress, and finished projects
Collaborate with teams in the field in real-time
Track productivity
Downloadable training guide
Filter job data using visuals, such as Gantt charts
Pros
Log into the dashboard to look at all your notes and contracts.
Create custom view and export to PDF.
Create new and change existing jobs with a single click.
Cons
Not all features are intuitive and require time to learn what they can do for you.
App for mobile users is more costly than other scheduling apps.
Skedulo connects those working in the field with the office using real-time communication. This communication is crucial to the smooth running of your business, ensuring that your customers get the best service possible. You'll be able to identify scheduling problems before they occur, preventing late and missed appointments.
With automated scheduling you'll simplifying the booking process and never miss an appointment or job. You'll be able to schedule appointments, knowing that employees have access to schedules based on their skills and availability. Streamline your services even more by easily matching up customers for each appointment with appropriate and qualified employees.
By checking schedules, you'll be able to see at a glance the progress of each job from those pending, to those assigned and in progress, to those that have been successfully completed. Skedulo lets you make it faster to schedule appointments and make fewer errors by dragging and dropping throughout the software using visuals such as calendars, maps, and Gantt charts. You can also add details to each job, including the resources needed to complete.
To get the most out of the robust features provided by Skedulo you'll have 24/7 access to their online Support Portal where you can search for answers through the knowledge base. Or submit a ticket to get the answers you need.
Jobber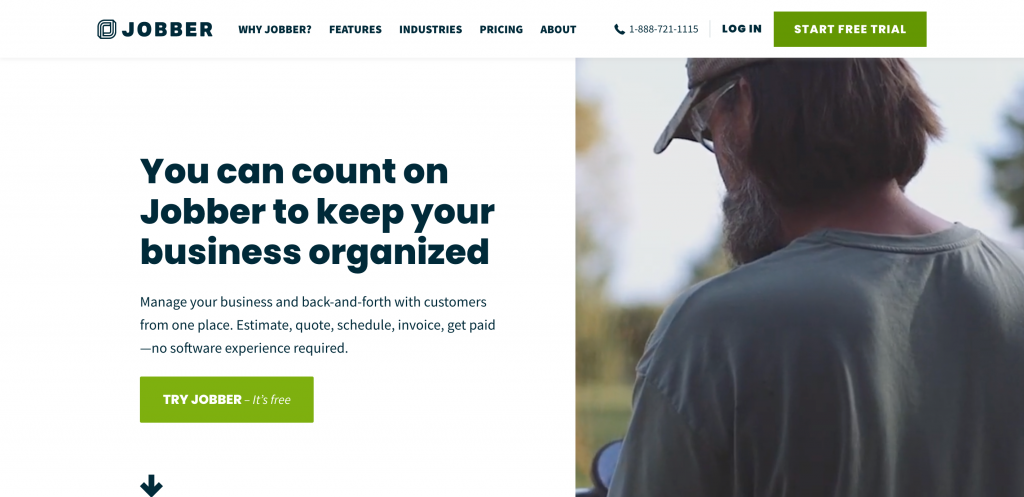 Jobber is ideal for home service businesses, letting you organize your schedule and book appointments for your entire crew.
Pricing:
$29 USD/ month, billed annually
1 user
14 days free trial
Features:
Scheduling

Book appointments in the field
Drag and drop calendar
View daily team and job progress
Notification of new, rescheduled, and canceled appointments

Payment accepted – online payments
Quotes and invoicing provided, with automated payment reminders
CRM system – client information including previous sales and services
Customer portal
Support provided via email, online chat, and phone
Overview of job status – pending, in progress, and finished projects
Collaborate with teams in the field in real-time
Built in advanced reporting
Integrate with QuickBooks
Mobile app for Android and iPhone
Pros
Easy to use dashboard and interface.
Responsive mobile app for when you're out on the go.
Easily manage the estimates and invoices that apply to each appointment.
Cons
Calendar view lacks the ability to book more than one job without confusion on the weekly screen.
Syncing with QuickBooks is difficult for prepayments from clients.
If you have your own construction or home service business, you'll need a very specific scheduling process. Jobber makes it easy to streamline taking appointments by adapting scheduling for the contract type of job. You have the flexibility to book jobs and tasks much faster than manually managing all the details.
With every new client, start by creating the job. Then use Jobber's color coding system to assign events to each job, such as recurring contracts, invoicing, or obtaining quotes. You can filter tasks and assign them to specific users. so you know at all times what your team is doing.
It's easy to keep your team on track by assigning different views to each. You'll be able to get a clear indication of team availability so you can avoid double, over, or under booking. Jobber's grid view allows you to move jobs between times and employees.
When first using Jobber, take advantage of their online FAQ or use the Jobber Academy portal for information on using the software.
5. Lawyers and Real Estate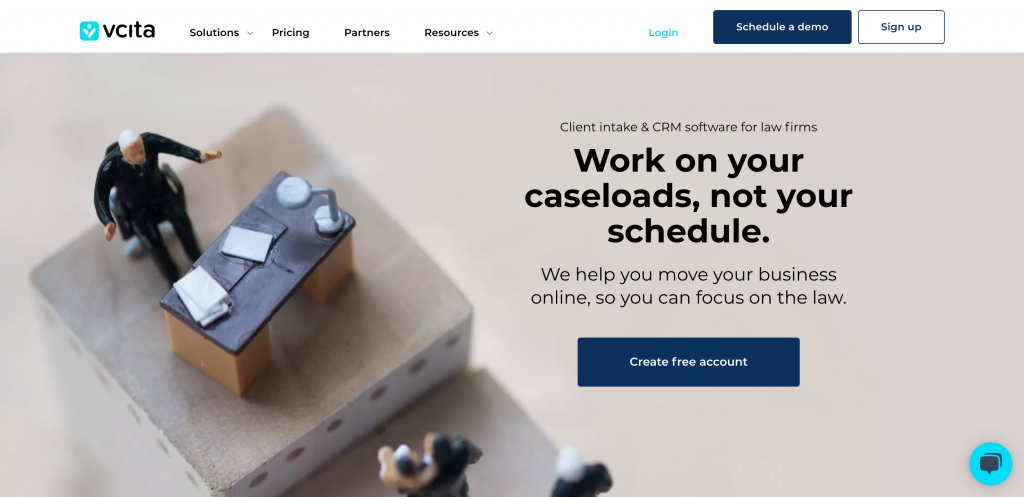 vcita provides appointment scheduling that allows your clients to book online at their convenience, saving valuable time by avoiding the back and forth that often happens when booking appointments manually.
Pricing:
From $19 USD/ month
1 – 20+ users
14 days free trial
Features:
Scheduling

Access online scheduler anytime and anywhere
Online client booking 24/7
Automatically confirm client booking based on availability
Schedule one-time and recurring events

Client lead capture through:

Facebook
vcita landing page
Website widget
Google My Business (Google Maps)
Book now button in your email signature

Sync with work calendar
Customize with brand colors and logo
Employee management
Payment accepted
Pros
Automates multiple tasks, including appointments, email, and payments.
Website widget allows for lead generation with new clients.
Easy to set up and start using.
Free on-boarding
Free SMB marketing resources
Cons
Not all functions are intuitive to use.
vcita is an appointment scheduling solution for both solo entrepreneurs and businesses with a team of employees. You'll be able to manage appointments based on your availability and business hours. You can also utilize vcita for employee scheduling on your own admin dashboard, managing your team's appointments and availability.
Let clients book with you in three ways: 1) using a Facebook CTA button, 2) on your website using vcita's scheduling widget, or 3) through your own vcita landing page. Your landing page lets clients see your services and availability so they can book appointments. You'll have the ability to manage your clients through messaging and file sharing as well as invoicing and billing, providing great client service with the integration of all these tasks.
Have a one time appointment or a recurring event? With vcita you can customize with event registration and confirmation by email. You can also schedule classes or by-invite-only events by sending updates to registered clients. Then use color-coding for different services to make it easy to see what you have scheduled for each day.
You can add to the client experience by customizing your online scheduler, website widget, and your vCita landing page with your own brand colors and logo.
When starting out with vcita, access their video tutorials for information on how to use the software, including billing and invoicing, and accepting online payments
Genbook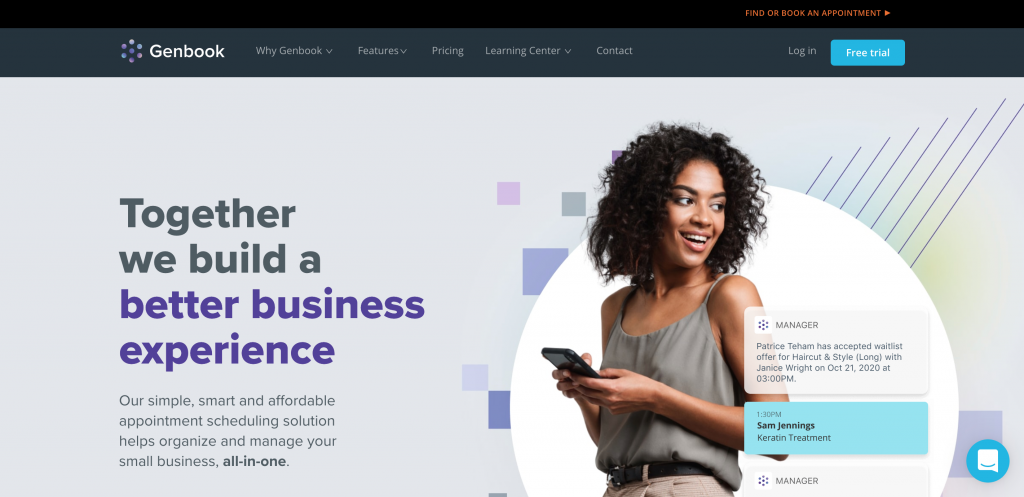 Genbook is an all-in-one appointment scheduler for small businesses such as lawyers and realtors, providing features and functions that let you do more than book appointments.
Pricing:
$29 USD/ monthly
1 user
30 days free trial
Features:
Scheduling

Calendar booking
Unlimited appointments
Automated reminders via SMS and email

Sync calendar
Client lead capture through:

Facebook
Website
Genbook website

Contact management – client information and appointment history
Automatic feedback and customer reviews
Payment processing

Credit card
Bluetooth card reader for in-store payment

Performance dashboard for analytics
Filesharing capabilities
Pros
Great functionality using the phone app to schedule appointments on the go.
Professional looking email and text reminders for clients.
Quick response from customer service to all your questions.
Cons
Cost for multiple users is higher than other scheduling software.
Dashboard isn't intuitive for all functions.
Genbook lets small business owners manage and schedule their appointments. Using real-time availability, you'll avoid missed bookings and no-shows. You can easily send out automated reminders to clients of upcoming appointments, giving them time to cancel and reschedule well ahead of time.
Your clients can book with you at anytime through desktop or mobile app accessibility. Genbook has numerous features and tools for scheduling and employee client management, such as a customizable calendar and being able to accept payments online.
Customize your calendar so that it fits your services, availability, and preferences for scheduling. You can also choose from a variety of colorful "booking buttons" to add to your website, Facebook page, and email newsletters.
Genbook makes it easy to stay on top of other business functions by using the performance dashboard. You can access business analytics to better manage your business and keep all your customer contact information in one place, including notes to improve client service.
Final Words On Choosing the Best Appointment Scheduling for Your Small Business
When you give your clients and customers the ability to book appointments at their convenience, you free up your time to focus on your business rather than spending time on the phone or answering email to schedule bookings.
Scheduling apps are an affordable investment that save you time and reduce loss of revenue due to no-show appointments and last minute cancelations. You'll be able to stay on top of all your appointments, providing your clients with great communication and service that will go a long way in increasing your clientele and upscaling your business even further.