When you're growing a small business, you have to maximize employee output while paying close attention to costs. This part of your job can consume up to eight hours per week- time that you could have spent qualifying website leads, meets with clients, and taking other steps to bring the business forward.
Employee scheduling has been described as a science. It's true. There's more to scheduling than pulling up an Excel sheet and inputting names, dates, and shift times. You also want to keep your team challenged and motivated without piling on more than they can handle. If you don't get it right, an employee can gradually decline from invaluable team member to a cynical and stressed-out job hunter.
The good news is that assigning shifts doesn't have to be an exercise in guesswork. Employee scheduling software automates the process of creating and maintaining schedules for your workforce, so that you can focus on taking your company to the next level.
What Is Employee Scheduling Software?
Employee scheduling software simplifies the process of creating and maintaining schedules for your hourly workforce. While some are designed to meet the needs of a particular industry, others can be adapted and scaled for businesses of all backgrounds and sizes.
Common features include:
Timecard creation and management
Payroll processing and management
Shift assignment that automatically factors in availability, overtime, and time off
Employee notification of new schedules and shift changes
Shift-swapping ability with real-time results
By automating the schedule creation and management process, you'll be better able to control labor costs while increasing productivity and employee satisfaction.
What Are the Benefits of Employee Scheduling Software?
As a small business owner, you wear multiple hats, especially during the early stages of company growth. You're the CEO, accountant, marketing department, and general manager. With so many demands on your attention and time, employee scheduling software streamlines the HR aspect of the business.
Below are some of the benefits that come with most scheduling software:
More effective workforce communication: You can alert everyone when a new schedule is posted, or changes have been made to their shifts. For example: if you have to close the premises temporarily due to flooding or another emergency, you can alert those scheduled to work.
Improved shift coverage: When you use a software that allows shift-swapping, an employee who is unable to make it to their shift can offer it to someone else who is available. If you prefer to control this process, many solutions allow you to manually approve changes.
Maximize your workforce: Most scheduling software provides you with a valuable overview of everyone on your workforce. You can see who has an excellent attendance record, received customer compliments, or completed professional development training. This information will help you fill key roles as the company expands.
Better control of labor costs: When you're determining the labor requirements for upcoming shifts, employee scheduling software can be a good source of historical data that helps you predict future demand. You can prevent understaffing or unplanned overtime, both of which can hurt your bottom line.
How To Choose The Best Employee Scheduling Software For Your Small Business?
Scheduling needs often vary from one industry to the next, and even within similar businesses. If you run a successful neighborhood beauty salon or single-location boutique gym, you're not going to need an employee scheduling software that targets citywide or national beauty or fitness chains. You want a solution with features and functionalities that compliment your industry and the size of your business.
When deciding on a scheduling solution, consider factors like the following:
Payroll needs: If your business is steadily growing, software with payroll integration will save time and prevent accounting mistakes that could cost you later.
Shift flexibility: If you run a service business, such as a restaurant, gym, or a beauty salon, a shift-swapping capability can ensure quick coverage when people aren't able to work their shifts.
Credentials management: Some businesses, such as law offices, financial services, real estate, and healthcare (e.g. physiotherapists and chiropractors) involved licensed professionals. Some software will store information about employee credentials and alert you when they are due to expire. Keeping track of these details can ensure that your business remains compliant with applicable regulations.
Security: Businesses in the legal, financial, and healthcare industries handle confidential client information and are typically subject to specific privacy and data security laws. For these companies, tight security measures are mandated by regulators.
Dynamic scheduling: Some businesses don't use a static schedule: employees are scheduled at different times and multiple locations. They include home repair contractors, HVAC technicians, and event planners. These enterprises need software that provides real-time availability to avoid scheduling conflicts.
Below is a list of the 10 best employee scheduling software options for small business.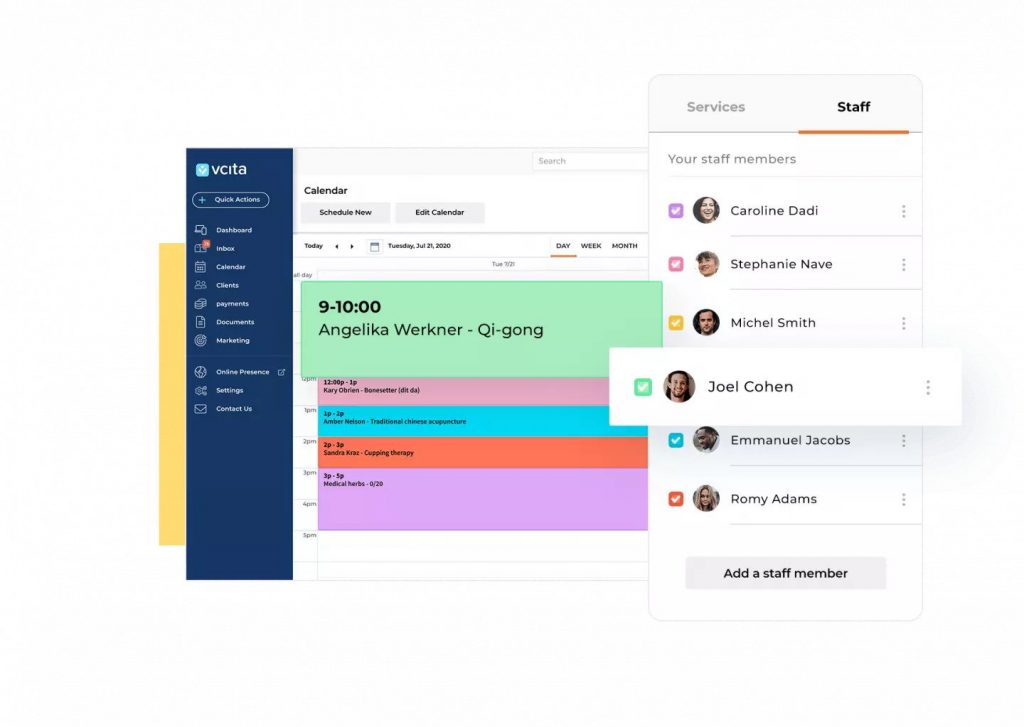 vcita is an employee scheduling app that enables small businesses of all sizes to automate their employee scheduling needs.
Pros:
Easy integration of new staff members
Automatically assign employees when customers book a service
Employees can book and reschedule sessions with clients
Integration with Zoom that enables remote work and virtual meetings
Cons:
Pricing:
Pricing varies according to how many employees you have. A 14-day free trial is available.
Business: $45 USD per month (up to two people)
Platinum: $75 USD per month (up to five people)
Platinum 10: $117 USD per month (up to 10 people)
Platinum 20: $196 USD per month (up to 20 people)
Features:
Gmail integration: import employee contacts for seamless communication
Assign staff to client services and appointments
Automatically route client requests to certain employees
Shared team calendar
Up-to-date availability display
Schedule notifications sent via email or SMS
Email and SMS shift reminders
Quickbooks integration
HIPAA Business Associate Agreement
Email and phone support available
Strong relationships are the foundation of every successful business: relationships with your customers and with your employees. vcita is much more than a CRM, its capabilities go beyond lead generation, email marketing, and client profile creation. It's also an organizational tool that lets you efficiently manage your employees and their schedules.
You can manage your staff list from the Staff Setting page. When you create an employee profile, you can specify which services they provide, so that you can schedule appropriately or make it easy to assign them to customers who require their skillset. New employees receive a welcome email at the address they supply for communication purposes.
For added efficiency, you can specify that booking requests and client communications are automatically directed to the employee who last handled that client and is most familiar with their preferences and requirements.
If you work in healthcare, vCita's service and security mechanisms follow HIPAA regulations for electronic Patient Health Information, which gives you peace of mind about compliance issues.
With the vcita Business Plan, you receive email and phone support. All other team management plans receive priority support.
2. When I Work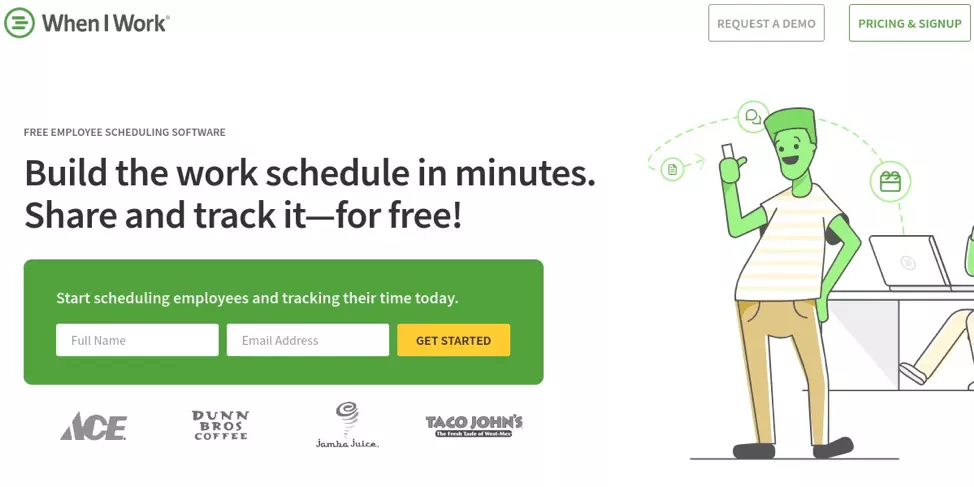 When I Work is a user-friendly employee scheduling and time clock software that's free for up to 75 employees.
Pros:
Free version contains powerful scheduling features
Only qualified employees are presented when doing shift replacements
Open Shifts feature lets employees grab available shifts
Cons:
Free version limited to one team and location.
Pricing:
A free version is available for up to 75 employees. After that, the plans are:
Scheduling Basic: $1.50 USD per user per month
Scheduling Pro: $2.25 USD per user per month
Enterprise: Call for pricing
A 30-day free trial is available for advanced features like Time Clock & Attendance.
Features:
Shift swapping available to ensure ongoing coverage
Easy availability and time off management
Offer available shifts to eligible employees
Advanced plans for remote job sites and multiple teams
Auto-scheduling available
Task progress feature
Email and SMS shift notifications and reminders
Ticket and live chat support available
Unlike a lot of other employee scheduling apps, When I Work's free version is full of robust features. It only takes a moment to set up your schedule and add employees, and if your staff list is available as an excel spreadsheet or CSV file, you can populate your team database in seconds.
The team calendar lets you see which employees are scheduled in the coming week. Once added, everyone stays informed about their work schedules with email notifications and text message alerts. Should you need to find qualified staff to cover a shift at the last minute, all you have to do is select that shift and the employees you want to offer it to, and click 'send.' The first one to confirm gets it.
When I Work offers a unique self-scheduling feature called 'Open Shifts.' When an open shift becomes available, employees receive an email and text. All it takes to claim that shift is a text reply, which automatically updates the schedule.
All When I Work clients receive live chat and ticket support. Enterprise clients receive a personalized onboarding session.
3. Homebase
Homebase is a free employee scheduling software that includes a time clock, timesheets, labor cost reporting, and even job postings.
Pros:
Forecast labor costs during shift scheduling
Auto-schedule based on team roles and availability
Job posting capability
Cons:
Free version limited to one location.
Pricing:
A free version is available for one location and its employees. After that, the plans are:
Essentials: $16 USD per location per month
Plus: $40 USD location per month
Enterprise: Call for pricing
Features:
Online schedule builder
Team calendar that keeps everyone on the same page
Easy shift trading and coverage
Free mobile app with built-in messenger
Auto-scheduling available based on employee experience and availability
Missed clock-out reminders
Email and SMS shift notifications and reminders
30-minute webinars available to help you get set up
Phone, email, and live chat support available
Used by businesses of all sizes across the U.S., Homebase has several free tools that streamline the hiring, scheduling, payroll, and team communication processes.
The drag and drop team scheduling tool lets you create a schedule in minutes from any browser or mobile device. For added convenience, you can copy over the previous week's schedule or build one automatically based on employee roles and availability. Everyone will receive their shift information via email, text, and the mobile app.
When employees update availability and trade shifts, Homebase will automatically update the team schedule and highlight conflicts. You can approve these changes to ensure proper coverage of all services offered.
Unlike most employee management software, Homebase has a hiring feature that lets you post to popular online job boards for free and view incoming resumes in a central and convenient location. Once you hire, the new employee can be added to your team page with a single click.
All Homebase clients receive phone, email, and live chat support. Enterprise clients are supported by a dedicated account manager.
4. Deputy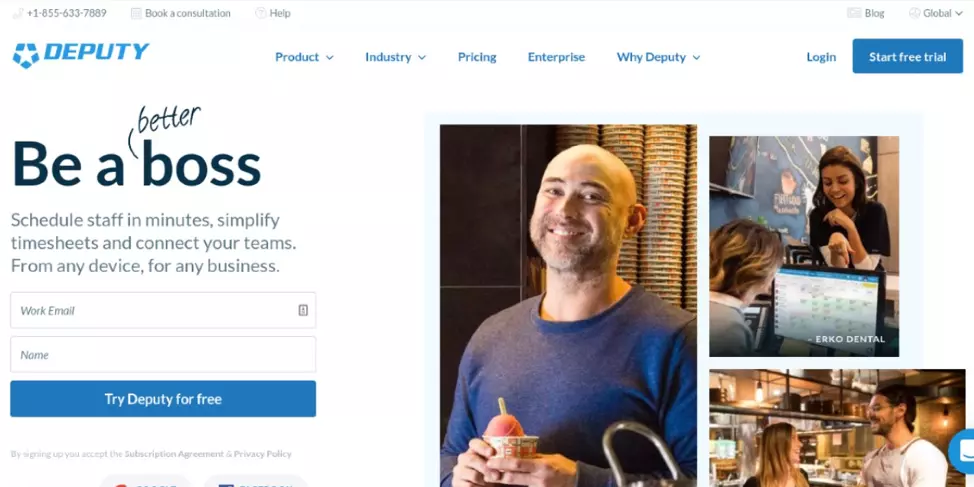 Businesses everywhere use Deputy to create schedules in minutes, simply timesheet management, and improve team communications.
Pros:
Forecast labor costs during shift scheduling
Flexible weekly plan for events-based businesses
Unlimited 24-7 support available to all customers
Cons:
No annual pricing discounts
Pricing:
Scheduling: $2.50 USD user per month
Time and Attendance: $2.50 USD user per month
Premium (combines the first two plans): $4.00 USD user per month
Enterprise: Call for pricing
A 14-day free trial is available for all plans.
Features:
Shift swapping and auto-scheduling for uninterrupted coverage
Time tracking software for accurate payroll
Time clock app lets staff monitor their own hours
Integrates with most payroll service providers
Share messages and announcements on company newsfeed
Assign one-time or recurring shifts
Demand planning tool to forecast staffing needs
Email and SMS shift alerts
Phone, email, and live chat support available
Deputy is an employee scheduling software that lets you manage multiple locations and employees using a single account.
The AI-powered auto-scheduling feature can generate the perfect schedule by taking labor forecasts into account, which reduces unnecessary wage costs. For added convenience, Deputy syncs all employee pay rates directly from your payroll provider.
You can assign shifts based on employee skills and qualifications and set a limit on how many hours each person can work per day or week. Employees can use their smartphone to clock on and off, so you can manage compliance risks by ensuring that everyone takes scheduled breaks and is paid for overtime.
If you are an event planner, the Deputy Flexible Weekly plan includes the same features as the Premium plan, but you only pay the full rate for the number of users that week.
All Deputy clients receive phone, email, and live chat support. Enterprise clients receive dedicated support.
5. Shiftboard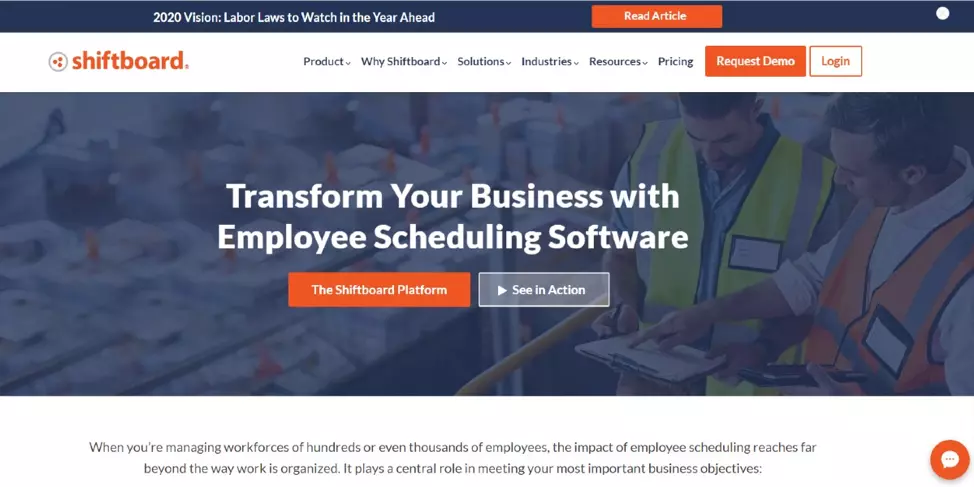 Shiftboard is for business with complex workforce scheduling needs. This includes fluctuating schedules, multiple locations, and remote employees.
Pros:
Forecast labor costs during shift scheduling
Employees with expired credentials can be blocked from scheduling
Special event pricing bundle available for one-time events
Cons:
No free trial appears to be available
Pricing:
Basic: $3.00 USD user per month
Professional: $6.00 USD user per month
Enterprise: Call for pricing
Features:
Advanced rules engine can accommodate complex scheduling
Auto-assign shifts to limit overtime and employee fatigue
Automatically notify employees of new schedules and shift changes
Employees can swap shifts
Group messaging
Use historical data to forecast future needs
Credentials monitoring
Email and SMS shift alerts
Phone and email support available
Shiftboard is an employee scheduling software designed for growing businesses and those with remote teams.
You can set it up to auto-assign shifts and generate a schedule that uses historical information to better predict demand. Shiftboard's shift-assignment rules are also designed to help you manage overtime and reduce costs without having to do complex calculations yourself. Once the schedule is created, everyone who's been assigned to work will receive an email and text notification.
One of Shiftboard's biggest advantages is the ability to post open shifts. Available employees can grab them without you having to contact everyone individually. You can further empower trusted employees by allowing them to manage availability and swap shifts on any device.
If your company is experiencing a growth spurt, the premium version lets you schedule according to seniority, track labor contracts, and monitor credentials. You may not need these features now, but depending on your industry, the credentials control can protect you from future compliance issues.
All Shiftboard clients receive phone and email support.
6. HotSchedules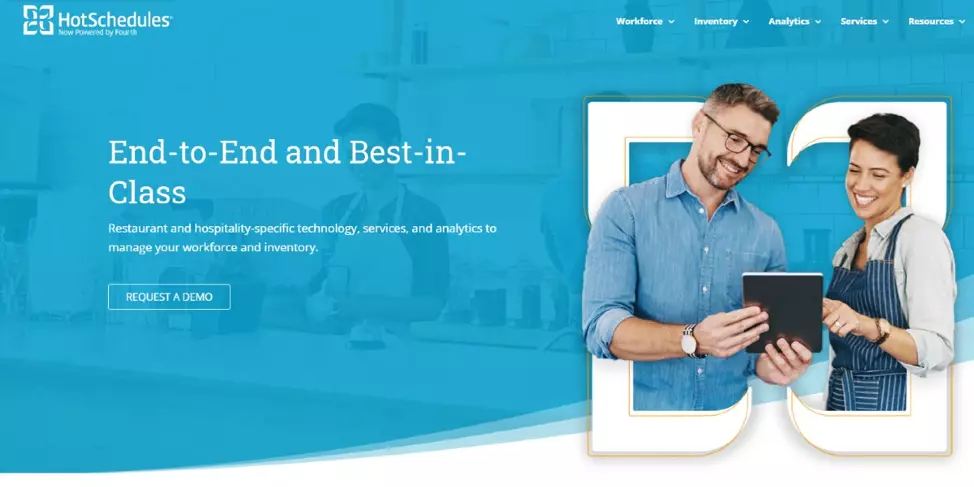 HotSchedules is designed to help business owners in the restaurant and hospitality industries manage their workforce and inventory.
Pros:
Mobile alerts available for overtime and missed clock ins
Predict future sales and the labor needed to accommodate those sales
Automated scheduling of meals and breaks for greater compliance
Cons:
Pricing is not published on the website
Pricing:
Everything is quote-based. Free 14-day trial available.
Features:
Applicant tracking so you can hire the best staff quickly and easily
Drag-and-drop interface and ready-made templates
Automatically notify employees of new schedules and shift changes
Team members can trade shifts
Communicate via mobile app
Labor forecasting for greater scheduling accuracy
Inventory, recipe, and menu management
Email and SMS shift alerts
Phone and ticket support available
HotSchedules is specifically tailored to restaurants and hospitality businesses. In addition to scheduling, it automates key operational processes like recruiting, training, scheduling, team communication, and inventory management, making it a recommended solution for small diners and multi-location eateries alike.
The all-in-one scheduling tool combines a drag and drop functionality with advanced reporting and forecasting ability to create schedules that limit overtime while meeting anticipated business needs. You can integrate it with point-of-sale systems to ensure that employees clock in and out within a specified time period. Time card and payroll history are easily exported to your third-party payroll provider.
If you run a business that HotSchedules was designed to service, like a restaurant or bar, this employee scheduling app will soon become one of your most valuable business assets.
HotSchedules clients receive 24-7 support via phone and online tickets.
7. Ubeya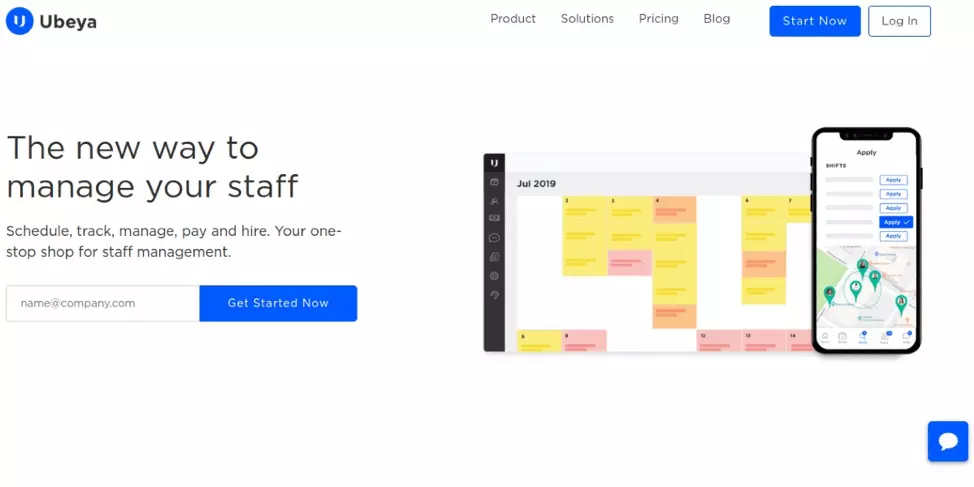 Ubeya is designed to help owners of events businesses effortlessly manage their schedules and staff.
Pros:
The app provides a live view of who is available to work
Flexible scheduling ideal for companies that work with freelancers and on-call staff
Staff profile includes ratings and reviews
Cons:
Software not suitable for companies outside the events industry
Pricing:
Basic: $2.00 USD per active user per month
Professional: $3.00 USD per active user per month
Enterprise: $3.00 USD per active user per month
A free 14-day trial is available.
Features:
Time clock allows your staff to clock in and out directly from the app
Automatic overtime calculation
Staff are automatically notified of their hours once scheduled
Automatic reminders to clock in and out
Communicate via mobile app
Add bonuses and tips before sending timesheets to payroll
GPS feature displays your staff on a map and shows the exact location where they clocked in and out
Email and SMS shift reminders sent a couple of hours before the event
Email and chat support available
Ubeya is used by catering companies, events venues, and staffing agencies across the globe. You can use it to quickly put together and maintain staff schedules, communicate with your team, and manage payroll hours.
An integrated time clock generates accurate timesheets each time your staff clock in and out, which improves time monitoring and increases employee accountability. You can rest assured that you are paying employees accurately, with meal times and breaks taken into account.
One unique feature is the staff profile section. Each employee's profile includes a photo gallery and ratings received from previous customers. These details make it easy to market your team members to potential clients.
Ubeya clients receive email and chat support.
8. Soon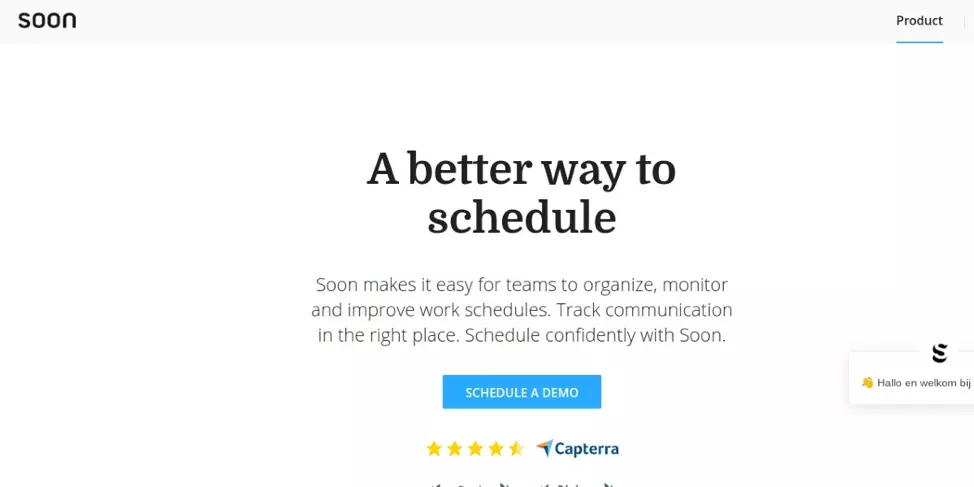 Soon uses the lean kanban method to simplify the scheduling process for all types of small business.
Pros:
Card-based schedule makes information management easier
Easily build schedules based on events as well as workweeks
Templates available to minimize repetitive work
Cons:
Pricing is not published on the website
Pricing:
Everything is quote-based. Free 14-day trial available.
Features:
Creates compliant schedules
Real-time availability updates
Real-time metrics
Generates customized reports
Conflict indicators prevent double-booking
Smart picking feature enables better staffing decisions
Centralized communications via mobile app
Employees can post comments, or request shift covers
Chat support available
As an employee scheduling app, Soon can accommodate both weekly and event-based schedules that ensure compliance and prevent double-booking. Staff availability is displayed in real-time, which is a huge asset when last-minute shift coverage is necessary, and the Smart Picking feature matches shift requirements with employee qualifications. Should any staff be unable to make a scheduled shift, the app allows them to request coverage from other employees.
Chat support is available for all Soon customers.
9. ScheduleBase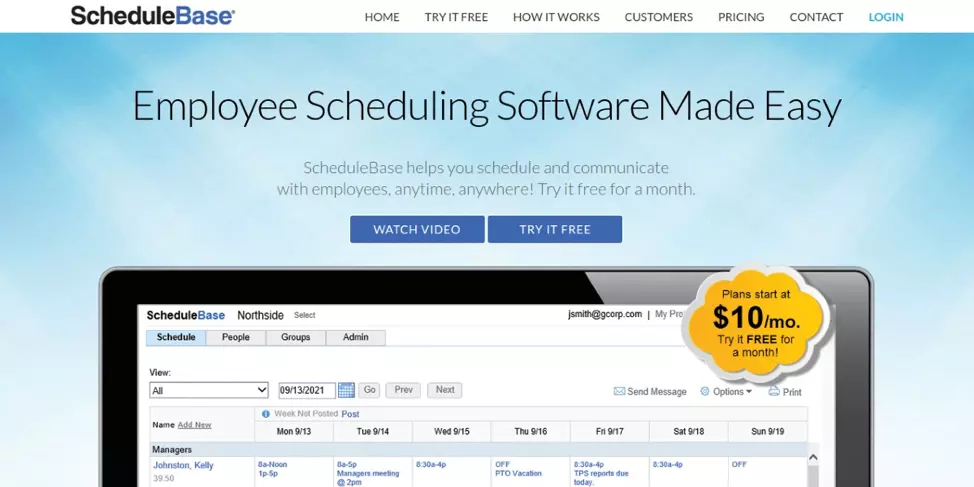 ScheduleBase combines employee scheduling and team communication capabilities to present an effective and affordable staff management solution.
Pros:
Automatically send schedules by text and email
If you make schedule changes, only affected employees are notified
Free trial is 30 days instead of the typical two weeks
Cons:
No shift-swapping ability appears to be available
Pricing:
Pricing is based on number of users. Free 30-day trial available.
1-20 people: $10 USD per month
21-50 people: $25 USD per month
51-100 people: $50 USD per month
101-150 people: $75 USD per month
151-200 people: $100 USD per month
201-300 people: $150 USD per month
301-500 people: $250 USD per month
Features:
Invite staff by entering their names and email addresses into the app
Designate employees as schedulers or administrators
Real-time view of staff availability and time off requests
Staff can indicate their availability through the app
Email and SMS notification of schedule posting and changes
Phone and email support available
ScheduleBase lets you make schedule, post, and update schedules from any mobile device. To add staff, simply enter their names and email addresses into the app and designate them as administrators, schedulers, or regular employees.
Planning is easy because staff availability is shown in real-time, along with any time off requests. Employees can specify a regular availability preference, so you know which days and times they can typically work. When the schedule is complete, everyone with a shift assigned will be notified. If you're faced with a no-show, you can find a replacement by checking the app for available staff.
All ScheduleBase customers receive support via phone and email.
10. SchedulePop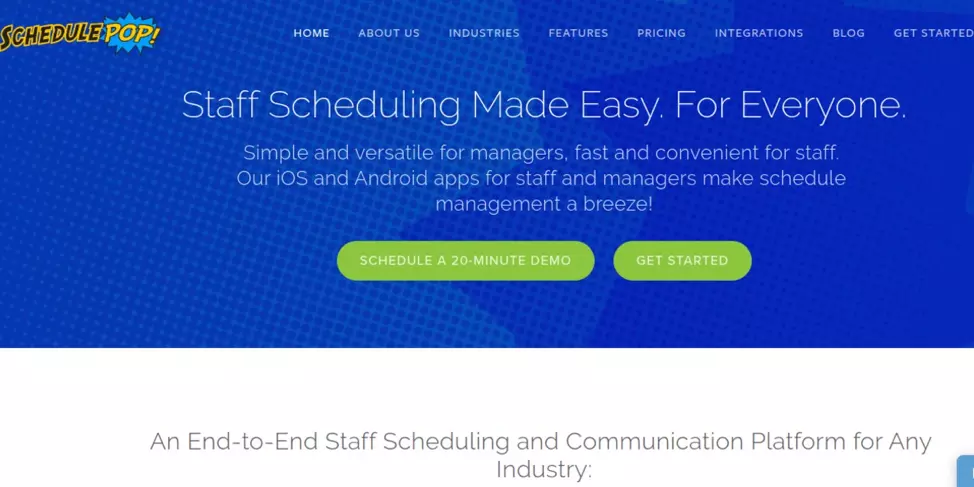 SchedulePop provides fully-featured scheduling and communication services for different businesses and industries.
Pros:
Integrates with Google Calendar
Multi-location visibility and zone management
Compatible with weekly and event schedules
Cons:
Pricing is not published on the website
Pricing:
The website states that monthly and annual plans are available. There is also a premium plan that includes direct support and set-up.
Features:
Convenient scheduling and staff management tools
Message your team as a group or individually text, email and Google calendar
Approve or decline a request and provide reasons
Easily contact available staff and fill shifts for no-shows
Staff can manage time off and availability
Staff can swap shifts through the app
Email and SMS notification of schedule posting and changes
Online support available
SchedulePop has all the tools you need to maintain a flexible yet compliant staff schedule across multiple locations. After reviewing analytics that can help you manage labor costs and overtime, you can automate shift assignment based on employee availability. Once the schedule is complete, your staff and volunteers can be notified via text, email, Google calendar, or the mobile app's push notification feature.
Employees can pick up, swap shifts, and request time off within the app. If you don't want to approve a vacation or time off request, you can decline it and provide a reason.
SchedulePop customers receive 24-7 online support. Premium plan members receive more direct support.
Conclusion
When you're growing your small business, any tool that's going to streamline daily operations and let you focus on management issues is worth the investment. These 10 employee scheduling apps have helped enterprises like yours make scheduling decisions that engage employees, provide customers with stellar service, and grow their brand.