Switching to remote meetings, especially if you were used to meeting in person before, is a huge adjustment. Whether you're meeting with clients or with your team, it can take a little guesswork to figure out exactly how to replace your in-person sessions. Chances are, you might need to send your clients course material, contracts, or project documents, or accept assignments or signed contracts from them in return. Enter file sharing software, which gives you an easy way to both share documents with your clients and have them share files with you. It also helps keep the documents in one place, so both of you know exactly where you saved them.
However, not all file sharing software is created equal! It's a good idea to do a little digging to see which one will best suit your business model, particularly if you need to share files frequently. Below are the top five solutions on the market, plus a few extra things to consider when you're making your decision.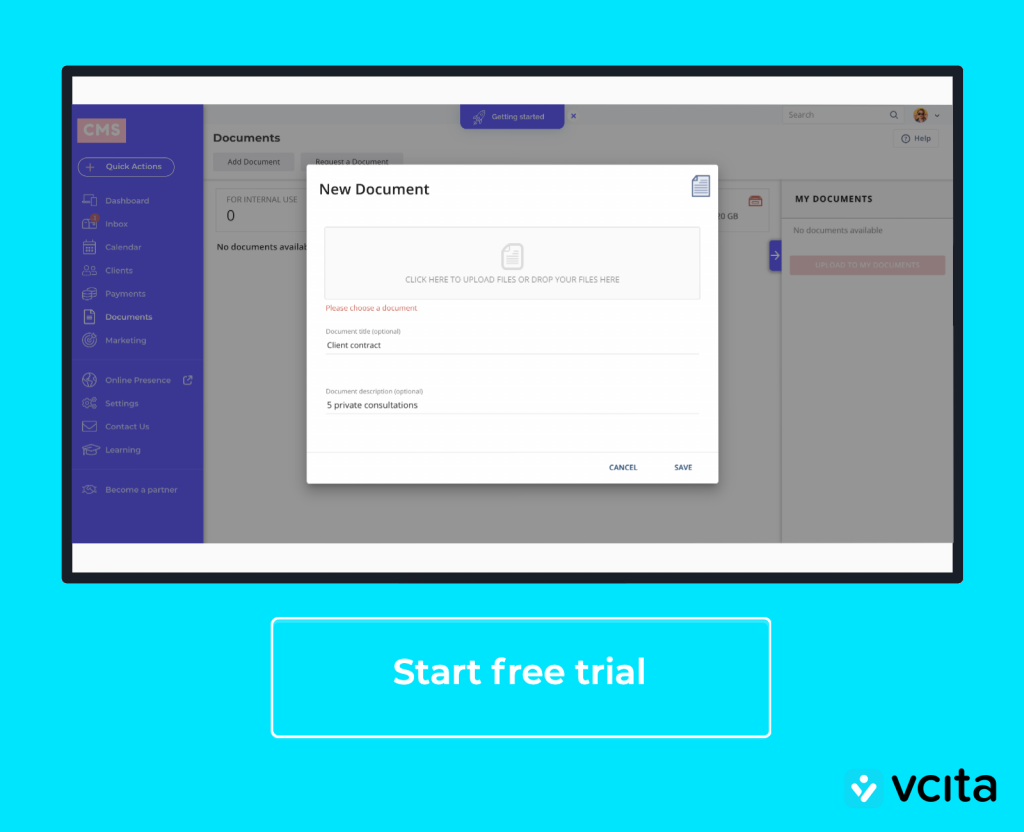 Pros:
easy to use interface with client portal
automated file sharing notifications, tracks when communications are viewed
invoices automatically shared with clients, along with a link to pay
Cons:
less storage space than the other plans
fewer team editing features
no workflow automation/approval features for documents
Pricing: 14-day free trial, with priced plans starting at $19/month
Features:
client portal that integrates files, invoices, payment info
built-in CRM tracks files and adds them to client's profile
200MB of storage space in Essentials plan, and 20 GB in Business plan
easy to use on mobile devices
Ideal for smaller businesses, vcita is an all-in-one platform with no-nonsense file sharing features. You can easily send files and invoices to clients through their client portal, and the integration with billing features, such as online invoice payment processing means they can just click a button on the invoice to pay. While vcita might be great for small businesses sharing simple files, its simplicity might be an issue for larger businesses with more complex projects.
Another issue might be the storage limitations, particularly if you need to share high-quality graphics or other larger files. Still, the integrated invoicing, CRM, and file sharing features make this one a good solution for businesses that don't have large administrative departments, or solopreneurs who do all their own admin work. If you do have a small team, you won't have to spend hours training them on something more complex.
2. box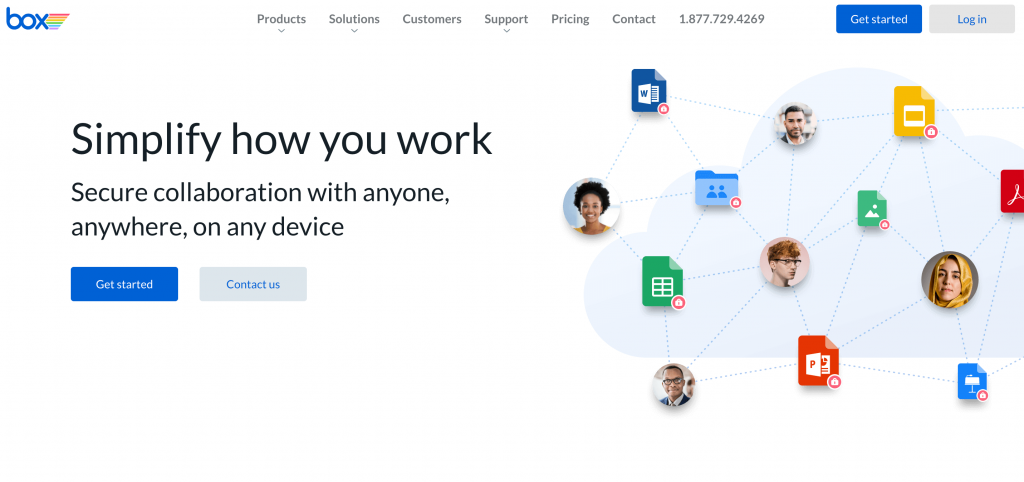 Pros:
collaborative editing and workflow features for teamwork
IT controls to ensure compliance across departments
integrates with Adobe, Office 365, and DocuSign
Cons:
no client portal, making it difficult to share files with clients
per user pricing is an extra admin hassle when expanding staff
need an external CRM management platform
Pricing: Starter plan is $5/user per month; Business plan is $15/user per month
Features:
note taking tool lets the team edit together in real time
workflow tool lets you create approval structure for management review
audit history of document shows who worked on it and what changes they made
APIs and developer tools allow for greater customization
100 GB of storage in Starter plan, unlimited storage in Business plan
Teams collaborating on larger projects might find Box a good solution. Its functionality is geared towards making it easier for groups to work on documents and track changes. The specificity with which it tracks changes make it great for managers looking to keep a closer eye on workflows, and workflow tools in turn can direct documents to the appropriate supervisor for review and approval.
One of the biggest downsides is its lack of a client portal, meaning you'll still have to figure out your own way to share internal documents with clients. It's less of an all-in-one system, with most of its features geared exclusively toward file sharing among teams. This software would be ideal for a mid-size or larger business that has systems in place to manage CRM and invoicing, and just need a solution for storing files online.
3. M-Files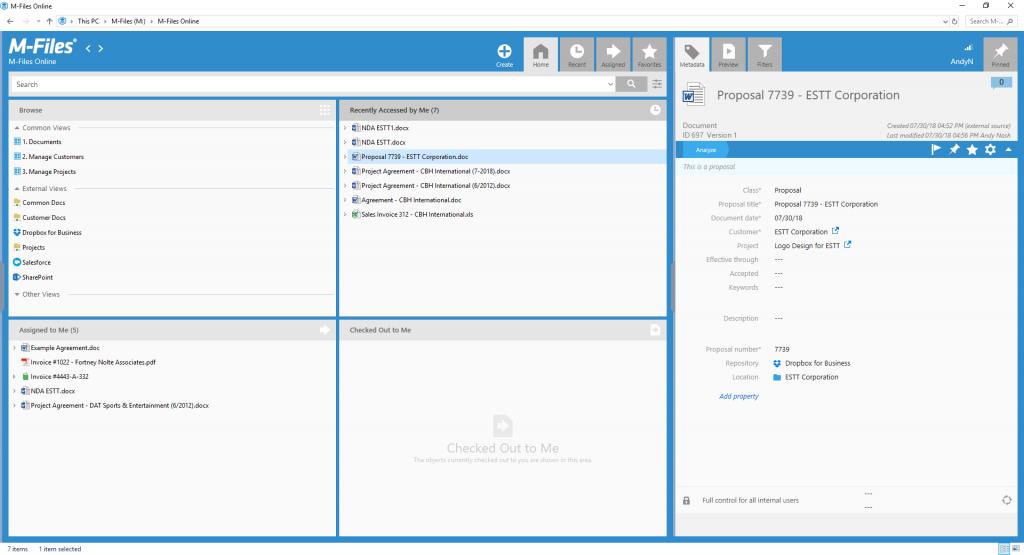 Pros:
highly customizable, with several modules to select from
metadata-driven filing eliminates need for folder systems
30-day free trial
Cons:
more expensive than other solutions
longer implementation phase with a steep learning curve
may be too complex for smaller businesses
Pricing: free trial, with pricing on a quote basis
Features:
software tracks document versions and document changes
workflow creation, including approvals, tracked in version history
metadata driven intelligent storage for flexibility
analytics, compliance, and import and export tools available
tailored solutions for your company or industry
Like box, M-Files is software that targets file storage specifically; but it's the top-of-the-line solution for businesses with complex storage needs. Its selling point is that it uses metadata to store files instead of folders, so it's possible to group documents in multiple different ways, depending on what data points you're targeting. This eliminates the need to save duplicate copies, as larger businesses might if they are using file folders to store documents.
M-Files doesn't post its pricing on the website, since it's quote-based and prices will vary widely. It's likely you'll end up paying more than the other solutions listed, but for larger companies that need to streamline their document storage, this may be worth it. However, the long implementation and steep learning curve isn't likely to be suitable for smaller businesses.
4. Bitrix24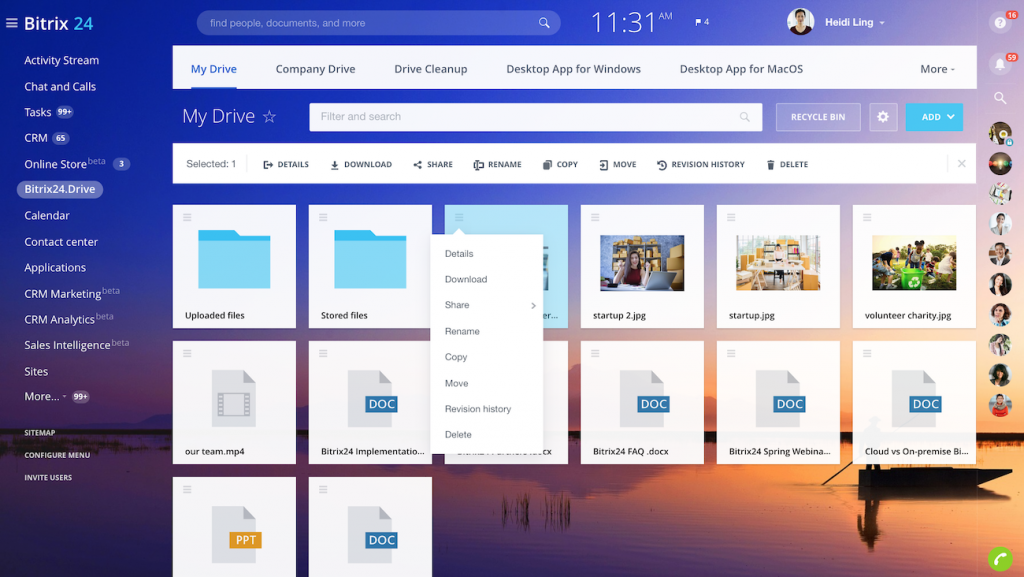 Pros:
free starter file sharing tool with 5 GB of storage, unlimited users
video chat tools integrated into the software make real-time work easier
HR management tool included for larger teams
Cons:
complexity means a steep learning curve
starter plans have less storage than box, M-Files, and SuiteDash
free users don't have access to tech support
Pricing: free version, with priced plans starting at 15.36/month
Features:
integrated CRM, invoice management, and file sharing
change log for documents records time changed, user who changed it, and past versions
free plan has 5gb of storage, with paid plans ranging from 10 GB to 1TB of storage
group task and project management tools
API for multiple features allows developers to customize
Bitrix24, like vcita, is an all-in-one solution with file sharing capabilities, meaning that invoicing, CRM, and file sharing are integrated into the platform. Unlike vcita, Bitrix24 is more complex, with a steeper learning curve and less intuitive user interface. However, it does have a free version, so this might be a good solution if you can't afford to spend another dime on overhead.
One of the things that makes Bitrix24 stand out is its scalability—smaller businesses might be enticed by the free version, but the paid versions are robust enough to support a larger and more complex business model. In particular, it offers HR tools the others don't, including an employee directory, self-service portal, and employee schedule management. One thing to take note of is that workflow and proces automation is only available on the larger plans of 24 or more users. This amounts to more administrative legwork for solopreneurs and smaller companies than a solution like vcita, which has automation at all price points.
5. SuiteDash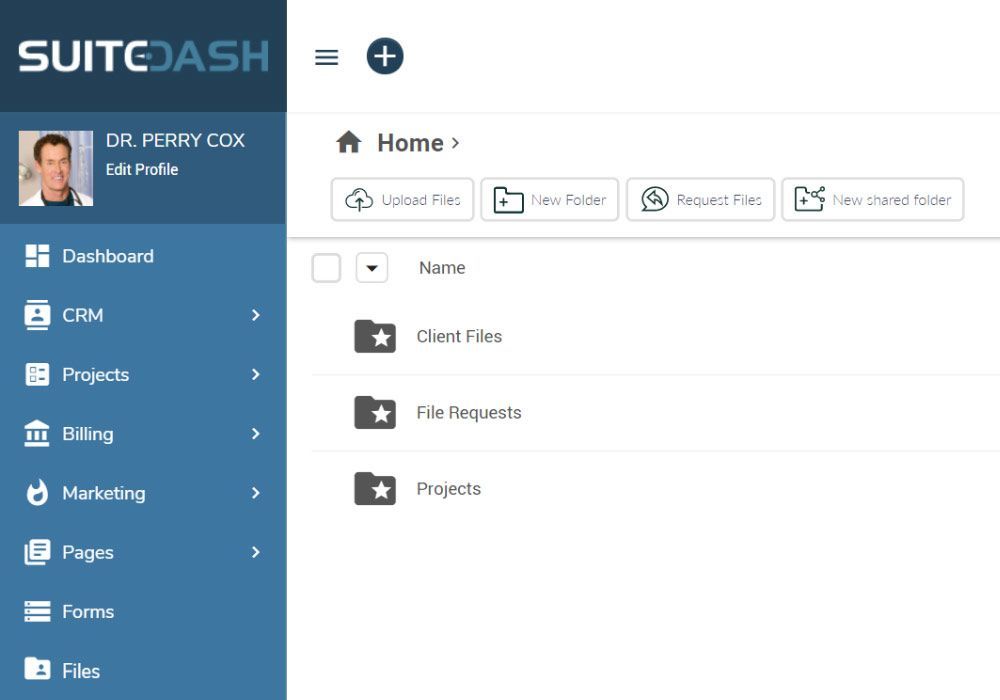 Pros:
unlimited team members and customer portals in Starter plan
time tracking features that sync with invoices
any file type can be stored, including proprietary extensions
Cons:
offers the fewest (direct) integrations with other apps
branded environment isn't available in the Starter plan
trigger/action automation only available in Pinnacle plan
Pricing: 14-day free trial, with paid plans starting at $19/month
Features:
file request feature that allows you to add a deadline
Thrive and Pinnacle plans offer folder structure profiles you can save
fully customizable client portal and shared folders that groups of clients can access
access to previous file versions, time stamped and chronologically organized
Starter plan offers 100 GB of storage, with larger plans up to 1TB
SuiteDash is comparable to Bitrix24 in that it's another all-in-one solution that offers a bit more complexity than vcita, including some more in-depth file sharing features. Again, that complexity comes with a steeper learning curve, although the starter plan SuiteDash offers has tech support to help. Its 100% white-label branding is a selling point, although it is only offered at the Pinnacle level subscription at $99/month.
It doesn't have the HR tools Bitrix24 has, so anyone looking to scale quickly would need an external HR management system. Unfortunately, one of the other downsides of SuiteDash is that it doesn't have as many integrations as any of the other apps listed. While it does integrate with Zapier, that might not benefit you if you need to maintain HIPAA compliance across all platforms. As long as that's not an issue, SuiteDash is another good solution for businesses looking to balance the ability to scale quickly with affordability.
A few more tips on picking out software
If you're still unsure, try the free trial of a few different platforms to see which ones you feel comfortable using. Alternately, you can find reviews and demonstration videos on YouTube to help you get a sense of their look and workflows, with someone to talk you through them.
Ideally, your software should automate things you already do manually and not create too many extra processes. Sometimes it's easy to be sold on a feature that seems like a good idea, only to find that you're using it just because it's there and not because it helps you be more efficient. Take note of what file sharing activities you'd like to streamline or automate to give yourself a better sense of what you really need.
The ability to send secure files to your clients and team members is crucial, especially during times when it's difficult to meet in person. With offices going digital, file sharing software companies have stepped up to the plate to offer a wide variety of solutions. It's up to you to pick the one that suits you best!