Making a good first impression helps land new clients, but going out on a high note is how you keep them coming back. That's why your invoice shouldn't be just another plain old document—it's the final flourish you put on each finished product, and your last chance to wow your client.
At minimum, your invoice should be polished, professional, and easy to read. But don't forget: your invoice is a part of your brand identity, which should be consistent across everything you send your client. If creative skills are a part of your brand, make sure to send your clients an invoice that reflects your skill set.
That said, your invoice should also align with your profession. For example, if you illustrate children's books, you'll likely be able to get away with a fun invoice, while an architect should opt for something more austere. If you're stuck, there's nothing wrong with using a template as long as you choose one that fits your profession, and modify it to fit your brand. Below are 10 examples of invoice templates designed specifically for different creative niches, and why they work so well:
1. Photographers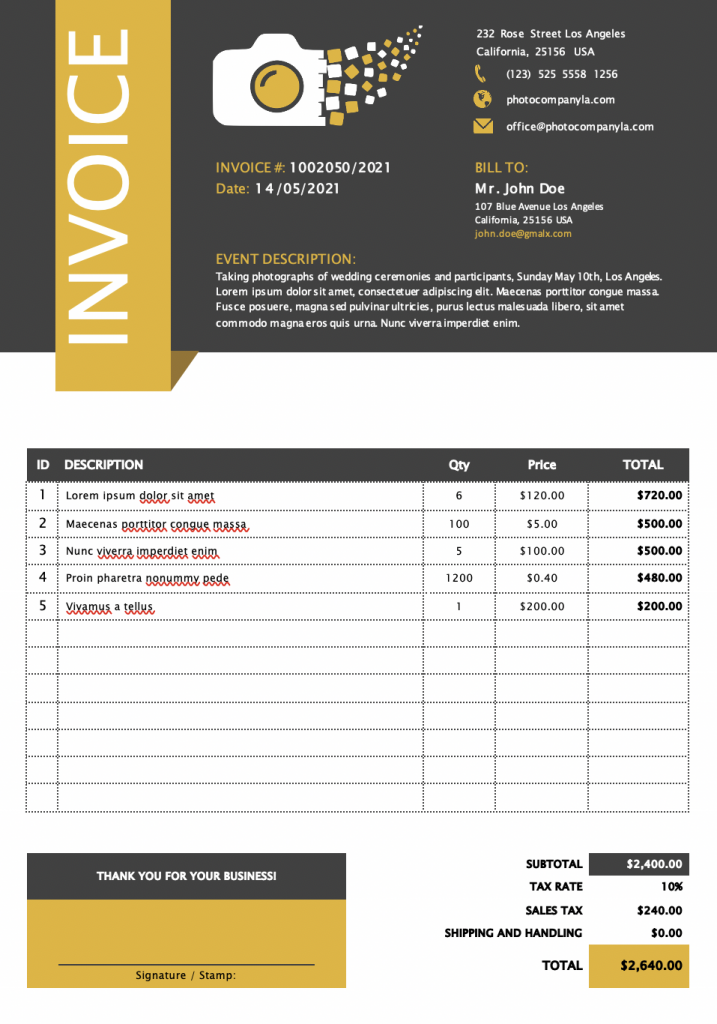 This invoice template does two things particularly well: it highlights the actionable information with colour blocks, and keeps it on brand by limiting the design palate to three colours. The word "Invoice," the total, and the signature/stamp fields are all highlighted with the accent colour, while the secondary information is further divided into two general fields.
It's a design that's deceptively simple—it shows that the sender is attentive to composition and framing, ideal for photographers. Photographers who want to customize the invoice could replace the camera icon with their logo, and change the colours of the highlighted fields to match their brand colour. Interested in using this invoice template for your business? Find it here.
2. Web designers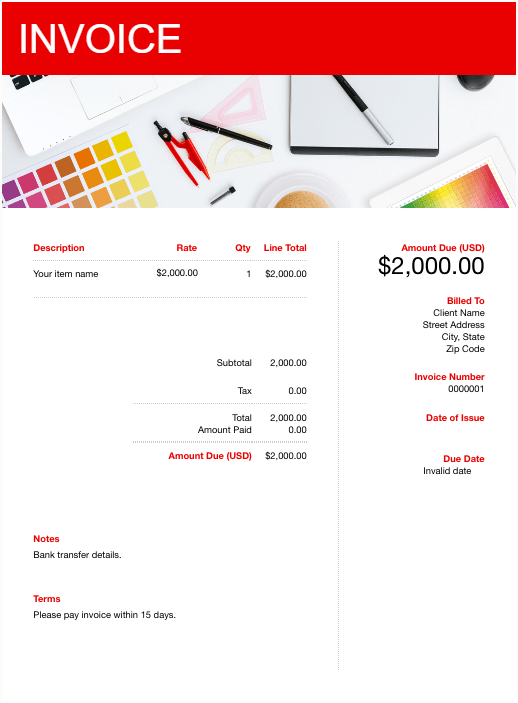 It's the creative layout of this invoice that makes it an eye-catching choice for web designers. The amount due is enlarged and moved to the top, making it the first thing the client reads—and ensuring they'll pay the right amount.
One of the other things that makes this template work well is the white space that surrounds the important information, making it easy to read. While it can be tempting to add more flair, this is a great example of how less is more, something that's true with both invoices and UX design.
3. Graphic designers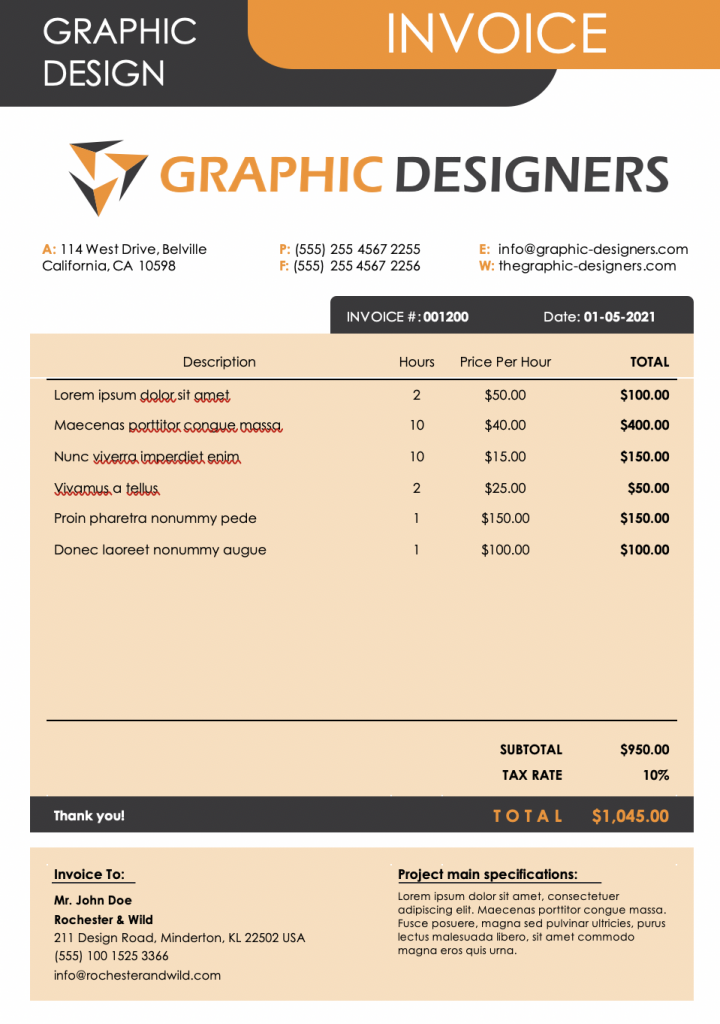 Invoices commonly have a logo on the top left hand corner; this invoice showcases the logo and business name by bringing them down to just under the header, and surrounding them by white space. Even though it's not at the top of the page, it's the first thing you notice because of its placement in the design.
If you're a graphic designer, this is a great template choice, especially if your logo or business name is an example of your own design or typography skills. The headers can also be customized to highlight the type of design project that you're invoicing for, which is useful for designers with a range of services. Find the free invoice template at vcita.
4. Interior designers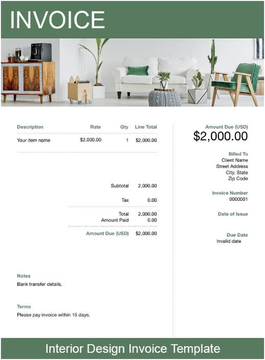 Here's a modified version of #2 on our list, optimized for an interior designer. It's a good example of how including a photo of your work can help your client connect your brand colours and logo to your style as a designer.
This photo was well-chosen because it matches the brand colours, while the vertical lines of the plants contrast the horizontal composition of the photo. Another approach might be to use a photo that creates a contrast with colours that are complementary to the branded elements, making the branded elements of the invoice pop.
5. Wedding planners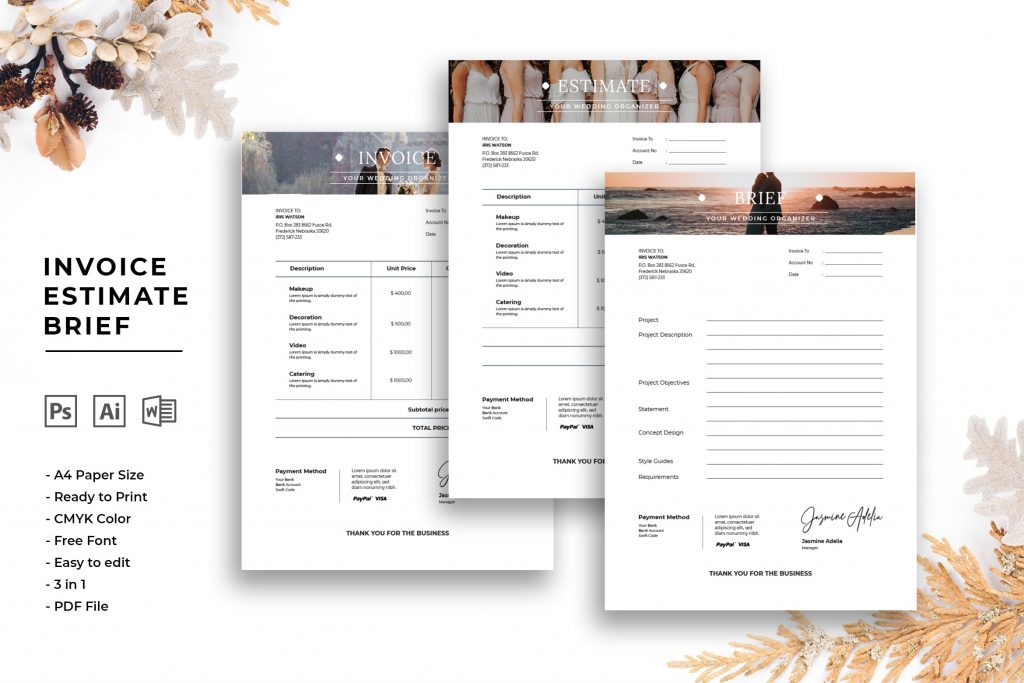 This is an excellent example of how brief, estimate, and invoice documents can work together to help you create a seamless branded experience. Although its wedding aesthetic is en pointe, it's a great template for any type of event planning, since the text below the header is fairly neutral. Just swap out the wedding pics with balloons and cake, replace the header typography with something a little more fun, and voilà! You have a party planner invoice.
It's also a great example of the way that practical considerations can influence invoice design, with more space for a brief explanation of each item—perfect for stressed-out clients who otherwise might forget about having requested that extra floral package.
6. Architects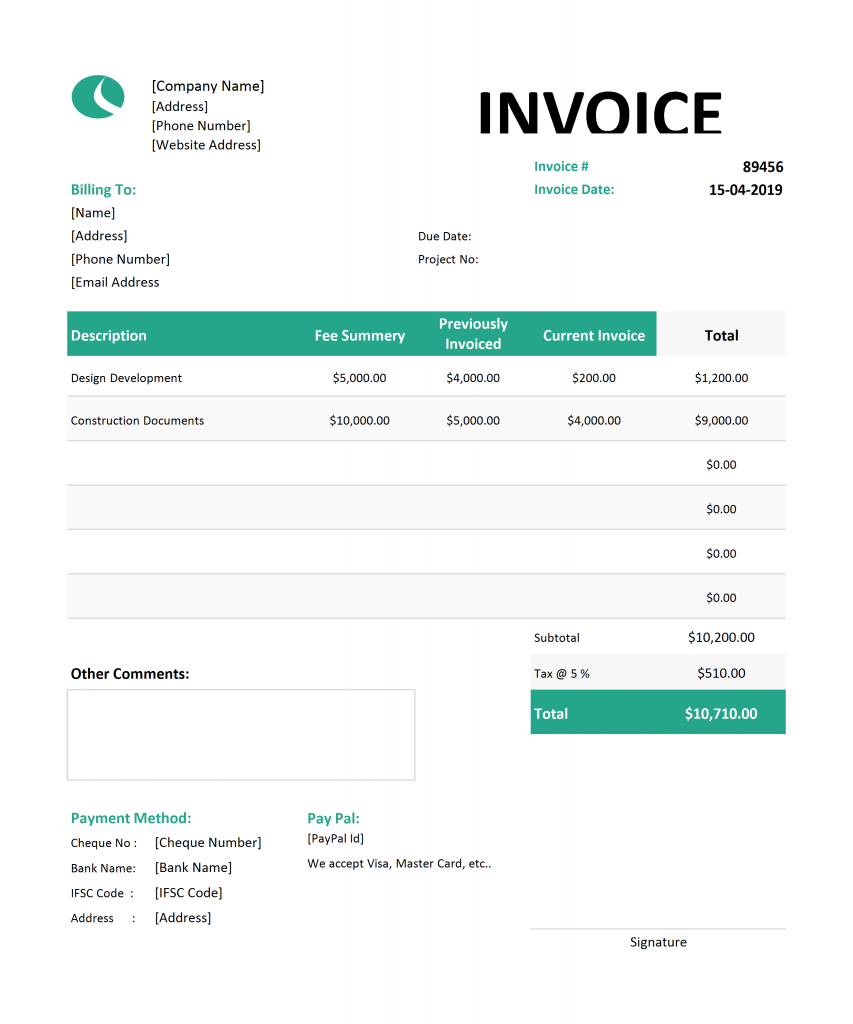 Architecture projects can often have complex fee structures, making it important to prioritize clarity and simplicity in invoice design. This template shows how progress on a fixed fee project can be displayed clearly and precisely, so clients know exactly what level of project completion you're invoicing for.
While it's more subtle, the branded elements are still there, with a monochromatic approach. It's easy to modify by dropping in your logo and changing the accent colours to match, or by adding a pale background colour to the entire invoice.
7. Furniture designers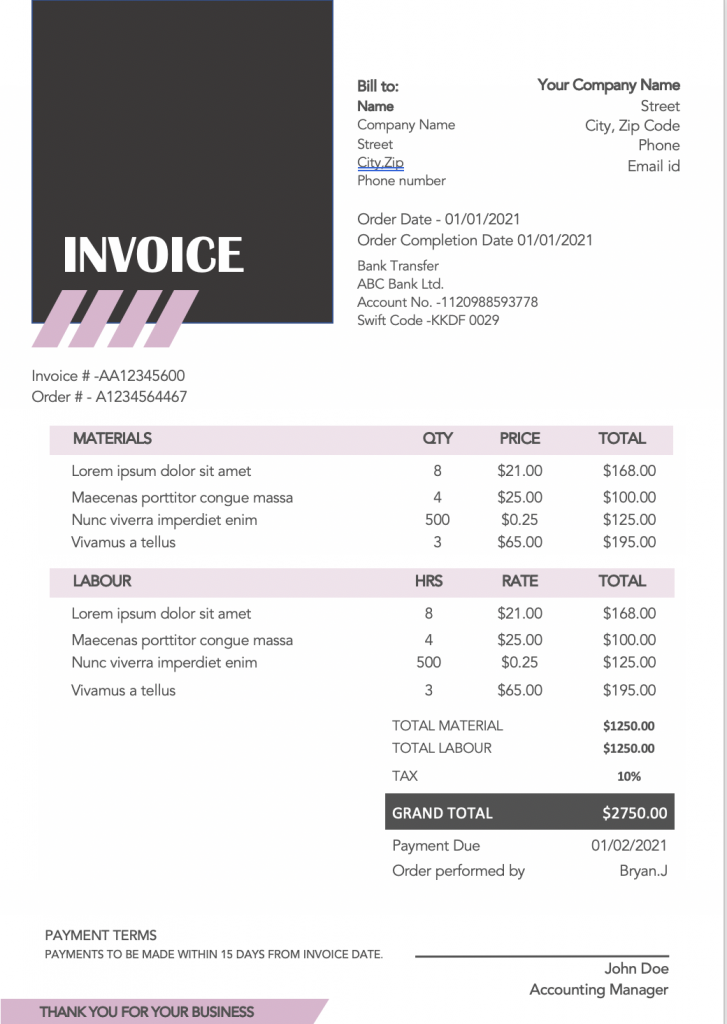 This invoice template for furniture designers has a sleek feel, with geometric graphics that hint at clean, modern furniture design. The materials and labour cost tables are clearly separated with a solid bar of colour; even though there's a lot of information, it's organized in a way that makes it easy to see at a glance.
The bold typography of the word "invoice" contrasts with the more austere font in the body of the text, and presents an easy way to modify the invoice to suit a particular brand. For example, you could use a textured typewriter font for rustic furniture design, or a brush script to emphasize the idea of bespoke pieces. The template is free to download from vcita.
8. Landscape architects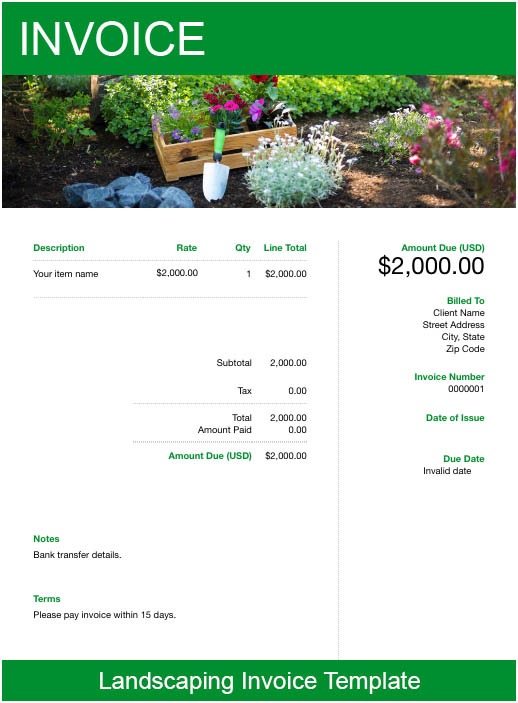 This invoice is a good example of how to display hourly rates for multiple locations on the same invoice, perfect for landscape architects working on multiple properties for the same client. Like the architecture invoice, this invoice has a clean, professional feel with just a few brand accent colours highlighting important headers.
It would be fairly easy to replace the hourly fee structure on this invoice with the fixed fee structure of the architecture invoice and vice versa. It's also possible to add more colour by choosing a faint accent colour instead of a grey colour for the alternating lines of the invoice.
9. Makeup artists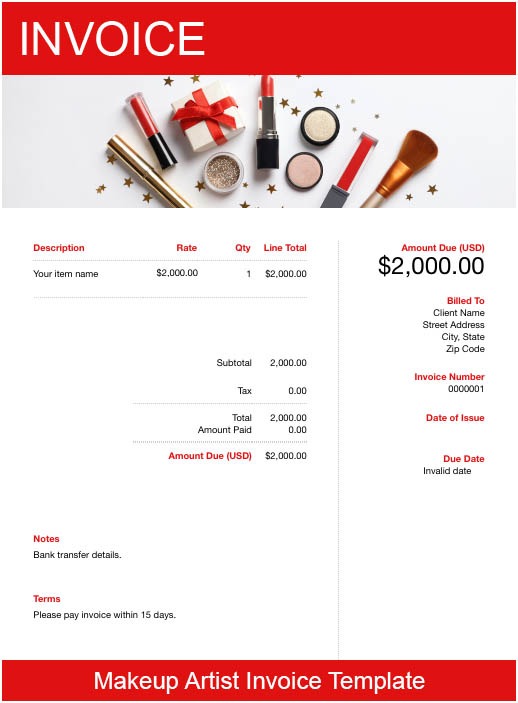 Just like the interior design template, this invoice style is great for makeup artists because it gives you a chance to showcase your materials or your portfolio. In this case, a festive array of makeup along with a red invoice header suggests holiday makeup, but the highlight colours could be modified to reflect a signature palette.
Face painters, SFX makeup artists, and wedding makeup artists can modify the background image to showcase portfolio photos, by separating the header into three or four images of past work.
10. Writers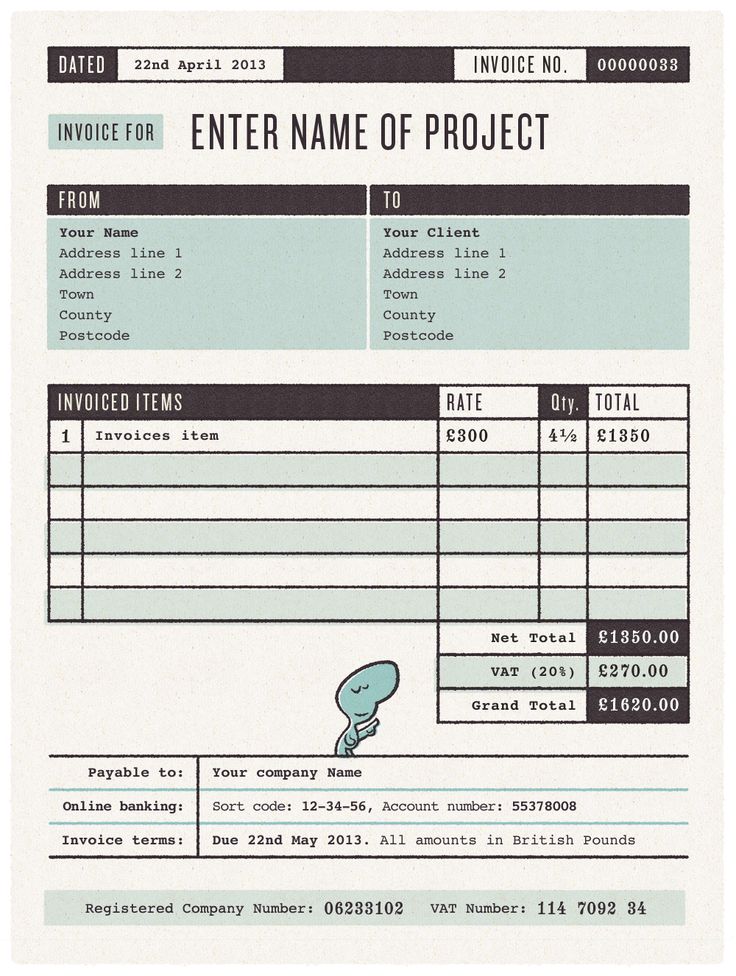 This quirky invoice design by Made in England has a retro feel, with the background colour slightly offset from the table and illustration outlines and a subtle texture filter applied to the graphics. The vintage typefaces and old-school print feel make it the perfect invoice for a writer or editor.
Writers can take a page from this design style using a typewriter font and soft, pastel colours on their invoices. This is also a great example of how three very distinctive yet well-chosen fonts can work together to create a specific feel.
Your invoice is always part of your brand
Whether you design it carefully or hastily type it in Word, your invoice will reflect on your professionalism and your brand. Fortunately, you don't have to spend hours crafting the perfect invoice—a little extra effort (and a good template) goes a long way!
For more examples of stunning invoice designs, see also Canva's list