One of the most exhilarating parts of owning a small business is seeing it grow. Your unique idea, quality products and services, and attention to customer service have all resulted in a successful enterprise, and you're excited to see where it all leads.
Small businesses have one major challenge when it comes to scalability, and that is limited resources. Until you've reached the level that you can hire additional staff, sustaining business growth means being more productive, and one way to streamline operations is using billing and invoicing software.
What are the different types of billing software?
In terms of deployment, billing software may come in different forms:
Cloud-based: The most popular type of billing software, cloud-based solutions store all data in real-time on the cloud. This makes the data secure and easy to access, as long as you have an internet connection. This data and apps included in the software are accessible on different devices.
Web-based: Exclusively online, web-based software doesn't include any apps to download as everything is available via a browser. It is also accessible from anywhere, anytime, on any supported device, as long as there's an internet connection.
Offline: Offline billing software is independent of an internet connection and you can download it from a website or a CD. However, it requires manual updates and is very scanty with features (such as online billing).
On-premise: Covered by a single-user license, on-premise billing solutions are hosted on the organization's local servers. They typically involve a complex hardware and software installation procedure that may require vendor assistance.
Desktop-only: This type of software is only suitable for desktop operating systems, without the advantage of mobile access provided by apps for iOS and Android. Such software is often available as a free download.
SaaS: Software-as-a-service billing solutions are hosted on providers' servers and are charged on a monthly or annual basis through different packages and deals. It is a popular option among all kinds of businesses, as all installations, upgrades, and updates are exclusively the provider's responsibility.
How can billing and invoicing software help your small business?
An improved and more efficient invoicing process can increase your cash flow. Billing software lets you take the time you presently spend on preparing, submitting, and tracking Excel invoices and dedicate it to activities that let you grow the company.
You will be able to:
Complete your billing and invoicing tasks more quickly and from anywhere
Easily track upcoming, paid, and overdue invoices from a single location
Send automated payment reminders that make collection calls unnecessary
Get paid faster by letting clients pay online
In this article, we'll review and compare the 7 best billing and invoicing software for small businesses.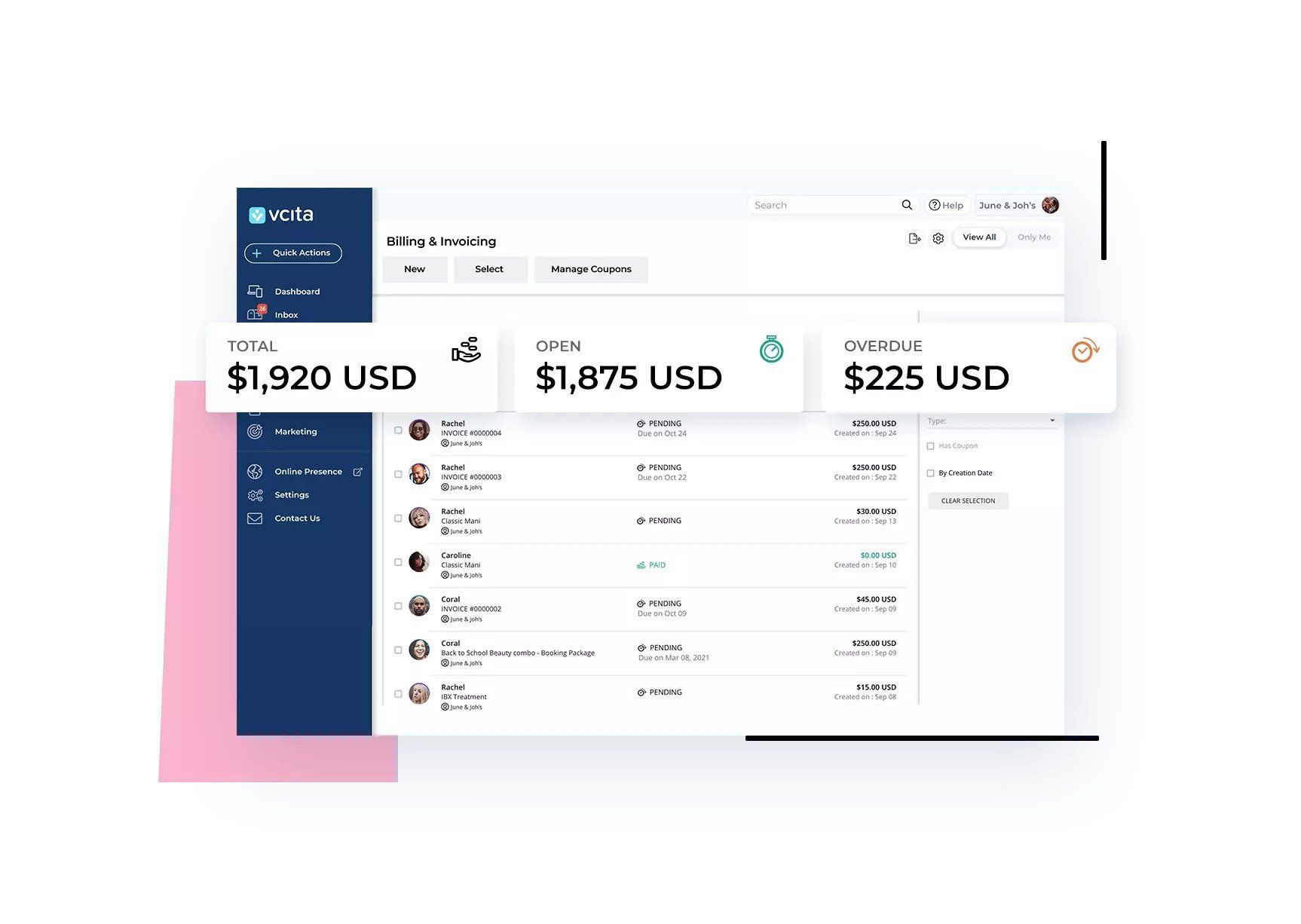 Used by small businesses in a wide range of industries, vcita has billing and invoicing features that lead to more accurate accounting and faster payouts.
Pros:
vcita is fully HIPAA compliant
Easily transfer all your contacts from an existing system
Automatic payment reminders
Cons:
Automated marketing features like email campaigns are only available with the Business Plan.
Pricing: Pricing is divided into solo and team plans. The Essentials Plan, which is only $19 USD per month when billed annually, includes all key CRM features except the marketing module. A 14-day free trial is available.
Features:
Customizable invoices you can issue from your desktop or phone
Intuitive billing dashboard
One-click online payments
Client self-service portals
vcita is a trusted and popular scheduling app with total billing, invoicing, and payment capability. Unlike many CRM systems, it has features that let you manage your entire business using a single platform.
Invoices are fully customizable and can be sent from your desktop or smartphone. Once they're issued, automatic payment reminders ensure that your invoices don't slip through the cracks and impede cash flow. For added convenience, your clients can pay online 24/7 using a credit card or PayPal, and automatically receive a receipt. They also have access to a self-service portal where they can see new and outstanding invoices, pay them, and download receipts.
If you work in the healthcare industry, vcita's Business and Platinum accounts are designed to follow HIPAA standards for electronic Patient Health Information (ePHI). You can also customize invoices to include the appropriate medical codes for insurance purposes.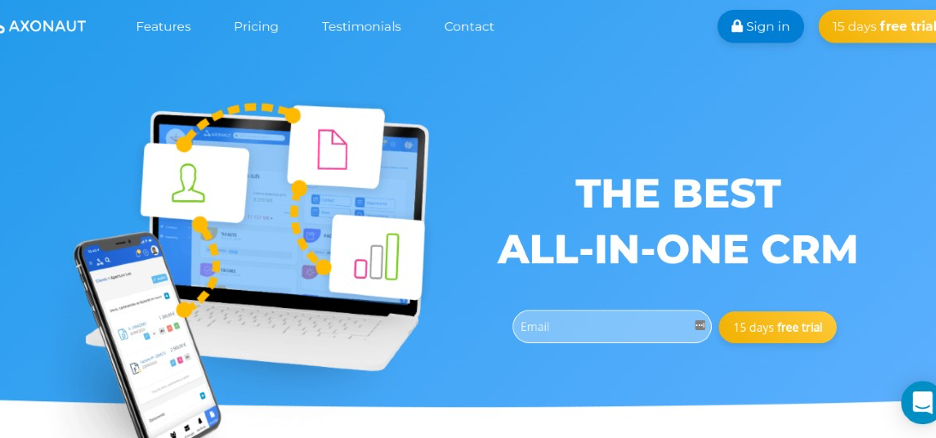 Axonaut is an all-in-one CRM software with accounting and billing features that support stronger cash flow.
Pros:
Create quotes and invoices with your company branding
Connects with your bank for easy reconciliation
Secure and dedicated customer portal
Cons:
Does not appear to be HIPAA-compliant.
Pricing: Pricing is based on the number of users. Single users pay $49 CAD per month, with yearly payments receiving a 10% discount. A 15-day free trial is available.
Features:
Syncs with your email and calendar software
eSignature on quotes and documents
Online payment for invoices
Marketing campaign management
Axonaut makes it easier for you to streamline all of your administrative processes, including billing and invoicing. After generating a quote, you can convert it into an invoice with a single click and dispatch it to the client, who can pay online via credit card or direct debit. For added security, add eSignature to all quotes and sales documents.
What makes Axonaut stand out as one of the best billing and invoicing softwares for small businesses is that it includes features that normally require a plan upgrade with other platforms. This includes automated accounting actions, email and SMS marketing capability, and a secure client portal. It does not appear to be HIPAA-compliant, but this will not affect businesses outside the healthcare industry.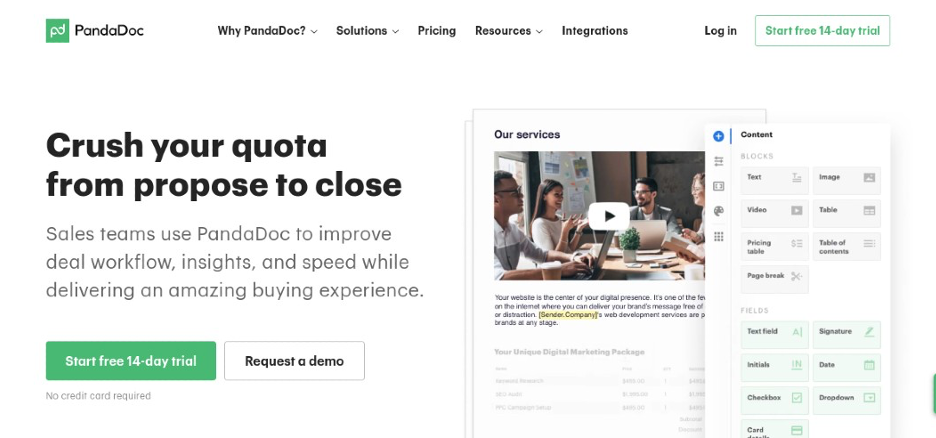 PandaDoc is a sales automation solution that helps you close deals faster and effortlessly invoice for the results.
Pros:
Unlimited eSignatures
Accept payment the moment a document is signed
Integrates with leading sales tools like Salesforce and QuickBooks
Cons:
Pricing: PandaDoc has three pricing plans. The single user plan is $9 per month USD, but if you have a small team, you can upgrade to the Business Plan at $49 USD per month per user. A 14-day free trial is available.
Features:
Accept payment by credit card, debit card, PayPal, or bank transfer
eSignature capability
Prospect analytics that guide your deal negotiations
Pre-approved template contracts
PandaDoc is document automation software that cuts unnecessary steps and delays out of the sales process. Your clients are able to sign and pay without having to click off of your contract, proposal, or quote. By attaching online payments to signing requests, you can reduce the average payment time to two days.
In addition to streamlining invoicing and billing, PandaDoc has a comprehensive document library that lets you and your sales team quickly compose error-free proposals, quotes, and contracts, all of them with legally binding eSignatures. Although it does not have a wide range of CRM functions like vcita and Axonaut, you'll be able to exchange sales documents at a volume that encourages company growth.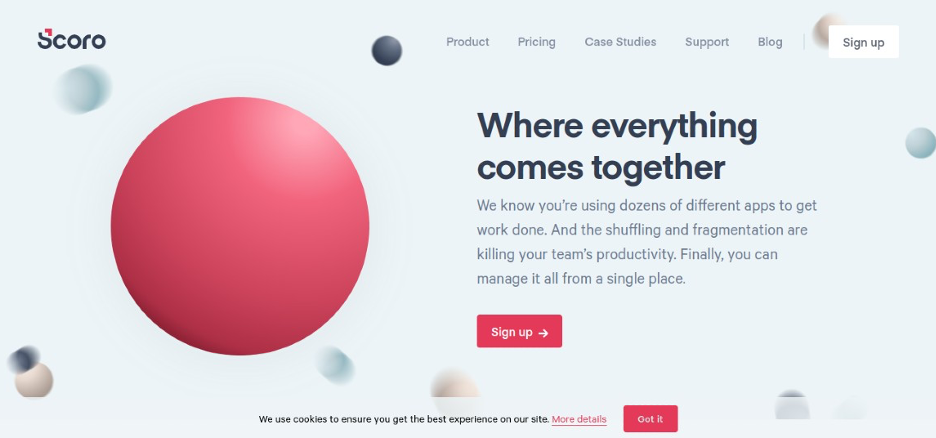 With Scoro, you can use a single app to send invoices, manage employees and clients, plan projects and keep track of business progress.
Pros:
Automated late invoice reminders
Issue sales, prepayment and credit invoices
Compare different budget scenarios against your actual revenue, costs or profit
Cons:
Pricing: Scoro has five pricing plans available. They start with the Essentials plan, which is $26 USD per user per month (minimum of five users) and scales all the way up to the Ultimate package, which is custom-quoted. A free 14-day trial is available.
Features:
Automate scheduled and recurring invoices
Contacts overview page with all relevant client details
Scheduling tool for best utilization of employee time
Detailed library of PDF templates for invoices, quotes, orders and reports
Scoro gives you a single platform to manage CRM, invoicing, workflow tracking and sales management. You can create detailed quotes and later convert them into a purchase order for a supplier or a task list for your workforce. Clients receive automated late invoice reminders, so you can spend less time on collecting overdue accounts.
Like vcita and Axonaut, Scoro can be used to manage your other business functions, such as project management and work scheduling and tracking. It does not appear to be HIPAA-compliant, so it won't be appropriate for healthcare providers, and there is no customer portal to encourage client engagement, but otherwise it is an excellent business management tool, especially if you have a small team.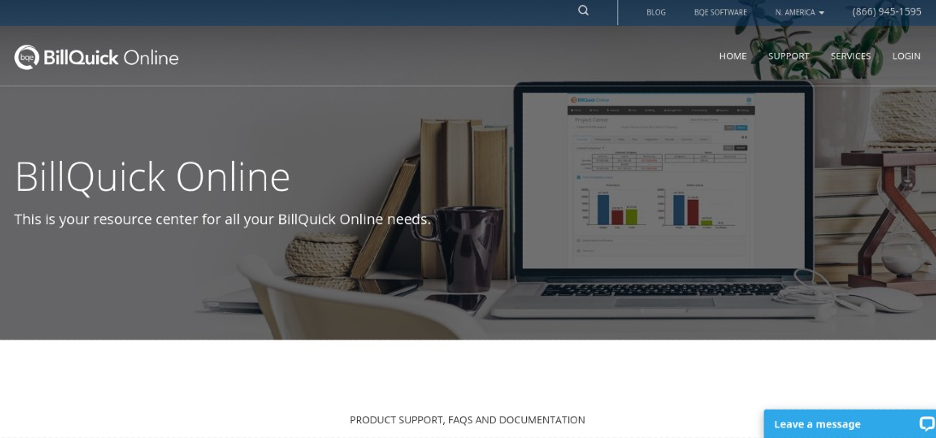 BillQuick Online is a web-based billing, time tracking, and project management software for businesses that deliver professional services.
Pros:
Single-click DCAA compliance
Phased project billing
Fee schedules for variable rate billing
Cons:
Does not accept online payments
Pricing: There are four BillQuick pricing plans, starting with Professional, which is $14.95 USD per month per user (up to 20 users). A free 30-day trial is available.
Features:
11 contract types for different payment arrangements
Attach or documents and images to time/expense and master records
Project budget and scheduling
Free mobile app
If you're a fast-growing small business, BillQuick lets you send out those invoices more quickly and customize them according to billing type (e.g., retainer, fixed, hourly, recurring). You can send them one at a time or in batches, and link attachments when appropriate. Since the software is DCAA-compliant, you can accept contracts for the Department of Defense.
Although it has a solid portfolio of business features, BillQuick's biggest drawback is that your customers cannot pay their invoices online. You can get around this challenge by integrating with a third-party payment service, but unlike the other billing and invoicing software covered in this article, online payment capability is not bundled in.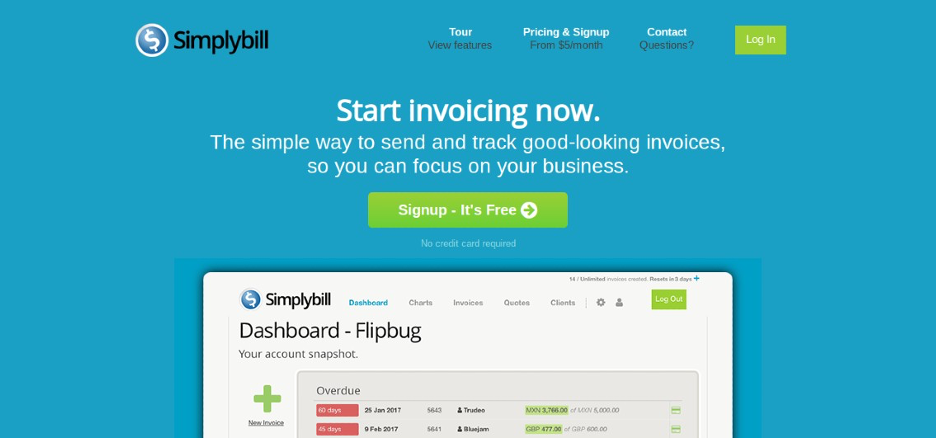 Simplybill is basic and user-friendly billing and invoicing software that lets you keep track of all invoice details, including whether they have been opened.
Pros:
See whether your invoices have been opened
Tax rates are automated
Backups ensure recovery from accidental deletions
Cons:
Does not accept online payments
Pricing: Simplybill has three plans. The Individual plan is $5 USD a month, lets you send up to 25 invoices a month, and has all features except branded invoices. Enhanced ($15 USD) and Premium ($25 USD) allow you to send more invoices each month. A free 14-day trial is available.
Features:
Dashboard with overview of open and overdue invoices
Branded invoices (Enhanced and Premium Plans)
Customizable templates
Payment reminders and thank-you messages
Simplybill is a simplified billing software with all of the key capabilities you need to create and send invoices. Although it doesn't include advanced CRM tools like vcita, Axonaut, and Scoro, it has a lot of useful invoicing features, like the ability to set up automatic tax rates, see who has opened your invoices, and issue payment reminders.
Although the price is right for solopreneurs and startups with a limited budget, Simplybill doesn't accept online payments, so there's a break in the payment efficiency chain. Soon or later, as your business grows, you will have to move on to an invoicing software with more CRM features.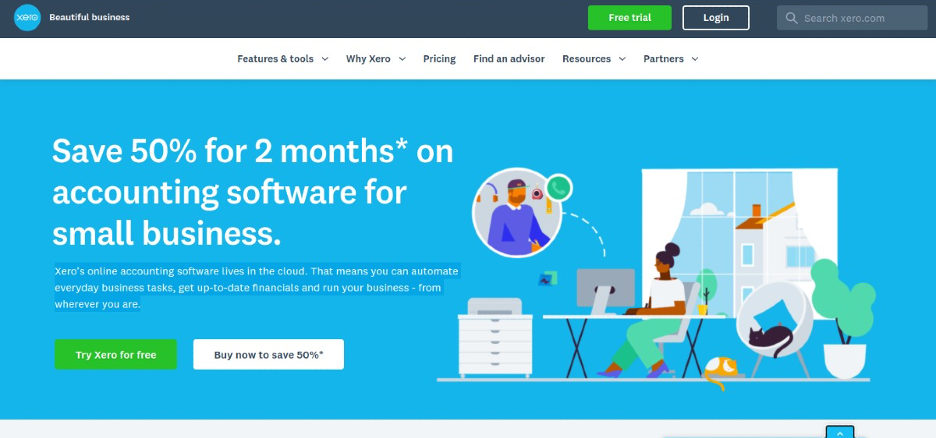 A popular online accounting software, Xero lets you automate your billing and invoicing tasks, monitor your financials and run your business from anywhere.
Pros:
Automated invoice reminders
Online invoices are protected from unauthorized changes
'Pay now' feature for instant payments
Cons:
Pricing: With Xero, you have three plans to choose from. Early, the basic plan, is $9 USD per month, and includes five invoices and quotes. The next plan, Growing, is $30 USD and includes all essential features except multi-currency support and project management, which are available with the Established plan ($60 USD). A free 30-day trial is available.
Features:
Speedy invoice creation using preset elements
Bulk sending capability
Add billable expenses to client invoices
Multiple payment types accepted
Some will tell you that Xero is what invoicing and billing is all about. Beautiful invoice templates, automated payment reminders, and the pay now feature all help you collect the money you're owed with minimal direct effort. Preset inventory items, recurring invoices, and earlier invoice replication all speed up the billing process as well.
Unlike PDF invoices attached to an email, Xero online invoices are protected from unauthorized changes. You have peace of mind as the software processes and manages all of your company's billing and invoicing needs. It does not have a client portal like vcita and axonaut, but otherwise it's one of the best billing and invoicing software for small businesses.
Safe time and money with a professional invoicing software
It doesn't matter whether you run a nail salon, operate a small coaching business, or offer healthcare services- as a small business owner, you need to look for ways to save time and money. The right billing and invoicing software with the appropriate features for your industry will be one of your biggest assets as you grow.