Today, there isn't a successful health practice that doesn't use a business management solution and it's obvious why. Such technologies can make your operations faster and more streamlined. Depending on the solution, this includes staff and client management, payments, billing and invoicing, and so on.
Automatizing most of these processes allows you to dedicate time and effort to more important areas. In health practice, this means providing the best possible service to your patients. All the rest is in the hands of a (capable) practice management platform.
That said, seeking an ideal solution to take care of this part of your business is no straightforward task. It includes weighing in all their benefits and potential downsides, as well as comparing their:
pricing
features
ease of use
user reviews
We wanted to make this endeavor a tad simpler for you. This is why we've analyzed, compared, and contrasted two similar, yet slightly different practice management platforms:
TheraNest vs SimplePractice – Which one costs less?
At first glance, both TheraNest and SimplePractice follow a similar pricing format. However, TheraNest provides different pricing for its monthly and annual subscriptions, while SimplePractice only offers monthly plans. Annual plans typically include discounts, while a monthly plan gives you more freedom when you no longer want to use a provider's services. In case of an annual plan, you pay for the entire year in advance and have to ask for a refund if you wish to cancel sooner.
Overall, TheraNest is slightly cheaper if you consider its annual subscription and all the features it includes in each of its pricing options.
| | Price per month (*from) | Price per year (*from) | Free trial |
| --- | --- | --- | --- |
| Theranest | $39 | $390* | 21-day |
| SimplePractice | $39 | Only monthly | 30 days |
*TheraNest's pricing depends on the number of active clients. Hence, it has designed its cheapest option for practices with up to 30 active clients. The price increases with more clients, so up to 40 active clients will cost you $500/year ($41.67/month). Up to fifty clients will cost you $600/year ($50/month), and so on.
SimplePractice bases its pricing on the number of practitioners and desired features (basic or advanced).

Optional add-ons are available at different prices. TheraNest offers:
| TheraNest Add-ons | Monthly price per practitioner |
| --- | --- |
| Wiley Treatment planner | $25 |
| Client portal | $6 |
| Telehealth | $12 |
Optional add-ons for SimplePractice's advanced packages are cheaper and include:
| SimplePractice add-ons | Monthly price per practitioner |
| --- | --- |
| Wiley Treatment planner | $15 |
| Website builder | Free |
| Monarch therapy network listing | Free |
| Telehealth video sessions | $10 |
| Coverage reports | $0.05/report (not per month) |
| Additional practitioner | $39 |
| Other Fees | SimplePractice | Theranest |
| --- | --- | --- |
| Credit card transaction | $0.30 + 2.95% | 0.27 + 2.85% |
| Electronic claims | $0.25/claim | $0.23/claim for 1-50 claims* |
*TheraNest gives discount on bulk claims. They charge $0.22/claim for 51-100 claims, $0.20/claim for 101-400 claims, and $0.17/claim for 400+ claims.
Whose features are better?
SimplePractice doesn't support e-prescriptions, while TheraNest does. TheraNest also supports Linux and iPad, while SimplePractice doesn't.
Each TheraNest pricing plan covers:
unlimited staff members
note templates
fully featured calendar
client portal with self-scheduling
HIPAA-compliant secure messaging
customizable Intake Forms
Batch Payments
customizable superbills and client statements
chat for secure internal communication
comprehensive knowledge base
integrated credit card processing
reports
client and insurance billing
Android and iPhone apps
Electronic claims filing, as well as automatic email, phone, and text appointment reminders are also on the table. However, they do come with additional tax charges.
The cheapest option with SimplePractice is for a single clinician that has just started working. It includes the provider's basic features:
client profiles
appointment reminders via text, voice, and email
paperless intakes
client portal
calendar sync
templates
diagnosis and treatment plans
reports
ICD-10 codes and autocomplete
integrated online payments
AutoPay
automated invoicing
superbills
CMS1500/HCFA forms
unlimited document storage
iPhone and Android apps
The more expensive packages include more advanced features, like:
HIPAA-compliant messaging with clients and team members
appointment reminders via text
online booking
booking widget
assessments
administrative notes
custom note and assessment templates
electronic claim filing starting at $0.25/claim
ERA payment reports
EOBs
a professional website
What about the ease of use?
Both of these practice management solutions provide equally intuitive and user-friendly dashboards. Moreover, the public considers them easier to use than many competitors. This is especially thanks to the mobile apps for iPhone and Android that they both have. That said, SimplePractice is slightly better than TheraNest in multi-step processes like client intake.
What do patients think?
SimplePractice has considerably better user reviews on Trustpilot. It scores 4.1 (out of 5), in comparison to a low 2.3 for TheraNest. However, TheraNest also has a much smaller target sample – only 65 reviews as opposed to SimplePractice's 798.
Most of the complaints about TheraNest refer to problems with:
claims and billing,
slow (or entirely missing) customer support,
technical issues,
false statements about HIPAA compliance
While the team had replied to these complaints on the Trustpilot website before, they suddenly stopped in early 2020. That said, some users have praised:
the customer support
ease of use
customization options
frequent updates and improvements in response to negative feedback
Despite a better score, SimplePractice isn't immune to criticism either – mostly to subpar customer support. However, these complaints seem to stem from simple misunderstandings or unforeseen circumstances. For instance, users may be writing to a no-reply email address. The customer support may have also had overwhelming requests due to the Covid-19 pandemic. Other complaints included:
problems with the EHR
migration issues
poor telehealth quality
clearinghouse rejections
Having said that, the majority of SimplePractice reviewers expressed positive experiences. Specifically, they were happy with:
the ease of use
the website builder
HIPAA security
telehealth sessions
paperless intakes
training tutorials
document-sharing feature
having all of their needs and tools in one place
overall seamless use
Looking for a cheaper practice management solution?
Although both TheraNest and SimplePractice provide excellent service, you may find them less than ideal for your own practice. One of the reasons could be their price, which is slightly higher than some of the competitors. You may not like their reviews or simply the choice of features they offer at their prices.
Whatever your case is, you should look up an alternative such as vcita. Starting at a low price of $19/month/practitioner, vcita offers everything a small (or beginner) practice requires, such as:
telehealth support via Zoom
patient management
client portal
billing and invoicing
online scheduling widget
payment processing
Reserve with Google integration
automated appointment and payment reminders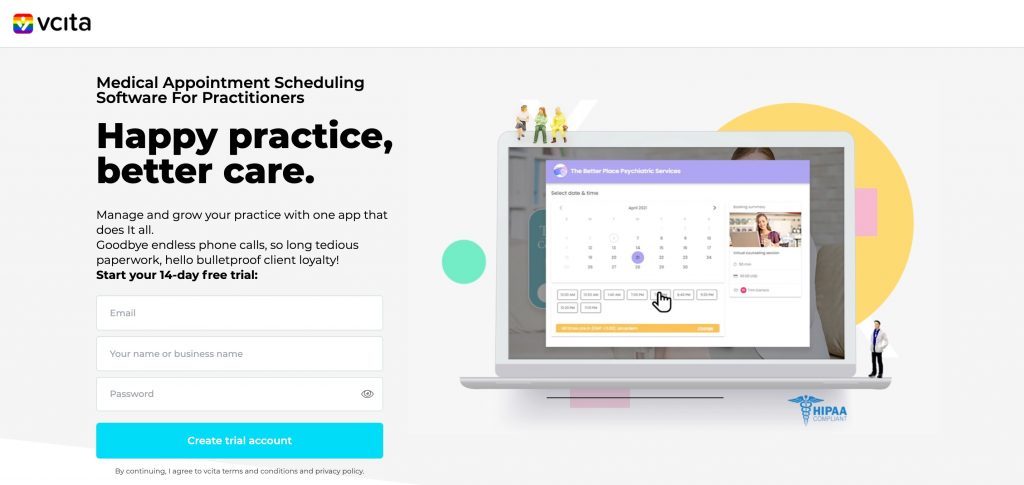 If you have a bigger or growing practice that requires more advanced features, vcita covers you in its more advanced pricing packages which include:
customizable email templates
marketing campaigns via email and SMS
online coupons
integration with Google Analytics, QuickBooks, Zapier
and many other handy perks. If you need time to test everything out and see if vcita is the right match, you'll get it. There's a 14-day free trial to give it a look.