The past couple of years have seen a staggering growth in long-distance technologies like telehealth platforms. These are the software solutions that allow health workers to provide services to their patients using video – in situations where physical contact with the patient isn't necessary or could even present a risk to their wellbeing.
Typically, telehealth is just one of the many services that these platforms offer. Physicians, therapists, and other practitioners also get access to other perks that help them both run their business smoothly and provide easier access to their patients.
Today's market offers plenty of choices in terms of telehealth providers, but not all of them are equally good. To help you decide on which one to purchase, we've compared in detail two such solutions – SimplePractice and TherapyNotes.
Which one is cheaper overall?
Although they stick to the same pricing model, the differences between the two are obvious in specific costs, with SimplePractice being cheaper in general.
SimplePractice starts its pricing at $39/month. This cheapest option is designed for a single clinician that has just started and only needs basic features. The more expensive packages include more advanced features, as well as optional add-ons like Wiley planners, a website builder, and Monarch listing which are available for free for a limited time.
TherapyNotes opens with a solo package at $49/month. However, this plan includes all the features offered in its pricier plans that support more practitioners. These include unlimited clients, a custom patient portal, unlimited file storage, automatic software updates, and secure backups.
SimplePractice additionally charges $0.30 + 2.95% per credit card translation, while TherapyNotes charges $13.50/month + 2.6% per transaction.
Group pricing for both starts at $59/month for the first clinician, with SimplePractice charging $39/month for each additional clinician. TherapyNotes charges $30/month for each new clinician and $20/month per intern.
TherapyNotes charges $0.49 per mailed paper claim, $0.14 per remittance advice claim and eligibility request, as well as per text and phone appointment reminder, while these are all completely free with SimplePractice.
SimplePractice also charges less for coverage reports – $0.05/report compared to $0.14/report that TherapyNotes does. However, SimplePractice charges more per electronic claim – $0.25/claim as opposed to TherapyNotes' $0.14/claim.
Both offer a 30-day free trial, no credit card required.
Which one has more affordable telehealth?
SimplePractice offers telehealth as an add-on for $10/month/practitioner, regardless of the duration. On the other hand, TherapyNotes charges by the hour – $0.24, which means that SimplePractice is more economical, especially for the larger practices that carry out a lot of telehealth services for their patients.
That said, TherapyNotes includes telehealth in all of its pricing packages, while SimplePractice doesn't offer it in its cheapest option.
Which one has better features?
At first glance, SimplePractice and TherapyNotes are strikingly similar. After all, both are headquartered in the United States and were established in 2012. They are also both able to cater to individual practitioners and large groups. However, subtle differences are present, starting with the features they provide, where SimplePractice is slightly in the lead.
They both offer:
appointment scheduling
reminders and notifications
EMR/EHR
employee management
billing and invoicing
claims management
initial assessments
treatment planning
self-service portal
single provider practice
multiple provider practice
calendar sync
telehealth
drop-down ICD-10 codes
However, SimplePractice offers additional features that TherapyNotes doesn't:
website builder
mobile apps
Wiley treatment planner
Which one is easier to use?
Although both platforms boast a modern design and ease of use, SimplePractice is slightly simpler to manage and get used to for both patients and practitioners, thanks to having more (and better) features, sleek design, and straightforward navigation options. For instance:
This process is simple in both, but SimplePractice automatically prompts you to send the new client an email telling them to visit the client portal so you can fill out the paperless intake forms. With TherapyNotes, this process is entirely manual – forcing you to create a new patient record, send them an email, and upload documents for them.
TherapyNotes' patient portal doesn't allow patients to reschedule or create new appointments, which isn't the case with SimplePractice. SimplePractice's patient portal is better in other areas as well, including the visibility of bills and payment information, as well as facilitating telehealth sessions from there.
SimplePractice has a user-friendly mobile app that allows you to run your practice at any time and from any place you want, performing tasks that include:
Viewing and editing client information
Processing payments and viewing invoices
Inspecting and organizing your schedule
Sharing and managing documents
What do users say?
Although SimplePractice is cheaper and looks better on paper, users have given TherapyNotes better marks. Specifically, its score on Trustpilot is a very strong 4.9 (out of 5), while SimplePractice has 4.1.
Most of the complaints about SimplePractice refer to the subpar customer service, although some of them appear to be the result of a simple misunderstanding (i.e. writing to a no-reply email address) or unforeseen circumstances (i.e. the Covid-19 pandemic). Others have reported issues with the EHR, migration difficulties, poor quality of telehealth sessions, and clearinghouse rejections.
Interestingly, the complaints about poor customer service were also expressed by the users who poorly rated TherapyNotes. Some appear to stem from a simple misunderstanding, as is the case with SimplePractice. Users have also complained about problems with reports, frequent outages, rudimentary billing features, and other technicalities.
That said, the experiences of the majority of SimplePractice reviewers have been overwhelmingly positive, ranging from problem-free use to HIPAA security to ease of use to the existence of the website builder. Users have also expressed satisfaction over the option to share documents with their clients, telehealth sessions, training tutorials, paperless intakes, and having all their practice management needs and tools in one place.
In a similar fashion, the satisfied TherapyNotes users far outnumber the disgruntled ones, as evident in all the 5-stars reviews praising the platform and service. The happy users have commended it for reliability, ease of use, prompt and helpful customer service, and EHR capabilities.
Cheaper alternatives
If you're still on the fence about either of these two – be it that you feel they're too expensive or you don't like their reviews – you should look into capable alternatives such as vcita. With the starting price of only $19/month/practitioner, vcita grants you all the Telehealth essentials:
access to Zoom integration
client management
patient portal
billing and invoicing options
online scheduling and payment processing
scheduling widget
business calendar
Reserve with Google integration
automated reminders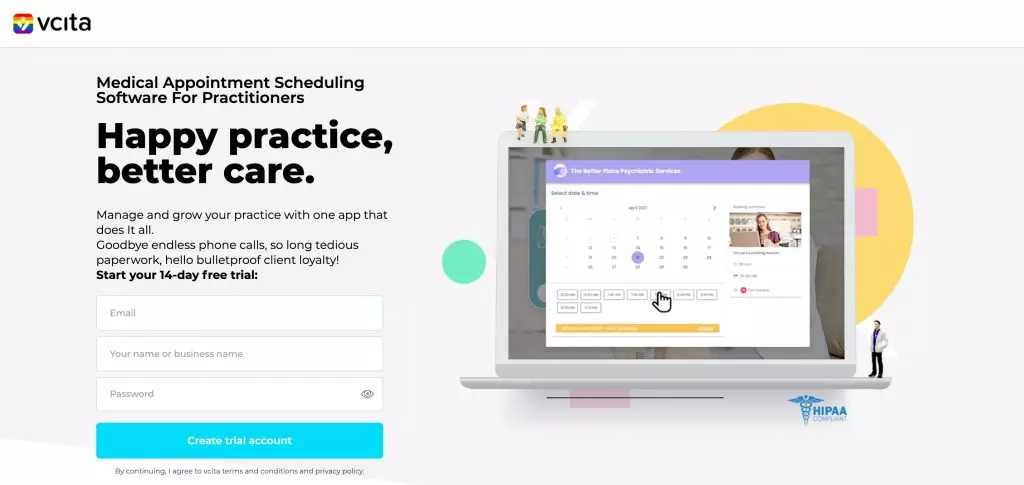 If you require more features or have a bigger team, you can choose one of the richer packages, and enjoy the full telehealth support your practice requires, including:
automated marketing campaigns via email and SMS
online coupons
SMS notifications and reminders
customizable email templates
integration with Google analytics, QuickBooks, and Zapier and more.
The best part? You get to test all those features completely free during a 14-day free trial – so give it a shot!