Even before COVID-19, small businesses everywhere were changing the way they connect with and serve clients. There were multiple reasons why, but the biggest was a growing change in consumer expectations.
Your customers don't want to wait until business hours to make a purchase or book an appointment. They expect immediate access and personalized interactions. While a website and social media presence are still important, they are no longer enough to keep your coaching practice, nail salon, or other business competitive.
In short, your CRM needs a client portal.
What is a client portal?
If you've ever done online banking or bought anything off Amazon, you've used a client portal. It is an electronic gateway that lets you view and exchange information securely online. CRMs with a client portal let you build deeper connections with your clients by enabling a positive user experience.
Not all portals have the same features. Ideally, you want a solution that offers:
Online scheduling that allows clients to book, cancel, and reschedule their own appointments. It's convenient for them and reduces the administrative demands on you and your team.
Secure payment processing for easy online payment of deposits and invoices. Prepayment also reduces the chance of a costly and frustrating no-show.
File sharing protected by data encryption technology, giving both sides absolute confidence that private data is being handled as securely as possible.
Direct messaging that supports a dialogue with each customer and lets you send them personalized offers based on purchase history.
Below is an overview of the 3 best CRMs with client portal capability, along with their features, advantages, disadvantages, and pricing.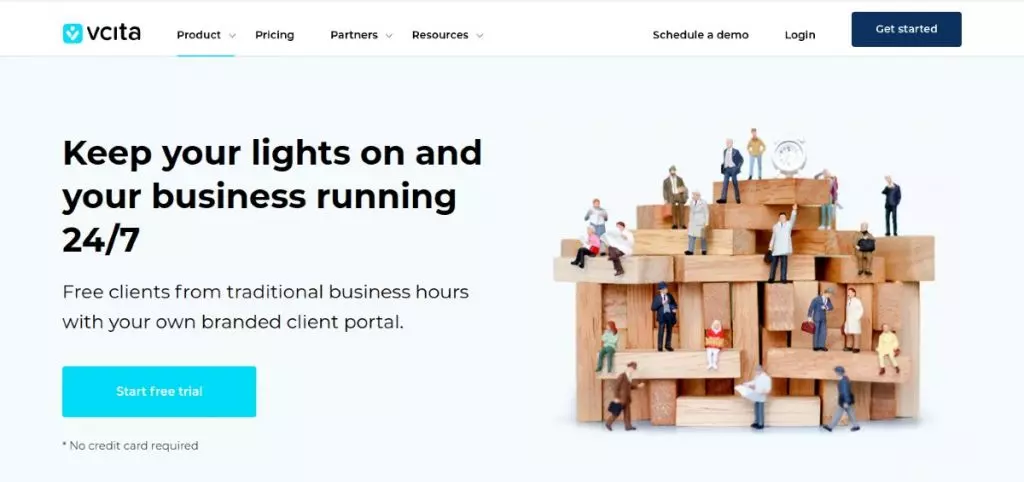 vcita offers a customizable client portal that lets clients engage with your small business 24-7.
Pros:
Clients can manage their own appointments
Secure encryption technology protects confidential data
Stores client purchase history, making marketing more effective
Cons:
With the scheduling plan, only email notifications are available
Pricing: Plans start from $19 USD per month. A 14-day free trial is available.
Features:
Client portal with secure payment processing, file sharing, and messaging
Shareable booking calendars
Two-way calendar syncing
Stripe and PayPal integration
Email and SMS appointment reminders
Gmail integration
vcita is a user-friendly and richly-featured scheduling app that also happens to be one of the best CRMs with a client portal. All portals can be customized with your logo and company colors, and a user-friendly dashboard lets clients see all important information at a glance: upcoming appointments, shipped orders, outstanding invoices, and any new messages from the business.
Once within the portal, your clients can:
Book, cancel, and reschedule their own appointments. The two-way calendar syncing feature automatically updates your Google or Microsoft business calendar, so you always know each day's schedule, and automatic notifications reduce the likelihood that they'll forget their session.
Pay a deposit or invoice via credit card or PayPal,
Ask questions via the direct messaging feature. Their answers can be used to create personalized offers and customize your marketing strategies.
View and submit invoices, completed questionnaires, photos, graphics, and more.
By making key communication, scheduling, and payment features available to the client, vcita frees up time that you can devote to growing your service-based business. It's also scalable, so unlike more complex solutions like Creatio, the account you create as a solopreneur can still be supporting your success when you reach multi-location status.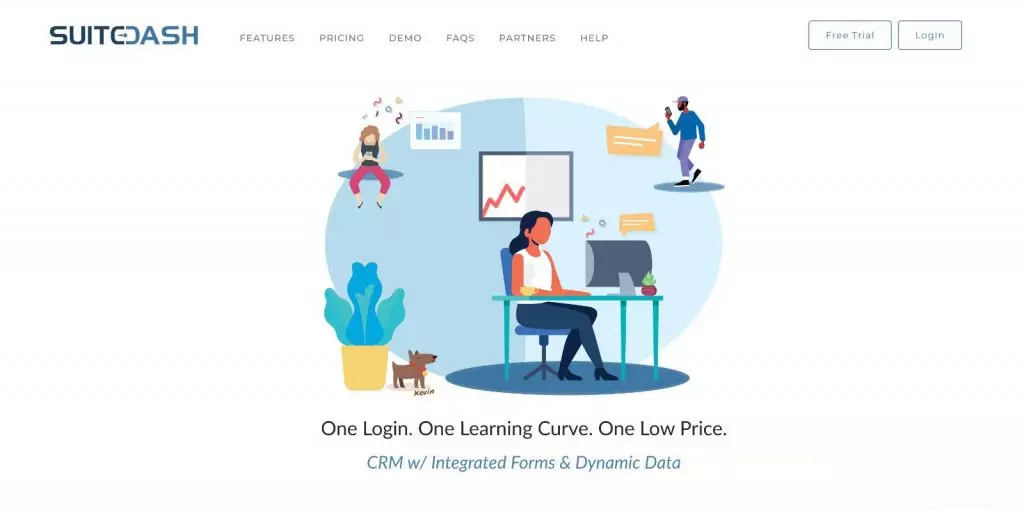 SuiteDash is a client portal software with onboard toolkits and pre-built automations that streamline the operations of your small business.
Pros:
Has a 'pay for portal access' feature
Supports recurring subscription payments
'Magic Link' feature for those who have trouble remembering passwords
Cons:
Booking and scheduling not available with Starter plan
Pricing: The starter plan (includes client portal) is $19 USD per month. A 14-day free trial is available. Those who want access to features like booking and scheduling will have to upgrade to the Thrive ($49 USD per month) or Pinnacle ($99 USD per month) Plans.
Features:
Secure online payments
Appointment-type calendars
Email marketing toolkit
Integration with major payment gateways
Calendar integration with Google Calendar
Easy and secure file and folder sharing
SuiteDash is mainly a client portal software, but it has other CRM, marketing, and administrative functions that allow a small business to grow without needing to invest in more staff or resources. For the most part, it relieves you of the need to personally carry out routine tasks like signing clients up and managing their appointments.
Once set up, the client portal acts as a seamless extension of your website. Your customers can access direct messages, answer questionnaires, upload photos, and pay invoices. If you run a membership-based business or sell services on a subscription basis, you can require payment to register and enter a client portal.
SuiteDash's main drawback is that unlike vcita, its basic plan (Starter) doesn't include the booking and scheduling feature. With businesses spending nearly five hours a week scheduling appointments, placing this capability in the hands of your customers will free up valuable time. Otherwise, it's one of the best CRMs with client portal capability out there.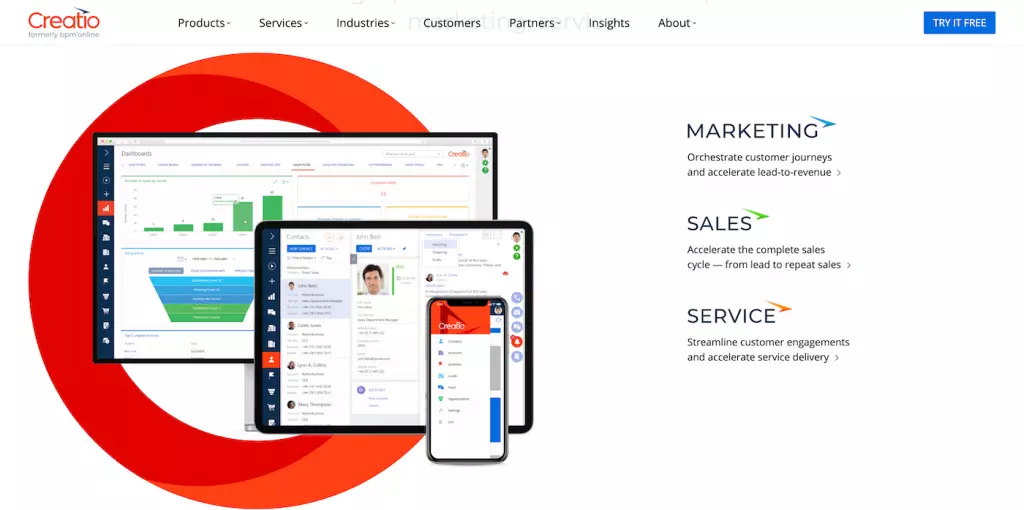 Formerly bpm'online, Creatio is a unified CRM and BPM platform. One of its strongest CRMs is a client portal that manages relationships for midsize to large businesses.
Pros:
Customers can initiate and participate in portal processes
Easy to add custom sections to the portal
Extensive knowledge base for support issues
Cons:
Does not appear to have a scheduling or online payment feature
Pricing: The pricing for Sales Creatio, which includes the client portal, is based on number of users and package selected. It can range from $300 to $720 USD per user per year.
Features:
Company news and service announcements in the portal
Case reporting capability
Resolution process monitoring
Communication with support staff
Medium to large businesses typically have a larger amount of customers to support, which is why a dedicated client portal makes sense. Creatio's self-service portal is primarily a support resource that lets your customers report an issue, participate in the resolution, and provide feedback on the quality of service they received.
Although users can receive company news and information about product updates when they log in, the client portal is meant to resolve support issues, either as your company's primary help desk or as an extension of your existing one. It consists of a public knowledge base, support ticket creation and tracking tool, and communication feed with support staff. There does not appear to be an option to schedule appointments, but unlike vcita and SuiteDash, Creatio is not really designed to support smaller service-based businesses.
Conclusion
A CRM with a client portal will make customer interactions more than a passive information exchange. They will love the improved service delivery and more responsive customer experience while you receive the insights and feedback you need to build a business that exceeds their expectations.