Over the past year, an unprecedented number of educators have moved their classes online. For a lot of teachers, giving up in-person instruction has been a sacrifice—but one that has come with new digital tools and the opportunity to reach a global marketplace. If you're ready to start teaching online (or just need a better way to do it), read on for a breakdown of what tools to look for, plus the top 7 teaching platforms you can use to make your digital classroom every bit as engaging as your physical one.
Features to look for
 The features you'll need will partially depend on how you're structuring your classes and what topics you teach. For example, if you do live sessions or lectures, you'll need a streaming service—but if your course consists of pre-recorded videos, you'll need a way to host them online. Here are a few other things to consider:
Scheduling: this is an important feature if you offer live lectures or office hours as part of your course. Automated scheduling features will allow students to see your schedule and book at a time that suits both of you, eliminating the back-and-forth of scheduling conversations.
Live streaming: there are a ton of different ways to stream live video, but some of them are better for teaching than others. The most common streaming platform is zoom, but some teaching software offers additional teaching tools along with live video. At minimum, make sure your teaching platform integrates with the streaming option you prefer to work with.
Student management: this can be either a classic CRM with names, contact information, and notes, or a more teaching-specific management system with fields for grades, student progress, and feedback. Think about what student records you generally keep, and what digital tools you need to keep them organized.
Payments: it's easy to get lost focusing on teaching tools, but payment features are equally as important. If payment processing isn't integrated in your software, you'll have two separate sets of information for each student. How easy it is to keep track of payment information will have a huge impact on your bottom line.
File sharing: you'll need file sharing features in order to make student assignments (and your feedback on them) readily accessible. It's also worthwhile considering how these files will be stored—will all your students' coursework be accessible on the platform, or will you have to rely on an external program?
Quiz templates and other course specific tools: a lot of teaching platforms offer things like quizzes, certificates, and other templates to make teaching easier. Make a list of the things you use in class, so you can find out whether or not there's a digital version available.
Another important factor to consider is the number of users the platform can support, and the number of students you can teach at a given time. While some offer unlimited numbers of admin and student accounts, others only support a small number—so be careful that your head count is supportable on the platform you choose!
Best 7 teaching platforms for online learning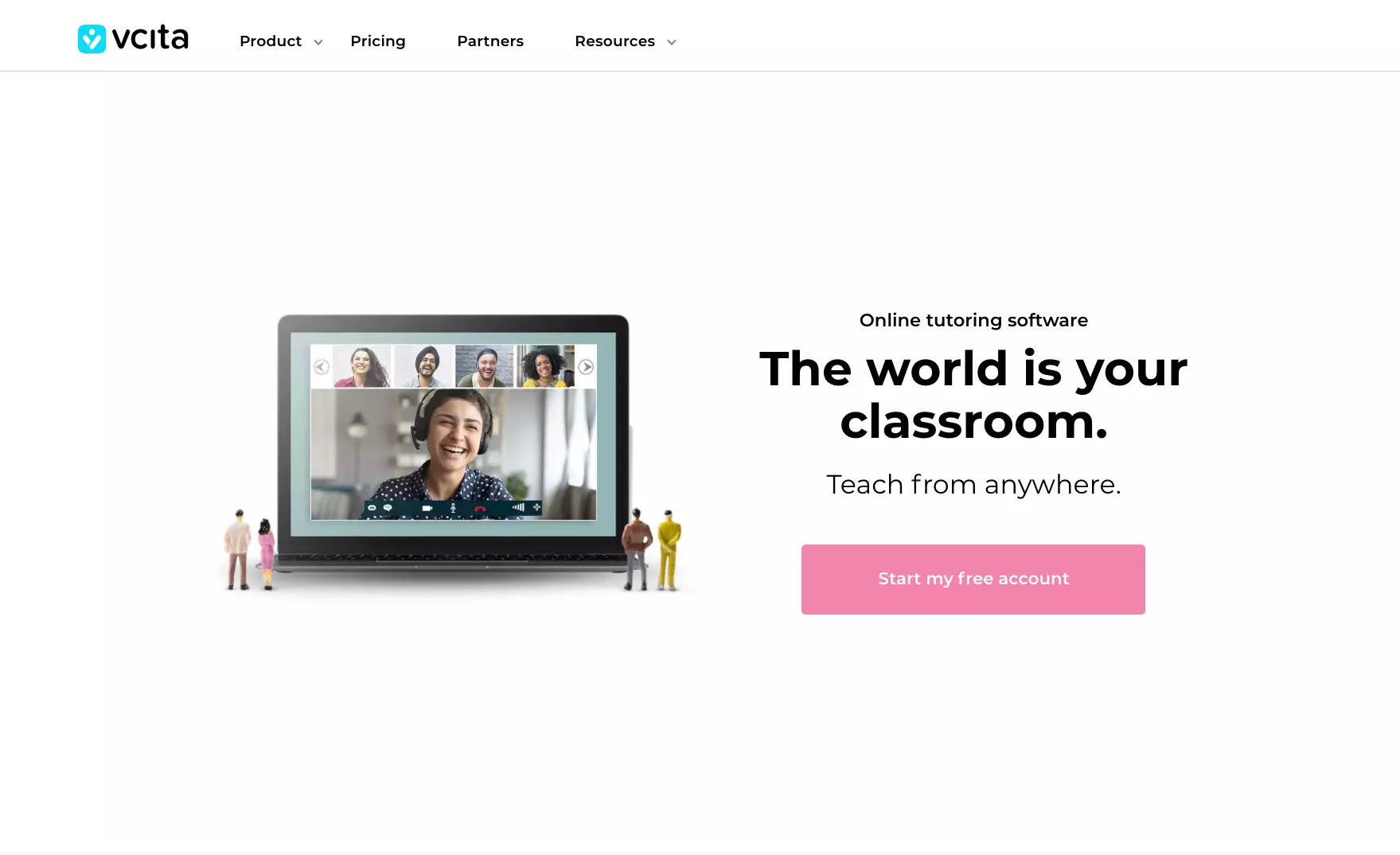 Pros:
WordPress plugins for easy website integration
Easy to use interface
All-in-one software connects every part of your business, from teaching to payments
Cons:
Not designed specifically for teachers
May be too simple on its own for larger institutions
Not as much UX customization as other solutions
Pricing: Starts at $19/month for solo plans, $45/month for team plans; 14-day free trial available 
Features:
Zoom integration for online classes
Automated scheduling
Online payments, including package bookings for multi-session courses
Client portal for student interaction, messaging
File sharing for course material and assignments
 
General Analysis:
vcita is an all-in-one business management platform used by more than 10,000 online teachers. It has multiple features that come in handy for online learning, like zoom integration, file sharing, and payment processing features. The scheduling feature lets students see your schedule and book at a time that suits both of you; all you need to do is approve it. Customizable client portals are great for students, since they're easy to use—they keep all your students' information, including assignments and course material, upcoming appointments, and payments, in one place. vcita's CRM feature lets you keep private notes on each student as well, including assignment attachments, grades, preferences, and all their in-app messages.
Whether you're charging for one lecture or selling a package of courses, you can customize the services you have on offer with vcita's packages feature. One of the main downsides is that because it isn't specifically designed for teachers, it doesn't have the course creation features that some of the other platforms do. However, it does offer WordPress plugins so you can use vcita with a teaching WordPress theme. Overall, it's a good option for individual instructors or smaller schools that need a way to seamlessly manage their whole business.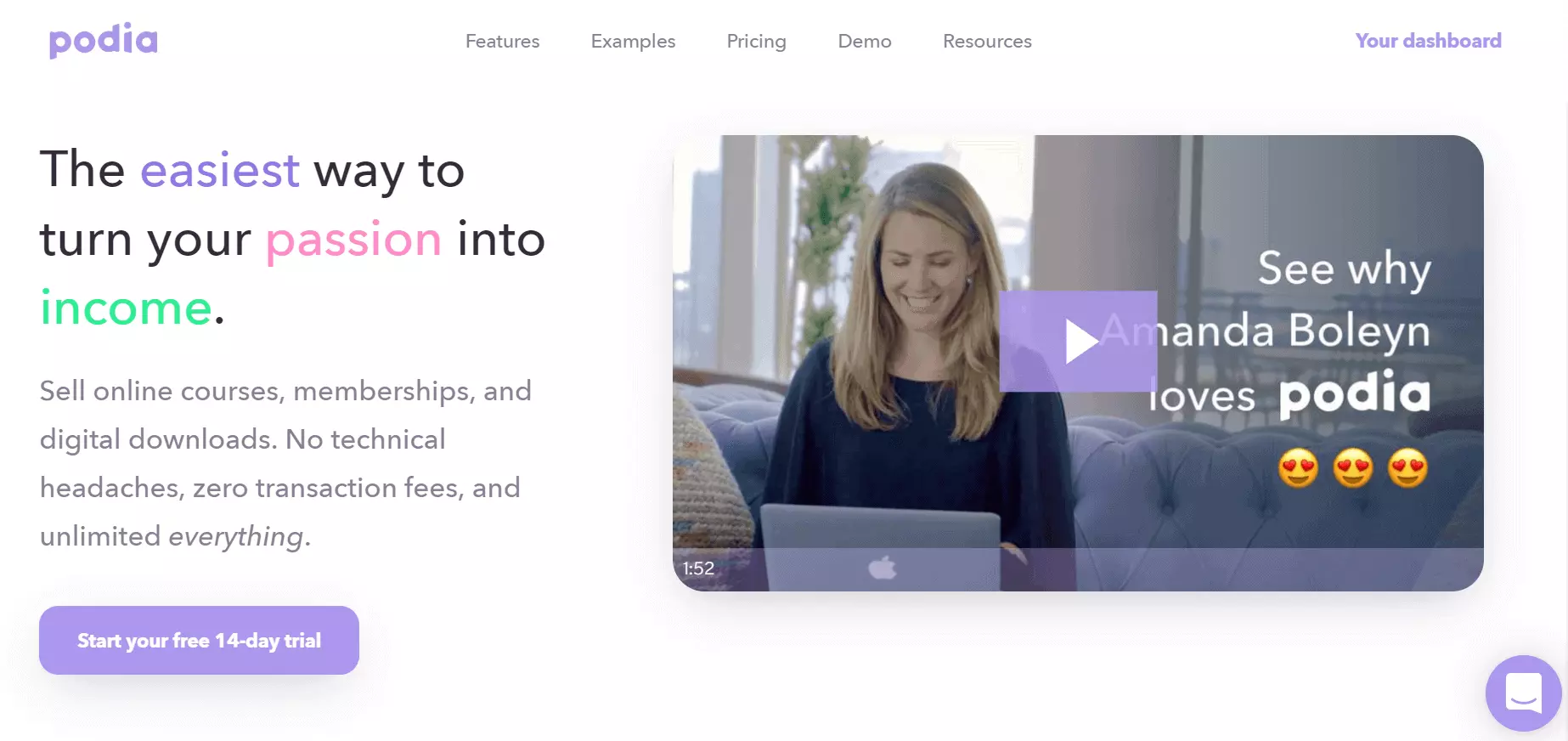 Pros:
Simple platform
Sales template for pre-recorded videos
Comes with a lot of marketing features
Cons:
No in-app payment processing
Additional teammates cost $20/month each
Zoom integration only available on premium subscription
Pricing: Starts at $39/month, with a 14-day free trial
Features:
Website builder geared towards course design
Email marketing and pipeline management
Messaging
Memberships
Digital downloads
General Analysis:
 Podia is another all-in-one platform, with more of a focus on building a website that contains all of your course material. It offers an intuitive no-code editor that makes it easy to sell your course online, especially if it's a series of pre-recorded videos. The membership feature is unique too, giving users the option to sell a membership to students wanting ongoing access to content, advice, or a community. In addition, it supports digital downloads, letting users sell downloadable content without any tech hassles.
However, it's not as user-friendly as vcita if you're trying to sell live instruction—there's no scheduling feature, and it does offer zoom integration, but only at the "Shaker" level for $79 per month. There's also no client portal—all the material will be on your website, but won't be personalized to individual students. Of all the options it's the simplest, but that also makes it limiting. Overall it's great if you want a very simple way to sell pre-recorded courses and digital materials, but not so great for live instruction or teams.
3. Teachable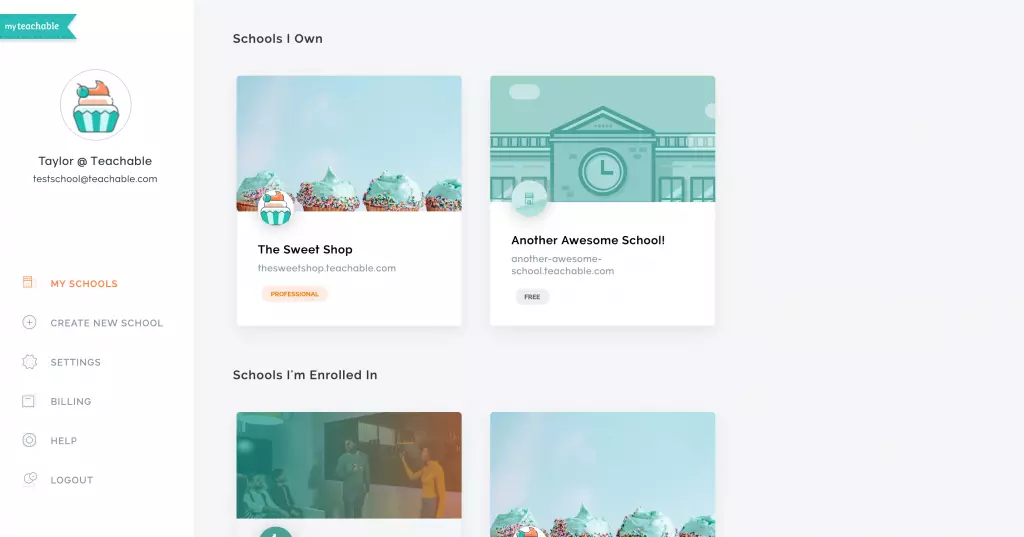 Pros:
Tools specifically geared towards accreditation (quizzes, certificates)
Lots of customization features
Drip course content available
Cons:
No file sharing features
Few integrations available
Highest paid plan only supports 20 users
Pricing: $29/month to start; free trial available
Features:
Quizzes and course compliance controls
Course and coaching products
Membership options
Analytics and reports
Affiliate program and email marketing
General Analysis:
 Teachable is similar to Podia in that it offers website building features, but is more focused on course building and less on sales and marketing. It offers options for both streaming live instruction and adding a series of pre-recorded videos to courses, which you can manage from a user-friendly editor. With features like quiz templates and course compliance constraints, it's well-suited for teachers making programs that require students to meet learning objectives. It also has built-in payment processing that lets you pay authors, team members, and contributors automatically.
It doesn't have the scheduling features that vcita does, although it does integrate with Calendly. Although students can log in and select from Teachable courses, it's a feature operated by the platform itself and not customizable by Teachable users. The Basic plan includes access for 2 admin-level users and the Pro plan includes access for 5, so it's a good option for smaller schools that need an easy way to create a certification course.
4. Ruzuku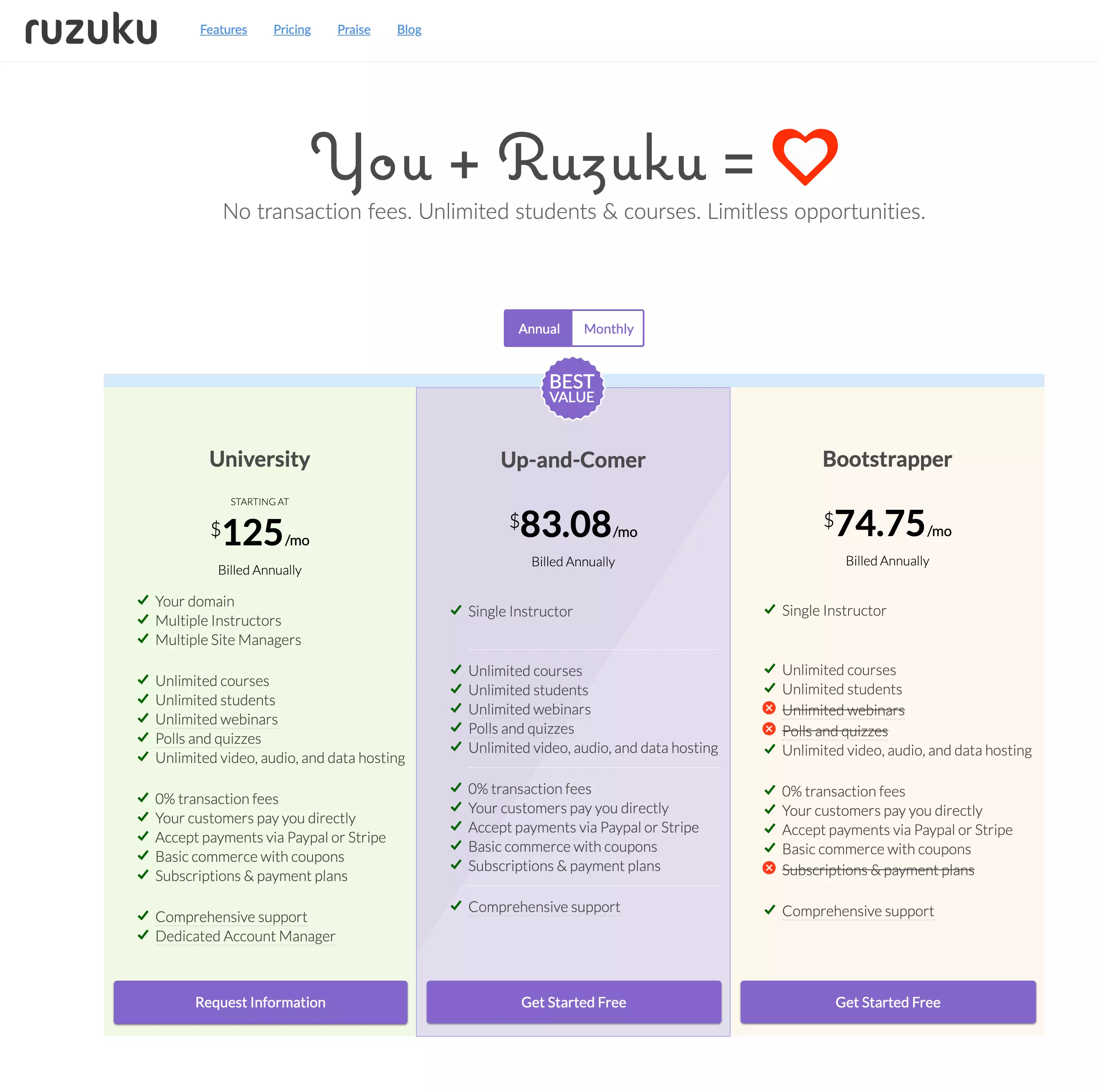 Pros:
Customer support includes support for students with tech issues
Web design features keep track of student progress
Design promotes interaction/discussion
Cons:
More expensive than several other options
No integrated payment processing
No marketing features
Pricing: Starts at $74.75 per month, 14-day free trial available
Features:
Hosting and streaming audio/video
Course Health feature shows students' completion and comment rates
Discussion modules for course community
Social bios for students
Scheduling with email notifications
General Analysis:
 Ruzuku offers a middle ground between Podia and Teachable—it's simpler to use than Teachable, but offers more features than Podia. Like Teachable, it's geared more towards course design than sales and marketing, but with a specific focus on creating ways for students to engage and interact with the course and one another. These include discussion questions and prompts, social profiles for students in the course community, and a course-wide forum.
In addition to the community-friendly features, Ruzuku offers tech support for students enrolled in your courses, so you don't have to field questions about logging in, registering, or paying. It also offers a scheduling feature, but like Podia, doesn't come with a built-in payment gateway (you have to integrate it with PayPal or Stripe). The "Bootstrapper" and "Up-and-comer" plans only offer access for a single instructor, so if you're a team, you'll have to buy the "University" plan at $125. It's a good solution for a sole instructor who wants to create a community vibe in their courses; however, you'll have to have other systems in place for sales and marketing.
5. Academy of Mine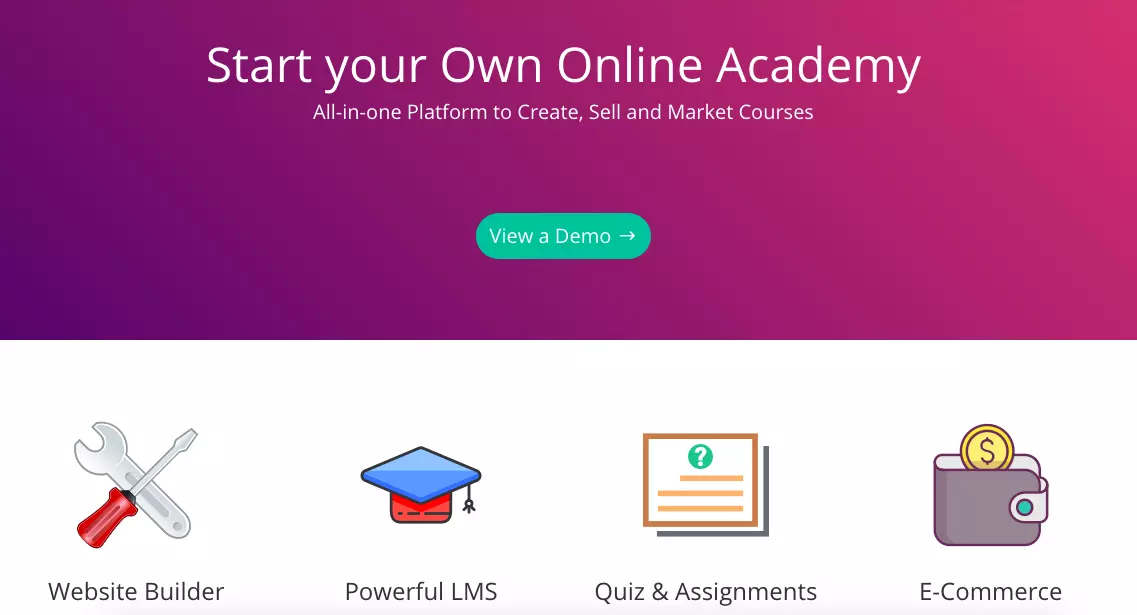 Pros:
Plan includes website design, customization
eCommerce functionality lets you sell courses in bulk
Unlimited users and courses
Cons:
No out-of-the-box payment integration
Complex software; takes time to learn
Most expensive option on the list
Pricing: $9,997/year, plus extra onboarding fees for more than 15 hours of customization
Features:
Live virtual training with collaborative whiteboard
Course player for pre-recorded videos
Quizzes and course completion certificates
Online checkout templates
Advanced analytics and reporting
General Analysis:
 Academy of Mine is a robust platform geared towards larger institutions that need a fully customizable platform. It offers built-in live virtual instruction features, video hosting, and interactive modules for quizzes and assignments. One of its main selling points is that development and customization come with the platform, including custom integrations. It's the first SCORM compliant option on this list, so is a good option for schools that want to create or use digitally standardized courses.
Built-in development and customization means you can add any features that Academy of Mine doesn't have already, like scheduling and marketing tools. However, the plan only includes 15 hours of onboarding customization. After that, it costs an additional fee. Although it's a good option for larger schools or universities, it's likely overkill for a smaller school or independent instructor.
6. Schoology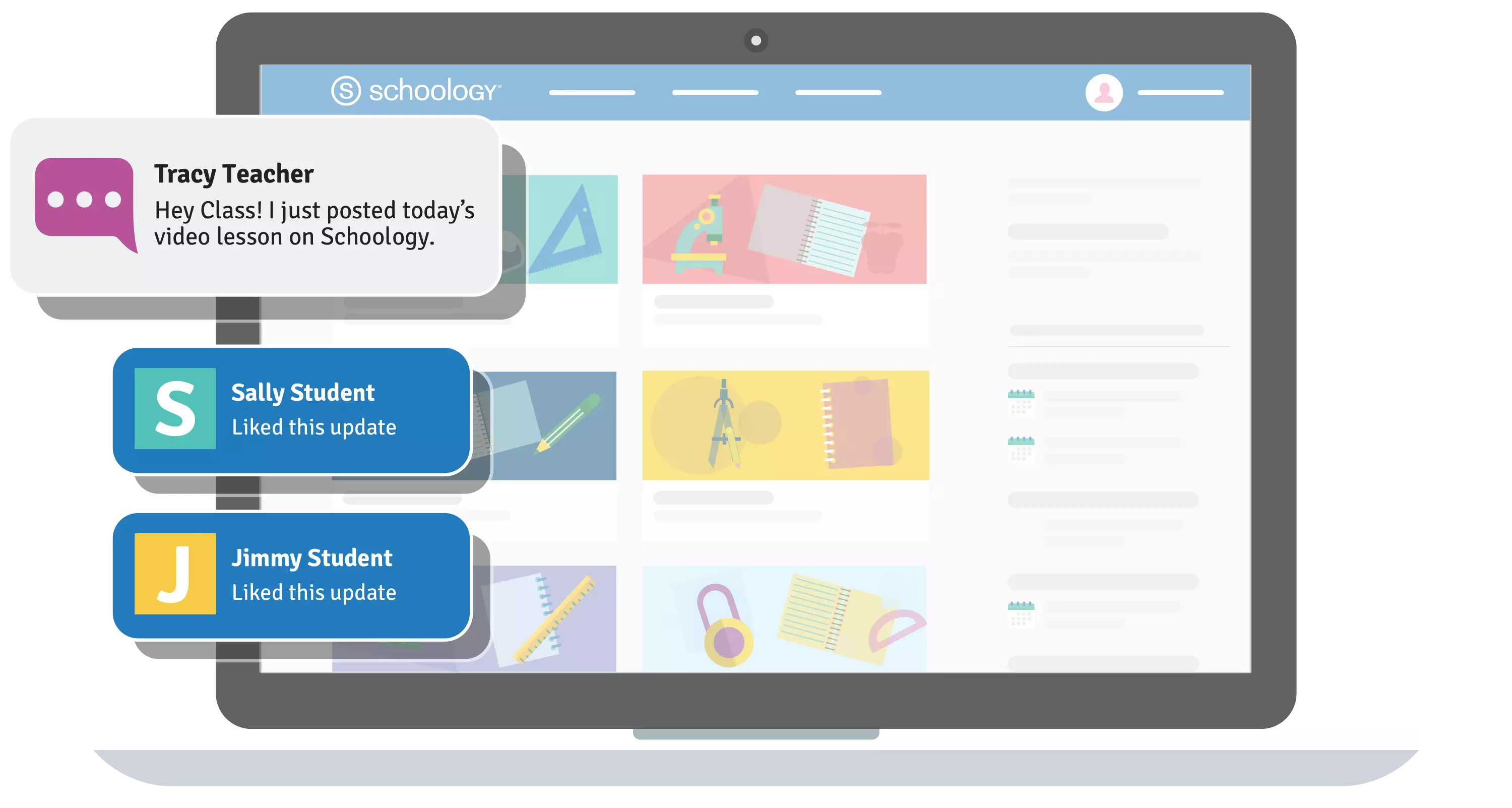 Pros:
Over 300 app integrations
Student-centered metrics for personalized learning
Community collaboration tools
Cons:
Free registration is currently closed
Features have a K-12 focus; won't be as useful for teaching adults
Smaller schools aren't likely to use a lot of the features
Pricing: Price depends on implementation
Features:
Integration with Student Information Systems
Complex metrics to track student progress
Public community forums for teachers
Parent and student portals
Assignments that allow for student choice
General Analysis:
 Schoology is designed specifically for school districts teaching K-12 grades. With unique features like gamification, separate student and parent portals, and community collaboration, it offers a complex tool to help make the online learning experience the best it can be. Its user interface is intuitive and easy to learn, although some features like parent-teacher communication won't be applicable to higher ed institutions.
Analytics and SCORM features are only available on the Enterprise version, which has pricing that varies depending on implementation. Although there's usually a free version available for new teachers, the platform is temporarily restricting access for new users as a result of the pandemic. Overall, it's a great learning platform for K-12 schools and larger institutions, but the paid version is likely to be unnecessarily complex for smaller schools.
7. Learncube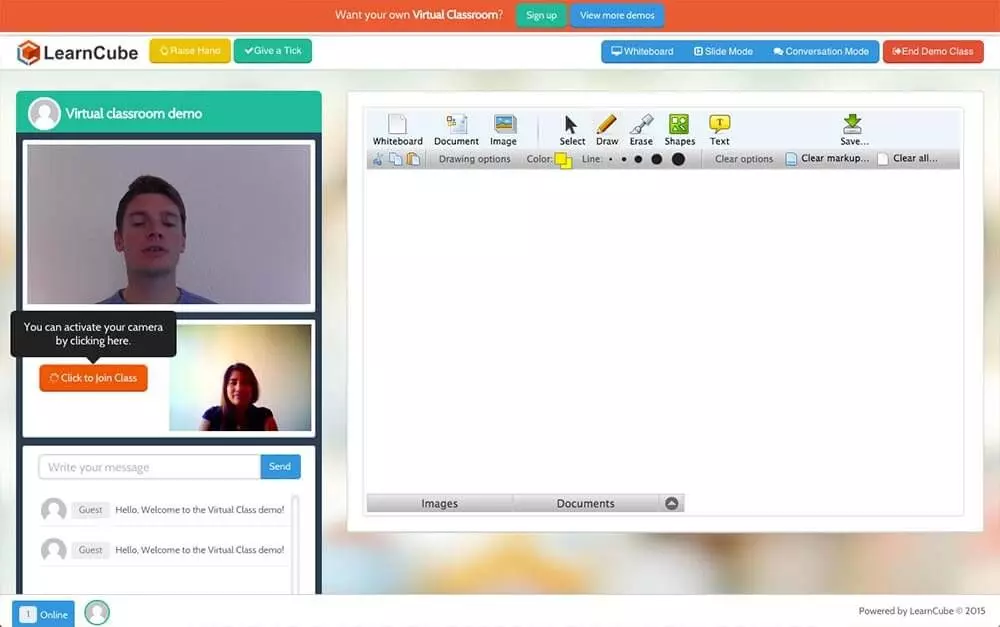 Pros:
Digital course content for ESL built in
Customizable platform
Free version available
Cons:
No payment processing features
No marketing features
Limit of 8 students per class in the "Pro" version
Pricing: free, with priced plans starting at $14/month
Features:
Interactive whiteboard
Built-in virtual classroom
Math and chemistry tools
Language tools such as conjugation tables
Lesson material library
General Analysis:
Learncube is a virtual classroom designed with independent tutors in mind. It has specific tools for math, chemistry, and language subjects—like, for example, an interactive protractor and conjugation tables. There's also file sharing, chat, and a lesson material library to help your virtual classroom feel even more like a real one.
You can stream audio and video on Learncube, but it doesn't have a website builder, payment processing features, or marketing features. It's more like a teaching-specific alternative to zoom: less about managing your whole tutoring business, and more about delivering teaching in a user-friendly way. It does offer a developer API that lets you integrate it with other systems—so it's good for teachers or schools that already have the other systems in place, or for use in tandem with an app like vcita. It also might be a good solution for someone wanting to try out teaching as a side gig with the free version.
Online teaching, designed your way
There is no single best teaching platform out there. The trick is to find the best fit for you, which is whatever works for your course material and teaching style. When in doubt, don't be afraid to sign up for a few free trials to compare, since it's worth it to find the platform that's just right. A good teaching platform will help your virtual classroom feel more like meeting in person. The best teaching platform will make it even better.