Running a chiropractic office inevitably includes invoicing and billing your patients for the services you provide them. The purpose of this is to ensure you're getting paid for those services and to keep your archive organized for inspection, budget planning, paying taxes, and so forth.
The times when you had to do all this manually are long gone and today there are many software solutions that automate and streamline the process. This way, you can relax and focus your attention on doing your primary task – providing the best possible chiropractic service to your patients.
Unfortunately, not all invoicing and billing platforms are equally good. To be truly useful in your chiropractic business, they should cover several most important features:
Billing codes
Capable invoicing software can eliminate combing through bulky coding manuals in search of the relevant CPT (Current Procedural Terminology) and ICD-10 (Classification of Diseases, 10th revision) billing codes. It can speed up the search process by a simple click of the mouse or entering the description or code number.
Automated invoicing and billing
Look for a platform that removes the time-wasting and impractical process of manual input of charges, printing of invoices or bills, and/or emailing the clients individually, and instead automatizes all the steps involved and saves everyone valuable time.
Payment processing
A good invoicing and billing platform facilitates easy and seamless payments by integrating with popular payment processors, preferably adding a simple payment button to your invoices.
Payment tracking
An efficient practice stays on top of all of its expenses at all times, which is why it needs to have a convenient method in place to keep track of all the paid and unpaid claims to your customers. Extra points go to a platform that can remind you and your clients of any outstanding payments, so they can pay in time without you having to pester them.
HIPAA compliance
An essential feature of any invoicing and billing software used in a chiropractic office is its ability to protect your clients' privacy and medical history. This is achieved by being compliant with all the relevant privacy and security laws, among which the most important is the Health Insurance Portability and Accountability Act (HIPAA).
With this in mind, let's take a look at the seven best billing and invoicing software solutions on the market that have everything you need.
1. vcita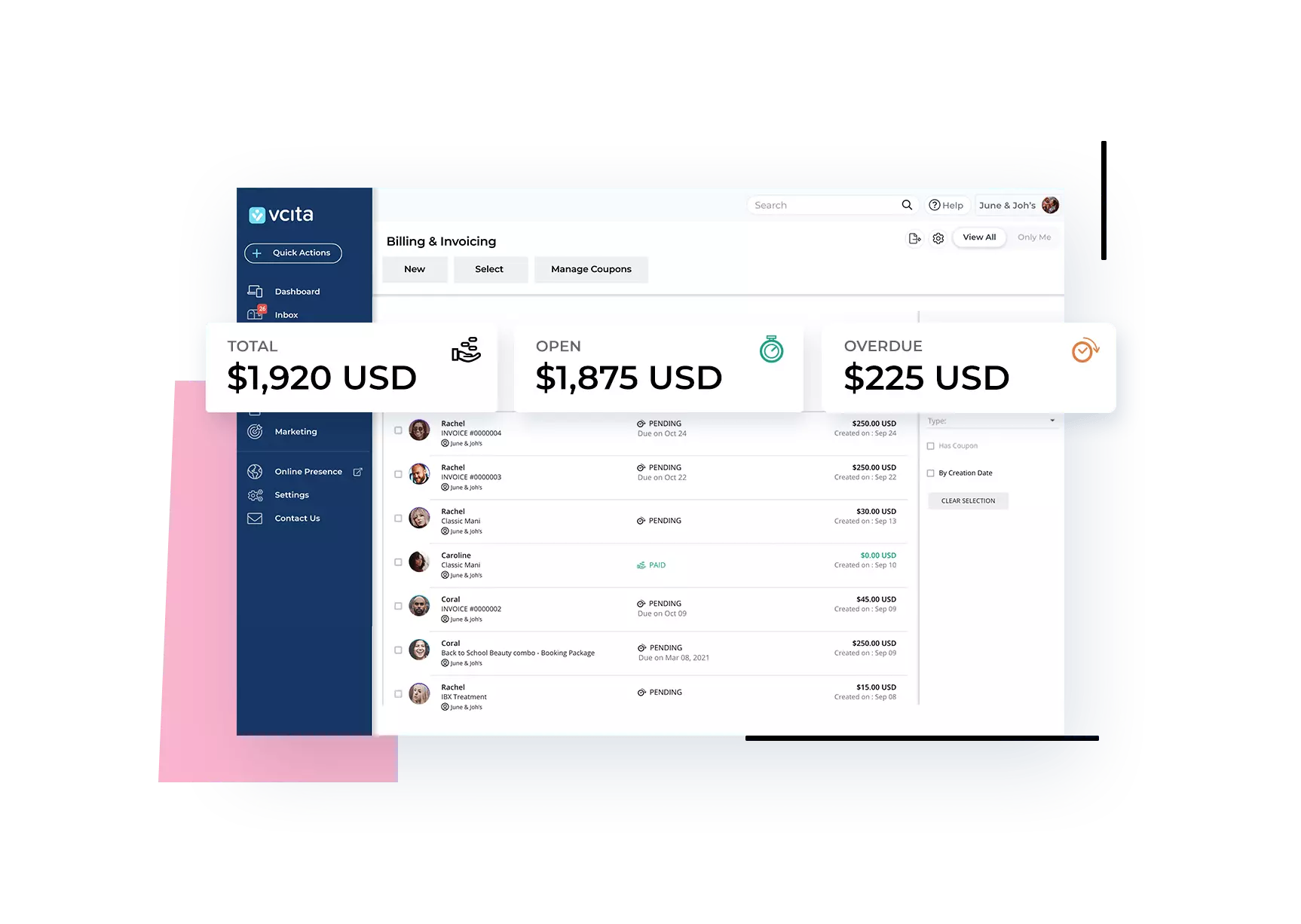 Pros:
Feature-rich
Budget-friendly
Free trial
Cons:
Some features are a bit complicated

vcita's highly customizable billing and scheduling software offers a speedy and practical service of invoicing your patients using professional templates equipped with a simple payment link. It also saves time on data entry thanks to the auto-filling option using stored data such as the CPT and ICD-10 codes. Additionally, it provides a customizable pop-up widget for your website which visitors can use to schedule appointments, conduct payments, or interact with you in other ways.

The creators of vcita have recently decided to increase their focus on health professionals, constantly adding new relevant features. These include HIPAA-compliant security, link and document sharing with patients, medical notes, and automated appointment and payment reminders for you and your clients.
Pricing for vcita's services starts at only $19/month if you're opting for the annual subscription. This makes vcita the most affordable billing software on our list. There's even a 14-day free trial so you can see if the platform is the right match for you. This is by far the cheapest option on the market, especially considering you're getting a lot more than just billing and invoicing but a full business management solution.
This solution also covers scheduling, marketing automation, payment processing, and payment tracking. It integrates with Google Analytics, QuickBooks, Wix, Weebly, Stripe, Paypal, Zapier, Duda, Square, WordPress, and even Zoom, so you can give your patients self-care advice via video call. The CRM mobile app allows you to take your business with you.
That said, not everyone will find this platform easy to master at first as some features are more complex than others. vcita's current Trustpilot score is 4.6 (out of 5).
2. Genesis Chiropractic Software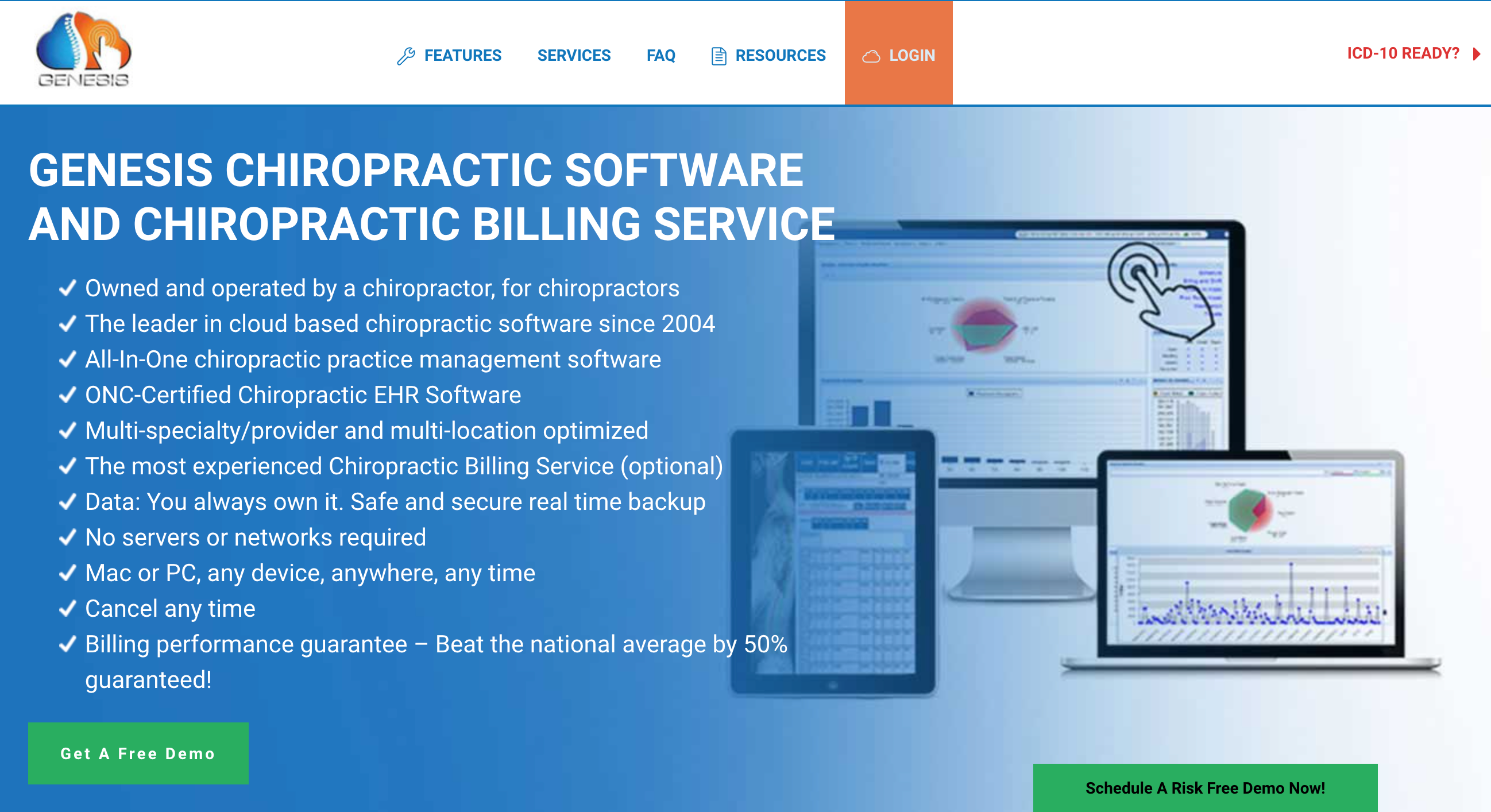 Pros:
Run by a chiropractor for chiropractors
Phone support
Cons:
Non-standard platform
Not very user-friendly
Pricing only per request
Owned and operated by a chiropractor, Genesis Chiropractic Software offers a specialized platform that covers different focus areas. Despite its usability, this approach may sometimes seem a bit overwhelming, at least to a beginner.
The options offered include the usual: billing, scheduling, insurance billing, automated EHR (electronic health records), ONC-certified notes, reminders, HIPAA-secure online forms, payment processing, support for ICD-10 lookup, and a chiro-only extra: webinars by the industry professionals.
If you need any assistance, you can get it quickly via a dedicated phone line. That said, both the platform and website look and feel a bit obsolete and the platform seems to follow its own, non-standardized format. This doesn't hurt the functionality a lot but it does require quite a bit of getting used to.
Genesis' pricing isn't listed anywhere on the website but we learned that it is based on a per-user model. There's no free trial or free version but you can sign up for a free demonstration. This platform doesn't have a Trustpilot page yet, but Capterra holds it at 4.4 stars (out of 5).
3. ChiroTouch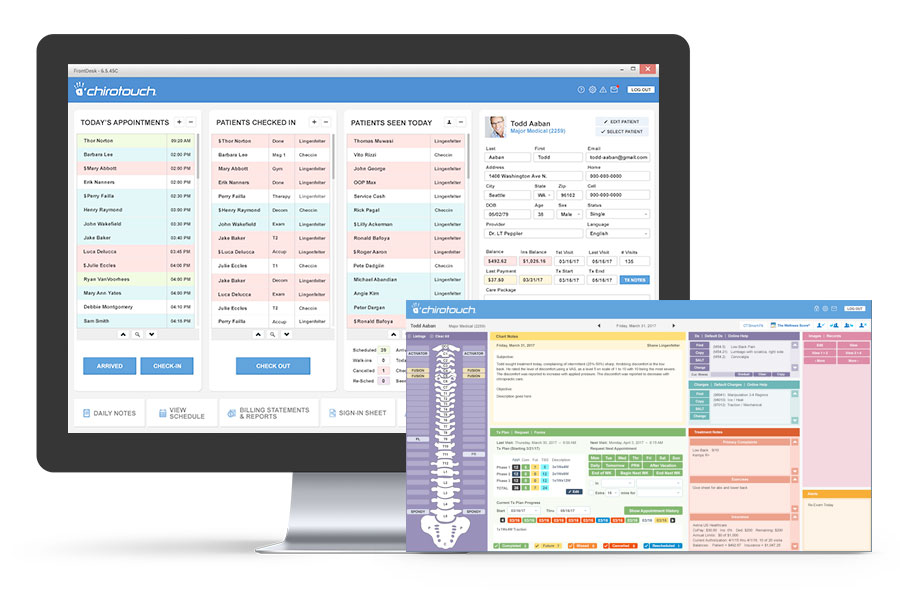 Pros:
Very well equipped
Unlimited users
Live customer support
Cons:
Exorbitant price

Not all features are available without an upgrade

Slightly complicated
With a starter price of a hefty $259/month (plus a one-time fee for setup, training, and data conversion), ChiroTouch throws in everything it can to justify it. This includes unlimited users, providers, and patients. If you bundle CTPayments with your ChiroTouch subscription, you'll get one month of service for free.
Subscriptions also include fully integrated EHR software, SOAP ("subjective, objective, assessment, and plan") notes, all-in-one dashboards, native iPad apps, customizable options for print and electronic billing, pre-built MACROS, HIPAA-compliant patient portal, and ICD-10 compatibility.
Since you won't get detailed training on this somewhat more complicated platform than many, the provider's unlimited live support is there to help you out.
Do note that some of the advertised features are only available as add-ons. For this reason, we recommend contacting the provider for detailed information to avoid any misunderstanding, especially since there's no free trial to tell you what you're getting into. There is a free demo, however. At the time of writing, ChiroTouch's rating on Capterra was 4 stars (out of 5).
4. Acom Health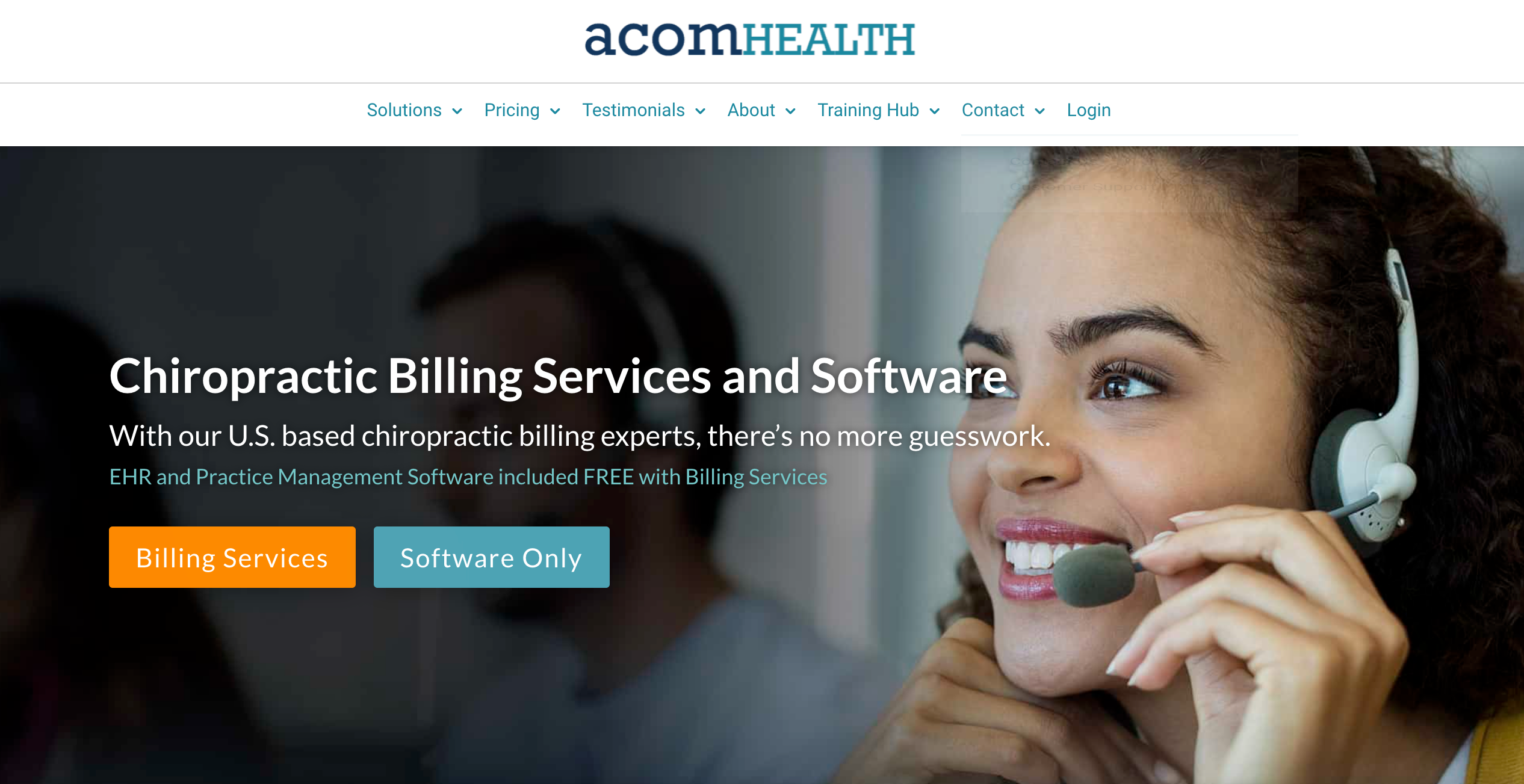 Pros:
Can work with your existing software
Very user-friendly and intuitive
Cons:
Designed by a veteran in the business, Acom Health's all-in-one RAPID platform offers HIPAA-compliant EHRs and practice management software with chiropractic templates and charts, medical necessity documentation, scheduler, billing and collections, reports, ICD-10 support, and outcome assessment tools. Appointment reminders and patient at-home registration can be purchased as optional modules.
Some complaints are present, such as the minor reminder glitches and lack of response from customer support, as well as the missing mobile apps for scheduling patients outside the office hours. Otherwise, the platform is highly intuitive and user-friendly.
Pricing is based on volume and payer mix and amounts to $299/month with no annual contract, which also means no discounts typically involved in longer subscriptions. There's no free trial and the only option to get a taste of the service is to set up a demo appointment with the company's software specialist.
The Capterra rating for Acom Health's RAPID platform is 4.5 stars.
5. DrChrono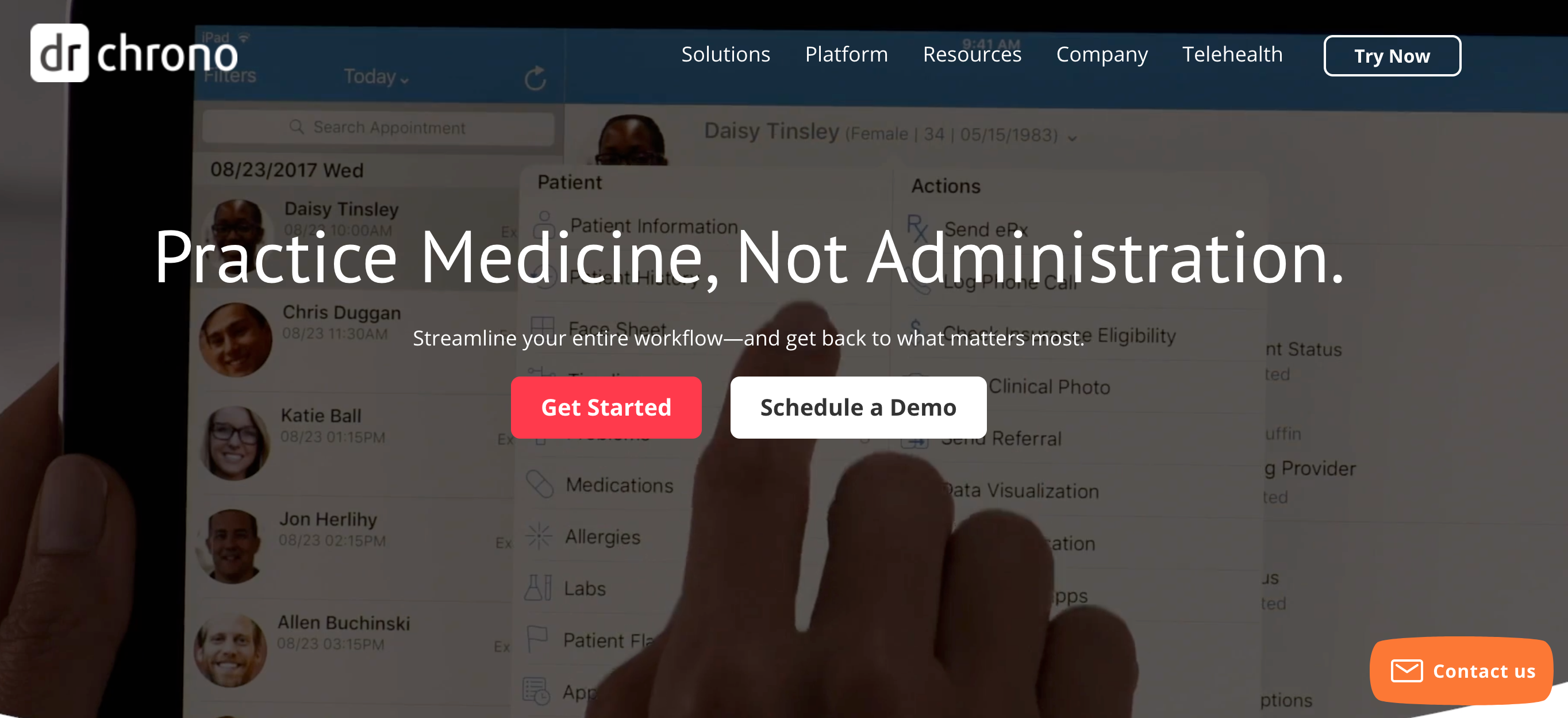 Pros:
Plenty of features
30-day free trial
Cons:
Poor rating
Hidden pricing
Specializing in providing software to medical professionals, DrChrono's platform aims to streamline your entire workflow with the usual and not-so-usual features. The basic features include a client portal, check-in, payment processing, a booking widget, as well as fully integrated EHR with mobile accessibility.
It also supports EMR (electronic medical records), CPT and ICD-10 coding, telehealth, unlimited staff accounts, group profiles, patient education, and revenue cycle management. There are several different subscription packages but their pricing is only available upon contacting the provider.
The better the package, the more features it includes, ranging from e-prescriptions to insurance eligibility checks to claim management and submission tools to Electronic Remittance Advice (ERA) auto-posting.
You can try out the platform during a 30-day free trial or demonstration (or both), whatever works best for you. No pricing is provided by the vendor.
Although this platform sounds excellent on paper, user experience hasn't been as superb, at least judging by the mediocre Trustpilotrating of only 2.5 stars. Most complaints refer to technical glitches and the lack of communication on the vendor's side.
6. SimplePractice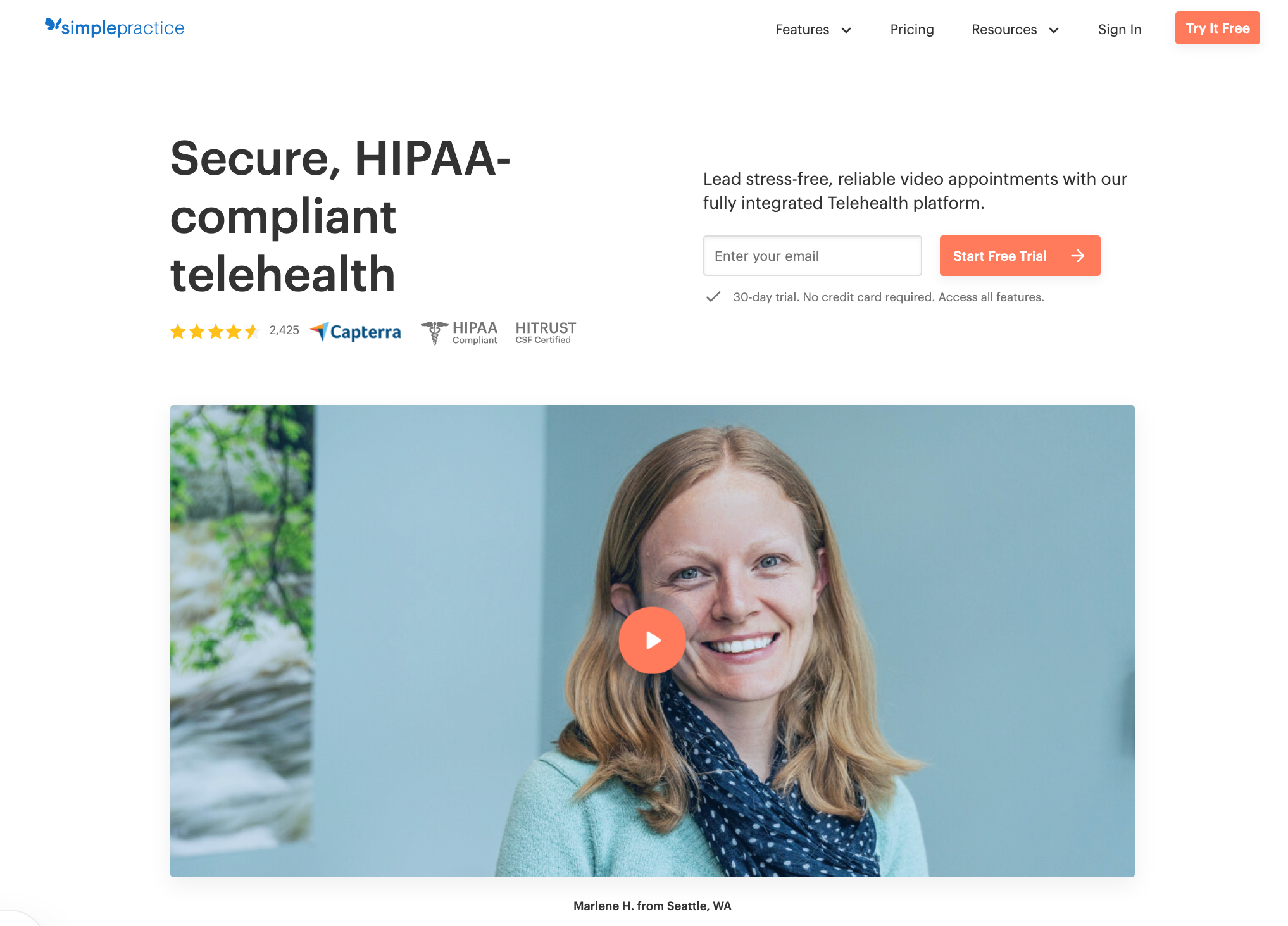 Pros:
Multiple integrations

Affordable

30-day trial period
Cons:
Some features are a bit clunky
SimplePractice offers different options for different chiropractic needs and team sizes. 
If you're a solo practitioner, you can get the provider's Essential service package at $39/month. Despite coverage for unlimited clients, this is a rather limited option as it only includes a client portal, automated invoicing, treatment plans, appointment reminders, online payments, ICD-10 codes and autocomplete, template library, mobile apps, as well as electronic intakes.
The Professional plan at $59/month adds custom templates, online booking, reminder customization, HIPAA-compliant secure messaging, billing, payment reports, and a few add-ons charged additionally. Group options are available for 2+ practitioners, charging $39 per practitioner on top of the basic $59 for the first one.
If you're on the fence about this provider, you can take its platform for a spin during a 30-day free trial and witness its quality first-hand, no credit card needed. The vendor's Trustpilot page shows a rating of 4.1 stars, with some complaints about the clunkiness of certain features.
7. ChiroSpring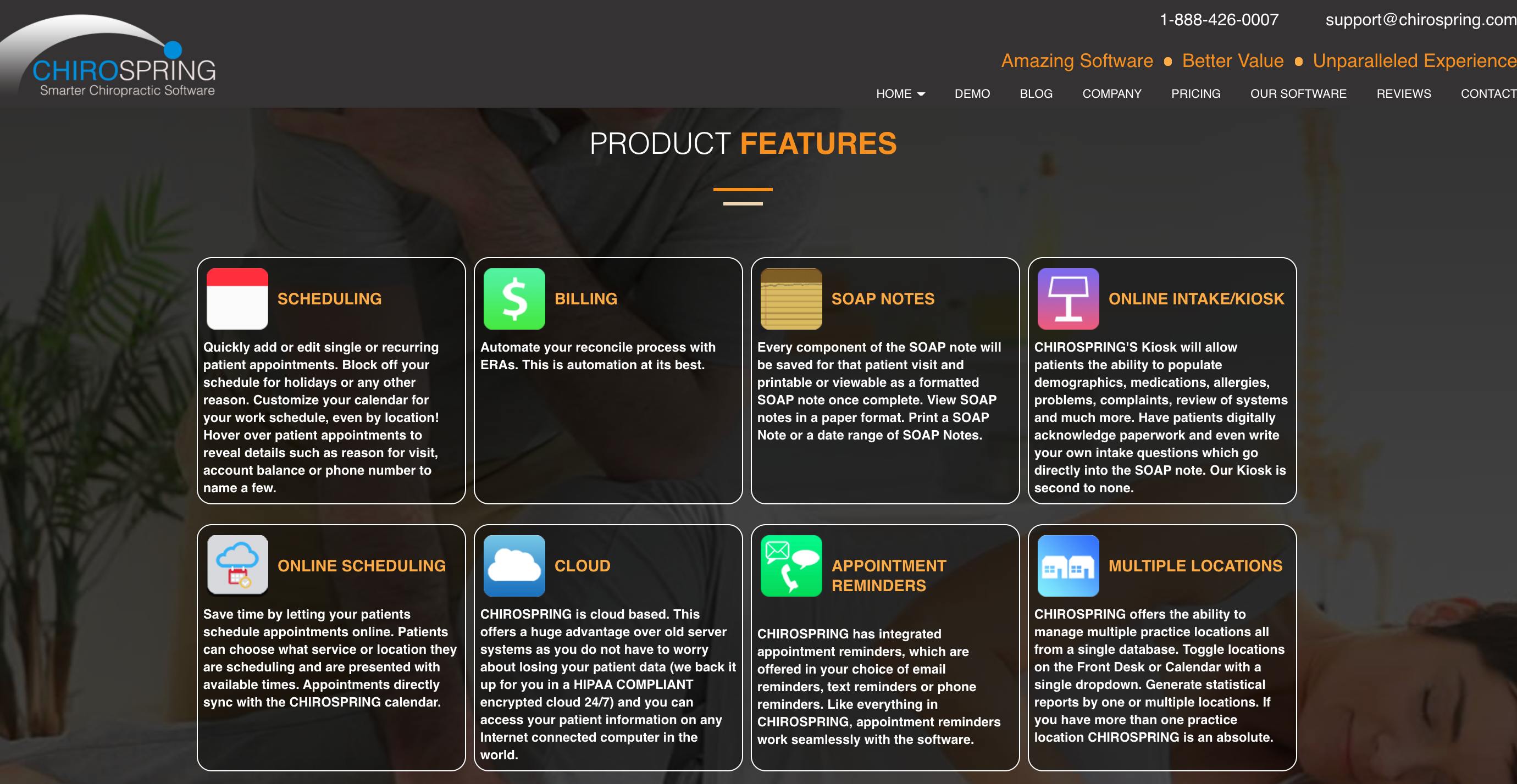 Pros:
Excellent customer support

Quick to fix issues
Cons:
High prices

Constant updates
Catering exclusively to chiropractors, ChiroSpring opens its offering at $99/month per user. This gives you scheduling, billing, claims, SOAP, ERA auto-posting, appointment reminders, integrated payments, data backup, ICD-10 support, and four hours of live training by the vendor's team. 
At $229/month, you get all that, plus customer support, enhanced SOAP features, and online appointment scheduling. The most expensive plan, at $279/month, adds online patient intake and self-service check-in, typically available in the competition's cheaper packages. Additional features and options are available for purchase.
Bringing in more providers to use the platform will cost you $49/month per person. There's also a $495 one-time setup fee which makes it a very expensive platform. Regardless, ChiroSpring seems to be worth it, as long as frequent software updates don't bother you. The provider deploys them often to fix whatever minor technical issues you may encounter. ChiroSpring's Capterra score is 4.9 stars.
Spare yourself the pain of manual invoicing
We hope this post has made your search for the best invoicing and billing software at least a tad easier. Understandably, every practice is different so the final decision will depend on the finer details of each of the offered solutions, as well as your own specific requirements and arrangements. Best of luck with whichever option you go for!