There's a reason most large businesses have management staff: business management is a full-time job. Providing services on top of managing a business is why a lot of small business owners find themselves burning the candle at both ends. All-in-one business software takes some of the workload off your shoulders by automating tasks and emails, reducing data entry, and tracking important information so you don't have to.
However, not all of these solutions are made equal. Different solutions will fit different business sizes and workflows; a large multinational corporation will need a much different system than a freelance consultant. The first step in figuring out what you need is thinking about what features might work for you.
What are some common features of business management software?
Below is a list of features you might find in an all-in-one management tool. You may not need all of them, though! To find out what might best suit your business, take a look at the list and check off what you think is essential for keeping your business running:
Scheduling
Project management
Email and SMS marketing
Invoicing
HR/Employee management
Time tracking
File sharing
Client portal
Online payments
Analytics
Integrations with other apps
CRM tools
Tech support
Automated reminders
Expense tracking
Accounting reports
Lead generation
The perfect software for you should come close to matching what you've checked off. Keep in mind that if the software offers integrations, you might be able to make an almost-perfect solution a perfect one with the addition of another app or two.
Below is a roundup of 7 great all-in-one business management applications, each with its own unique set of features and perks.
The top 7 business management software solutions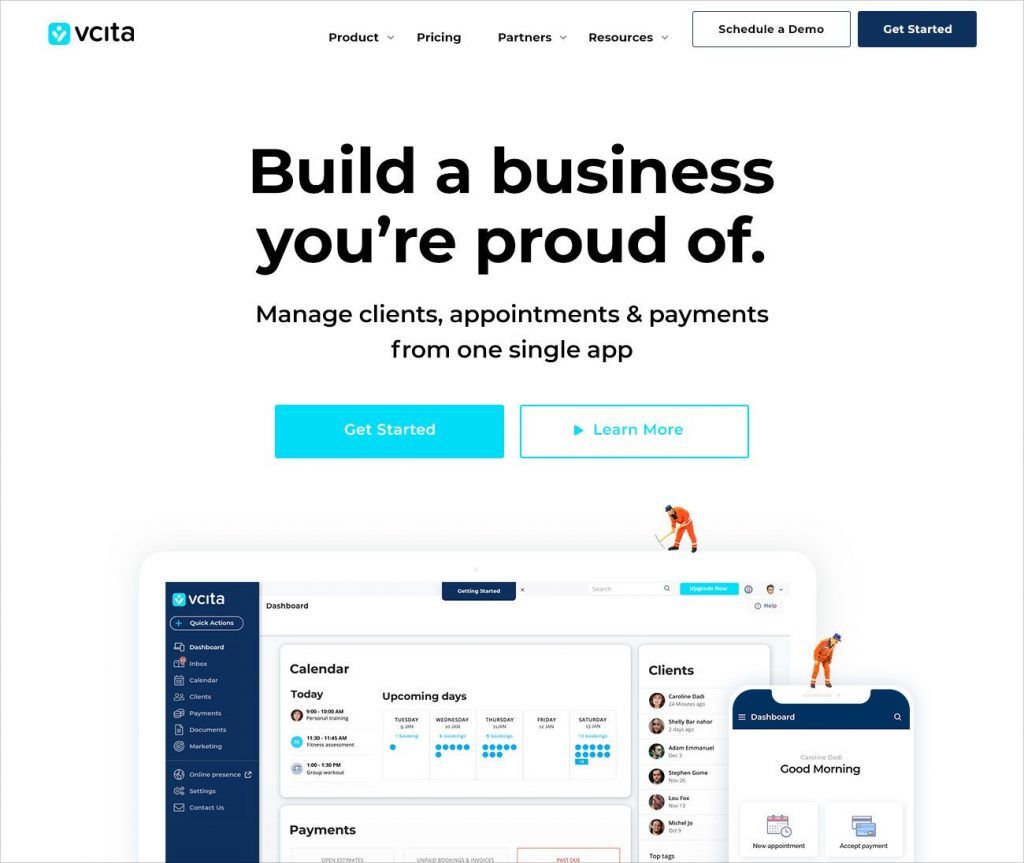 Pros:
user-friendly interface
has features for all the basic needs of a small/medium sized business
solo and team plans available at a variety of different complexities/price points
Cons:
no time tracking/project management features
no in-app expense tracking
may be too simple for a large business
Pricing: $19/month for Essentials plan, $45/month for Business plan; 14-day free trial
Features:
scheduling functionality that lets clients book appointments in your schedule
CRM with customizable tags for targeted marketing
client portal with file sharing, messaging, invoice and payment history
invoicing and receipt automation
SMS & email marketing campaigns
Team size: ideal for small/medium businesses with 1-20 people
Industries: coaches, health clinics, hair and beauty salons, gyms, real estate agents, colleges, online teachers
General review:
As far as all-around usefulness goes, vcita is hard to beat. It's an easy to use all-in-one solution that has just enough of everything for a small business owner, especially for those with service-based businesses. Its scheduling app allows clients to book via Google, Facebook, or a widget on your website, with a calendar that shows them your availability. CRM features like customizable tags, client document storage, and pipeline staging make it easy to keep track of client history, details, and files.
Zoom integration with vcita is especially useful for online appointments, and means you can let the app generate a link to your zoom meeting and send it to your client as soon as they schedule. Automated estimates, invoicing, and one-click payments are also a bonus. One of the things vcita is missing are project management tools, timers, and expense tracking—which might be important for business owners doing lengthy or complex projects. But for service-based businesses that need a simple solution, it's just right.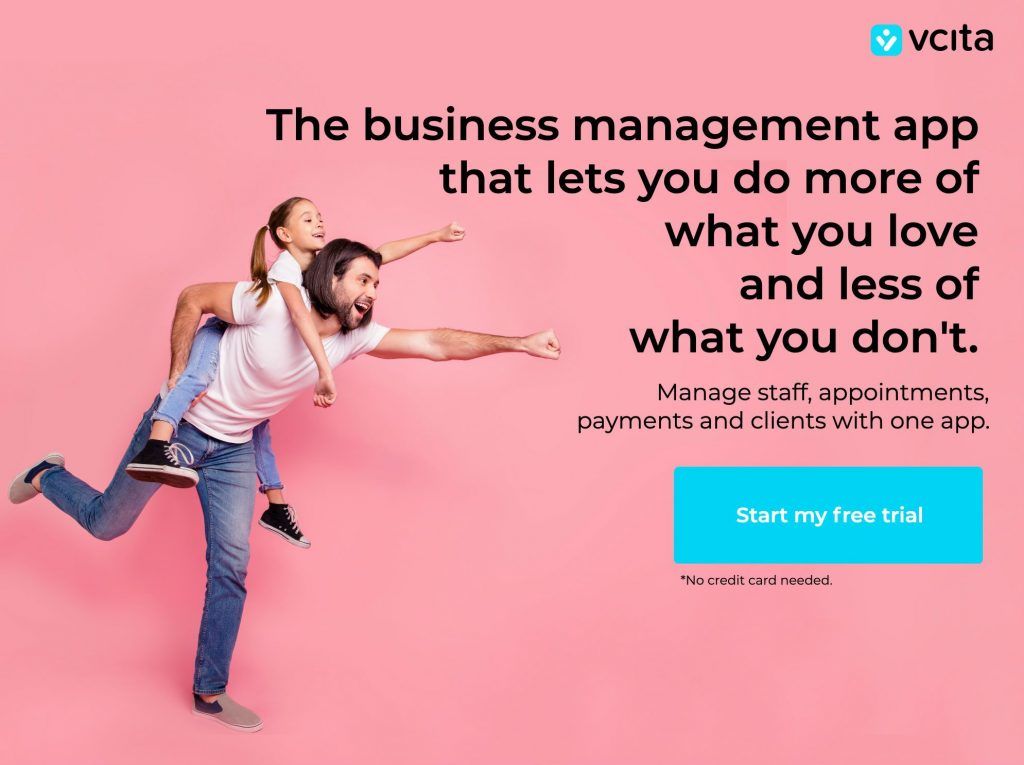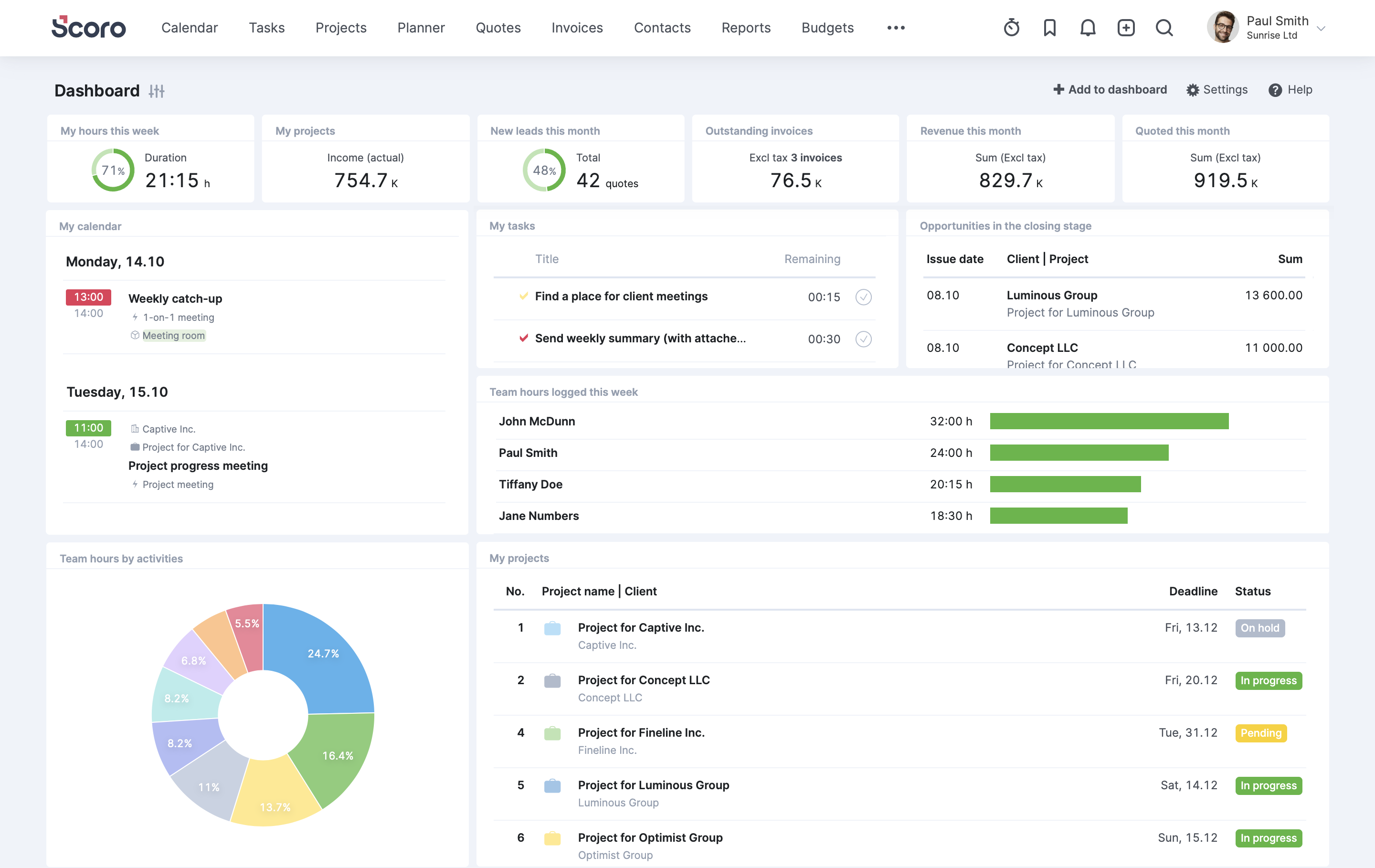 Pros:
more comprehensive tools for workflow management
over 1000 app integrations
extensive reporting/analytics to track complex projects
Cons:
cheaper plans charge extra for basic features like late invoice reminders
might have more complexity than smaller businesses would need
client portal is coming soon, but costs an extra $99 in most plans
Pricing: $26 per user/month for the Essential plan, with other price points at $37 per user/month and $49 per user/month
Features:
project management tools that track time spent, expenses, budget
invoices can be generated directly from project data
CRM tools with invoices, quotes, files, communication history, projects
complex analytics with goals, targets, KPIs
automated rules and alerts for deadlines
Team size: 5+; ideal for mid-sized or larger companies from 10-100 people
Industries: creative agencies, professional services, building and construction, accountancies, government and nonprofit organizations, educational institutions, legal services
General review:
Scoro is a more comprehensive platform than vcita, and offers some extra tools ideal for larger companies or more complex projects. Expense, time, and budget tracking keep labour-intensive, big budget projects on track. Their CRM tools give an overview of communication history, projects, files, and invoices, with a currency selector for each client. Scoro also has HR management tools that help allocate the right people to projects.
While $26 per user/month might seem like a low price point for such complex software, it doesn't tell the whole story. There's a minimum of five users, bringing the monthly minimum to $130/month. Some significant features like time tracking, Google drive integration, and the task matrix are priced at an extra $6 per user. Onboarding help is also pricey, starting at $899. Still, it might be worth it for businesses that need the extra complexity.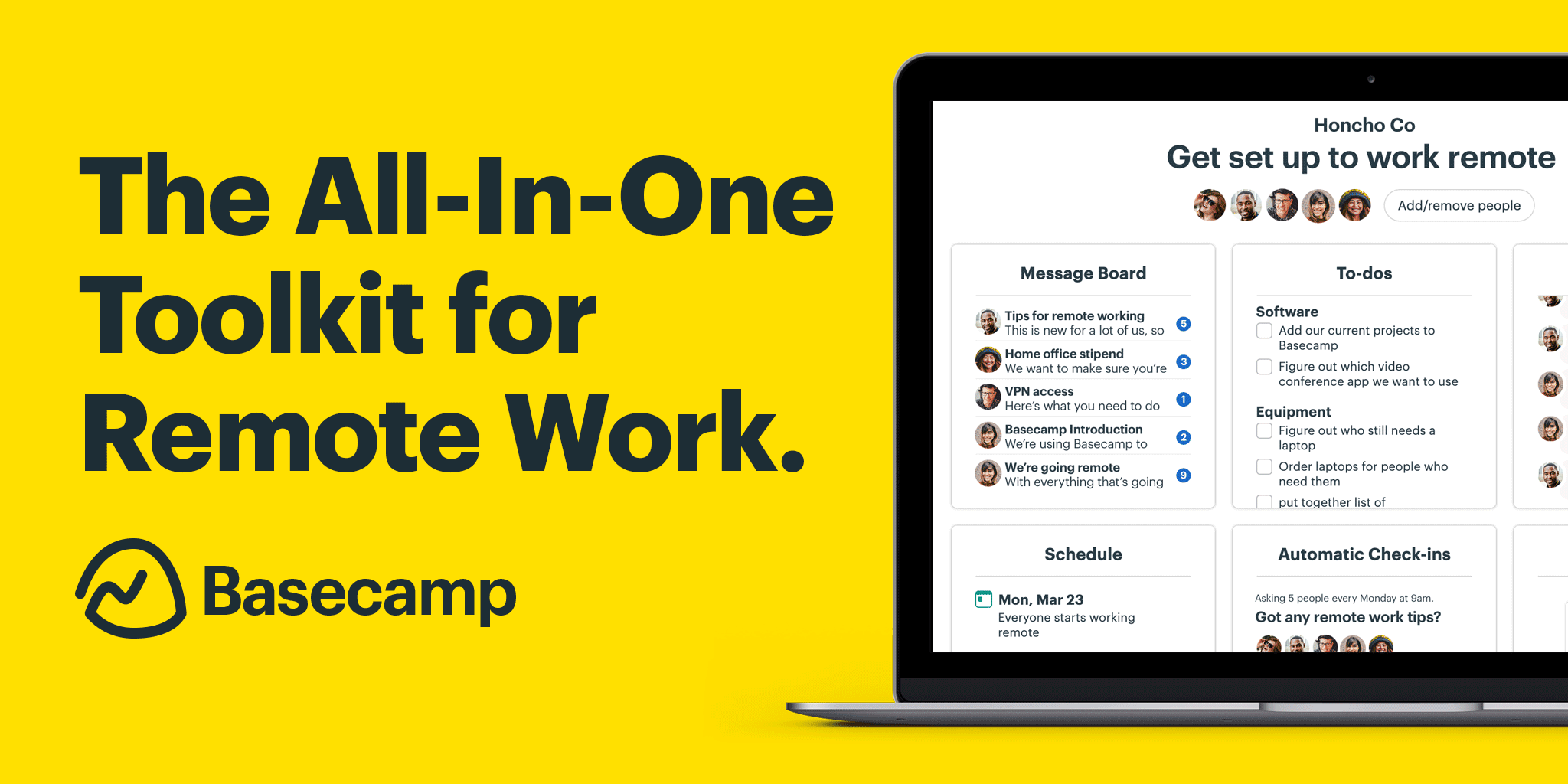 Pros:
simple project management tool
free version available, or 30-day free trial of the Business plan
flat fee for Business includes unlimited projects and users
Cons:
only has communication and project management features
the free version only supports 3 projects, with the next step at $99/month
Basecamp's signature "hill" charts might not make sense for some projects
Pricing: free for up to 3 projects and 20 users; Business plan starts at $99/month, with a 30-day free trial
Features:
message boards that format discussion so that all comments are easily visible
to-do lists with automated follow-up
shared calendar that displays all due dates
searchable file storage
automatic check-ins for management
Team size: small or medium businesses with 5-30 users
Industries: consulting, financial services, creative firms, educational institutions, IT firms
General review:  
Basecamp is more specialized than the Scoro and vcita. While Scoro is a little more project-focused, Basecamp is exclusively project focused—but what it lacks in Scoro's complexity, it makes up for in user-friendliness. Basecamp offers message boards, to-do lists, document sharing, and project activity progress charts. The progress charts are one of Basecamp's unique features, based on the concept of "figuring things out" as going uphill and "making it happen" as going downhill.
A few of Basecamp's other unique features are the ability to search the database for files, and automated check-ins about projects. As one of the first project management platforms on the market, it hasn't kept up with the variety of features some of the newer platforms offer. However, it's been around so long for a reason: because it's useful for businesses that have accounting, marketing, and other systems in place, and are just looking for a time-tested way to stramline task management.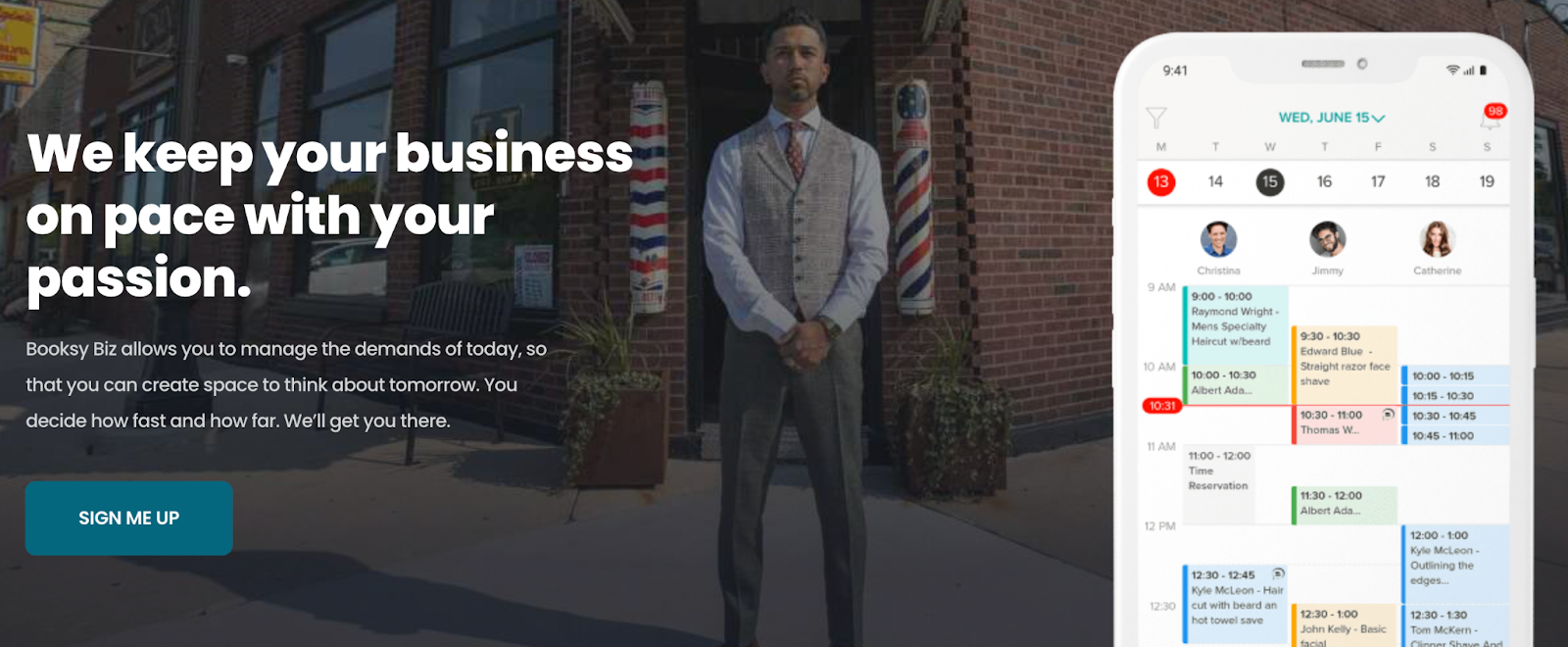 Pros:
It's a complete management platform

Incredibly straightforward to use, both for the customer and the service

Access to a robust marketplace
Cons:
Customer service can be slow at times

Payment processing can get a bit confusing

It's quite pricey
Pricing: $30, plus $10 per employee. 10th and further employees are free.
Features:
Reminders

Appointment, inventory, and employee management

Automated scheduling

Point of sale

Promotions

Email marketing

Extensive sales reports
Team size: perfect for small to medium brick and mortar businesses
Industries: beauty, wellness, mHealth, tutoring, music lessons
Booksy is a beauty-focused scheduling system for all the stylists, barbers, and other premier businesses, including personal trainers, tutors, and psychotherapists. It has over $1.3 billion annualized GMV worldwide as well as 9 million appointments made per month. 
It offers booking support with in-app payments to those who book or schedule an appointment with its members. The beauticians of Booksy can easily create, edit and share their appointments with clients through the app's calendar function and manage everything on one screen from here too!
With Booksy's integrations with Facebook, Instagram, Yelp, and Google My Business, customers can book their appointments conveniently as well as pay for them from the social media platform's interface, which reduces no-shows. Booksy also features a marketplace where users can list their business, granting them access to millions of potential clients.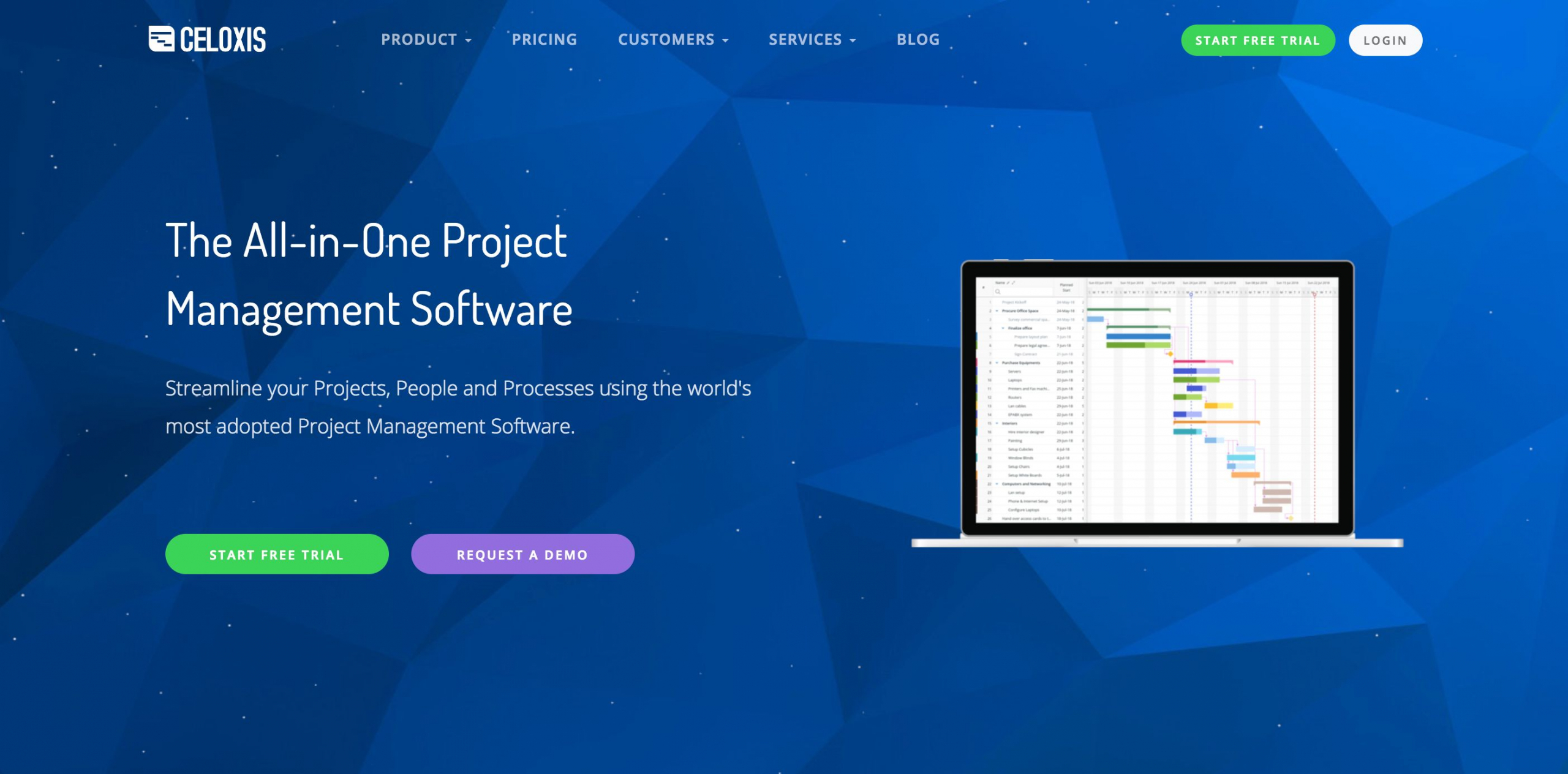 Pros:
advanced workflow customization features
on-premise option for businesses with in-house servers
customizable KPIs/project reporting
Cons:
pricing starts at a minimum of five users
complex software that requires a lot of time to implement
free tech support for the on-premise version only lasts for one year
Pricing: Cloud option at 22.50 per user/month; On premise option has a one time fee of $450 per user
Features:
dashboards and KPIs with in-depth information
customizable and built-in widgets let you pick and choose features
client portal and shareable calendar
resource management to allocate employees to projects based on skill level
API for custom integrations
Team size: 100+
Industries: media companies, design firms, governments, universities, larger multinational organizations, financial services, large retail companies, manufacturing
General review:
If you're looking for a solution that fits a larger company, Celoxis might be a better option to consider. Although it's less expensive than Teamleader and Scoro, it has better analytics and more workflow customization options. It has the usual CRM, time tracking, project management, and other tools, but also has customizable widgets and an API that lets in-house developers integrate other business applications.
Celoxis is a good option for companies that already have a well established or unique workflow and need a flexible solution. Its on-premise option means companies with sensitive data can keep their information secure. Extensive team and client collaboration tools help with information tracking and sharing, keeping it secure within the application. However, its complexity means it is likely a better option for businesses with IT staff to manage it.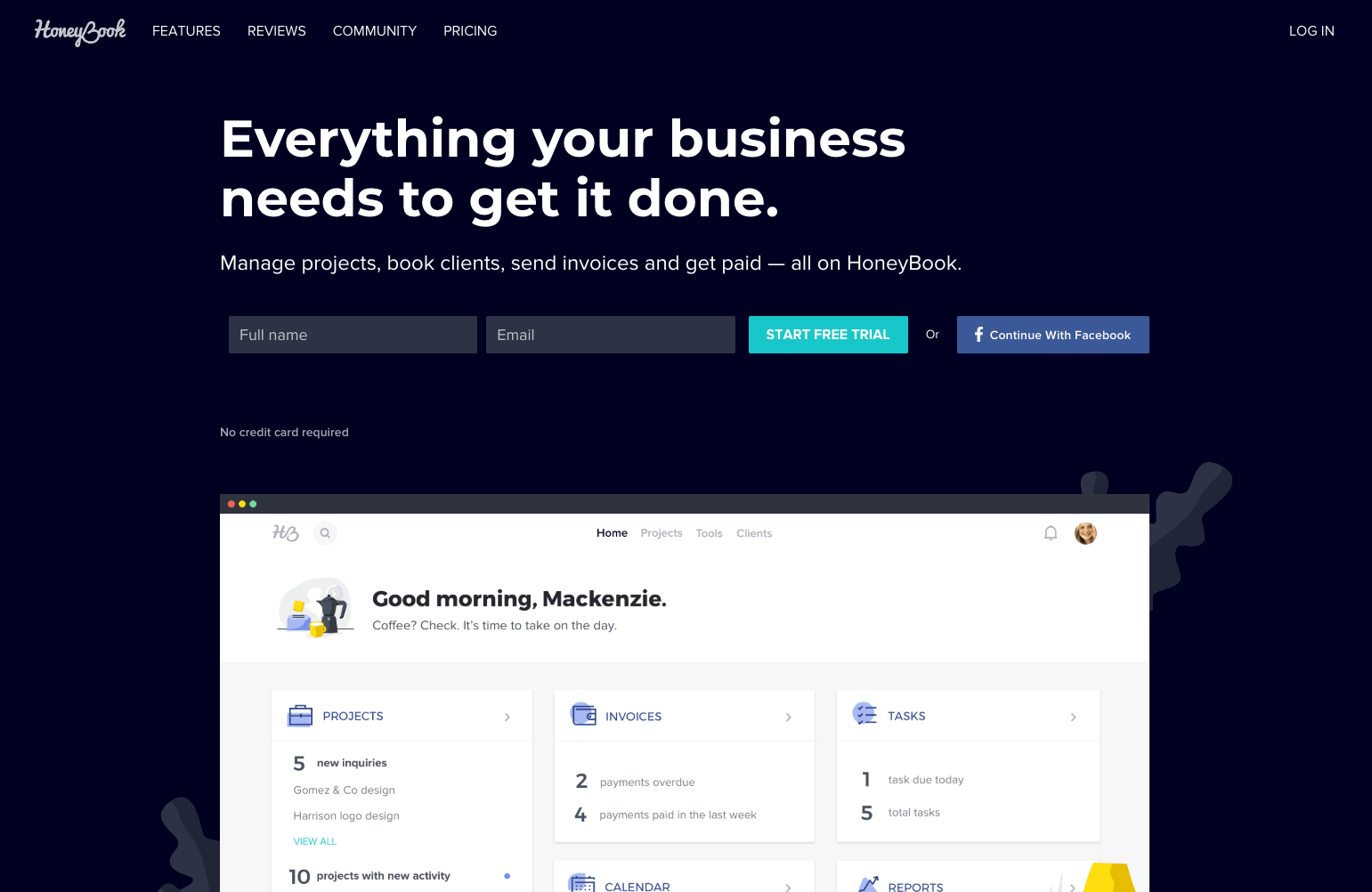 Pros:
tools geared specifically to meet the needs of freelancers
easy to break down projects with the project dashboard
customization tool to automate workflows
Cons:
more expensive than vcita and genbook
not as many options for working with teams
limited CRM and marketing features
Pricing: $40/month, with a one week free trial
Features:
custom branded invoices and proposals, with digital signing
scheduling that syncs with Google calendar
customizable contract templates
automated appointment reminder, follow up, thank you emails
set to-do lists for each project, with automated task reminders
Team size: 1-5; ideal for solo freelancers
Industries: design, photographers, filmmakers, creative professionals
General review:
While Celoxis is tailored to suit large companies, Honeybook was created with the independent freelancer in mind. It's a simple, easy to use platform with invoicing, proposals, and contracts that have digital signing capability. It also has tools to help manage small independent projects, and a scheduling tool that lets clients schedule appointments based on your availability.
Like vcita, Honeybook has client portals that allow your client to view contracts, files, and make payments—although vcita's client portal is a little easier to navigate. However, vcita doesn't offer the to-do lists and self-management tools that might be a draw for freelancers wanting help managing their time. Honeybook doesn't have as many tools for managing employees or other users, although they do have a team option.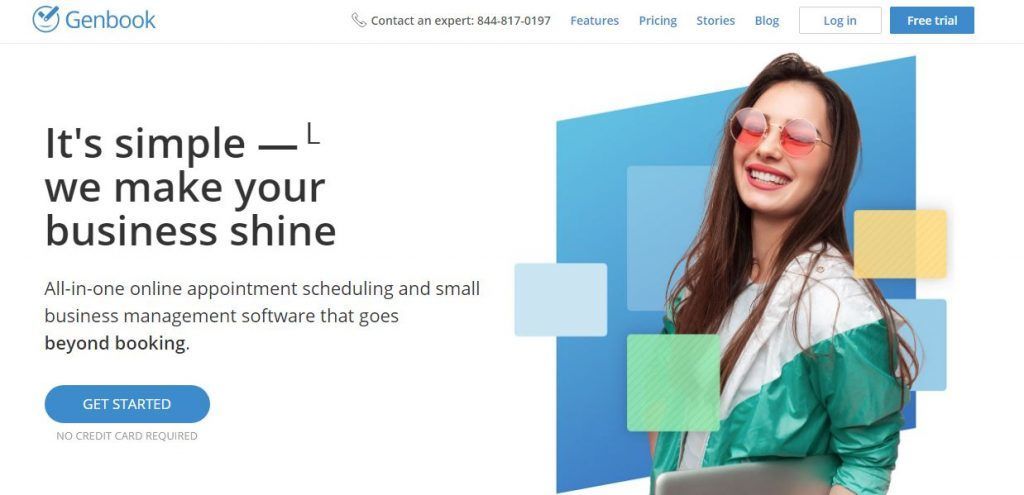 Pros:
specialized for professionals providing in-person services
simple to use, easy for small teams to coordinate services
detailed scheduling functionality
Cons:
no zoom integration for online meetings
no client portal/file sharing options
limited to up to 12 users
Pricing: $25/month for one user, $45/month for 2-5 users, $83/month for 6-12 users; 30 day free trial
Features:
complex schedulling features that automate bookings
CRM with waitlist and no-show tracking
automated review feature that updates reviews across multiple platforms
inbuilt point-of-sale feature lets clients pay however they want
mobile-friendly interface
Team size: 1-12 people
Industries: salons, barbers, beauty, massage, wellness, photographers, personal trainers
General review:
Genbook is a fourth option on this list for smaller businesses, this time geared towards service professionals with in-person appointments. Genbook's scheduler features color coded services, time buffers between appointments, split and recurring bookings, and more. Like vcita and Honeybook, clients can look at your availability online and schedule a time that fits both of you.
Genbook has some extra analytics geared towards tracking no-shows in their CRM tool, and a scheduling feature that flags them. While both Honeybook and vcita have client portals with file sharing features, Genbook doesn't—so is better suited to professionals who rely on in-person bookings.
Making the right choice
When you're searching through your options, it's tough to know what the right choice is for your business. A lot of the time, what's right for you will also depend on the user experience, which is something you can't fully grasp until you try it out. Fortunately, most options have free trials, and those that don't will usually offer product demos to help you make sure you like what you see.
So try out a few and see which one works for you!