As a small business owner, you likely wear more hats than you can keep track of, as your attention needs to be on everything. You could start the day as a CEO, switch to being HR when employee issues come up, spend a few hours being a general manager, and end the day playing the role of accountant- unless an urgent marketing issue comes up!
It sounds tiring, but the good news is that thanks to scheduling software, you can manage your time wisely. The right app can help you make and keep appointments with clients (and vice versa), avoid time-wasting calls and emails, and clear your path to focus on results.
In this article, we'll go over three appointment scheduling software solutions that can make time management a lot easier for you. They are:
Although all three programs were designed to make appointment scheduling and coordination much easier, they're not identical. Each one has unique features that may make it a better fit for your small business than the others, so how do you choose the right one?
To make your decision easier, we're reviewing all three apps in this article. You'll learn more about their benefits and their features, so you stand the best chance of getting the solution you need.
Acuity, Calendly, and vcita- an Overview
Acuity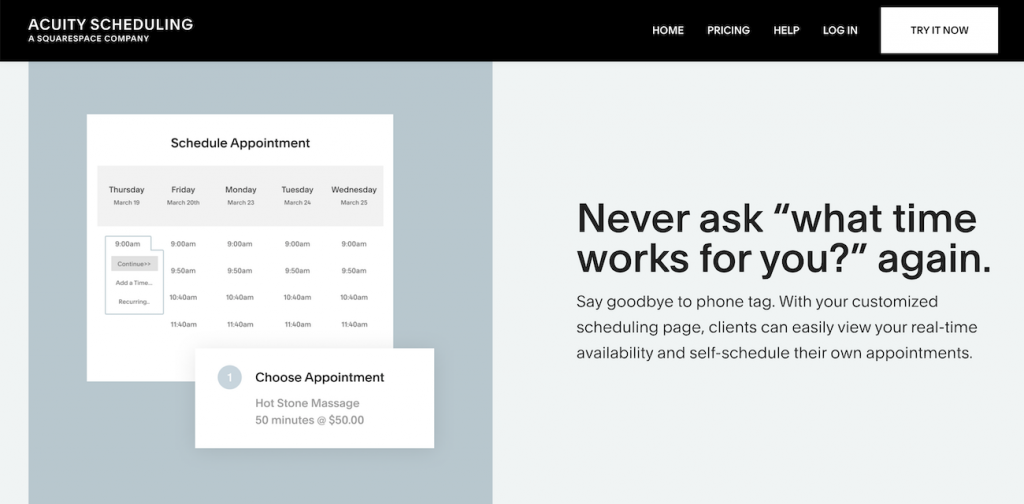 Acuity Scheduling is a cloud-based appointment scheduler that takes the hassle out of managing appointments online. While this feature alone makes it a valuable asset for business owners and individual professionals alike, Acuity also provides you with administration tools like payment processing, reservation booking, and more.
Calendly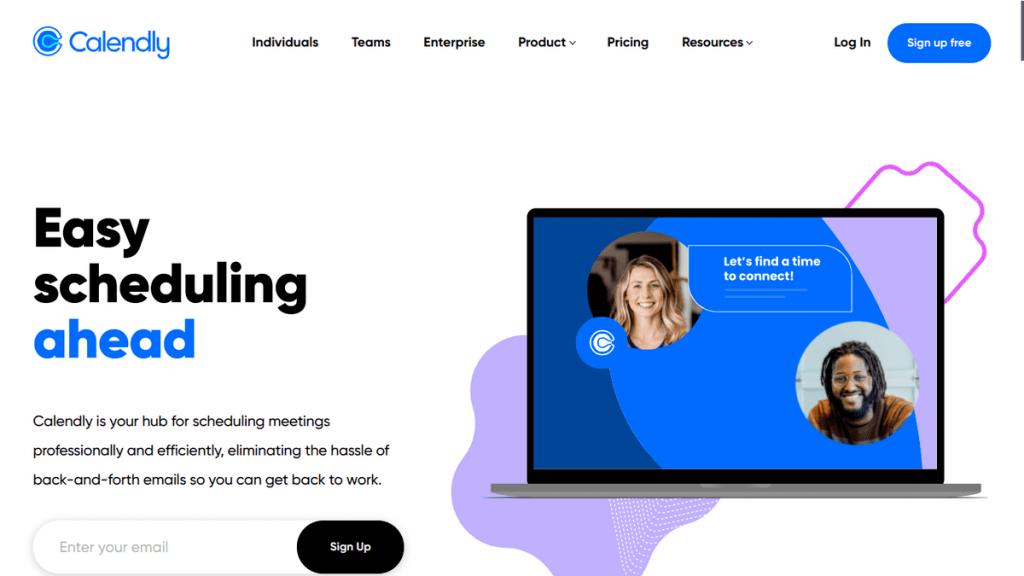 Like Acuity, Calendly allows you to schedule appointments efficiently and professionally, eliminating the hassle of back-and-forth emails so you can focus on your project. It connects you with up to six different calendars, making it easier to find mutually acceptable appointment times. If you are a financial advisor, Calendly has a Twenty Over Ten integration that lets you drive and capture more traffic.
vcita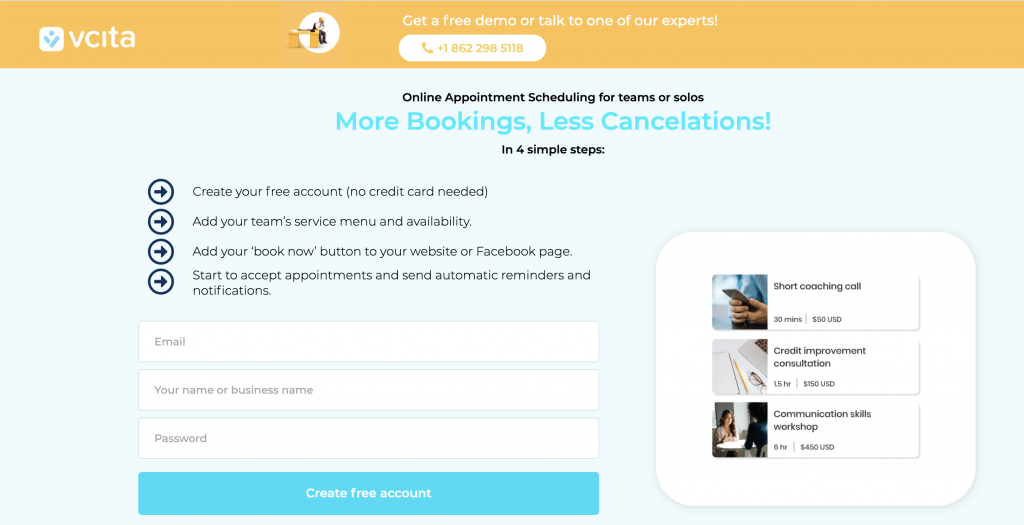 vcita is a scheduling software solution designed to meet the needs of small service-based businesses. It allows you to accept appointment bookings to classes and events from your website, Facebook page or Google Maps and send automatic reminders, and sync with your Google or Outlook calendar to display up-to-date availability. No more missed meetings or overbookings that can impact brand image.
Feature overview
| Feature | Calendly | Acuity | vcita |
| --- | --- | --- | --- |
| 24/7 self-service scheduling | Yes | Yes | Yes |
| website lead capture plugin | No | No | Yes |
| Social scheduling buttons | Yes | Yes | Yes |
| Team calendar | Yes | Yes | Yes |
| Calendar sync | Yes | Yes | Yes |
| Appointment notifications | Yes | Yes | Yes |
| Appointment reminders | Yes | Yes | Yes |
| Payment integration (with credit card processing) | Yes | Yes | Yes |
| Event registration | Yes | Yes | Yes |
| Class scheduling | Yes | Yes | Yes |
| Customizable service menu | No | No | Yes |
| Bundle services/service/treatment packages | No | Yes | Yes |
| 2-way texting with client | No | No | Yes |
| Client portal | No | Yes | Yes |
| Online coupons/gift cards | No | Yes | Yes |
| HIPAA compliant | No | Yes | Yes |
| Zoom meetings | Yes | Yes | Yes |
| Personalized onboarding | No | No | Yes |
Features
Acuity Scheduling offers a wide range of powerful services for scheduling and planning appointments, classes, and workshops. Your clients can see your real-time availability and book and reschedule appointments at mutually convenient times without leaving your website or social media platform. Other features include:
Seamless integration with tools like Zoom and Quickbooks.
Appointment reminders and notifications to reduce the risk of no-shows.
Support for bundled services, online coupons, and gift cards.
With Calendly scheduling software, you can save time, accelerate sales, and streamline your service procedures. All you need to do is set your availability preference, share the link with clients, colleagues, and staff, and let them choose a time for the event, which is then added to your calendar. It is more efficient and simpler than traditional appointment scheduling solutions, and it makes scheduling appointments easy for users. Other features include:
Integrates with external calendars so that your availability is always up to date.
Set up and enable registration for group events like workshops and classes.
Accept online payments for paid events.
With vcita, calendars can be created for virtually any purpose. Set up a public calendar for your website and embed it for your website visitors to book classes, appointments or event attendance, or create a private workweek schedule for staff only. Any updates are instantly visible, preventing double-booking, while automated reminders make it less likely that anyone will forget their shift, appointment, or meeting.
While vcita is primarily a scheduling app, it is also a powerful customer support tool.
The client portal provides a highly personalized experience, archiving records of past appointments and communications and giving clients the ability to share files and make payments from anywhere.
You can set up and share bundled services and online gift cards and coupons.
Two-way texting feature maintains real-time communication with clients.
A lead generation widget lets you convert visitors into leads more quickly.
Usability
Acuity, Calendly, and vcita are all easy to learn. Each one has an intuitive dashboard that makes it easy to find your way around and features are grouped in logical menu structures.
If you have a rudimentary knowledge of website navigation, Calendly is simple to master. Acuity takes things a step further by making many key features part of its default setting; all you have to do is change a few settings to accommodate your personal preference. It's the same with vcita: the app is programmed to automate functions like scheduling, payment processing, and calendar syncing: all you have to do is set up the integrations with Google Calendar, Gmail, Stripe, or whatever program you want to work with, which is easy to do.
Industries
Calendly is a simple and efficient tool for scheduling meetings. It doesn't have a lot of complex options, making it a good option for smaller companies with uncomplicated scheduling and communication needs. Its simple interface lets you create and share outbound links without having to wade through multiple steps, and it integrates well with programs like Zapier, so you can increase its functionality by adding Calendly to tools you already use.
Acuity has more advanced features that make it an asset for larger businesses. It accepts payments, manages reservations, and organizes client information without the need for additional plugins, although you can use its open API support to customize the features you rely on the most. In addition, Acuity is HIPAA-compliant, so any businesses governed by HIPAA can use it with peace of mind.
vcita enables small service-based businesses to automate their scheduling, customer support, and marketing functions. If appointments are part of your business model, the online calendar, client portal, and payment processing features will enable your clients to schedule services, pay for them, and review appointment history on their own, letting you grow your company for longer before you need to think about expanding your team. If you work in the healthcare industry, vcita is HIPAA-compliant, so you don't have to worry about compliance issues.
Pricing
There's a free version of Calendly that lets you learn how to use it before you decide to invest in a paid plan. It includes one calendar template, a notification system, a custom URL, full calendar service integration, and even basic technical assistance. If you want to unlock more features, you can opt for one of the following:
The Pro Plan, which is $8 per month, includes all of the basic features plus the ability to schedule for multiple event types, monitor event statistics, and integrate with programs like GoToMeeting, Zapier, and Zoom.
The Premium Plan, which costs $12 per month, adds SMS notifications, increases the number of calendars to six per user, and offers extra perks like payment processor support and SMS notifications.
Enterprise plans are available for larger businesses with advanced security and support needs.
Acuity offers a 7-days free trial on following plans:
The $14 monthly plan, which covers one staff person or location, provides access to most of Acuity's important options, such as payment processing, email reminders, Zapier integration, and synchronization with external calendars.
The $23 monthly plan, which covers up to six employees or locations, includes all of the basics plus text message reminders and marketing tools like gifts, promotions, and subscriptions.
The Powerhouse Plan, which costs $45, supports up to 36 calendars, multiple time zone support for various team and customer locations, and a BAA signature for HIPAA compliance.
Vcita offers a two-week trial available that lets you 'try before you buy.' You can choose from the following three plans:
The Essentials Plan, which starts at $19 per month, features tools that you don't often see in starter packages, such as a client portal, online payment processing, Zoom integration, and an online lead capturing widget.
The Business Plan, which starts at $45 per month, offers additional features like email and SMS marketing campaigns, the ability to create digital gift cards and coupons, SMS notifications and reminders, and HIPAA compliance.
The Platinum Plan, which is vcita's top-tier offering, starts at $75 per month and supports automated marketing campaigns, two-way texting with clients, and customizable email templates and notification schemes.
Free trial
Acuity offers a 7-day free trial. Similarly, Calendly offers a very basic free version and a 14-day trial for all paid tiers. vcita has a free 14-day trial available for all new users interested in exploring one of its plans.
Customer service
Acuity users who need help with their product have the option of visiting an online help center or using a request form. All support questions are answered via email Monday-Friday 7:00 a.m.- 8:00 p.m. Eastern Time and periodically throughout weekends and holidays.
Calendly has an online help center for non-urgent matters. All plans have access to email support, with a three-hour response time for Premium and Pro plans and expedited responses for Enterprise clients. Live chat support is available for all paid plans with at least 10 users and Enterprise clients receive phone support.
If vcita users have questions or need assistance, Essentials Plan users receive prompt and efficient email support. If you subscribe to the Business Plan, phone support is also available, while Platinum users receive priority support for all help requests.
Onboarding
Acuity does not appear to offer personalized onboarding to new users, but video tutorials and live training webinars are available for those who need help getting the most out of the program. Calendly does offer direct onboarding, but only for its Enterprise customers.
With vcita, personal 1:1 set up sessions are available no matter what plan you subscribe to. These sessions, which last approximately 45 minutes, are $150 per session for Essentials Plan users while the Business Plan and Platinum Plan come with one and two free sessions respectively.
Conclusion
Scheduling apps have become an indispensable tool for all businesses, from one-person startups to multinational corporations. When you identify the right one for your scheduling needs as well as your industry, you're in the best position to sustain growth.