As a mental health professional, you understand the value of staying on top of your practice notes at all times and billing your patients in the most convenient manner. You may use various software products to assist you in this endeavor, but is your solution of choice truly the best one for you and your mental health practice?
To qualify as capable, therapist billing and notes software needs to include the basics – online appointment scheduling, billing/invoicing, managing patient documentation, payment processing, and HIPAA compliance.
It isn't enough to just cover these basic areas, though. To make your business run like a well-oiled machine, an ideal therapy software also has to be able to automate and streamline these processes in the best possible way.
Various types of therapy software on the market
Achieving these goals (and perhaps even more) is possible through several types of therapy software solutions that include:
Singular-purpose app – covers only one part of the process, like Electronic Health Records (EHR) or appointment scheduling alone
Integrated programs – for those who require online management of their entire practice, options are available as integrations of multiple suites which, when combined, create a comprehensive experience with file-sharing features, mobile therapy platforms, EHR, and more
Choosing the right type of software will depend on the size of your practice (whether it is a solo practice, outpatient facility, multiple-practitioner service, or multi-clinic organization), the features it requires, and the software's compliance with the law (HIPAA).
HIPAA compliance
The most important law that psychotherapists and other medical professionals with patients in the United States have to adhere to is the Health Insurance Portability and Accountability Act (HIPAA). This regulation, issued in 1996, aims to protect patients' sensitive medical information while allowing relevant parties (like medical staff, pharmacists, insurance providers) to safely access this information to provide their services. HIPAA stipulates heavy penalties if violated.
This regulation has become even more relevant with the increasingly popular telemedicine and teletherapy practices, where patients acquire medical services using video conferencing technology (where such an approach is possible and more convenient than traditional methods).
Video conferencing, like other types of technology, can be vulnerable to exploits and hacking. In addition to preserving patients' privacy in general, this is another reason why it is important that your billing and notes software is HIPAA compliant and that it offers enough information on its encryption and privacy protection capabilities.
Best solutions that money can buy
Now that you know what to look for in a billing and notes solution, let's see which are the best ones that this market has to offer:
1. vcita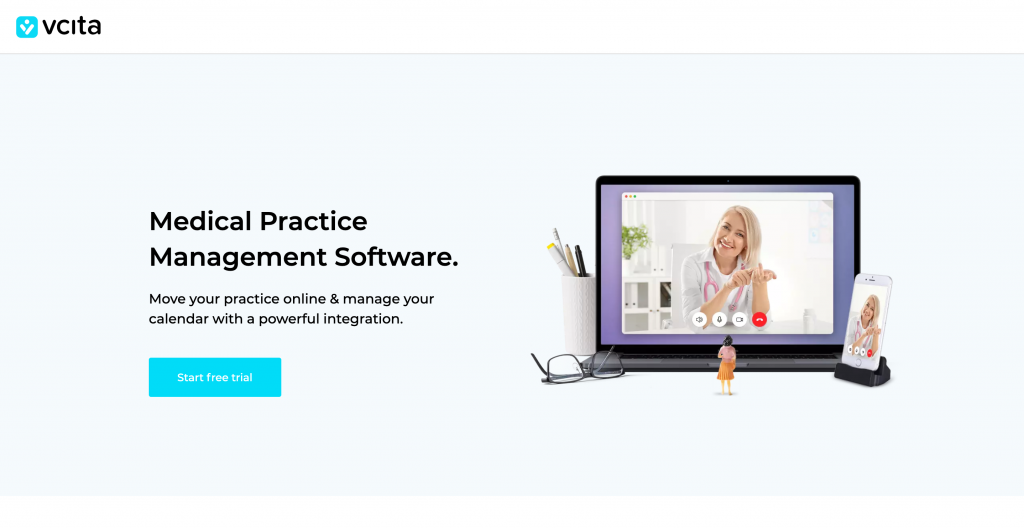 An interdisciplinary business management platform, vcita therapy billing software allows you to quickly create professional, customizable invoices via its desktop and mobile apps. The invoices can be auto-filled from your patients' stored information and you can add a payment link at the bottom.
Via vcita's payment processing services, your patients can pay you at any time, currency, or manner that you decide – in person or remotely. The handy appointment scheduling tool is available to your patients via a widget on your website. If the patients are behind in payments or you don't want them to miss appointments, simply send them automated reminders.
With a CRM system linked to your patients' files and invoices, you can simultaneously view medical notes and payment history (along with any paid or unpaid invoices) from one place. If your practice doesn't send invoices, you can still use the platform to generate and manage receipts for tax purposes. Your patients can see them in their dedicated dashboard.
There you can share links and documents with your patients, while the free Zoom integration supports remote video appointments. The provider's HIPAA-compliant security will keep your patients' information perfectly safe.
The pricing starts at $12/month if you only need the Online Scheduling option. However, its Business plan at just $45/month (when billed annually and with one employee on the team) is optimal for a small practice that wants to be HIPAA compliant and send SMS notifications and reminders, as well as make use of the Google Analytics and QuickBooks integration. You can take the platform for a spin during a 14-day free trial, no credit card required.
2. My Clients Plus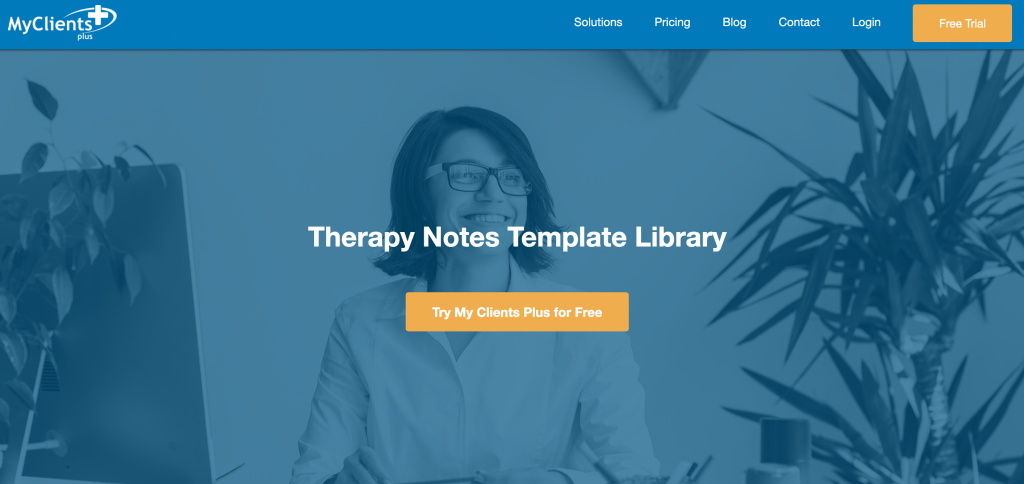 My Clients Plus' features that therapists will find especially useful include 200+ customizable note templates with e-signatures and customizable privileges, appointment reminders, automatically updated client records, and secure messaging with file attachments.
Extras come in the form of payment tracking, to-do lists, revenue and session reports, invoicing and superbills, credit card processing, automatic electronic remittance advice (ERA), CMS forms for insurance claims, Jituzu integration, mobile client portal, touchscreen optimization, and HIPAA-compliant video conferencing.
Pricing starts at $21.21/month if billed annually with only one practitioner. More practitioners can be added, with discounts on the amount. Electronic billing of primary and secondary insurance is an extra feature billed depending on the number of monthly claims. There's also a generous 21-day free trial.
3. RXNT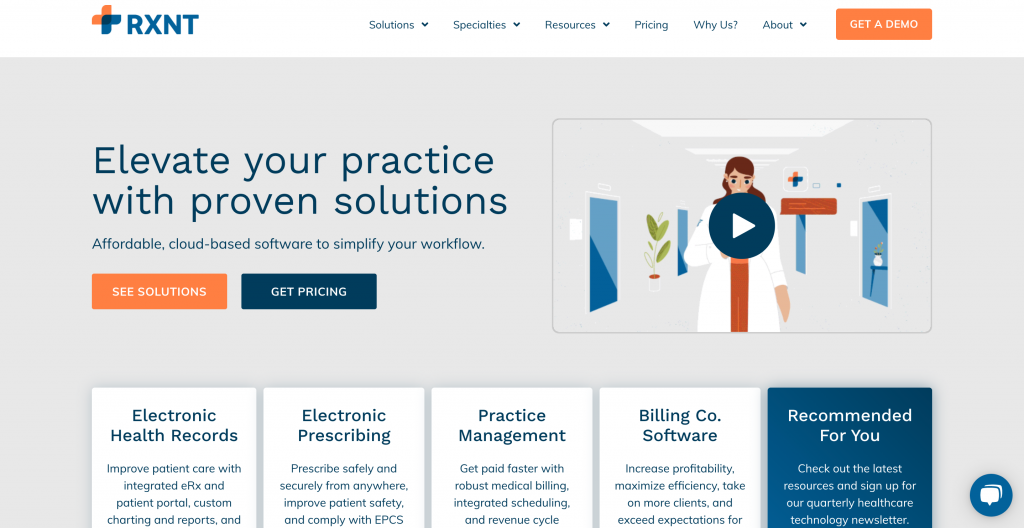 Depending on which package you sign up for, RXNT offers patient reminders, appointment scheduling, e-prescriptions, customizable reporting, calendar syncing, reports for clients, IT assistance, integrated clearinghouse services, and denied claims tracking. It is also HIPAA-compliant, with record storage and backup options.
RXNT's pricing starts at $20.83/month (if billed annually) for its scheduling feature alone. For $54.17/month, you can add electronic prescribing, while the EHR-enriched package costs $75/month (both are annual options). If you require full practice management, with online billing, reminders, as well as unlimited claims and denials, it can be yours at $133.33/month (annual subscription).
The vendor's products are also available as bundles, so the Full Suite can be yours at $208.33/month (annual plan). There's no free trial, but you can book an appointment if you'd like a free demonstration.
4. Jane.app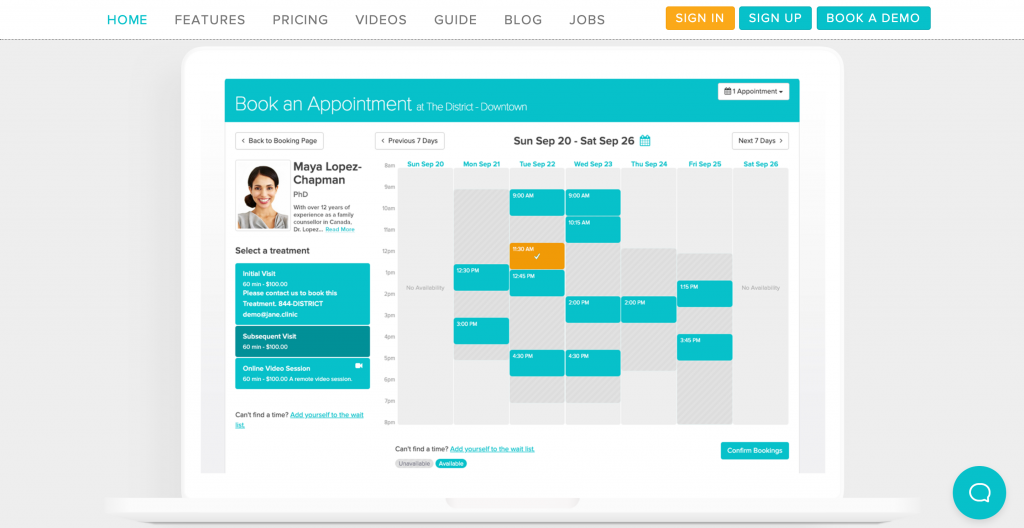 Jane is a Canadian solution that takes care of the entire billing workflow, including appointment booking, invoices, credit card payments, insurance claims, and payment reports. It also provides automatic task scheduling, patient reminders, multi-platform accessibility, unlimited IT support, patient dashboard with support for documents, notes, customizable smart charts, lab results, and photo/video files, as well as wait lists and reviewing options.
Despite being a Canadian-based vendor, Jane is fully compliant with the US HIPAA. This means your patients can be guaranteed security and privacy during the free telehealth video sessions that this platform also offers.
The entry-level Base package will cost you $74/month/practitioner. More options are available with the mid-level Insurance plan at $99/month/practitioner, while the Corporate package at $369/month/practitioner adds enterprise-only features. Depending on the chosen plan, additional practitioners can be added for $20-30/month. There's no free trial on the table, but you can get a live screen-share demo or watch a pre-recorded video demonstration.
5. Kareo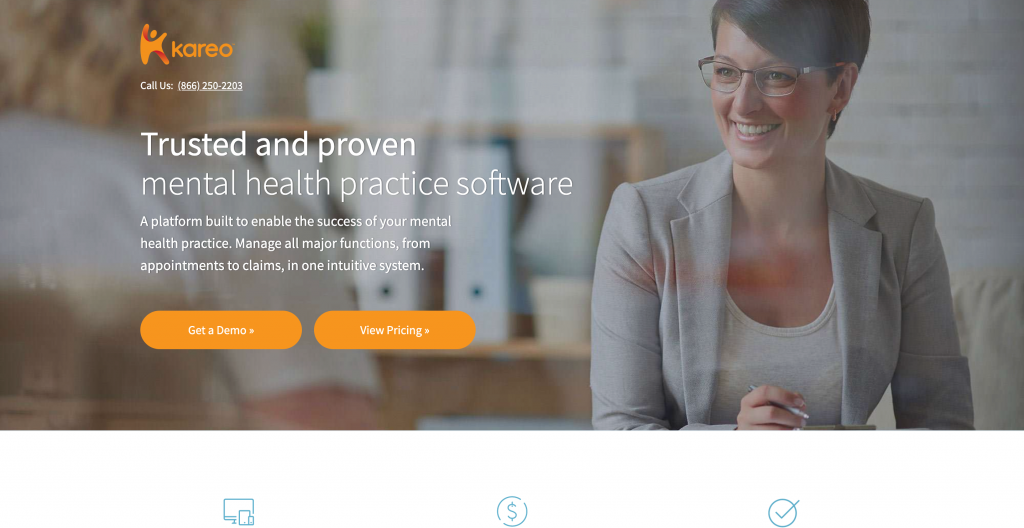 Kareo keeps things simple and user-friendly, providing the usual: electronic appointment scheduling, billing, charts, reporting, and appointment reminders. It also covers online payments, 24-month medication history, e-prescriptions, and a patient dashboard with secure messaging. In addition to offering free onboarding, training, and support for you and your team, the platform is also HIPAA compliant.
Kareo's pricing depends on your practice's unique requirements and you can't get a quote unless you leave your contact details. However, we learned that its Kareo Clinical service starts at $110/month/practitioner. Other services include Kareo Billing, Kareo Marketplace, Kareo Engage, and Managed Billing, each with their own specific features.
For an additional $50/month, you'll get unlimited video appointments and a one-time fee of $75 will get you the option of e-prescribing controlled substances. There's no free trial, but you can sign up for a demonstration.
Pave your road to success
Now that you know what an ideal billing and notes software has to include, as well as which are the most suitable options, you can choose the best for your practice. Once you have the perfect partner at your side, you can devote your full attention to your primary job – providing the best possible mental health service to your patients.