If you've ever tried to schedule an online meeting, you may have felt like a kid again. Hurrying from one workstation to the next and sending emails or Slack messages to confirm availability is a lot like a childhood game of hide and seek, minus the fun.
When you're trying to get people together for an online meeting, there is more to it than broadcasting 'Save the Date' messages. You have to review calendars, contend with conflicting obligations, set up the call-in number or video conferencing room, and take other steps that make your meeting difficult before it even takes place.
Fortunately, there are online meeting scheduling software that can take the stress and hassle out of planning your next online meeting. Their advantages include:
You're more organized. Organization and productivity go hand in hand. A good online meeting scheduler app makes it easier to stay on top of your meetings and other responsibilities without losing track.
No more forgotten meetings. Meetings noted in old-school office planners are easy to forget the moment you turn the page. When you use meeting scheduling software, automated reminders ensure that appointments don't fall off your radar.
No more no-shows. Scheduling apps reduce no-shows by sending out automated reminders. Clients and team members will remember the meeting date and time and, if they are unable to attend for any reason, can send a reschedule request.
24-7 scheduling ability. With an app, you can schedule online meetings at any time. You aren't limited to office hours, which is especially convenient when you want to set up an online meeting with someone in a different time zone.
Manage meetings from anywhere. Using the Gmail app, you can sync all of your meetings across multiple devices, which allows you to manage them from anywhere.
Below is an overview of the five best affordable online meeting schedulers, all of which will let you conveniently schedule meetings without affecting your own productivity (and stress levels). All of them sync with your Gmail and Google calendar, so you can import your existing contacts and use the app without having to switch email accounts.
1. Vcita
Busy professionals can use Vcita to schedule online meetings and even let clients self-schedule, reducing no-shows up to 95%. Vcita integrates with Zoom, meaning you can schedule, manage and execute meetings in one simple flow.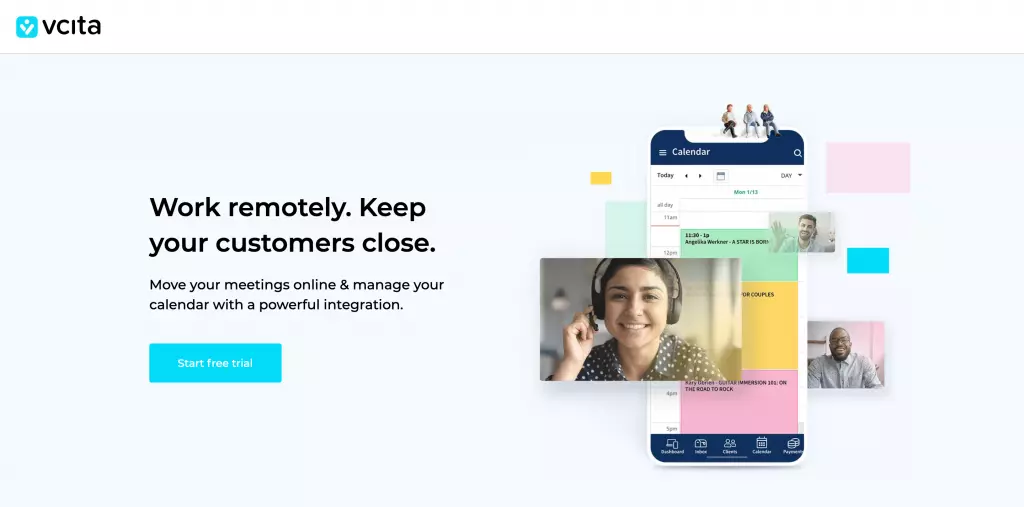 Pros:
Syncs with your Google Calendar and Gmail
Integrates with Zoom video conference platform
Email and SMS meeting reminders
Self-service scheduling
Cons:
Invoices can only be paid by one person and can't be forwarded for payment.
Pricing:
The scheduling plan is only $19 USD per month. A 14-day free trial is available for all new users.
Features:
Gmail integration
Integrates with Zoom
Auto-assign rules
Book and reschedule appointments online
Sync with Google Calendar and other calendar software
Email and SMS meeting reminders
Create and manage group meetings
Up-to-date availability display
Scheduling confirmations sent via email
Individual client portals
Track meetings and attendees
Phone conferencing
Personalized roles and permissions
Email support available
vcita scheduling software lets businesses of all sizes effortlessly schedule client and team meetings. It simplifies calendar management by syncing to your Google Calendar and Gmail account, which eliminates unnecessary back-and-forth with clients and employees and lets you schedule meetings from any mobile device or desktop with GSuite access.
The meeting scheduling software lets clients and team members also book and reschedule meetings at their own convenience and on any device. Automated confirmations and reminders sent via email or SMS reduce the likelihood of a no-show.
All of vcita's solutions are scalable. Depending on which plan you upgrade to, you can access apps for client management, billing and invoice, document handling, and more.
You can also use customized templates for emails and notifications and even reward those who attend a meeting with coupon or other special offer sent via email or SMS. With the vcita scheduling plan, you receive email support.
2. Meetin.gs
Small businesses of all sizes use Meetin.gs to simplify their meeting scheduling.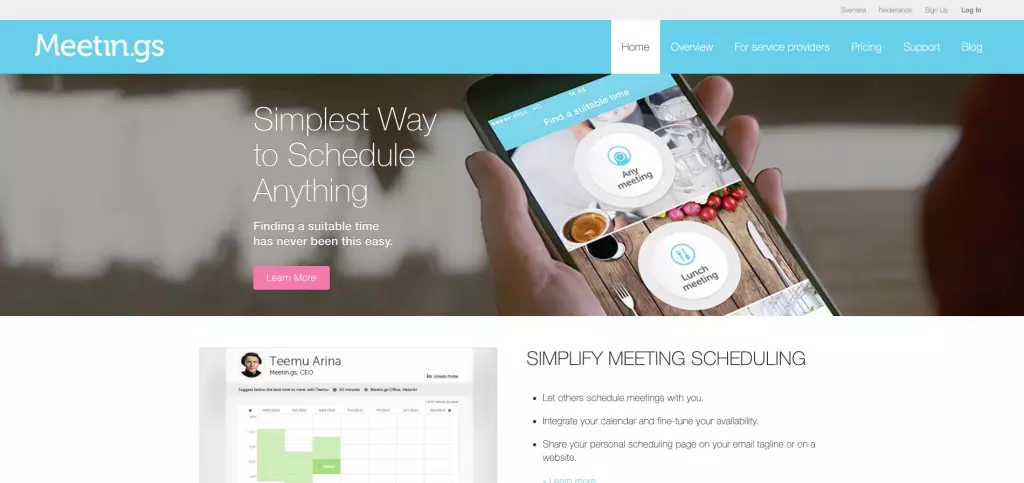 Pros:
Syncs with Gmail and Google Calendar
Integrates with live communication tools like Skype
Automatic meeting reminders and follow-up
Cons:
No email or chat support.
Pricing:
Meetings Pro is $12 USD per month. A free trial is available.
Features:
Gmail integration
Create agendas and record action items
Personal meeting page where clients can see your availability
Create multiple meeting schedulers
Automatic meeting reminders
Upload your own logo and choose colors
Scheduling tools appear in web browser
Schedule meetings within social media and CRM platforms
Access meeting details on the go
View and comment on meeting materials
Personalized participant profiles
Support available via Facebook and Twitter
Meetin.gs is a single-source solution for your business scheduling needs. The calendar and contact integration tools make it easy to synchronize with your Google Calendar and add your Gmail contacts to the list of prospective meeting participants. All of the popular online meeting tools, such as Skype calls and teleconferences are built-in for fast and easy access.
Once of the most powerful Meetin.gs features is the 'Schedule' button, which is added to services like LinkedIn, Salesforce, and social media to let you quickly organize a meeting while using these platforms. You can also add meeting functionality to existing items on your calendar.
Meetings can be accessed from the app or a mobile browser, and all relevant information, such as agendas, action items, and other documents are available in a central location, eliminating the need to search your inbox for these assets.
Meetin.gs Pro users receive support via Twitter and Facebook. Training is available through a document library.
3. YouCanBook.me
Youcanbookme lets clients see your availability and book straight into your calendar. This is scheduling efficiency at its finest.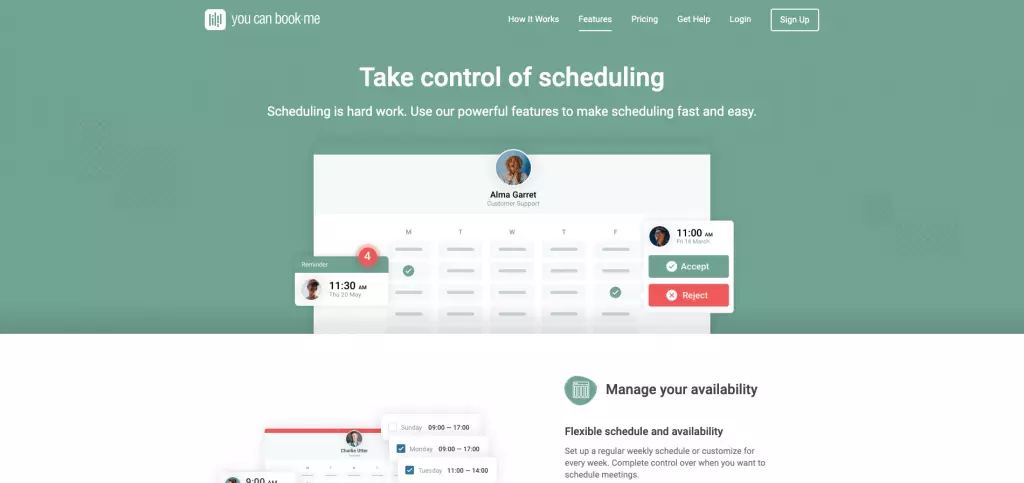 Pros:
Google Calendar and Gmail integration and syncing
Customizable notifications
Set your own availability
Cons:
Free accounts do not have access to email support.
Pricing:
There is a free version with basic features, but you can upgrade to a paid version that is only $10 USD per calendar per month. A 14-day free trial is available.
Features:
Integrates with Gmail and Google Calendar
Works across all devices
Accept or reject bookings before they are confirmed in your calendar
Email and SMS meeting reminders
Zoom integration for video conferencing
Clients can book with an entire team or single member
Notifications sent via email
Connect Stripe account and take payments for bookings
Configurable booking form
Add your logo or profile image to your meeting page
Time zones automatically detected
Captcha tests
Email support available
YouCanBook.me is a popular meeting schedule app that integrates seamlessly with Google Calendar and allows client bookings to go straight to your calendar, although you always retain control over your availability.
Once the calendar is set up, you can publish it to your website and Facebook page or send it by email, allowing clients to book a meeting at their convenience. When they do so, it pops straight into your calendar and you get an email notification while the client receives a confirmation. If your business offers paid appointment-based services (e.g. business coaching), YouCanBook.me lets you connect a Stripe account and take credit card payments.
To minimize the risk of a no-show, clients receive text messages and reminders a few hours before the meeting. Should something come up, they have the ability to cancel and reschedule at their end.
The paid version of the software includes Captcha tests to deter spambots and has a dashboard with full access to each booking and cancellation. When you upgrade from a free account, you can also link multiple Google Calendar accounts, which is a bonus if you have more than one business.
While free accounts do not receive email support, there is a document library available. The paid version, which costs $10/month per calendar, offers email support Monday to Friday.
4. OnceHub
Oncehub eliminates the back-and-forth aspect of meeting scheduling, making it a meeting scheduler of choice for companies like Discord and TrustBistro.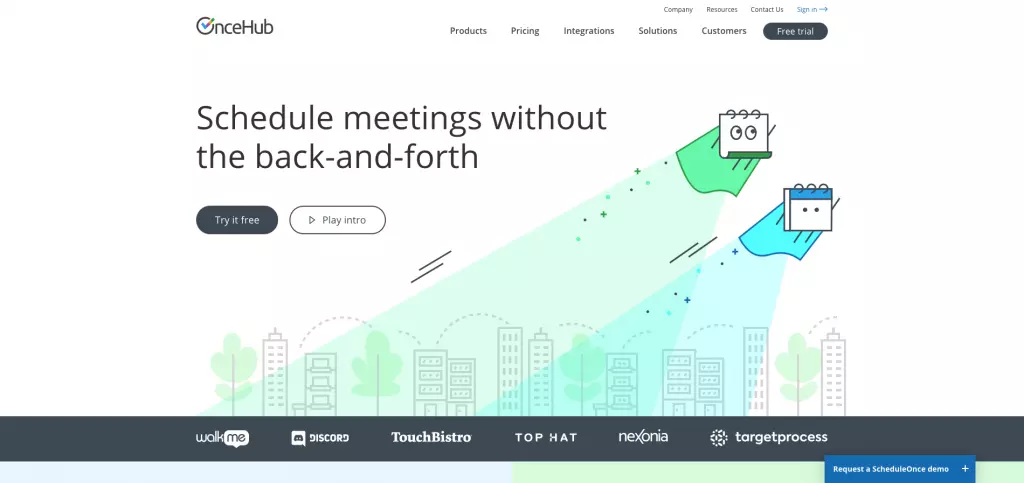 Pros:
Syncs with Google Calendar and Gmail
Email and SMS meeting reminders
24/7 phone and email support
Cons:
Price goes up when you have more than three users.
Pricing:
OnceHub's ScheduleOnce costs $15 USD per month for up to three users. A 14-day free trial is available.
Features:
Gmail integration
Native integration with Google Calendar, iCloud Calendar, and more
Easy meeting booking and rescheduling
Promote calendars on your website and via email
Email meeting reminders
Automatic time slot generation
Automatic meeting room reservation
Create personalized panel meetings
Coordinate personalized meetings for your team
Customizable meeting templates
Complies with the security standards of many industries
Email and phone support available
OnceHub has two meeting scheduling products: ScheduleOnce and InviteOnce. Although the latter has email and calendar integration, it is not compatible with any of the Google apps, making it unsuitable for larger businesses that use Gsuite extensively.
With ScheduleOnce, clients and team members can use the online calendar to book a meeting for a product demo, strategy session, or any other appointment. It can easily handle multi-participant meetings and can assign a client booking request to available team members who can best accommodate the client based on the reason for the meeting.
Because ScheduleOnce integrates seamlessly with Gmail and Google Calendar, sending email and SMS confirmations and notifications to meeting participants is a breeze. If you want to indicate availability, all you need to do is create an event from your calendar, which saves time if you're not signed into OnceHub.
Both products offer 24-7 phone and email support, but Gmail users will only need ScheduleOnce.
5. Vagaro
If you run a salon, spa, or fitness facility, Vagaro makes it easy to book an appointment- and hard to forget about it!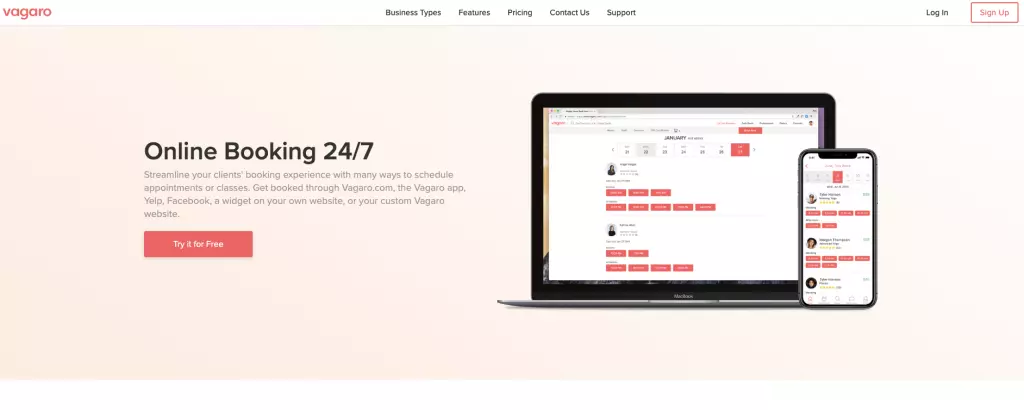 Pros:
Appointment calendar with your Google Calendar and Gmail
Email and SMS appointment reminders
Clients can book their own appointments from anywhere
Cons:
More of an appointment-booking software than a meeting scheduler
Pricing:
Vagaro starts at $25 USD per month per user. A free trial is available.
Features:
Gmail integration for simplified notifications and email marketing
Full integration with social media platforms
Client and employee profile management
Google Calendar integration
Email and text appointment reminders
Appointment location reservation
Book recurring appointments
Scheduling confirmations sent via email
Gift card management
Wait list creation and management
Push notifications
Personalized roles and permissions
Email and chat support available
Vagaro is designed exclusively for the beauty and fitness industry. Customers can book an appointment online, receive confirmation immediately, and have reminders sent to them as the appointment date draws near. If you own a spa, salon, or fitness facility, you can also track customer behaviors, such as how often the book appointments, the services they use the most, and the number of visits. Regular customers can be rewarded with coupons, certificates, and other bonuses that can be redeemed through the web or mobile applications.
Although it is not a meeting scheduler in the strictest sense of the word, Vagaro's features make it an asset for those seeking to build their beauty or fitness-related business. If you need support, the company can be reached by phone, email, or chat seven days a week.
Get organized in 2021!
When you're trying to set up an important meeting, back-and-forth calls and emails are far less effective solutions than meeting scheduling software. Meeting scheduling software simplifies the process, eliminates mistakes like overbooking and forgotten meetings, and gives you the freedom to set your own availability. All five of these best affordable meeting schedulers for Gmail offer tremendous value to businesses and customers alike and result in what every growing company needs: an organized team and repeat clientele.